2013 Guide to Sunscreens: What to Use, What to Lose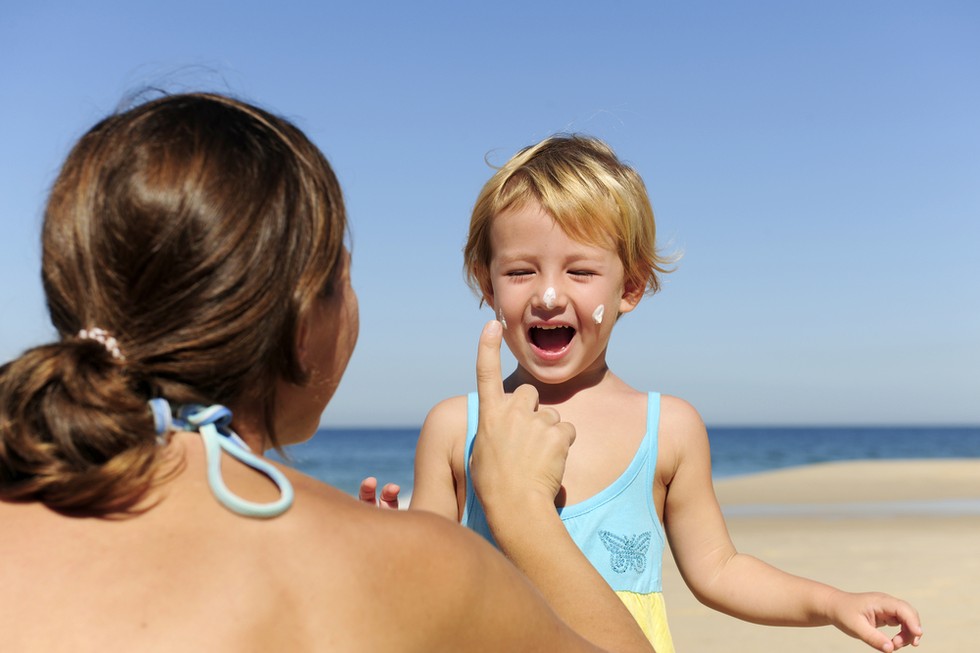 Photo courtesy of Shutterstock
Ahead of the Memorial Day holiday, Environmental Working Group (EWG) today released its seventh annual Sunscreen Guide rating the safety and efficacy of more than 1,400 sunscreens, lotions, lip products and makeups that advertise sun protection. EWG researchers found that only 25 percent of products on the market in 2013 offer strong and broad UV protection and pose few safety concerns.
"The vast majority of sunscreens available to the consumer aren't as good as most people think they are, but there are a handful of products that rise above the rest," said Sonya Lunder, senior research analyst at EWG and lead author of the report. "The best advice for concerned consumers is to use sun-protective clothing, stay in the shade to reduce intense sun exposure and schedule regular skin examinations by a doctor. And turn to EWG's guide to find the best sunscreens for skin that isn't protected by clothing."
"Despite an increasing awareness of the sun's risks, rates of melanoma—the deadliest skin cancer—have tripled over the past 35 years, with an annual increase of 1.9 percent per year since 2000," Lunder said.
Part of the reason for the increase may be the decades of deceptive marketing claims by sunscreen manufacturers, EWG researchers said.  EWG believes that the federal Food and Drug Administration (FDA) should press companies to stop selling high-SPF sunscreens (above 50+), which account for one in seven products on the market. As a result of misleading and confusing marketing claims, consumers frequently misuse sunscreens and spend more time in the sun than they should, putting themselves at greater risk.
Moreover, until recently, sunscreens provided little protection from the sun's ultraviolet A rays. Sunburns are caused mostly by relatively short but intense ultraviolet B rays. Longer UVA rays, which penetrate the body more deeply, inflict more insidious damage and may contribute to or cause cancer.  The FDA's current definition of "broad-spectrum" still results in inadequate UVA protection.
In late 2011, the FDA issued long-awaited sunscreen labeling standards promised since 1978. Under the new rules, companies are now prohibited from making misleading advertising claims such as "sunblock," "waterproof" and "sweat-proof." The FDA also set the first-ever standards for sunscreens that claim to provide broad-spectrum protection. However, the agency now allows most sunscreens on the American market to make dubious claims that they help lower the risk of skin cancer and sun-related skin aging.
The FDA has yet to issue final rules on excessively high SPF claims, potentially harmful chemical ingredients and sunscreen sprays that may be dangerous when inhaled.
EWG's analysis of 750 beach and sport sunscreens found that the new FDA rules have not led to dramatically better sunscreens than those offered in previous years.
While nearly every sunscreen on the market meets the new FDA rule for broad-spectrum protection, that standard is so weak that half of the sunscreens on the American market would not be sold in Europe, where the safety and efficacy protocols are more stringent. European sunscreen makers voluntarily comply with European Union recommendations that a product's UVA protection and SPF be coordinated so that the UVA protection is at least one-third as strong as the SPF.
EWG's guide helps consumers find products that get high ratings for providing broad-spectrum, long-lasting protection and that are made with ingredients that pose fewer health concerns.
EWG's Top Four Things Not to Bring to the Beach, Pool or on Vacation:
No sprays. Given the ease of applying them to squirming kids and hard-to-reach areas, these super-popular spray sunscreens may seem like a dream come true. But they may pose serious inhalation risks and may not fully cover skin. About one in four sunscreens in EWG's database is a spray.
No super-high SPFs (above 50+). Products with high SPF values provide little additional skin protection and may contribute to consumer misperception and misuse.  About one in seven sunscreens has an SPF value greater than 50+.
No vitamin A (retinyl palmitate). Vitamin A is touted for its anti-aging effects on skin. But retinyl palmitate, a form of vitamin A added to almost one in four SPF-rated sunscreens, makeups and moisturizers, could speed development of tumors and lesions on sun-exposed skin, according to a government study.
No oxybenzone. Commonly used in sunscreens, oxybenzone penetrates the skin, gets into the bloodstream and acts like estrogen in the body. It can trigger allergic reactions. Data are preliminary, but studies have found links between oxybenzone and health harms. Nearly half of all beach and sport sunscreens in EWG's 2013 guide contain oxybenzone.
Visit EcoWatch's HEALTH page for more related news on this topic.
A coalition of conservation groups and others announced Thursday that a historic number of comments and petitions of support have been submitted to the U.S. Department of the Interior in support of Bears Ears National Monument. Despite the entirely inadequate 15-day comment period ending on May 26, more than 685,000 comments in support of Bears Ears National Monument have been collected.
Keep reading...
Show less
Rink Glacier in western Greenland, with a meltwater lake visible center. NASA/OIB
Scientists have had their eyes on Greenland as its iconic glaciers have begun disappearing due to a warming climate. But, what they didn't expect to see was a whole new type of melting.
Keep reading...
Show less
Mountain View Fire
By Lena Moffitt
An oil tanker in Mead, Colorado exploded, killing one and injuring three on Thursday. Authorities are continuing to investigate the cause of the explosion.
Keep reading...
Show less
Banner created by Alliance for Climate Education
Keep reading...
Show less
Twenty-two GOP senators sent a letter Thursday urging Donald Trump to pull out of the Paris agreement. They argued remaining in the deal could "upend" the administration's ability "to fulfill its goal of rescinding the Clean Power Plan."
Keep reading...
Show less
By Cheryl Johncox
The Federal Energy Regulatory Commission (FERC) rejected on Thursday Energy Transfer Partners' request to resume horizontal directional drilling at two sites for its Rover fracked gas pipeline. This rejection comes after numerous leaks into Ohio's wetlands, and Clean Air and Clean Water act violations. FERC has halted the process at only eight locations of the 32 where drilling is taking place under Ohio's wetlands and streams.
Keep reading...
Show less
By Nadia Prupis
A majority of people in eight countries say they are ready to change their lifestyles if it would prevent climate catastrophe, a survey on global threats released Wednesday found.
Keep reading...
Show less
May. 25, 2017 01:55PM EST
Bill Maher is sick of billionaires' obsession with Mars, more like "Mars-a-Lago," he said.
In a new animation produced by ATTN:, the popular talk show host of Real Time, discusses the perils of our planet, including how "climate change is killing us."
Keep reading...
Show less