This website uses cookies to ensure you get the best experience while browsing it. By clicking 'Got It' you're accepting these terms.
2013 Deadliest Year On Record for Manatees
Jan. 09, 2014 11:15AM EST
Reported deaths of Florida manatees during 2013 have reached a record high, more than doubling last year's total, according to state figures posted today by Public Employees for Environmental Responsibility (PEER). A major factor driving this dramatic rise is the enormous toll from red tides, which accounted for a third of all the deaths and far more than in any year on record.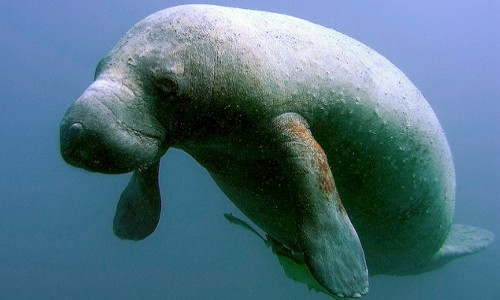 Preliminary figures from the Florida Fish & Wildlife Conservation Commission indicate that 829 manatee perished in 2013, with full results for December not yet tabulated. This total is more than double last year's loss of 392 sea cows and eclipses the previous record of 766 back in 2010 when a severe cold spell caused mortality to spike. This week's sudden cold snap could start 2014 with even more manatee deaths.
Altogether, the 2013 toll removes nearly 17 percent of the total manatee population. Distressingly, these losses include 126 calves. Manatees are classified as an endangered species under both federal and Florida law.
One major factor driving the sharp 2013 rise was manatee deaths attributed to toxic red tide events caused by algal blooms. There were 276 red tide-related manatee deaths in 2013, almost as many as for the previous eight years combined and more than 60 percent above the previous record for red tide-related deaths of 151 back in 1996.
While algal blooms are a natural and seasonal occurrence, they are exacerbated by pollution, especially nutrient loading, such as from agricultural and human wastes. Coastal water pollution is on the increase in Florida which when combined with rising sea water temperatures create ideal conditions for red tides.
"This hike in manatee mortality seems to be the product of systemic environmental irresponsibility," stated Florida PEER Director Jerry Phillips, a former water quality enforcement attorney for the state Department of Environmental Protection (DEP), pointing out that the state has been vigorously resisting tougher water pollution standards while eviscerating the DEP. "Basic permit regulation for waste-water discharges and enforcement against water pollution violations have completely broken down in the State of Florida."
Manatees may not be the only marine wildlife bearing the brunt of diminished water quality. More than 115 manatees died this year from an as yet undiagnosed illness in Indian River Lagoon, a major manatee haven. The disease also appears to be killing dolphins, pelicans and other wildlife in the Atlantic-facing inlet.
"Manatees appear to be dying in a perfect storm of human neglect," Phillips added, noting that boating-related manatee deaths actually fell in 2013. "If the quality of Florida's coastal waters continues its downward spiral, there will not only be fewer manatees but a lot fewer tourists no matter how cold it gets up North."
Visit EcoWatch's BIODIVERSITY and WATER pages for more related news on this topic.

The Russian military is taking measures to protect the residents of a remote Arctic settlement from a mass of polar bears, German press agency DPA reported.
The move comes after regional authorities declared a state of emergency over the weekend after sightings of more than 50 bears in the town of Belushya Guba since December.
This year's letter from Bill and Melinda Gates focused on nine things that surprised them. For the Microsoft-cofounder, one thing he was surprised to learn was the massive amount of new buildings the planet should expect in the coming decades due to urban population growth.
"The number of buildings in the world is going to double by 2060. It's like we're going to build a new New York City every month for the next 40 years," he said.
Over the past few years, it seems vegan cooking has gone from 'brown rice and tofu' to a true art form. These amazing cooks show off the creations on Instagram—and we can't get enough.
The USS Ashland, followed by the USS Green Bay, in the Philippine Sea on Jan. 21. U.S. Department of Defense
By Shana Udvardy
After a dearth of action on climate change and a record year of extreme events in 2017, the inclusion of climate change policies within the annual legislation Congress considers to outline its defense spending priorities (the National Defense Authorization Act) for fiscal year 2018 was welcome progress. House and Senate leaders pushed to include language that mandated that the Department of Defense (DoD) incorporate climate change in their facility planning (see more on what this section of the bill does here and here) as well as issue a report on the impacts of climate change on military installations. Unfortunately, what DoD produced fell far short of what was mandated.
The Paradise Fossil Plant in western Kentucky. CC BY 3.0
Trump is losing his rallying cry to save coal. The Tennessee Valley Authority (TVA) voted on Thursday to retire two coal-fired power plants in the next few years despite a plea from the president to keep one of the plants open.
Earlier this week, the president posted an oddly specific tweet that urged the government-owned utility to save the 49-year-old Paradise 3 plant in Kentucky. It so happens that the facility burns coal supplied by Murray Energy Corporation, whose CEO is Robert Murray, is a major Trump donor.