This website uses cookies to ensure you get the best experience while browsing it. By clicking 'Got It' you're accepting these terms.
2013 Deadliest Year On Record for Manatees
Jan. 09, 2014 11:15AM EST
Reported deaths of Florida manatees during 2013 have reached a record high, more than doubling last year's total, according to state figures posted today by Public Employees for Environmental Responsibility (PEER). A major factor driving this dramatic rise is the enormous toll from red tides, which accounted for a third of all the deaths and far more than in any year on record.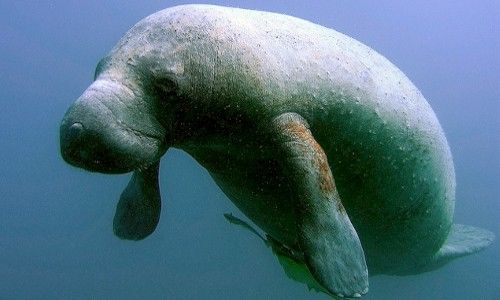 Preliminary figures from the Florida Fish & Wildlife Conservation Commission indicate that 829 manatee perished in 2013, with full results for December not yet tabulated. This total is more than double last year's loss of 392 sea cows and eclipses the previous record of 766 back in 2010 when a severe cold spell caused mortality to spike. This week's sudden cold snap could start 2014 with even more manatee deaths.
Altogether, the 2013 toll removes nearly 17 percent of the total manatee population. Distressingly, these losses include 126 calves. Manatees are classified as an endangered species under both federal and Florida law.
One major factor driving the sharp 2013 rise was manatee deaths attributed to toxic red tide events caused by algal blooms. There were 276 red tide-related manatee deaths in 2013, almost as many as for the previous eight years combined and more than 60 percent above the previous record for red tide-related deaths of 151 back in 1996.
While algal blooms are a natural and seasonal occurrence, they are exacerbated by pollution, especially nutrient loading, such as from agricultural and human wastes. Coastal water pollution is on the increase in Florida which when combined with rising sea water temperatures create ideal conditions for red tides.
"This hike in manatee mortality seems to be the product of systemic environmental irresponsibility," stated Florida PEER Director Jerry Phillips, a former water quality enforcement attorney for the state Department of Environmental Protection (DEP), pointing out that the state has been vigorously resisting tougher water pollution standards while eviscerating the DEP. "Basic permit regulation for waste-water discharges and enforcement against water pollution violations have completely broken down in the State of Florida."
Manatees may not be the only marine wildlife bearing the brunt of diminished water quality. More than 115 manatees died this year from an as yet undiagnosed illness in Indian River Lagoon, a major manatee haven. The disease also appears to be killing dolphins, pelicans and other wildlife in the Atlantic-facing inlet.
"Manatees appear to be dying in a perfect storm of human neglect," Phillips added, noting that boating-related manatee deaths actually fell in 2013. "If the quality of Florida's coastal waters continues its downward spiral, there will not only be fewer manatees but a lot fewer tourists no matter how cold it gets up North."
Visit EcoWatch's BIODIVERSITY and WATER pages for more related news on this topic.

EcoWatch Daily Newsletter
Large food companies are following in the footsteps of fast-food restaurants such as Burger King and KFC by offering meat alternatives. Getty Images
By Elizabeth Pratt
Hormel, Kellogg's, and Kroger are among the large companies now planning to offer "fake meat" products at grocery stores.
Experts say the trend toward plant-based meats coincides with consumers' desires to eat less meat.
However, experts urge consumers to closely check package labels as a product isn't necessarily healthy just because it's described as plant-based.
In grocery stores and fast-food outlets around the U.S., a revolution is taking place.
Colombia rainforest. Marcel Oosterwijk / CC BY-SA 2.0
Many of us think of the Amazon as an untouched wilderness, but people have been thriving in these diverse environments for millennia. Due to this long history, the knowledge that Indigenous and forest communities pass between generations about plants, animals and forest ecology is incredibly rich and detailed and easily dwarfs that of any expert.
picture-alliance / Newscom / R. Ben Ari
By Wesley Rahn
Plastic byproducts were found in 97 percent of blood and urine samples from 2,500 children tested between 2014 and 2017, according to a study by the German Environment Ministry and the Robert Koch Institute.

Pexels
Medically reviewed by Daniel Bubnis, MS, NASM-CPT, NASE Level II-CSS
Hot yoga has become a popular exercise in recent years. It offers many of the same benefits as traditional yoga, such as stress reduction, improved strength, and flexibility.
Lara Hata / iStock / Getty Images
By SaVanna Shoemaker, MS, RDN, LD
Rice is a staple in many people's diets. It's filling, inexpensive, and a great mild-tasting addition to flavorful dishes.
An image of the trans-alaskan oil pipeline that carries oil from the northern part of Alaska all the way to valdez. This shot is right near the arctic national wildlife refuge. kyletperry / iStock / Getty Images Plus
The Trump administration has initialized the final steps to open up nearly 1.6 million acres of the protected Alaskan National Wildlife Refuge to allow oil and gas drilling.