This website uses cookies to ensure you get the best experience while browsing it. By clicking 'Got It' you're accepting these terms.
2011 A Huge Year for Public Health
Dec. 23, 2011 12:22PM EST
Renewable Energy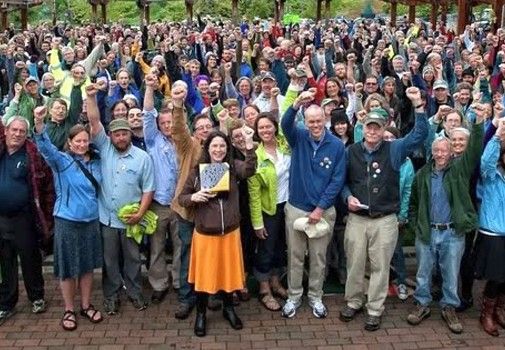 The outlook for coal continued to dim in 2011 as dozens of proposed new coal-fired plants were taken off the drawing board and utilities announced over more than 25,000 megawatts of coal plant retirements this year—and the nation saw record investments in wind and solar. Plant by plant, community by community, citizens joined together this year to show that they aren't waiting for Washington to move their local communities towards clean sources of energy like wind and solar.
What's more, a game-changing partnership with Bloomberg Philanthropies this year made clear that coal power is on the way out—the $50 million donation will help the Sierra Club move the nation beyond coal, with the goal of retiring a third of the nation's aging coal plants by 2020.
"Coal is a dirty and outdated fuel that is making our kids sick, causing asthma attacks and other health problems," said Mary Anne Hitt, director of the Sierra Club's Beyond Coal Campaign. "2011 was a landmark year where coal's prospects were eclipsed by clean energy—this is the year that investors realized that coal is a losing bet."
2011 By the Numbers
0—New coal plants broke ground
161—Total number of new coal plants abandoned or defeated since 2002 (12 in 2011)
89—Total number of coal plant retired or announced to retire since 2010 (48 in 2011)
19 colleges announced retirements of their campus coal plants
11 percent of existing coal-fired generation now announced to retire
1 veto of the largest mountaintop removal coal mining permit ever proposed
1,046 megawatts of solar power installed (the largest in history) and 3,360 megawatts of wind energy brought online during first three quarters of 2011
20 percent—Percentage of electricity that Iowa is now getting from wind power
$50,000,000 donation from Bloomberg Philanthropies to move beyond coal
"We are clearly witnessing the end of our dependency on coal and because of our successful efforts we are helping to move our nation toward a cleaner energy future that benefits both the public health and the public good," said Michael Bloomberg.
Nationwide, the price of coal is going up, while wind and solar prices are coming down—making new coal plants a poor investment. Citizen opposition, rising costs of coal and increased accountability have stopped 161 proposed coal plants over the past decade. And in the past two years, an unprecedented number of utilities opted to close outdated existing coal plants and pave the way for clean energy innovation.
In Alexandria, Va., a coal plant on the banks of the Potomac river—one that has been polluting the nation's capital for six decades—announced that it would phase out. In San Antonio, community groups heralded the mayor's announcement that the city would replace its coal plant with a massive solar power installation. In Centralia, Washington, a landmark agreement brought together workers and concerned citizens to retire the coal plant and make major new community investments in clean energy. And in the Southeast, an agreement with the Tennessee Valley Authority will phase out 18 units at coal-fired power plants and will invest $350 million in clean air projects.
The end of 2011 also heralded a major victory, as Sierra Club and its allies applauded the U.S. Environmental Protection Agency's (EPA) announcement of new mercury protections, which will require coal plants to install modern pollution control technology. Most of the country's coal plants were built before 1980, and many lack modern pollution controls. As much-needed new guidelines go into effect to protect people from toxic mercury, soot and smog spewing from these outdated coal plants, utilities will need to decide whether they will invest in updating aging plants, or switch to more effective sources of clean power like wind and solar. With wind prices now as low as 3 cents per kilowatt hour in Texas—a third of the price of new coal plants—smart business decisions will increasingly point towards wind power.
The call for clean energy has been especially strong on the more than 40 campuses nationwide where students are organizing to move beyond coal. Just this year Penn State University, Oberlin College, Case Western Reserve University, Ohio University, Miami University of Ohio, Eastern Illinois University, Western Illinois University, Southeast Missouri State University, Clemson University, University of Minnesota, and most recently St. John's University (MN) have all made commitments to phase out coal plants on their campuses. One third of all of the campus-based coal plants in the country are now on their way to retirement.
Students at Miami University won their campaign in just a single semester with actions including collecting more than 2,000 petitions and hosting an underwear flash mob while students at Ohio University celebrated victory in one of the longest-running and toughest Campuses Beyond Coal campaigns in the heart of coal country.
"Citizens across this country who are frustrated at the lack of leadership in Congress on critical issues of clean air, new jobs and combating global warming are taking action and seeing real results in their local communities, plant by plant, state by state," said Hitt. "The sooner we make the transition off of coal the sooner we can all breathe a little easier."
The Sierra Club Beyond Coal Campaign is a nationwide campaign working to stop the construction of new coal plants, to phase out existing coal plants and replace them with clean energy like wind and solar, and to keep U.S. coal reserves underground and out of world markets. Click here to learn more.
For more information, click here.
EcoWatch Daily Newsletter
A vegan diet can improve your health, but experts say it's important to keep track of nutrients and protein. Getty Images
By Dan Gray
Research shows that 16 weeks of a vegan diet can boost the gut microbiome, helping with weight loss and overall health.
A healthy microbiome is a diverse microbiome. A plant-based diet is the best way to achieve this.
It isn't necessary to opt for a strictly vegan diet, but it's beneficial to limit meat intake.
New research shows that following a vegan diet for about 4 months can boost your gut microbiome. In turn, that can lead to improvements in body weight and blood sugar management.
Students gathered at the National Mall in Washington DC, Sept. 20. NRDC
By Jeff Turrentine
Nearly 20 years have passed since the journalist Malcolm Gladwell popularized the term tipping point, in his best-selling book of the same name. The phrase denotes the moment that a certain idea, behavior, or practice catches on exponentially and gains widespread currency throughout a culture. Having transcended its roots in sociological theory, the tipping point is now part of our everyday vernacular. We use it in scientific contexts to describe, for instance, the climatological point of no return that we'll hit if we allow average global temperatures to rise more than 2 degrees Celsius above preindustrial levels. But we also use it to describe everything from resistance movements to the disenchantment of hockey fans when their team is on a losing streak.
samael334 / iStock / Getty Images
Berries are small, soft, round fruit of various colors — mainly blue, red, or purple.
A glacier is seen in the Kenai Mountains on Sept. 6, near Primrose, Alaska. Scientists from the U.S. Geological Survey have been studying the glaciers in the area since 1966 and their studies show that the warming climate has resulted in sustained glacial mass loss as melting outpaced the accumulation of new snow and ice. Joe Raedle / Getty Images
By Mark Mancini
On Aug. 18, Iceland held a funeral for the first glacier lost to climate change. The deceased party was Okjökull, a historic body of ice that covered 14.6 square miles (38 square kilometers) in the Icelandic Highlands at the turn of the 20th century. But its glory days are long gone. In 2014, having dwindled to less than 1/15 its former size, Okjökull lost its status as an official glacier.
Members of Chicago Democratic Socialists of America table at the Logan Square Farmers Market on Aug. 18. Alex Schwartz
By Alex Schwartz
Among the many vendors at the Logan Square Farmers Market on Aug. 18 sat three young people peddling neither organic vegetables, gourmet cheese nor handmade crafts. Instead, they offered liberation from capitalism.
Hackney primary school students went to the Town Hall on May 24 in London after school to protest about the climate emergency. Jenny Matthews / In Pictures / Getty Images
Bird watching in the U.S. may be a lot harder than it once was, since bird populations are dropping off in droves, according to a new study.