This website uses cookies to ensure you get the best experience while browsing it. By clicking 'Got It' you're accepting these terms.
Jim Connor, 83, was not among the 20 protesters arrested on Monday afternoon as part of the latest human blockade at the entrance gates of Crestwood Midstream two miles north of Watkins Glen, New York.
---
Had the sheriff's deputies arrived an hour earlier, his name would appear in the list of the now 200 arrests that have take place at these gates since October. But Jim—who uses a walker and was blockading while seated in a lawn chair and wrapped in a blanket—needed to go home after 2.5 hours of turning back trucks with his own body.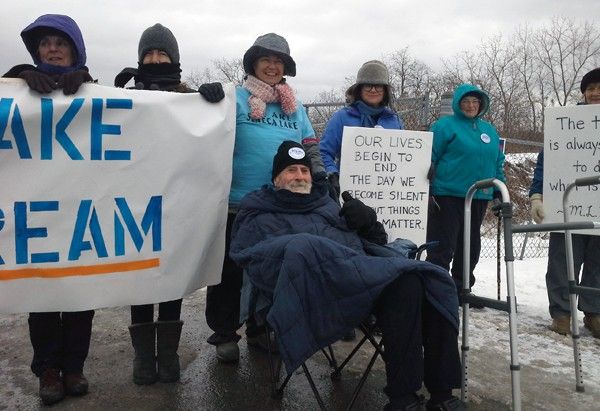 The deli cook folded her civil disobedience cards at about the same time.
Along with a mom who needed to relieve her babysitter.
Which is how the two-dozen original blockaders were whittled down to 20 during a non-violent direct action on a January morning atop an icy hill above Seneca Lake where winds drop effective temperatures well below the already-wickedly-low digits on the thermometer and where the advice, "dress in layers," means that you pull mittens on over your gloves, wear two coats on top of three sweaters and throw some chemical handwarmers into the toes of your snow boots.
But perhaps the reluctant attrition of the elderly, the workers and the parents of toddlers only attests to the homespun determination of this ongoing civil disobedience uprising—now in its third month.
As does the enduring presence of the 40 other protesters who rallied for hours in support of the blockaders along the shoulder of the highway. One of them was 90-year-old Martha Ferger of Dryden. I was another.
Because it was MLK Day, we sang Civil Rights songs and held banners with messages—"We Are Seneca Lake and We Have a Dream," "Clean Air, Clean Water = Civil Rights,"—honoring Martin Luther King, Jr. on the national holiday that celebrates his birth. The singing went on for hours. We unarrested protesters, when ordered by deputies to disperse, could hear those inside the squad cars still belting out the refrain to "Wade in the Water."
And water is, fundamentally, what this fight is all about. We Are Seneca Lake is an ongoing, citizen-based civil disobedience campaign that seeks to protect Seneca Lake and the surrounding region from gas storage expansion by Texas-based energy company, Crestwood Midstream. Crestwood's intention is to repurpose the crumbling salt mines underneath Seneca Lake's hillside into massive gas tanks for the highly-pressurized products of fracking: methane, propane and butane.
Seneca Lake, a source of drinking water for 100,000 people, is a very deep lake that drains very slowly. A contamination event, hydrologists tell us, would linger not days or weeks but over a time scale measured by human generations. Because of its depth, Seneca Lake also creates a unique, self-moderating microclimate for the entire Finger Lakes region, allowing vineyards to flourish on our hillsides and making possible a thriving wine industry, which is the bedrock of our local economy.
The methane gas storage expansion project is advancing in the face of broad public opposition and unresolved scientific questions about geological instabilities, fault lines and possible salinization of the lake. Crestwood has indicated that it intends to make Seneca Lake the gas storage and transportation hub for the entire Northeast, as part of the gas industry's planned expansion of infrastructure across the region. The wise decision by New York Governor Andrew Cuomo to ban fracking in our state—and his corollary announcement of a $20 million green jobs competition—only makes the plan to store mass amounts of fracked gas under our lake seem even more insane.
Seneca Lake Defenders—as those risking arrest call themselves—come in all ages, from 18 to 90, and from many walks of life. As diverse as we are, everyone is united in the belief that Crestwood is an out-of-state trespasser that threatens to harm all we hold dear, starting with water and wine. Being arrested for trespassing in order to make that point only helps reinforce it.
Seth Thomas, 34, who lives in the Town of Lodi on the opposite bank of the lake, said, before his own arrest, "I'm protesting gas storage because I was born and raised here. I'm in the wine industry, so this is a direct threat to our way of life."
His words were echoed by Marty Dodge, 72, who lives two Fingers Lakes over in village of Canandaigua and who had driven over early that morning to stand with us. "I am here to do what I can to prevent Crestwood from destroying this lake," said Dodge. "It just doesn't belong here."
Marty, who has a rotator cuff injury in his shoulder, had some difficulty getting his arms behind his back and close enough together for handcuffs. His recent hip replacement made it hard for him to climb into the police van.
Later, outside the Schuyler County sheriff's department, I asked if he had pointed out these disabilities to his arresting officer. The county deputies and state troopers have all been consistently respectful toward us—and sometimes downright compassionate—even during mass arrests.
Marty said no. "I didn't want to cause any trouble."
Increasingly, the protests out at the gates of Crestwood are thematic and self-organized by participants. One self-identified uprising seems to spawn another, and there is no end in sight.
The Teachers Blockade on Dec. 16 resulted in the most arrests in a single day (41), but it was the Musicians Blockade on Dec. 17 (28 arrests) that was the direct inspiration for the Mothers and Grandmothers Blockade of last Friday.
These women—who quickly figured out that they had themselves created, all together, 32 children and 20 grandchildren—blocked the entrance into Crestwood in bitterly cold temperatures and prevented all traffic from entering or leaving the facility for 5.5 continuous hours.
Like the MLK Day Blockade—and, of course, the Musicians Blockade—singing was a key element of the mothers and grandmothers' action. The mothers debuted a new song, The Ballad of Seneca Lake, written by singer-songwriter Edith McCrea.
What made the Mothers and Grandmother's Blockade unusual—besides the fact that cookies were served—is that no arrests were made. A sheriff's deputy stopped by late in the morning, lights flashing, and everyone thought the party was over. But he only expressed concern about the car parked just north of the gate along the highway's edge. (It held our all important port-a-potty.) Could we move it further off the road? We agreed.
The deputy looked at the blockade line. The banners read "Mothers Against Crestwood: Defending Our Children's Future" and "Mom Says: N-O Spells No. You Have Until the Count of 3." And he drove off.
That was the last we saw of law enforcement. The snow kept falling. At 4 p.m. the women dispersed.
Meanwhile, one of the Seneca Lake Defenders (arrested Nov. 21) reports that he overheard a woman at a dinner party encouraging her husband to get involved with us on the grounds that being arrested to save the planet is sexy. He went on to write a blog essay called I'm Mostly Just In This for the Women, which is getting some attention.
So, now it's inevitable: somebody out there is laying plans for a Fathers and Grandfathers Blockade.
EcoWatch Daily Newsletter
Waterloo Bridge during the Extinction Rebellion protest in London. Martin Hearn / Flickr / CC BY 2.0
Money talks. And today it had something to say about the impending global climate crisis.
Sam Cooper
By Sam Cooper
Thomas Edison once said, "I'd put my money on the sun and solar energy. What a source of power!"
Simple swaps that cut down on kitchen trash.
Sponsored
By Kayla Robbins
Along with the bathroom, the kitchen is one of the most daunting areas to try and make zero waste.
A NOAA research vessel at a Taylor Energy production site in the Gulf of Mexico in September 2018. NOAA
The federal government is looking into the details from the longest running oil spill in U.S. history, and it's looking far worse than the oil rig owner let on, as The New York Times reported.
Golde Wallingford submitted this photo of "Pure Joy" to EcoWatch's first photo contest. Golde Wallingford
EcoWatch is pleased to announce our third photo contest!

Damage at the Malheur National Wildlife Refuge from the 2016 occupation. USFWS
By Tara Lohan
When armed militants with a grudge against the federal government seized the Malheur National Wildlife Refuge in rural Oregon back in the winter of 2016, I remember avoiding the news coverage. Part of me wanted to know what was happening, but each report I read — as the occupation stretched from days to weeks and the destruction grew — made me so angry it was hard to keep reading.
Computer model projection of temperature anomalies across Europe on June 27. Temperature scale in °C. Tropicaltidbits.com
A searing heat wave has begun to spread across Europe, with Germany, France and Belgium experiencing extreme temperatures that are set to continue in the coming days.
Skull morphology of hybrid "narluga" whale. Nature / Mikkel Høegh Post
In the 1980s, a Greenlandic subsistence hunter shot and killed a whale with bizarre features unlike any he had ever seen before. He knew something was unique about it, so he left its abnormally large skull on top of his toolshed where it rested until a visiting professor happened upon it a few years later.