This website uses cookies to ensure you get the best experience while browsing it. By clicking 'Got It' you're accepting these terms.


The best of EcoWatch, right in your inbox. Sign up for our email newsletter!
200,000 People Demand Congress Puts an End to Mountaintop Removal
Jul. 14, 2015 12:11PM EST
Energy
Signaling a watershed shift in recognizing the national health crisis from cancer-linked strip mining in central Appalachia, more than 200,000 people have signed historic CREDO Action and Earthjustice petitions, calling on Congress to pass the Appalachian Communities Health Emergency Act (H.R. 912) and enact a moratorium on new mountaintop removal coal mining (MTR).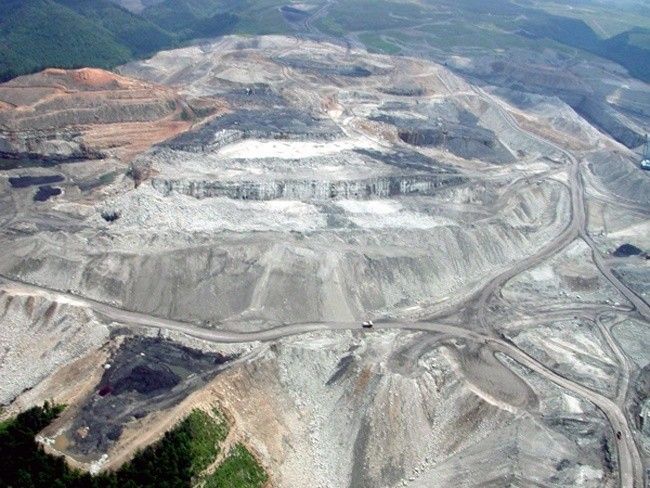 With the Appalachian coal industry in a tailspin and the global banking community pulling out of mountaintop removal financing, the extraordinary show of support for the ACHE Act campaign effectively acknowledges that the only defenders of the cancer-linked radical strip mining operations are a handful of absentee coal companies, indicted coal baron Don Blankenship, and their fringe supporters in Congress.
A New Appalachia is Rising
Fed up with the stranglehold of mountaintop removal mining blocking any economic future, residents are pushing a regeneration plan for a diversified economy, and calling for Abandoned Mine Land funds and investment from President Obama's Power Plan to counter the irreversible health and environmental damage from strip mining.
"The more health research we conduct on mountaintop removal the more truth we discover. We have already discovered enough truth that any reasonable thinking person understands we must take urgent action to stop any further MTR until it is proven that MTR is not a public health threat," said Bo Webb, who lives under a mining operation and co-founded the Appalachian Community Health Emergency Campaign. "Any politician, person, agency or organization that refuses to act quickly to protect our children from further exposure to mountaintop removal's toxic fallout is not serving The People well," Webb added.
The appeal to Congress on the basis of deadly and massive health costs sidesteps the Obama administration's flawed regulatory approach, which has hedged on any further crack down on the devastating mining process despite years of evidence and two dozen peer-reviewed health studies on the impacts of the extreme mining process.
The historic petitions, in fact, were delivered within days of the anniversary of the Surface Mining Control and Reclamation Act, which granted federal sanctioning to mountaintop removal mining in 1977 over objections by President Jimmy Carter.
Keep that date in mind: How do you ask a plundered coal mining community to be the last community to die for a mistake?
Despite recent news headlines that mountaintop removal mining has dropped more than 60 percent since 2008, according to an EIS assessment, residents living in strip mining areas in central Appalachia were quick to remind the news media that destructive mine blasting and its toxic fallout continued to flourish in close proximity to houses, schools and farms, even though they had not been registered as mountaintop removal operations.
"While some companies may claim that they no longer conduct mountaintop removal, the blasting methods and health consequences are the same regardless of what they call it," said Bob Kincaid, president of Coal River Mountain Watch. "Tonnage may be down in some places, but companies such as Alpha Natural Resources are still blasting above our communities and seeking new permits. Given the host of diseases associated with it among an innocent population, we can live without it far easier than with it."
Last week, in fact, on the same day the EIS assessment appeared, Coal River Mountain residents in West Virginia testified in opposition to a new 847-acre Alpha Natural Resources strip mine in their area.
"Mountaintop removal coal mining is a crime against Appalachia," said Josh Nelson, communications director with CREDO Action. "That's why grassroots activists around the country are demanding that Congress pass the Appalachian Community Health Emergency Act and put an end to this deadly and unnecessary practice."
"The coal industry is destroying Appalachia, detonating millions of pounds of diesel fuel and explosives daily to rip the top off of mountains for coal," said Marty Hayden, Earthjustice vice president of policy and legislation. "More than 22 peer-reviewed scientific studies have found that cancer, disease, and birth defect rates are significantly higher in these areas. It's high time for Congress to pass the Appalachian Community Health Emergency Act, which would place an immediate moratorium on new mountaintop removal mining permits."
YOU MIGHT ALSO LIKE 
Coal Is No Longer King in America, Says EIA Report
New Mapping Tool Shows Communities at Risk From Mountaintop Mining
EcoWatch Daily Newsletter
Los Angeles-Long Beach, California is listed as the nation's smoggiest city. Pixabay
Kissing bug. Pavel Kirillov / Flickr / CC BY-SA 2.0
The Centers for Disease Control and Prevention (CDC) confirmed that the kissing bug, which can transmit a potentially deadly parasite, has spread to Delaware, ABC News reported Wednesday.
Did you know that more than a third of food is wasted or thrown away every year? And that only 25 percent of it would be enough to feed the 795 million undernourished people in the world? That's why today is Stop Food Waste Day, a chance to reflect on what you can do to waste less of the food you buy.
Stop Food Waste Day is an initiative of food service company Compass Group. It was launched first in the U.S, in 2017 and went global the year after, making today it's second worldwide celebration.
Flames and smoke are seen billowing from the roof at Notre-Dame Cathedral on April 15 in Paris, France. Veronique de Viguerie / Getty Images
When Paris's Notre Dame caught fire on April 15, the flames threatened more than eight centuries of culture and history. The fire evoked shock, horror and grief worldwide. While the cathedral burned, French President Emmanuel Macron expressed determination to rebuild what the French regard as a sacred site.
An artist's impression of NASA's InSight lander on Mars. NASA / JPL-CALTECH
Scientists have likely detected a so-called marsquake — an earthquake on Mars — for the first time, The National Aeronautics and Space Administration (NASA) announced on Tuesday.
Hero Images / Getty Images
Across the political aisle, a majority of American parents support teaching climate change in schools even though most teachers currently do not.
By Andrea Germanos
Lawyer and visionary thinker Polly Higgins, who campaigned for ecocide to be internationally recognized as a crime on par with genocide and war crimes, died Sunday at the age of 50.
She had been diagnosed with an aggressive cancer last month and given just weeks to live.