This website uses cookies to ensure you get the best experience while browsing it. By clicking 'Got It' you're accepting these terms.
20-Mile Bike Lane Is Also Massive Solar Array
Apr. 16, 2015 10:24AM EST
Until it's actually possible to pave our parking lots and roads in solar panels, here's a promising compromise from South Korea. In between the cities of Daejeon to Sejong, there's a 20-mile bike lane that's covered by an impressive solar array.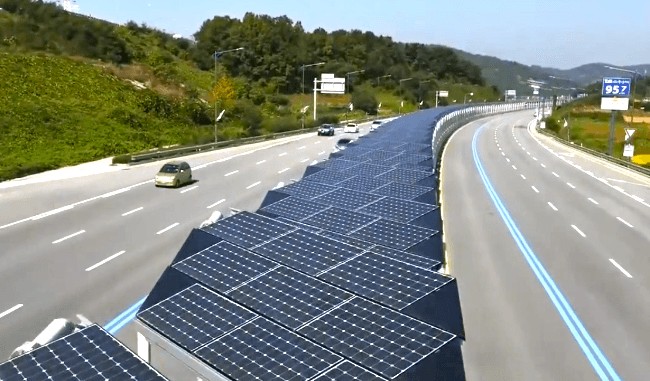 Photo credit: YouTube screenshot
The overhead solar panels not only generate renewable power but also provide shade and cover from rain for the bicyclists.
A bike lane that's also a solar farm is a wonderful concept, but does it have to be smack in the middle of a busy highway? Some have pointed out that cyclists are exposed to vehicular fumes and emissions of the fast-moving cars and trucks zipping down the road. And although bikers are protected by a barrier, a BBC article once observed that Seoul drivers are "notorious for ignoring any traffic rules, especially red lights, and will drive across intersections over red lights."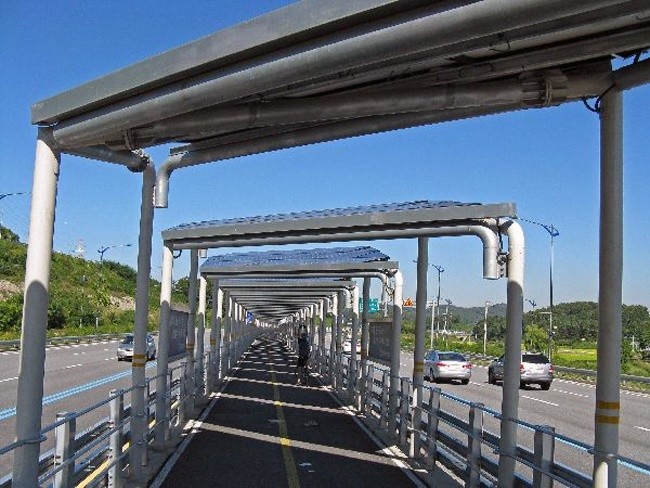 Still, promoting emission-free transportation is especially important for a country that hasn't seemed to embrace biking as a means of commuting. According to the Ministry of Security and Public Administration, while seven out of 10 Koreans own a bicycle and more than half of the population cycle at least once a month, most Koreans consider leisure as the primary purpose of cycling, not transportation. As the Korean Herald reported, cycling apparently accounts for just 2.5 percent of transportation in the country, whereas in the Netherlands it's around 43 percent, and in nearby Japan it's 25 percent.
Biking would also reduce traffic congestion, which can be pretty bad especially in the country's capital of Seoul where one out of three citizens has a car.
Despite what critics have said, it looks like many Korean bikers are already using the lane to get from A to B. If you look closely at the footage below (captured by a drone no less), you'll see cyclists cruising down the path as traffic on each side whizzes by.
We wonder if something like this would work in the U.S.?
YOU MIGHT ALSO LIKE
Plans Underway for World's First Bicycle Superhighway
5 Cool Ways to Make Urban Biking Safer
How Solar Panels Could Transform Parking Lots and Roadways Around the World
Three scissor-tailed flycatcher fledglings in a mesquite tree in Texas. Texas Eagle / CC BY-NC 2.0
By Gary Paul Nabhan
President Trump has declared a national emergency to fund a wall along our nation's southern border. The border wall issue has bitterly divided people across the U.S., becoming a vivid symbol of political deadlock.
PeopleImages / E+ / Getty Images
By Daniel Ross
Hurricane Florence, which battered the U.S. East Coast last September, left a trail of ruin and destruction estimated to cost between $17 billion and $22 billion. Some of the damage was all too visible—smashed homes and livelihoods. But other damage was less so, like the long-term environmental impacts in North Carolina from hog waste that spilled out over large open-air lagoons saturated in the rains.
Hog waste can contain potentially dangerous pathogens, pharmaceuticals and chemicals. According to the state's Department of Environmental Quality, as of early October nearly 100 such lagoons were damaged, breached or were very close to being so, the effluent from which can seep into waterways and drinking water supplies.
This picture taken on May 21, 2018 shows discarded climbing equipment and rubbish scattered around Camp 4 of Mount Everest. Decades of commercial mountaineering have turned Mount Everest into the world's highest rubbish dump as an increasing number of big-spending climbers pay little attention to the ugly footprint they leave behind. DOMA SHERPA / AFP / Getty Images
China has closed its Everest base camp to tourists because of a buildup of trash on the world's tallest mountain.
Researchers tested the eggs of Arctic northern fulmers like these in Nunavut, Canada.
Fiona Paton / Flickr
By Madison Dapcevich
Plastics have been recorded in every corner of the world, from the remote icy waters of Antarctica to the bellies of deep-sea fishes. Now, preliminary findings presented at this year's American Association for the Advancement of Science (AAAS) annual meeting in Washington, DC suggest that bird eggs from the high Arctic—one of the most remote wildernesses on the planet—show evidence of contamination from chemicals used in plastics.