This website uses cookies to ensure you get the best experience while browsing it. By clicking 'Got It' you're accepting these terms.
20 Eco-Friendly Easter Egg Ideas
Apr. 02, 2014 03:13PM EST
No plastic Easter eggs!
Make that your mantra, and you've just banned quite a bit of the toxicity of Easter. Besides, you don't need plastic Easter eggs, not when there are both beautiful, vegan alternatives to plastic eggs, and beautiful, creative, unusual ways to decorate traditional, edible Easter eggs.
Want something to fill with candy? This list has it.
Want something extra fun and unusual to do with yet another carton of hard-boiled eggs? This list has it.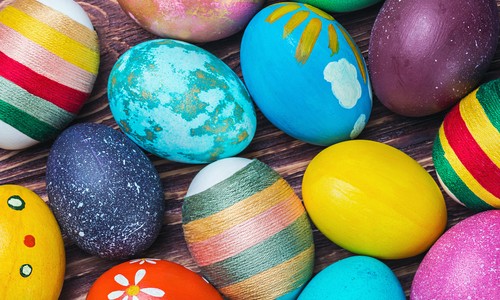 Photo courtesy of Shutterstock
Vegan Easter Egg Alternatives
1. Egg carton Easter eggs. Bum a few cardboard egg cartons from a friend, and turn them into Easter eggs of your own.
2. Embroidery floss Easter eggs. These eggs made from embroidery floss or yarn are delicate, but quite beautiful.
3. Felt Easter eggs. Using Eco-fi felt (which is made from recycled plastic soda bottles), you can sew your own Easter egg stuffies. Decorate them with buttons and ribbons instead of dye.
4. Papier mache eggs. These papier mache Easter eggs are a favorite of mine; the kids can paint them, they'll last forever, and they hold treats!
5. Pine cone Easter eggs. Painted pine cones make great Easter eggs.
6. Rock Easter eggs. Rocks are just as fun to paint as eggs.
7. Upcycled book page eggs. Pages torn from broken books are transformed into three-dimensional eggs.
8. Wooden eggs. Wooden eggs are fairly easy to source, and you can do so much with them–paint them, color on them with Sharpies, decoupage them, glue on buttons or photos. Your imagination is the limit.
Other Easter Egg Alternatives
9. Felted wool Easter eggs. When my kids were too young to decorate Easter eggs, these Mama-made felted wool Easter eggs were just the thing–big, soft, and colorful!
10. Felted wool sweater Easter eggs. Sew Easter egg stuffies from prettily patterned wool sweaters. Here's how to felt wool sweaters.
11. Hollow chocolate Easter eggs. Use the embroidery floss technique above, but substitute melted chocolate–yum!
Natural Easter Egg Decorating
12. Blown-out eggs. Decorate them however you'd like when you're finished; blown-out eggs will keep beautifully indefinitely.
13. Earth Paint Easter egg dye. Natural Earth Paint makes an Easter egg dye kit that uses the same natural ingredients that you'd use to make your own Easter egg dyes, but in a quick and easy kit form.
14. Homemade natural dyes experiment. What color would the spices in your pantry turn an egg? Now's the time to find out!
15. Plant silhouettes. These dyed eggs show the delicate silhouettes of leaves, stems and flowers.
16. Ruby eggs. Why dye the eggshell, when you can dye the egg itself? These hard-boiled eggs are dyed in beet juice, so they turn out beautiful and fun, but with no unwanted synthetic chemical coloring. If you use natural food coloring

, you can dye your peeled eggs in even more colors. And if you're still hankering for even more egg dyeing fun, check out Green Living Ideas for more natural egg dyeing tutes.
17. Vegetable-dyed Easter eggs. There's nothing but wholesome, food-based pigment in this dye. Secret tip: to get a beautiful crimson color even more vibrant than food coloring could yield, use yellow onion skins.
Upcycled Easter Egg Decorating
18. Melted crayon Easter eggs. Use up your broken crayons to decorate eggs with a marbling effect.
19. Silk tie Easter eggs. Use those tacky silk ties to make beautifully patterned Easter eggs.
20. Tie-dyed Easter eggs. If you've got some junky old fabric scraps that you don't want to use for anything, then use them to make these tie-dyed Easter eggs; fabric is the key ingredient to create that tie-dyed look on the eggs, but you don't want to use your nice swatches, obviously.
Plus, learn if there's one that's best for your health.
Catherine Falls Commercial / Moment / Getty Images
An invasive Amynthas worm, also known as a crazy snake worm, Asian jumping worm and Alabama jumper Tom Potterfield / Flickr
By Jason Bittel
My wife and I built a house two years ago on a few acres of woodland outside of Pittsburgh. The backyard is full of maples, poplars, briars and common spicebush. Two-lined salamanders and grumpy-looking crayfish wade among the rocks in the small stream that runs down the edge of the property. Deer, raccoon and opossum tracks appear regularly in the snow and mud. Sometimes, my trail-cam even catches a pair of gray foxes as they slink through the night.
AleksandarNakic / Getty Images
By Kate Murphy
No matter the time of year, there's always a point in each season when my skin decides to cause me issues. While these skin issues can vary, I find the most common issues to be dryness, acne and redness.

David Woodfall / The Image Bank / Getty Images
By Sam Nickerson
The U.S. Environmental Protection Agency (EPA) in April 2018 proposed relaxing standards related to how it assesses the effects of exposure to low levels of toxic chemicals on public health.
Now, correspondence obtained by the LA Times revealed just how deeply involved industry lobbyists and a controversial, industry-funded toxicologist were in drafting the federal agency's proposal to scrap its current, protective approach to regulating toxin exposure.
Steve Irwin poses with a three foot long alligator at the San Francisco Zoo on June 26, 2002. Justin Sullivan / Getty Images
February 22 is the birthday of conservationist and beloved TV personality "Crocodile Hunter" Steve Irwin, who would have been 57 years old today.
Irwin's life was tragically cut short when the barb from a stingray went through his chest while he was filming in 2006, but his legacy of loving and protecting wildlife lives on, most recently in a Google Doodle today honoring his birthday.