Energy
Oct. 12, 2015 10:02AM EST
2 More Fracking-Related Earthquakes Hit Oklahoma Despite New Rules Meant to Prevent Them
Two earthquakes registering at a 4.5 and a 4.4 magnitude shook frack-happy Oklahoma on Saturday, some of the strongest felt in the state this year. The stronger quake occurred just a few miles from the city of Cushing, which holds one of the largest crude oil storage facilities in the world.
The recent quakes struck only a handful of weeks after the Oklahoma Corporation Commission (OCC), the state's public utilities commission, shut down several disposal wells around Cushing and issued new regulations meant to prevent more earthquakes in the area, according to Al Jazeera.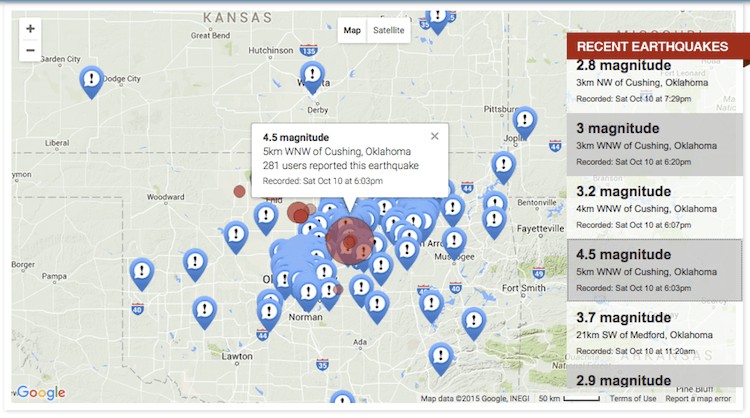 Photo credit: NewsOK
A local report said that the stronger 4.5 magnitude quake occurred around 5 p.m. Saturday evening and could be felt in the nearby cities of Stillwater, Guthrie, Sapulpa, Oklahoma City and other parts of the metro. There were multiple aftershocks in Cushing, recorded at 3.0, 3.2, 3.1, 2.8, 2.7 and 2.5.
Bob Noltensmeyer, Cushing Emergency Manager, told the Associated Press he had not received reports of significant damage in the area although there were "shattered nerves."
"This one was pretty strong," he added. "The whole house shook."
A 4.4 was also recorded on Saturday at 4:20 a.m. about 18 miles southwest of Medford and about 100 miles northwest of Cushing.
America's heartland used to register earthquakes from two a year to almost two a day. This year, roughly 700 earthquakes of magnitude 3 or higher has shook the state, compared to 20 throughout 2009, as the Associated Press pointed out.
The Sooner State's seemingly never-ending earthquakes appear to be a man-made side effect of the country's drilling boom. Scientists say that the injection of wastewater byproducts into deep underground disposal wells from fracking operations are very likely triggering the major increase of seismic activity in Oklahoma, which is not near any major fault lines.
"What's at risk is that when you put water into the ground, it's never going to come back out. You're putting it in places it has never been before," George Choy, a seismologist at the U.S. Geological Survey (USGS), told the AFP about the spate of recent tremors.
As Al Jazeera reported, the OCC previously required disposal well operators to show that water is not being injected below the state's deepest rock formation, which is believed to contribute to the tremors. The commission issued rules on Aug. 4 to 12 operators of 23 wells that said they had 60 days to reduce the amount of saltwater being injected into wells. Incidentally, Oklahoma has about 4,500 disposal wells with about 3,500 in operation, so these regulations only applied to a small fraction of the wells.
The energy industry is, in a word, everything for Oklahoma. The state is one of the top natural gas-producing states in the nation. One-quarter of all jobs are either directly or indirectly tied to the energy industry.
However, as the state continues to rattle almost daily, even pro-business Oklahoma Gov. Fallin changed her tune about the link between fracking and earthquakes for the first time at the state Capitol last month, admitting a "direct correlation between the increase of earthquakes that we've seen in Oklahoma [and] disposal wells."
Still, Fallin said earlier this month (via NewsOK) that she is still weighing some of the pros and cons of fracking in her state.
"We want to do it wisely without harming the economic activity we certainly enjoy and the revenue, quite frankly, we certainly enjoy," Fallin said. "The council has worked very hard to ensure the energy sector, state agencies, environmentalists and academia are all talking and sharing that data and we have a scientific-based approach to reducing seismicity in our state."
YOU MIGHT ALSO LIKE
Indigenous Leaders Disrupt Auction Persuading Companies From Acquiring Fracking Blocks in Brazil
Fracking: Putting Our National Parks at Risk
ark Ruffalo Urges Pennsylvania Governor to Enact Immediate Fracking Moratorium
iStock
By Robert Coleman
The Environmental Working Group's (EWG) just-released Tap Water Database shows that a startling number of cancer-causing chemicals contaminate the nation's drinking water. Of 250 different contaminants detected in tests by local utilities, 93 are linked to an increased risk of developing cancer.
Keep reading...
Show less
Aaron Teasdale
By Aaron Teasdale
"How much moon do we have tonight?" I yelled to my friend Greg, trying to make myself heard over the sounds of wind and surging water. The sun was sinking toward the mountains all too quickly and our float-in campsite lay somewhere down the river's bends in darkening forest.
Greg shrugged. He had no clue of the moon's cycle either, which showed just how tragically pasty and over-civilized we'd turned. Our days had become filled with computer screens, not forest scenes; our nights capped with ceilings, not stars. All of which made this journey on standup paddleboards so sweet—or at least we hoped it would be sweet, if the pesky headwind would let up before we had to risk disfiguring ourselves while navigating boulder-strewn waters by headlamp and whatever light the moon might spare.
Keep reading...
Show less
By Rebekah Wilce
The world of independent chemical testing has a shiny veneer. The public is reassured that chemicals they're exposed to on a daily basis are certified by technicians in spotless white lab coats who carefully conduct scientific studies, including on animals in neat rows of cages.
But a federal grand jury investigation that ended with convictions in the early 1980s discovered that Industrial Bio-Test Laboratories (IBT), the largest such lab in the U.S., conducted trials with mice that regularly drowned in their feeding troughs. The dead animals would decompose so quickly that "their bodies oozed through wire cage bottoms and lay in purple puddles on the dropping trays." IBT even invented an acronym "TBD/TDA" for its raw safety data, later discovered to mean "too badly decomposed."
Keep reading...
Show less
iStock
Roman officials are considering shutting off the water supply to one-third of the city's residents for eight hours per day as early as this weekend, according to reports.
Keep reading...
Show less
Ararat Rock Solar farm in Mount Airy, North Carolina. NARENCO
North Carolina Gov. Roy Cooper signed a bill into law Thursday that will boost solar production but curb wind energy in the state.
House Bill 589, the result of months of arduous negotiations between utilities and the solar industry, is intended to encourage the continued growth of solar in the state, but it includes a moratorium on new wind projects for the next 18 months.
Keep reading...
Show less
Algal blooms in Lake St. Clair and in western Lake Erie in 2015. NASA Earth Observatory
Heavier rainfall linked to rising temperatures could substantially increase the volume of agricultural runoff flowing into waterways, triggering toxic algal blooms, according to new research.
A study published Thursday in the journal Science finds that heavier rainfall could increase nitrogen runoff in U.S. lakes, rivers and streams by 19 percent by the end of this century.
Keep reading...
Show less
iStock
By Jen Sawada
Sharks have been around for 400 million years, before the time of the dinosaurs, but there's much more to them than big teeth and summer blockbusters. Consider these facts, which will change what you think about sharks.
Keep reading...
Show less
Felix Kramer / Wikimedia
By Jason Mathers
The high level of confidence that automotive industry leaders have in the future of electric vehicles (EVs) has been on full display recently.
Keep reading...
Show less


Get EcoWatch in your inbox