This website uses cookies to ensure you get the best experience while browsing it. By clicking 'Got It' you're accepting these terms.
2 Billion People to Face Water Shortages as Snowpack Declines
Nov. 13, 2015 10:42AM EST
Climate
Up to 2 billion people who depend on winter snow to deliver their summer water could see shortages by 2060 as upland and mountain snowpacks continue to dwindle.
An estimated 300 million people could find, 45 years on, that they simply won't have enough water for all their needs, according to new research.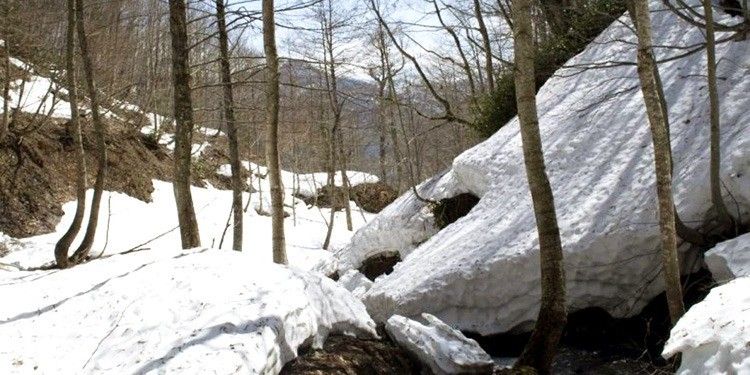 Melting snowpack in Turkey's Lesser Caucasus mountains. Photo credit: Dario Martin-Benito
Climate change driven by rising atmospheric levels of carbon dioxide—in turn, fed by human combustion of fossil fuels—may already be affecting global precipitation. Researchers have consistently found that much of the world's drylands will increase as global average temperatures rise.
But warmer temperatures increasingly also mean the water that once fell as snow, to be preserved until the summer, now falls as winter rain and runs off directly. The snow that does fall is settling at ever higher altitudes and melting ever earlier.
Reliable Flow
This is bad news for agricultural communities that depend on a reliable flow of meltwater every summer.
California is already in the grip of a sustained drought, made worse by lower falls of snow. Great tracts of Asia depend on summer meltwater from the Himalayan massif and the Tibetan plateau.
Justin Mankin, an environmental scientist at Columbia University's Earth Institute in the U.S. and colleagues report in Environmental Research Letters journal that they studied 421 drainage basins across the northern hemisphere.
They took account of the water used now and the patterns of population growth and tested the impact of global warming, using computer simulations of a range of possible future patterns.
From this larger picture, they isolated 97 drainage basins that deliver water to 2 billion people who are reliant on snow on the high ground as a reservoir of summer water.
All of these face at least a 67 percent risk of a decline in stored snow, given the demand for water now. But in 32 of those basins, home to 1.45 billion people, snowmelt is already needed to meet a substantial proportion of demand.
These include northern and central California, the basins of the Colorado River and the Rio Grande in the U.S. West and northern Mexico, the Atlas basin of Morocco, the Ebro-Douro basin that waters Portugal and Spain and a series of basins in eastern Italy, the southern Balkans, the Caucasus nations and northern Turkey.
It also includes the Shatt al-Arab basin that brings meltwater from the Zagros mountains to Iraq, Syria, eastern Turkey, northern Saudi Arabia and eastern Iran. Research has linked civil conflict in the region and in other parts of the world with climate change.

Areas most at risk of reduced water supply (red = highest risk; yellow = lowest). Photo credit: Justin Mankin / Environmental Research Letters 2015
But although snowpack will continue to decline, the researchers think rainfall will continue to meet demand across most of North America, northern Europe, Russia, China and southeast Asia. There may be no real change for India's Indus and Ganges basins, which are home upwards of a billion people.
And accelerated melting of the glaciers could actually increase water supplies for some central Asian nations, including Uzbekistan and Kazakhstan.
Planning for Change
The message of the research is that national, regional and civic authorities must start planning for change.
"Managers need to be prepared for the possibility of multi-decadal decreases in snow water supply," Dr. Mankin says. "But at the same time, they could have large multi-decadal increases. Both these outcomes are entirely consistent with global warming."
The authors warn that their projections do not consider the water demands of forests and wild things, as they had been focusing on human needs. Nor had they taken into consideration future population growth or migration.
"Total human population—and thereby total water demand—will almost certainly increase in the future," the researchers write. "However, we do not predict changes in total population or the geographic distribution of people, nor the changes in consumption patterns that are likely to accompany future socio-economic changes."
"To do so would introduce additional sources of uncertainty, whereas our aim is to isolate the uncertainty from climate change."
YOU MIGHT ALSO LIKE
World Bank Climate Envoy Delivers Powerful Message on Coming Low-Carbon Revolution
John Kerry: 'Climate Change Is Not Just About Bambi,' It Threatens All of Humanity
Climate Change Poised to Push 100 Million Into 'Extreme Poverty' by 2030
What's Going on in Antarctica? Is the Ice Melting or Growing?
EcoWatch Daily Newsletter
A. Battenburg / Technical University of Munich
By Sarah Kennedy
Algae in a pond may look flimsy. But scientists are using algae to develop industrial-strength material that's as hard as steel but only a fraction of the weight.
Variety of fermented food korean traditional kimchi cabbage and radish salad. white and red sauerkraut in ceramic plates over grey spotted background. Natasha Breen / REDA&CO / Universal Images Group / Getty Image
Even if you've never taken probiotics, you've probably heard of them.
These supplements provide numerous benefits because they contain live microorganisms, such as bacteria or yeast, which support the healthy bacteria in your gut (1, 2, 3, 4).
Pexels
Singapore will become the first country in the world to place a ban on advertisements for carbonated drinks and juices with high sugar contents, its health ministry announced last week. The law is intended to curb sugar consumption since the country has some of the world's highest diabetes rates per capita, as Reuters reported.
A typical adult takes around 20,000 breaths per day. If you live in a megacity like Beijing, with many of those lungfuls you're likely to inhale a noxious mixture of chemicals and pollutants.
Fred Stone holds his brown swiss cow Lida Rose at his Arundel dairy farm on March 18 after a press conference where he spoke about PFAS chemical contamination in his fields. Gregory Rec / Portland Portland Press Herald via Getty Images
By Susan Cosier
First there was Fred Stone, the third-generation dairy farmer in Maine who discovered that the milk from his cows contained harmful chemicals. Then came Art Schaap, a second-generation dairy farmer in New Mexico, who had to dump 15,000 gallons of contaminated milk a day.
Protesters attend the 32nd annual Fur-Free Friday demonstration on Nov. 23, 2018 in Beverly Hills, California. Ella DeGea / Getty Images
California Governor Gavin Newsom signed into law a bill that that bans the sale and manufacture of fur products in the state. The fur ban, which he signed into law on Saturday, prohibits Californians from selling or making clothing, shoes or handbags with fur starting in 2023, according to the AP.
By Simon Evans
During the three months of July, August and September, renewables generated an estimated total of 29.5 terawatt hours (TWh), compared with just 29.1TWh from fossil fuels, the analysis shows.
A demonstrator waves an Ecuadorian flag during protests against the end of subsidies to gasoline and diesel on Oct. 9 in Quito, Ecuador. Jorge Ivan Castaneira Jaramillo / Getty Images