This website uses cookies to ensure you get the best experience while browsing it. By clicking 'Got It' you're accepting these terms.
2.6 Million Dead Bees Delivered to EPA Headquarters
Jun. 23, 2016 10:21AM EST
Animals
A truck full of dead bees made its final stop at a rally outside the headquarters of the U.S. Environmental Protection Agency (EPA) Wednesday, culminating a coast-to-coast tour to raise awareness about recent massive declines in pollinators.
While the millions of dead bees stayed in the truck, advocates and beekeepers delivered more than 4 million signatures urging an immediate ban on bee-killing pesticides.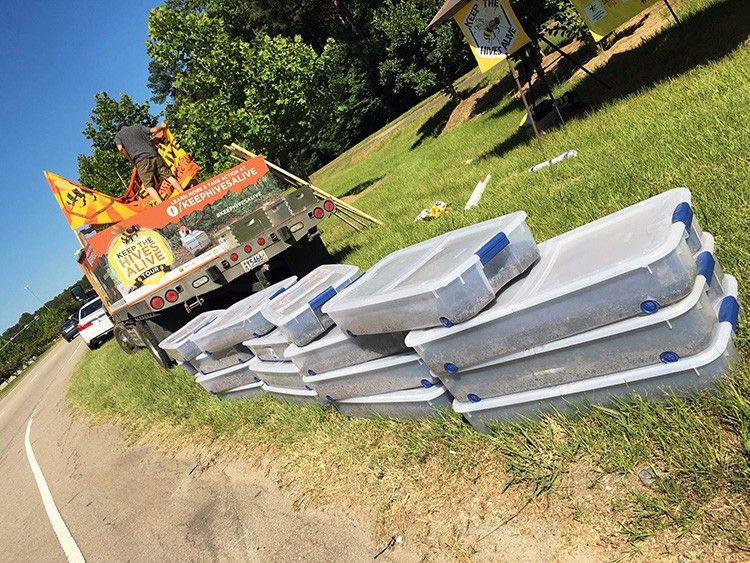 "In the five years since I started keeping bees, I've seen many hives killed by pesticides," said James Cook, a Minnesota-based beekeeper who has been driving the truck across the country since last Monday. "If some fundamental things don't change, it's going to be really hard for beekeepers to adapt to the environment around us."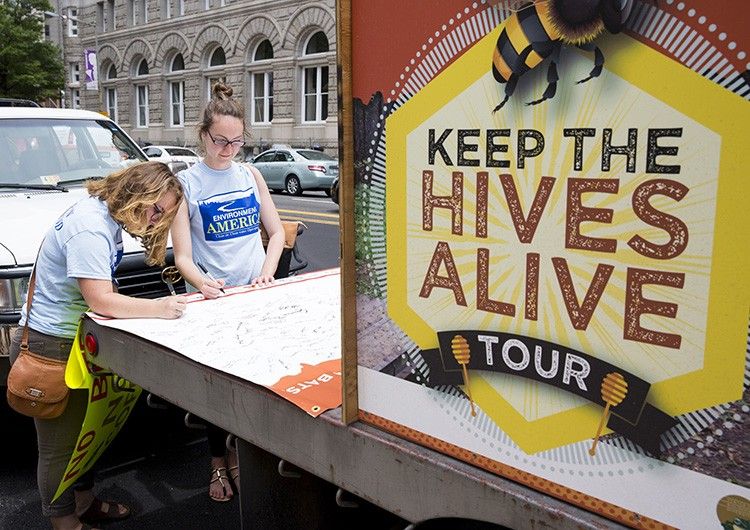 Bees pollinate most of the world's most common crops, including summer favorites like peaches and watermelon. But more than 40 percent of U.S. honeybee hives die each year, costing the farming and beekeeping industry more than $2 billion annually.
One culprit in the bee die-off is the widely-used class of pesticides called neonicotinoids or neonics. Last spring the EPA began a process to assess four types of neonics and their impacts on pollinators. In January the agency acknowledged that imidacloprid could indeed harm bees, but the remaining assessments are still outstanding.
"Given the facts we have at hand about the links between neonics and bee die-offs, officials should move boldly and swiftly to stop any and all uses of these dangerous chemicals," said Anna Aurilio, the director of the Washington, DC, office of Environment America.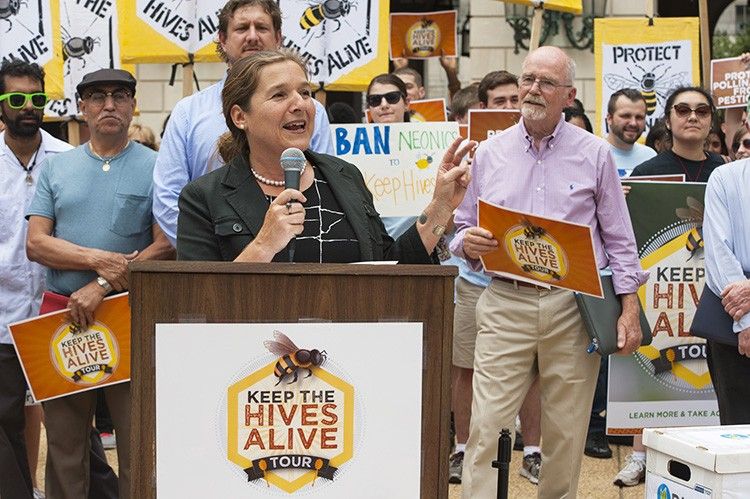 To wrap up their Keep the Hives Alive Tour, farmers, beekeepers and food advocates met Wednesday with officials from the EPA, members of Congress and representatives from the U.S. Department of Agriculture, delivering letters from nearly 200 businesses and organizations urging action on bee-killing pesticides and support for sustainable agriculture.
"The science is clear and convincing. To be truly effective, we need a nationwide policy to protect our pollinators before the crisis gets completely out of control," said Del. Anne Healey, sponsor of Maryland's Pollinator Protection Act, the first bill passed in the U.S. to eliminate consumer use of neonics.
Over the past two weeks Keep the Hives Alive has made stops in California, South Dakota, Minnesota, Michigan, Pennsylvania and North Carolina. It came to a close during National Pollinator Week, at a rally drawing hundreds of people, where environmental advocates, farmers, restaurant owners and others joined beekeepers to call for action.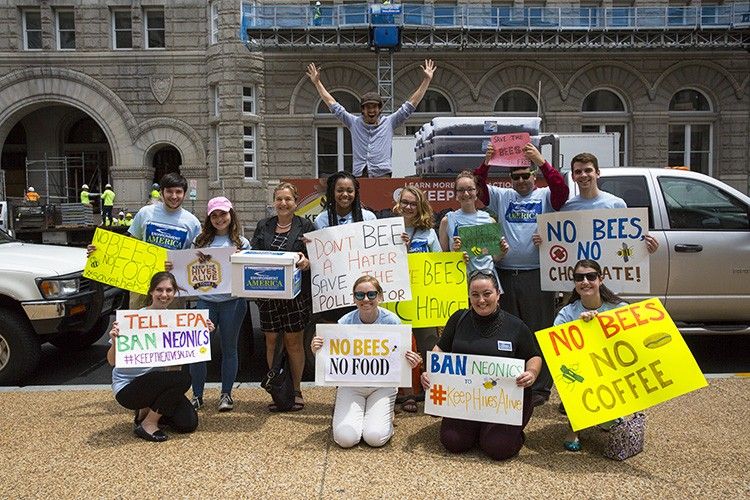 "What's happening today to pollinators is no different than what happened 50 years ago with the collapse of the osprey, bald eagle and other bird and aquatic animal populations due to the use of DDT," said Scott Nash, CEO of Mom's Organic Market. "If we allow the chemical agribusiness industry to continue these short-sighted practices, food costs will increase as food supplies diminish."
Watch here for more information:
YOU MIGHT ALSO LIKE
Interactive Map Shows How 6,500 Factory Farms Put North Carolinians at Risk
It's Not Just Crimes Against Nature, It's Crimes Against People
World's Largest Food Distributor Commits to Source 100% Cage-Free Eggs
Buzz Kill: How the Pesticide Industry Blocks Bee Protections Nationwide
EcoWatch Daily Newsletter
Large food companies are following in the footsteps of fast-food restaurants such as Burger King and KFC by offering meat alternatives. Getty Images
By Elizabeth Pratt
Hormel, Kellogg's, and Kroger are among the large companies now planning to offer "fake meat" products at grocery stores.
Experts say the trend toward plant-based meats coincides with consumers' desires to eat less meat.
However, experts urge consumers to closely check package labels as a product isn't necessarily healthy just because it's described as plant-based.
In grocery stores and fast-food outlets around the U.S., a revolution is taking place.
Colombia rainforest. Marcel Oosterwijk / CC BY-SA 2.0
Many of us think of the Amazon as an untouched wilderness, but people have been thriving in these diverse environments for millennia. Due to this long history, the knowledge that Indigenous and forest communities pass between generations about plants, animals and forest ecology is incredibly rich and detailed and easily dwarfs that of any expert.
picture-alliance / Newscom / R. Ben Ari
By Wesley Rahn
Plastic byproducts were found in 97 percent of blood and urine samples from 2,500 children tested between 2014 and 2017, according to a study by the German Environment Ministry and the Robert Koch Institute.

Pexels
Medically reviewed by Daniel Bubnis, MS, NASM-CPT, NASE Level II-CSS
Hot yoga has become a popular exercise in recent years. It offers many of the same benefits as traditional yoga, such as stress reduction, improved strength, and flexibility.
Lara Hata / iStock / Getty Images
By SaVanna Shoemaker, MS, RDN, LD
Rice is a staple in many people's diets. It's filling, inexpensive, and a great mild-tasting addition to flavorful dishes.
An image of the trans-alaskan oil pipeline that carries oil from the northern part of Alaska all the way to valdez. This shot is right near the arctic national wildlife refuge. kyletperry / iStock / Getty Images Plus
The Trump administration has initialized the final steps to open up nearly 1.6 million acres of the protected Alaskan National Wildlife Refuge to allow oil and gas drilling.