This website uses cookies to ensure you get the best experience while browsing it. By clicking 'Got It' you're accepting these terms.
2.6 Million Dead Bees Delivered to EPA Headquarters
Jun. 23, 2016 10:21AM EST
A truck full of dead bees made its final stop at a rally outside the headquarters of the U.S. Environmental Protection Agency (EPA) Wednesday, culminating a coast-to-coast tour to raise awareness about recent massive declines in pollinators.
While the millions of dead bees stayed in the truck, advocates and beekeepers delivered more than 4 million signatures urging an immediate ban on bee-killing pesticides.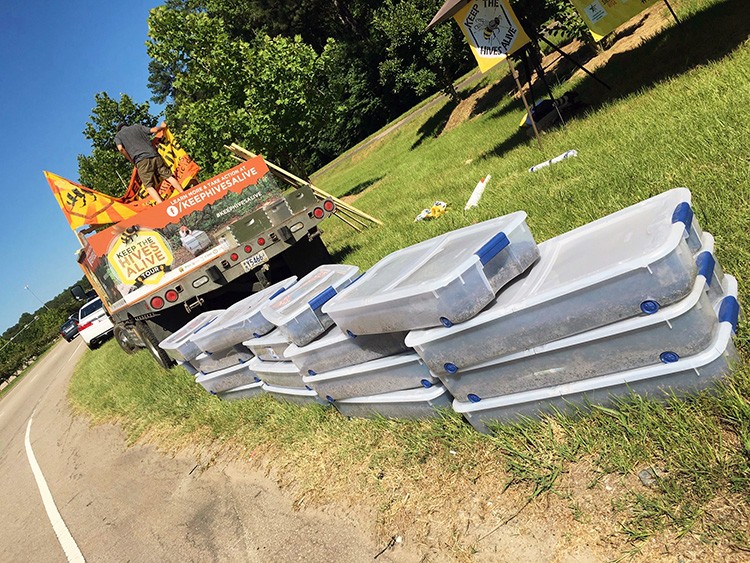 "In the five years since I started keeping bees, I've seen many hives killed by pesticides," said James Cook, a Minnesota-based beekeeper who has been driving the truck across the country since last Monday. "If some fundamental things don't change, it's going to be really hard for beekeepers to adapt to the environment around us."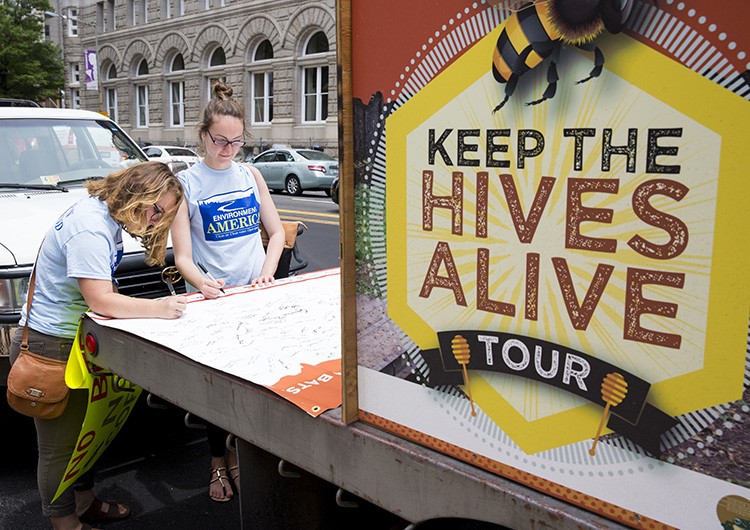 Bees pollinate most of the world's most common crops, including summer favorites like peaches and watermelon. But more than 40 percent of U.S. honeybee hives die each year, costing the farming and beekeeping industry more than $2 billion annually.
One culprit in the bee die-off is the widely-used class of pesticides called neonicotinoids or neonics. Last spring the EPA began a process to assess four types of neonics and their impacts on pollinators. In January the agency acknowledged that imidacloprid could indeed harm bees, but the remaining assessments are still outstanding.
"Given the facts we have at hand about the links between neonics and bee die-offs, officials should move boldly and swiftly to stop any and all uses of these dangerous chemicals," said Anna Aurilio, the director of the Washington, DC, office of Environment America.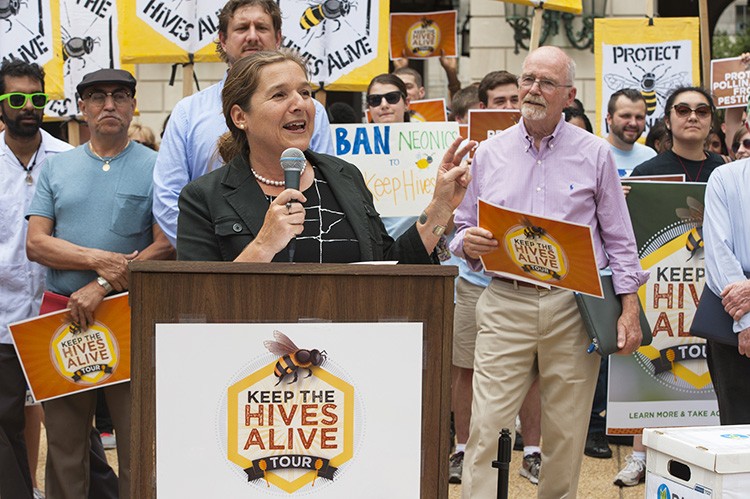 To wrap up their Keep the Hives Alive Tour, farmers, beekeepers and food advocates met Wednesday with officials from the EPA, members of Congress and representatives from the U.S. Department of Agriculture, delivering letters from nearly 200 businesses and organizations urging action on bee-killing pesticides and support for sustainable agriculture.
"The science is clear and convincing. To be truly effective, we need a nationwide policy to protect our pollinators before the crisis gets completely out of control," said Del. Anne Healey, sponsor of Maryland's Pollinator Protection Act, the first bill passed in the U.S. to eliminate consumer use of neonics.
Over the past two weeks Keep the Hives Alive has made stops in California, South Dakota, Minnesota, Michigan, Pennsylvania and North Carolina. It came to a close during National Pollinator Week, at a rally drawing hundreds of people, where environmental advocates, farmers, restaurant owners and others joined beekeepers to call for action.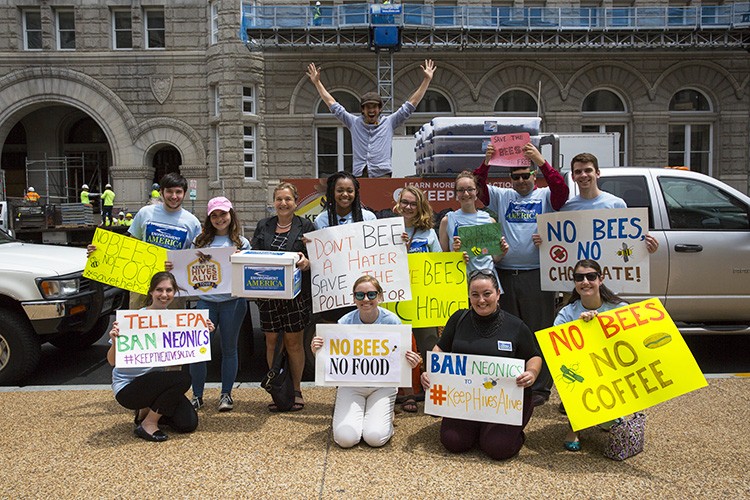 "What's happening today to pollinators is no different than what happened 50 years ago with the collapse of the osprey, bald eagle and other bird and aquatic animal populations due to the use of DDT," said Scott Nash, CEO of Mom's Organic Market. "If we allow the chemical agribusiness industry to continue these short-sighted practices, food costs will increase as food supplies diminish."
Watch here for more information:
YOU MIGHT ALSO LIKE
Interactive Map Shows How 6,500 Factory Farms Put North Carolinians at Risk
It's Not Just Crimes Against Nature, It's Crimes Against People
World's Largest Food Distributor Commits to Source 100% Cage-Free Eggs
Buzz Kill: How the Pesticide Industry Blocks Bee Protections Nationwide
Climate activist Greta Thunberg addresses the European Commission on Feb. 21 in Brussels, Belgium. Sylvain Lefevre / Getty Images
By Julia Conley
Sixteen-year-old climate action leader Greta Thunberg stood alongside European Commission President Jean-Claude Juncker Thursday in Brussels as he indicated—after weeks of climate strikes around the world inspired by the Swedish teenager—that the European Union has heard the demands of young people and pledged more than $1 trillion over the next seven years to address the crisis of a rapidly heating planet.

In the financial period beginning in 2021, Juncker said, the EU will devote a quarter of its budget to solving the crisis.
A new study reveals the health risks posed by the making, use and disposal of plastics. Jeffrey Phelps / Getty Images
With eight million metric tons of plastic entering the world's oceans every year, there is growing concern about the proliferation of plastics in the environment. Despite this, surprisingly little is known about the full impact of plastic pollution on human health.
But a first-of-its-kind study released Tuesday sets out to change that. The study, Plastic & Health: The Hidden Costs of a Plastic Planet, is especially groundbreaking because it looks at the health impacts of every stage in the life cycle of plastics, from the extraction of the fossil fuels that make them to their permanence in the environment. While previous studies have focused on particular products, manufacturing processes or moments in the creation and use of plastics, this study shows that plastics pose serious health risks at every stage in their production, use and disposal.
IKEA is working on a specially-designed, air-purifying curtain called the GUNRID. IKEA
Air pollution within the home causes 3.8 million deaths a year, according to the World Health Organization. A recent University of Colorado in Boulder study reported by The Guardian found that cooking a full Thanksgiving meal could raise levels of particulate matter 2.5 in the house higher than the levels averaged in New Delhi, the world's sixth most polluted city.
But soon, you will be able to shop for a solution in the same place you buy your budget roasting pans. IKEA is working on a specially-designed, air-purifying curtain called the GUNRID.
The first member of the giant tortoise species Chelonoidis phantasticus to be seen in more than 100 years. RODRIGO BUENDIA / AFP / Getty Images
A rare species of giant tortoise, feared extinct for more than 100 years, was sighted on the Galápagos island of Fernandina Sunday, the Ecuadorian government announced.