2.6 Million Dead Bees Delivered to EPA Headquarters
A truck full of dead bees made its final stop at a rally outside the headquarters of the U.S. Environmental Protection Agency (EPA) Wednesday, culminating a coast-to-coast tour to raise awareness about recent massive declines in pollinators.
While the millions of dead bees stayed in the truck, advocates and beekeepers delivered more than 4 million signatures urging an immediate ban on bee-killing pesticides.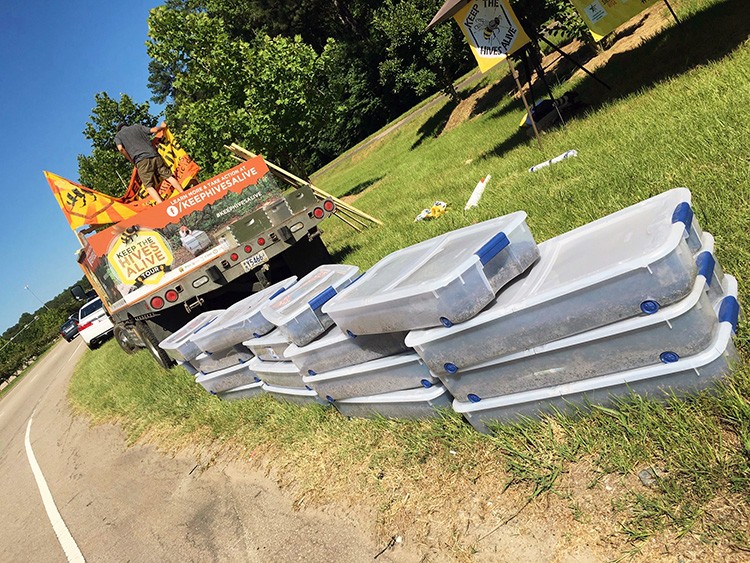 "In the five years since I started keeping bees, I've seen many hives killed by pesticides," said James Cook, a Minnesota-based beekeeper who has been driving the truck across the country since last Monday. "If some fundamental things don't change, it's going to be really hard for beekeepers to adapt to the environment around us."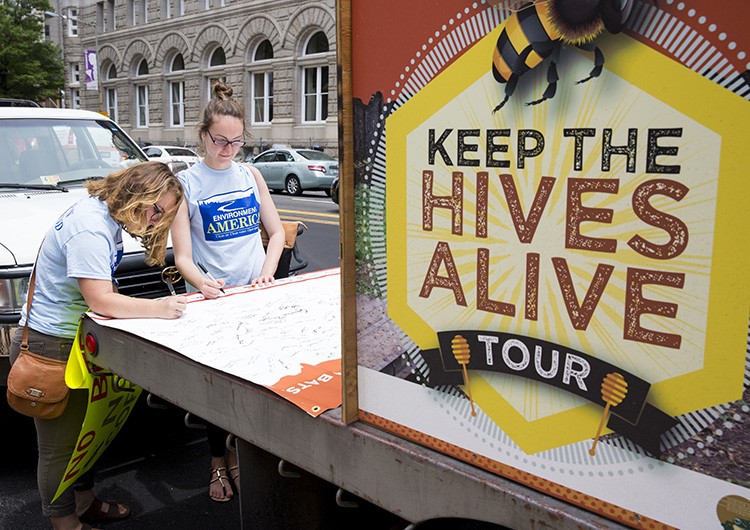 Bees pollinate most of the world's most common crops, including summer favorites like peaches and watermelon. But more than 40 percent of U.S. honeybee hives die each year, costing the farming and beekeeping industry more than $2 billion annually.
One culprit in the bee die-off is the widely-used class of pesticides called neonicotinoids or neonics. Last spring the EPA began a process to assess four types of neonics and their impacts on pollinators. In January the agency acknowledged that imidacloprid could indeed harm bees, but the remaining assessments are still outstanding.
"Given the facts we have at hand about the links between neonics and bee die-offs, officials should move boldly and swiftly to stop any and all uses of these dangerous chemicals," said Anna Aurilio, the director of the Washington, DC, office of Environment America.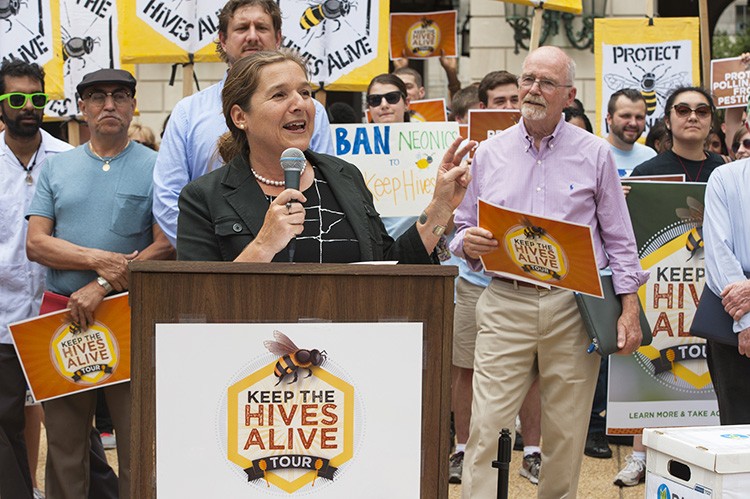 To wrap up their Keep the Hives Alive Tour, farmers, beekeepers and food advocates met Wednesday with officials from the EPA, members of Congress and representatives from the U.S. Department of Agriculture, delivering letters from nearly 200 businesses and organizations urging action on bee-killing pesticides and support for sustainable agriculture.
"The science is clear and convincing. To be truly effective, we need a nationwide policy to protect our pollinators before the crisis gets completely out of control," said Del. Anne Healey, sponsor of Maryland's Pollinator Protection Act, the first bill passed in the U.S. to eliminate consumer use of neonics.
Over the past two weeks Keep the Hives Alive has made stops in California, South Dakota, Minnesota, Michigan, Pennsylvania and North Carolina. It came to a close during National Pollinator Week, at a rally drawing hundreds of people, where environmental advocates, farmers, restaurant owners and others joined beekeepers to call for action.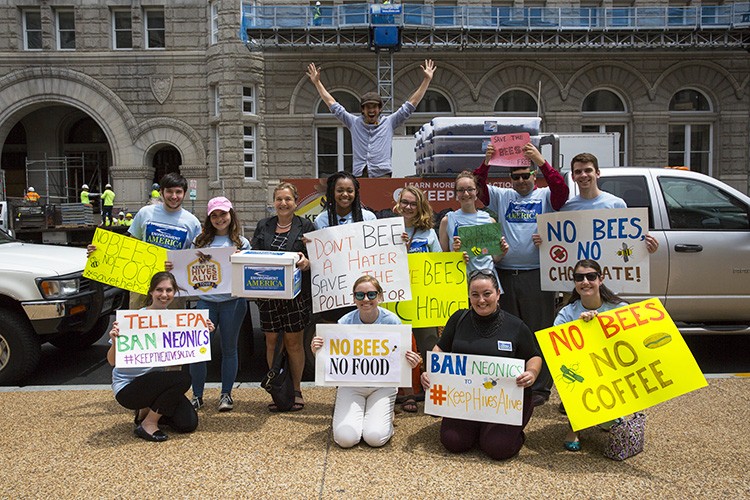 "What's happening today to pollinators is no different than what happened 50 years ago with the collapse of the osprey, bald eagle and other bird and aquatic animal populations due to the use of DDT," said Scott Nash, CEO of Mom's Organic Market. "If we allow the chemical agribusiness industry to continue these short-sighted practices, food costs will increase as food supplies diminish."
Watch here for more information:
YOU MIGHT ALSO LIKE
Interactive Map Shows How 6,500 Factory Farms Put North Carolinians at Risk
It's Not Just Crimes Against Nature, It's Crimes Against People
World's Largest Food Distributor Commits to Source 100% Cage-Free Eggs
Buzz Kill: How the Pesticide Industry Blocks Bee Protections Nationwide
Glyphosate, the main ingredient in Monsanto's widely used herbicide Roundup, will be added July 7 to California's list of chemicals known to the state to cause cancer, according to a Reuters report Tuesday. This news comes after the company's unsuccessful attempt to block the listing in trial court and requests for stay were denied by a state appellate court and California's Supreme Court.
California's Office of Environmental Health Hazard Assessment (OEHHA) announced the designation on Monday under the Safe Drinking Water and Toxic Enforcement Act of 1986, or Proposition 65.
Keep reading...
Show less
www.facebook.com
Keep reading...
Show less
Researchers from the Marine Animal Response Society examine one of the dead right whales. Marine Animal Response Society
Canadian government officials and marine biologists are investigating the mysterious deaths of six North American right whales. The endangered animals all turned up dead between June 6 and June 23 in the Gulf of St. Lawrence, off Canada's southeastern coast.
North Atlantic right whales are the rarest of all large whale species and among the rarest of all marine mammal species, with only about 450 right whales in the North Atlantic.
Keep reading...
Show less
Scott Pruitt testifies during his Senate confirmation hearing for EPA administrator, January 2017.
The U.S. Environmental Protection Agency's (EPA) chief of staff pressured the leader of its Board of Scientific Counselors to change her congressional testimony to downplay the impact of the agency's mass dismissal of scientists from the board, the New York Times reports.
Keep reading...
Show less
By Jason Mark
Sequoiadendron giganteum. That's the scientific name for the giant sequoia: the mammoth trees found in California's Sierra Nevada that are the largest organisms on Earth, and among the longest-lived. Biologists estimate that about half of all sequoias live in Giant Sequoia National Monument, a 328,000-acre preserve in the Southern Sierra Nevada established by President Clinton in 2000.
Now that national monument is in jeopardy.
Keep reading...
Show less
By Andy Rowell
Donald Trump this week is launching an "energy week," pushing the argument that the U.S. will become a net exporter of oil and gas.
The president and his cronies are talking about a new era of "U.S. energy dominance," which could stretch for decades to come. However, no one believes the president anymore.
Keep reading...
Show less
UN
By Colleen Curry
The United Nations has designated 23 new sites around the world to its World Network of Biosphere reserves—stunning natural landscapes that balance environmental and human concerns and strive for sustainability.
The forests, beaches and waterways were added to the list this year at the International Coordinating Council of the Man and the Biosphere Programme meeting in Paris earlier this month.
Keep reading...
Show less
Jun. 26, 2017 01:48PM EST
www.elysee.fr
By Andy Rowell
There is a growing feeling within European capitals that a quiet, but deeply positive, revolution is happening under Emmanuel Macron in France.
Macron's opinion poll rating is high, especially boosted in how the young French president has reacted to Donald Trump on the international stage.
Keep reading...
Show less
Jun. 26, 2017 12:32PM EST
www.facebook.com
Keep reading...
Show less