This website uses cookies to ensure you get the best experience while browsing it. By clicking 'Got It' you're accepting these terms.
2.6 Billion Pounds of Monsanto's Glyphosate Sprayed on U.S. Farmland in Past Two Decades
Oct. 12, 2015 09:28AM EST
Food
Farmers sprayed 2.6 billion pounds of Monsanto's glyphosate herbicide on U.S. agricultural land between 1992 and 2012, according to the U.S. Geological Survey. Glyphosate has been the go-to weed killer for use on genetically engineered, or GMO, crops since the mid-1990s, when Monsanto introduced its "Roundup Ready" corn and soybeans.
Click here to watch a time-lapse video of the spread of glyphosate across America over the 20-year period.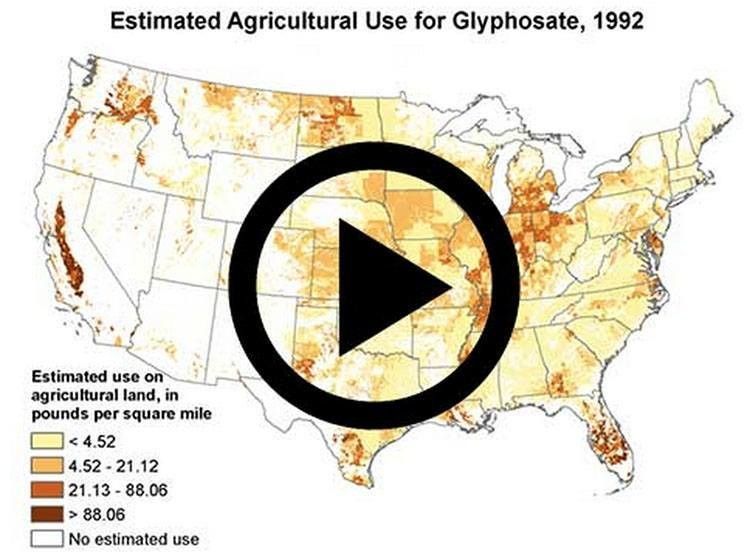 Recent research has found that exposure to glyphosate doubles the risk of developing cancer. Since the use of the herbicide on GMO crops has exploded in recent years, it's no wonder people overwhelmingly want GMO-containing food products to be labeled.
Here are the states that spray the most glyphosate year by year: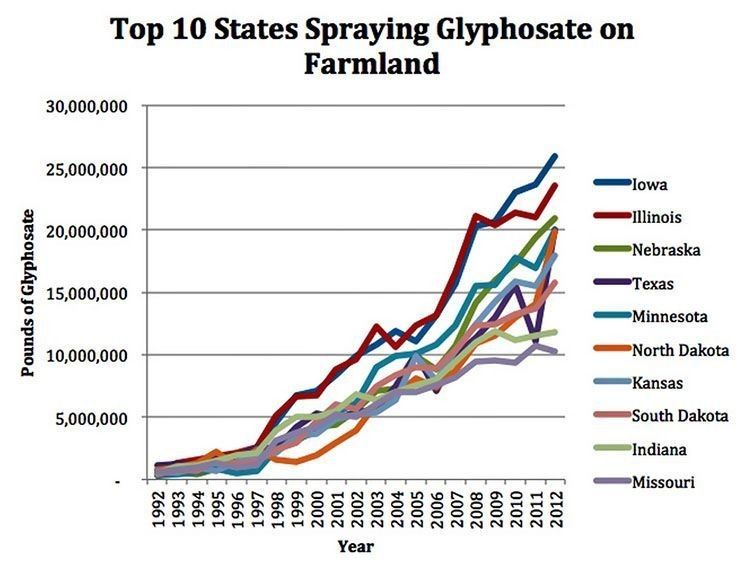 Photo credit: USGS, Pesticide National Synthesis Project
Glyphosate primarily blankets fields of GMO corn and GMO soybeans—the two most widely planted crops in the U.S. This table shows how many acres of these herbicide-tolerant GMOs were grown in 2014 in the states that produced the most.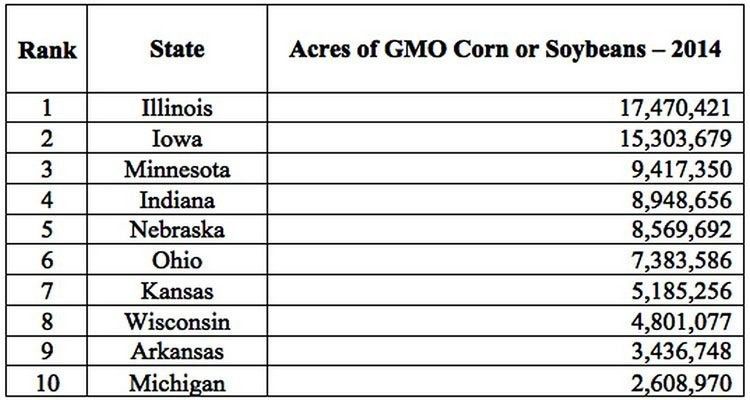 Photo credit: USDA NASS Acreage Report
But no matter where you live, you should have the right to know if the food your family is eating was produced with GMOs. While people in 64 other countries have that right already, Americans do not.
Tell Washington that it's time to stand with the 90 percent of Americans who want mandatory GMO labeling.
YOU MIGHT ALSO LIKE
Monsanto Fights Back Against Cancer Lawsuits as Company Eliminates 12% of Workforce
Why Isn't Big Ag's Huge Contribution to Climate Change on the Agenda at COP21?
Confirmed: American Academy of Pediatrics Cuts Ties With Monsanto
EcoWatch Daily Newsletter
By Anne-Sophie Brändlin
October 16 marks World Food Day this year, a day celebrated every year by the United Nations' Food and Agriculture Organization (FAO).
World Food Day is a call to make healthy and sustainable diets affordable and accessible for everyone, while nurturing the planet at the same time.
Graphical representation of vertical pectoral herding by whale in Southeast Alaska. Prey are denoted in yellow. Whale deploys an upward-spiral bubble-net to corral prey and establish the first barrier; pectorals then protract to form a 'V' shape around the open mouth (depicted by blue arrows), creating a second physical barrier.
Kyle Kosma / Royal Society Open Science /
CC BY 4.0
When you have a whale-sized appetite, you need to figure out some pretty sophisticated feeding strategies. They mysteries of how a humpback whale traps so much prey have eluded scientists, until now.
California Yosemite River Scene.
Mobilus In Mobili / Flickr /
CC BY-SA 2.0
An advisory panel appointed by Trump's first Secretary of the Interior, Ryan Zinke, has recommended privatizing National Parks campgrounds, allowing food trucks in and setting up WiFi at campgrounds while also reducing benefits to seniors, according to the panel's memo.
Strips of native prairie grasses planted on Larry and Margaret Stone's Iowa farm protect soil, water and wildlife.
Iowa State University / Omar de Kok-Mercado, CC BY-ND
In Haiti, Action Against Hunger screens children for malnutrition. Christophe Da Silva / Action Against Hunger, Haiti
By Dr. Charles Owubah
As a child growing up on a farm in Ghana, I have personally known hunger. The most challenging time was between planting and harvesting – "the hunger season." There were many occasions when we did not know where the next meal would come from.
Today, on World Food Day, I think of the 820 million people around the world who are undernourished.
A Lyme disease warning on Montauk, Long Island, New York.
Neil R / Flickr
Biomedical engineers have developed a new, rapid test capable of detecting Lyme disease in just 15 minutes.
Brown bear fishing for salmon in creek at Pavlof Harbor in Tongass National Forest, Alaska. Wolfgang Kaehler / LightRocket / Getty Images
The Trump administration has moved one step closer to opening Earth's largest intact temperate rainforest to logging.
The Democratic primary candidates take the stage during Tuesday's debate. SAUL LOEB / AFP via Getty Images
On Tuesday night, the Democratic presidential candidates gathered for what The Guardian said was the largest primary debate in U.S. history, and they weren't asked a single question about the climate crisis.