This website uses cookies to ensure you get the best experience while browsing it. By clicking 'Got It' you're accepting these terms.
2.6 Billion Pounds of Monsanto's Glyphosate Sprayed on U.S. Farmland in Past Two Decades
Oct. 12, 2015 09:28AM EST
Food
Farmers sprayed 2.6 billion pounds of Monsanto's glyphosate herbicide on U.S. agricultural land between 1992 and 2012, according to the U.S. Geological Survey. Glyphosate has been the go-to weed killer for use on genetically engineered, or GMO, crops since the mid-1990s, when Monsanto introduced its "Roundup Ready" corn and soybeans.
Click here to watch a time-lapse video of the spread of glyphosate across America over the 20-year period.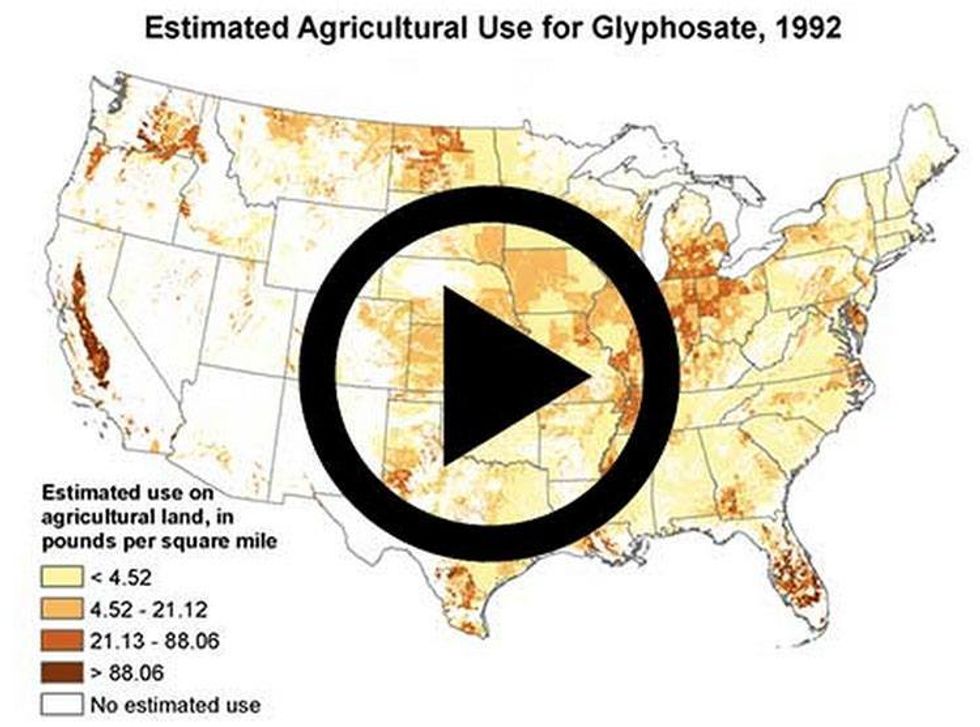 Recent research has found that exposure to glyphosate doubles the risk of developing cancer. Since the use of the herbicide on GMO crops has exploded in recent years, it's no wonder people overwhelmingly want GMO-containing food products to be labeled.
Here are the states that spray the most glyphosate year by year: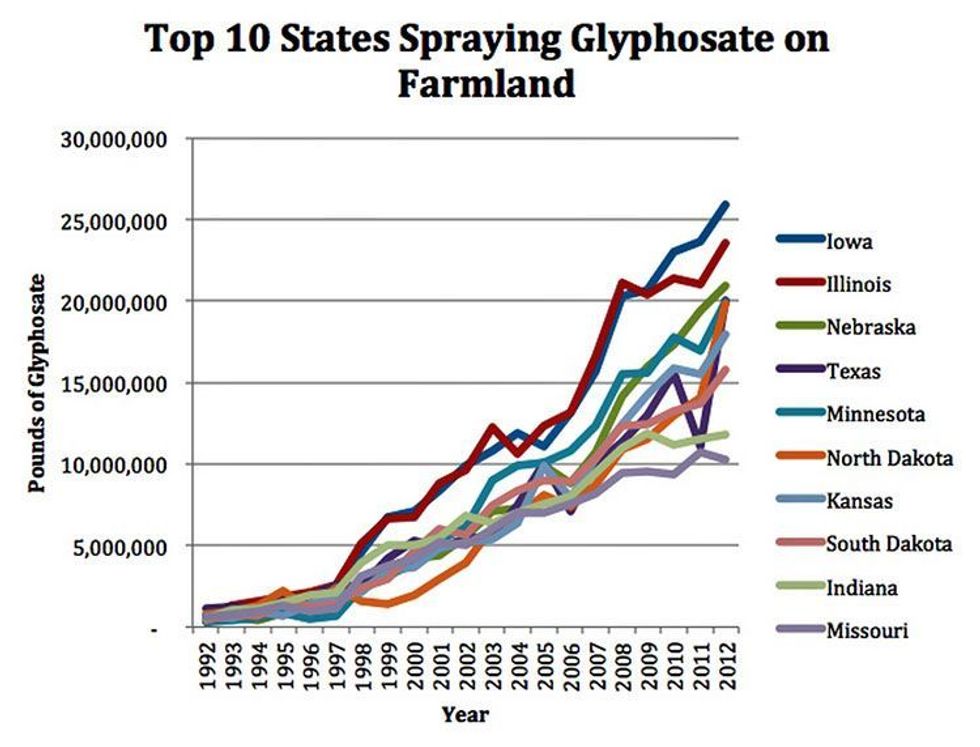 Photo credit: USGS, Pesticide National Synthesis Project
Glyphosate primarily blankets fields of GMO corn and GMO soybeans—the two most widely planted crops in the U.S. This table shows how many acres of these herbicide-tolerant GMOs were grown in 2014 in the states that produced the most.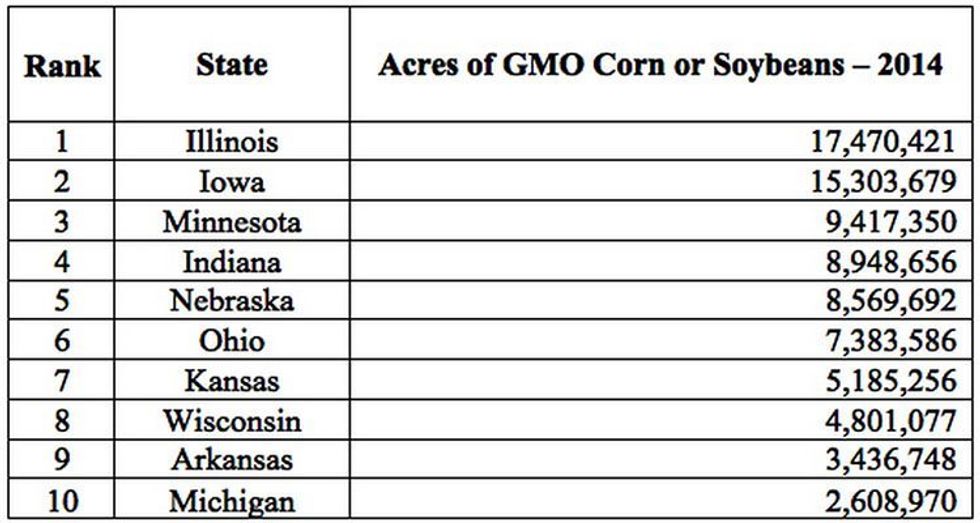 Photo credit: USDA NASS Acreage Report
But no matter where you live, you should have the right to know if the food your family is eating was produced with GMOs. While people in 64 other countries have that right already, Americans do not.
Tell Washington that it's time to stand with the 90 percent of Americans who want mandatory GMO labeling.
YOU MIGHT ALSO LIKE
Monsanto Fights Back Against Cancer Lawsuits as Company Eliminates 12% of Workforce
Why Isn't Big Ag's Huge Contribution to Climate Change on the Agenda at COP21?
Confirmed: American Academy of Pediatrics Cuts Ties With Monsanto
EcoWatch Daily Newsletter
On the Solomon Islands, rats and poachers are the two major threats to critically endangered sea turtles. A group of local women have joined forces to help save the animals from extinction.
By Joe Roman
One of the most important global conservation events of the past year was something that didn't happen. For the first time since 2002, Iceland — one of just three countries that still allow commercial whaling — didn't hunt any whales, even though its government had approved whaling permits in early 2019.
People participate in a national mile-long march to highlight the push for clean water in Flint Feb. 19, 2016 in Flint, Michigan.
Bill Pugliano
/ Stringer / Getty Images
The Supreme Court made a decision Tuesday that means Flint residents can sue state and local officials over the water crisis that leached lead into their water and resulted in at least 12 deaths.
One species of walking shark. Mark Erdmann, California Academy of Sciences
Scientists have identified four new species of walking shark in the waters off Australia and New Guinea.
A new study shows that half of all Arctic warming and corresponding sea-loss during the late 20th century was caused by ozone-depleting substances. Here, icebergs discharged from Greenland's Jakobshavn Glacier. Kevin Krajick / Earth Institute /
EurekAlert!
The world awakened to the hole in the ozone layer in 1985, which scientists attributed it to ozone-depleting substances. Two years later, in Montreal, the world agreed to ban the halogen compounds causing the massive hole over Antarctica. Research now shows that those chemicals didn't just cut a hole in the ozone layer, they also warmed up the Arctic.