This website uses cookies to ensure you get the best experience while browsing it. By clicking 'Got It' you're accepting these terms.
2.6 Billion Pounds of Monsanto's Glyphosate Sprayed on U.S. Farmland in Past Two Decades
Oct. 12, 2015 09:28AM EST
GMO
Farmers sprayed 2.6 billion pounds of Monsanto's glyphosate herbicide on U.S. agricultural land between 1992 and 2012, according to the U.S. Geological Survey. Glyphosate has been the go-to weed killer for use on genetically engineered, or GMO, crops since the mid-1990s, when Monsanto introduced its "Roundup Ready" corn and soybeans.
Click here to watch a time-lapse video of the spread of glyphosate across America over the 20-year period.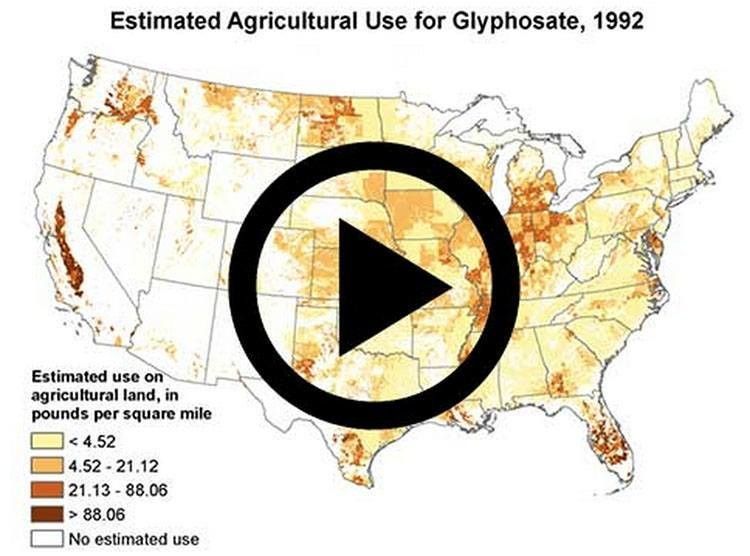 Recent research has found that exposure to glyphosate doubles the risk of developing cancer. Since the use of the herbicide on GMO crops has exploded in recent years, it's no wonder people overwhelmingly want GMO-containing food products to be labeled.
Here are the states that spray the most glyphosate year by year: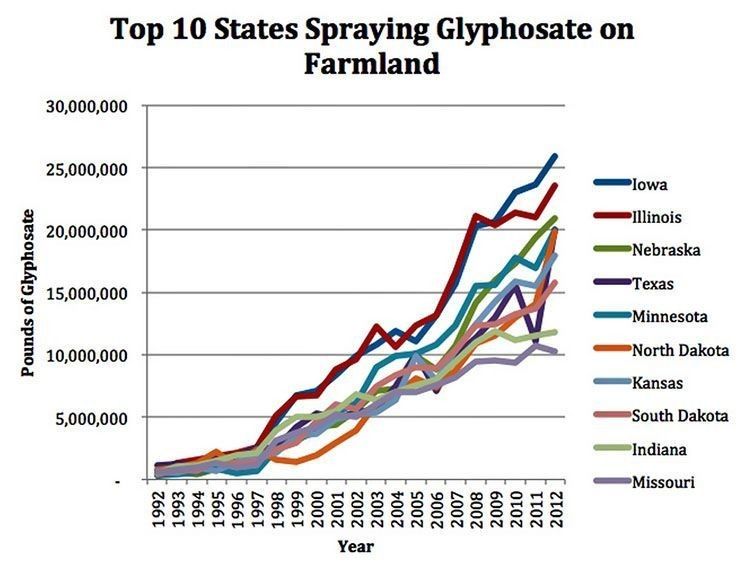 Photo credit: USGS, Pesticide National Synthesis Project
Glyphosate primarily blankets fields of GMO corn and GMO soybeans—the two most widely planted crops in the U.S. This table shows how many acres of these herbicide-tolerant GMOs were grown in 2014 in the states that produced the most.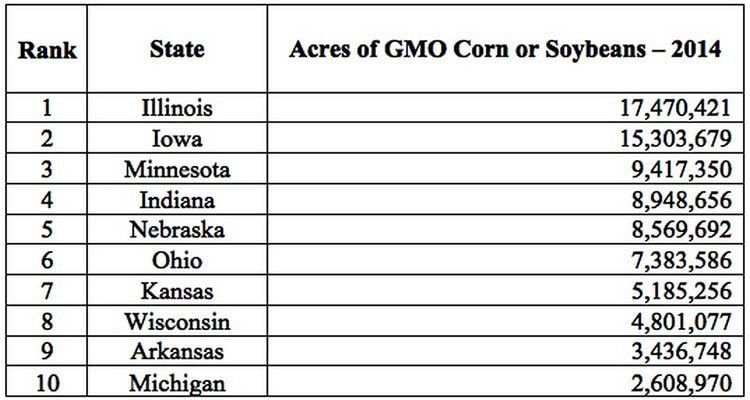 Photo credit: USDA NASS Acreage Report
But no matter where you live, you should have the right to know if the food your family is eating was produced with GMOs. While people in 64 other countries have that right already, Americans do not.
Tell Washington that it's time to stand with the 90 percent of Americans who want mandatory GMO labeling.
YOU MIGHT ALSO LIKE
Monsanto Fights Back Against Cancer Lawsuits as Company Eliminates 12% of Workforce
Why Isn't Big Ag's Huge Contribution to Climate Change on the Agenda at COP21?
Confirmed: American Academy of Pediatrics Cuts Ties With Monsanto
EcoWatch Daily Newsletter
Hedges, 2019 © Hugh Hayden. All photos courtesy of Lisson Gallery
By Patrick Rogers
"I'm really into trees," said the sculptor Hugh Hayden. "I'm drawn to plants."
BruceBlock / iStock / Getty Images
Thanks to their high concentration of powerful plant compounds, foods with a natural purple hue offer a wide array of health benefits.
Environmental Investigation Agency
Last week, the Peruvian Palm Oil Producers' Association (JUNPALMA) promised to enter into an agreement for sustainable and deforestation-free palm oil production. The promise was secured by the U.S. based National Wildlife Federation (NWF) in collaboration with the local government, growers and the independent conservation organization Sociedad Peruana de Ecodesarrollo.
Pixabay
Leaked documents show that Jair Bolsonaro's government intends to use the Brazilian president's hate speech to isolate minorities living in the Amazon region. The PowerPoint slides, which democraciaAbierta has seen, also reveal plans to implement predatory projects that could have a devastating environmental impact.
XL CATLIN SEAVIEW SURVEY / THE OCEAN AGENCY
Hope may be on the horizon for the world's depleted coral reefs thanks to scientists who successfully reproduced endangered corals in a laboratory setting for the first time, according to Reuters.
Last week we received positive news on the border wall's imminent construction in an Arizona wildlife refuge. The Trump administration delayed construction of the wall through about 60 miles of federal wildlife preserves.
PhotoAlto / Frederic Cirou / Getty Images
Drinking water treated with fluoride during pregnancy may lead to lower IQs in children, a controversial new study has found.