This website uses cookies to ensure you get the best experience while browsing it. By clicking 'Got It' you're accepting these terms.
2.6 Billion Pounds of Monsanto's Glyphosate Sprayed on U.S. Farmland in Past Two Decades
Oct. 12, 2015 09:28AM EST
Farmers sprayed 2.6 billion pounds of Monsanto's glyphosate herbicide on U.S. agricultural land between 1992 and 2012, according to the U.S. Geological Survey. Glyphosate has been the go-to weed killer for use on genetically engineered, or GMO, crops since the mid-1990s, when Monsanto introduced its "Roundup Ready" corn and soybeans.
Click here to watch a time-lapse video of the spread of glyphosate across America over the 20-year period.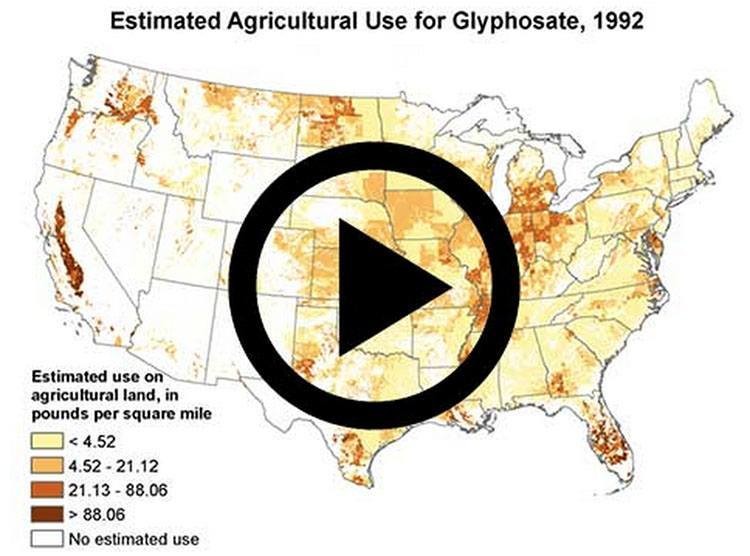 Recent research has found that exposure to glyphosate doubles the risk of developing cancer. Since the use of the herbicide on GMO crops has exploded in recent years, it's no wonder people overwhelmingly want GMO-containing food products to be labeled.
Here are the states that spray the most glyphosate year by year: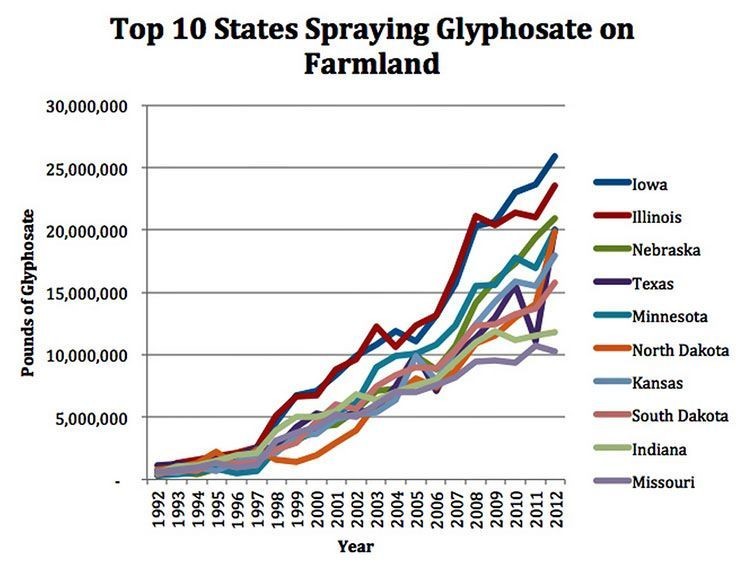 Photo credit: USGS, Pesticide National Synthesis Project
Glyphosate primarily blankets fields of GMO corn and GMO soybeans—the two most widely planted crops in the U.S. This table shows how many acres of these herbicide-tolerant GMOs were grown in 2014 in the states that produced the most.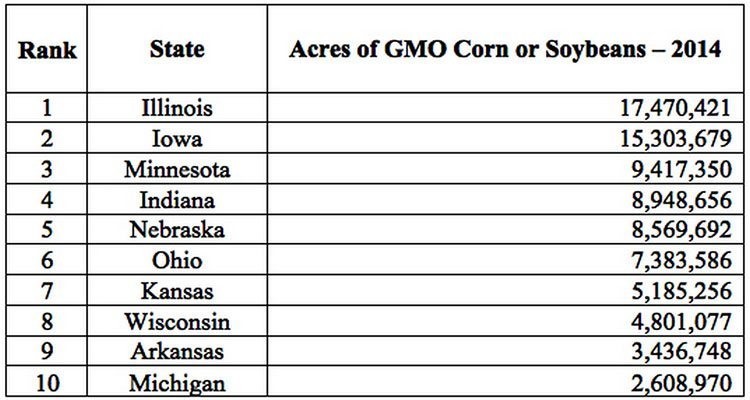 Photo credit: USDA NASS Acreage Report
But no matter where you live, you should have the right to know if the food your family is eating was produced with GMOs. While people in 64 other countries have that right already, Americans do not.
Tell Washington that it's time to stand with the 90 percent of Americans who want mandatory GMO labeling.
YOU MIGHT ALSO LIKE
Monsanto Fights Back Against Cancer Lawsuits as Company Eliminates 12% of Workforce
Why Isn't Big Ag's Huge Contribution to Climate Change on the Agenda at COP21?
Confirmed: American Academy of Pediatrics Cuts Ties With Monsanto
Pixabay
By John R. Platt
The world needs to change the way it eats, not just as individuals but as a society.
The Russian military is taking measures to protect the residents of a remote Arctic settlement from a mass of polar bears, German press agency DPA reported.
The move comes after regional authorities declared a state of emergency over the weekend after sightings of more than 50 bears in the town of Belushya Guba since December.
This year's letter from Bill and Melinda Gates focused on nine things that surprised them. For the Microsoft-cofounder, one thing he was surprised to learn was the massive amount of new buildings the planet should expect in the coming decades due to urban population growth.
"The number of buildings in the world is going to double by 2060. It's like we're going to build a new New York City every month for the next 40 years," he said.
Over the past few years, it seems vegan cooking has gone from 'brown rice and tofu' to a true art form. These amazing cooks show off the creations on Instagram—and we can't get enough.