2 + 2 = 5 in Texas Textbook Debate
Nov. 21, 2014 04:09PM EST
Climate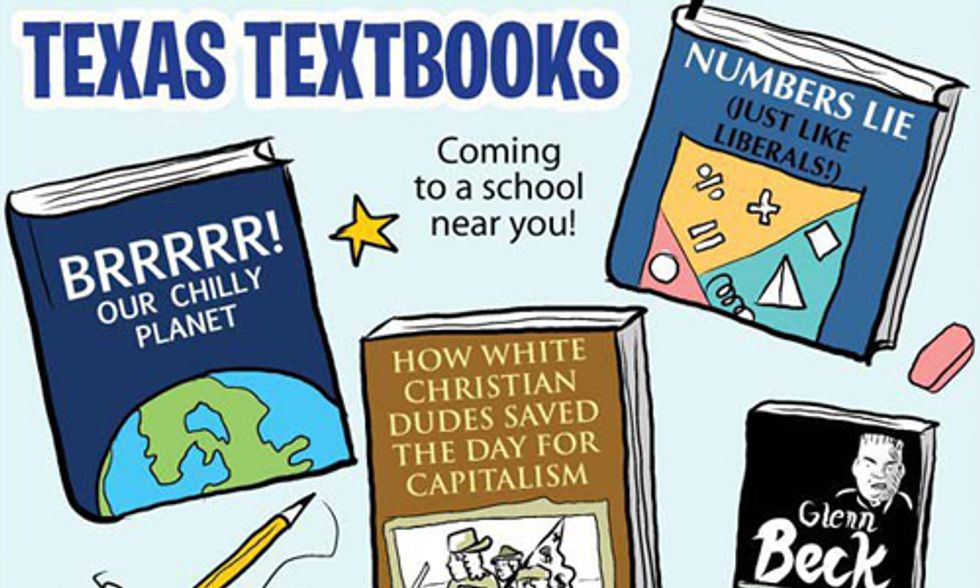 When it comes to textbooks, as Texas goes, so goes the nation. As the country's largest buyer of textbooks, major publishers often use Texas standards to determine what is in the textbooks they sell across the country.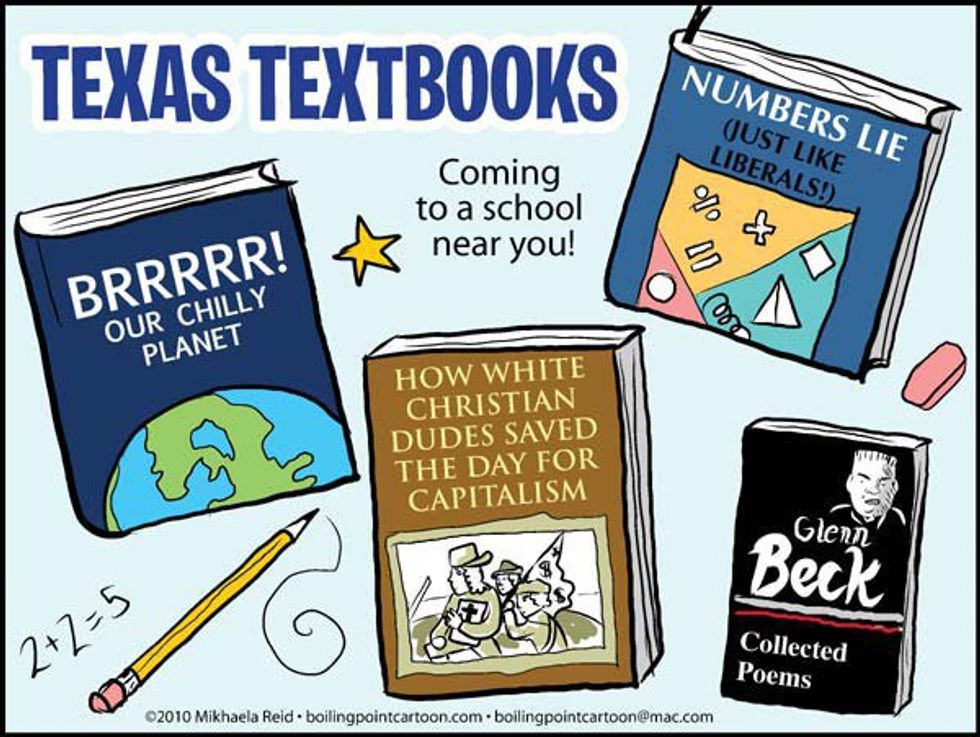 Unfortunately, the Texas State Board of Education (SBOE), which approves the content, has turned its textbook hearings into a political sideshow, trying to insert "information" into its social studies textbooks such as whether manmade climate change is happening is a matter of disagreement among reputable scientists. Last week two major publishers, Pearson Education and McGraw-Hill, confirmed that they would remove climate denial passages and submit corrected textbooks to the SBOE, which has been holding hearings on textbook approval this week.
According to the Texas Freedom Network (TFN), which is monitoring SBOE's textbook approval process, "The original passages had cast doubt on the overwhelming consensus among climate scientists that climate change is a real and growing threat and that human activity is the primary driver of the problem. Publisher McGraw-Hill confirmed to the Texas Freedom Network that it will remove a deeply problematic lesson that equated unsupported arguments from a special interest-funded political advocacy group, the Heartland Institute, with data-backed material from the Intergovernmental Panel on Climate Change (IPCC), a Nobel-winning organization of scientists from around the world."
Following the hearings provides a glimpse into how the scientifically suspect information finds its way into Texas textbooks. During this week's hearings, SBOE has been devoting time to false allegations about the textbooks leveled by religious and rightwing political interests, and on Wednesday, according to TFN, "spent precious time debating whether to ask the legislature to criminalize teaching with instructional materials tied to Common Core."
Meanwhile, with the final vote scheduled for today, more than 800 pages of changes from one publisher, WorldView, were posted Thursday afternoon and more changes were offered Friday morning. Although a motion not to accept any changes made after Thursday at 5 p.m. passed, many members complained that 24 hours was insufficient time to review the changes submitted up until then.
"SBOE Chair Barbara Cargill, R-The Woodlands, asks board members to look at changes publishers have offered this morning," TFN posted this morning during the hearing. "Oh sure. Fine. But what about scholars and teachers having an opportunity to review the materials before the SBOE votes? This is absurd."
Board members have been chuckling about how they haven't read the new textbook content they are about to vote on. #SBOE

— Tx Freedom Network (@TFN) November 21, 2014
"SBOE member Ruben Cortez, D-Brownsville, asks about the hundreds of pages of changes publishers have submitted that haven't been vetted by anyone?" posted TFN. "Good question. He's pointing out that this isn't an open process. He's right."
@TFN If they haven't lost confidence by now, they're not paying attention. A room full of potted plants would be better qualified.

— Akolotu Moeloa (@TonganJedi) November 21, 2014
In the end, all five of the Democrats on the 15-member SBOE voted to delay approving textbooks they haven't had a chance to review, while 9 of the 10 Republicans said "Let's go." The unvetted books were approved by a 10-5 party line vote.
Following the vote, TFN president Kathy Miller issued a statement saying, "What we saw today shows very clearly that the process the State Board of Education uses to adopt textbooks is a sham. This board adopted textbooks with numerous late changes that the public had little opportunity to review and comment on and that even board members themselves admitted they had not read. They can't honestly say they know what's in these textbooks, which could be in classrooms for a decade."
And while climate denialism may be gone (or anyway, it was last week), the fact that the textbooks are packed with late changes no one's been able to read doesn't inspire confidence.
YOU MIGHT ALSO LIKE
Climate Deniers Push for False Science in Textbooks
Must-See Video: Jon Stewart Tackles Climate Deniers in Congress
Evangelical Christian Tells Bill Moyers Not All Christians Are Climate Deniers
EcoWatch Daily Newsletter