This website uses cookies to ensure you get the best experience while browsing it. By clicking 'Got It' you're accepting these terms.
18 Patriotic Wilderness Quotes in Celebration of the Fourth of July
Jul. 03, 2014 10:15AM EST
As we celebrate the birth of our country, it is worth remembering the role that wildness—and wilderness—have played in shaping our national character and values.
Wilderness is intrinsic to our conception of what it means to be American—first as an oppositional force, something our pioneer ancestors hacked away to build towns, railroads and the other trappings of civilization we know today. Later, as Americans came to understand how irreplaceable and restorative these wild places are, a democratic conservation ethic grew unlike that found in other nations, spearheaded by people like John Muir, Theodore Roosevelt and Aldo Leopold. It held the idea of land for the enjoyment of all as nearly sacred.
Reflections on wilderness echo through American history—whether paying tribute to our purple mountain majesties or aspiring to better preserve our greatest national treasures.
Enjoy these patriotic wilderness quotes for the Fourth of July: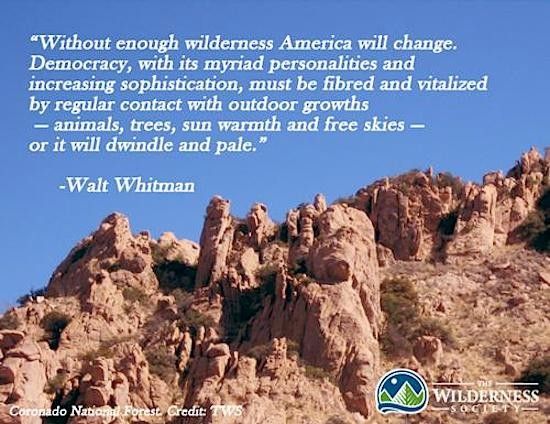 National Parks Service
Our remnants of wilderness will yield bigger values to the nation's character and health than they will to its pocketbook, and to destroy them will be to admit that the latter are the only values that interest us.—Aldo Leopold (source)
The nation behaves well if it treats the natural resources as assets which it must turn over to the next generation increased and not impaired in value.—Theodore Roosevelt (source)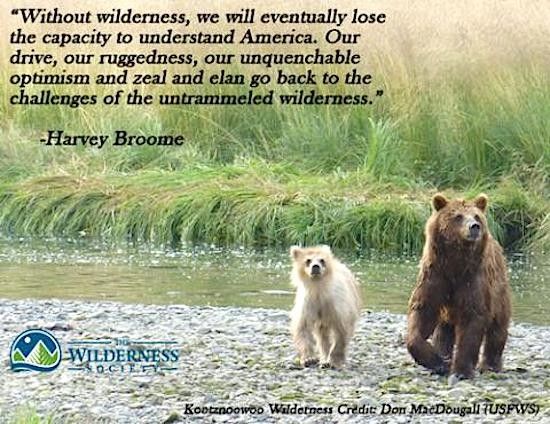 National Parks Traveler
Many of our greatest American thinkers, men of the caliber of Thomas Jefferson, Henry Thoreau, Mark Twain, William James and John Muir, have found the forest and effective stimulus to original thought.—Bob Marshall (source)
Her mighty lakes, like oceans of liquid silver; her mountains with their right aerial tints; her valleys, teeming with wild fertility; her tremendous cataracts, thundering in their solitudes; her boundless plains, waving with spontaneous verdure; her brought deep rivers, rolling in solemn silence to the ocean; her trackless forests, where vegetation puts forth all its magnificence; her skies, kindling waves in the magic of the summer clouds and glorious sunshine;—no, never need an American look beyond his own country for the sublime and beautiful of natural scenery.—Washington Irving (source)
National Parks Service
The forests of America, however slighted by man, must have been a great delight to God; for they were the best He ever planted.—John Muir (source)
Wilderness is an anchor to windward. Knowing it is there, we can also know that we are still a rich nation, tending our resources as we should--not a people in despair searching every last nook and cranny of our land for a board of lumber, a barrel of oil, a blade of grass or a tank of water.—Clinton P. Anderson (source)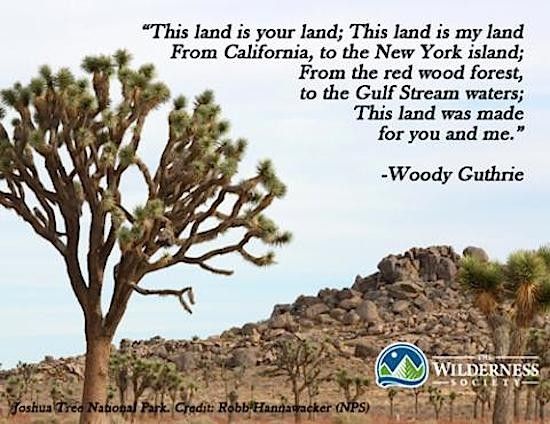 The Yosemite, the Yellowstone, the Grand Canyon are national properties in which every citizen has a vested interest; they belong as much to the man of Massachusetts, of Michigan, of Florida, as they do to the people of California, of Wyoming, of Arizona.—Stephen Mather (source)
Something will have gone out of us as a people if we ever let the remaining wilderness be destroyed; if we permit the last virgin forests to be turned into comic books and plastic cigarette cases; if we drive the few remaining members of the wild species into zoos or to extinction; if we pollute the last clear air and dirty the last clean streams and push our paved roads through the last of the silence, so that never again will Americans be free in their own country from the noise, the exhausts, the stinks of human and automotive waste.—Wallace Stegner (source)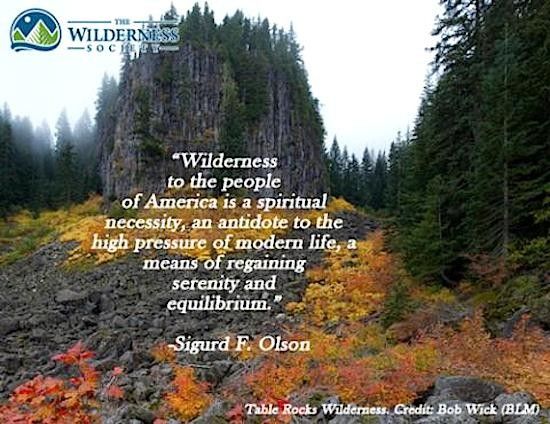 Guardians of the Parks
Today, across our land, the National Park System represents America at its best. Each park contributes to a deeper understanding of the history of the United States and our way of life; of the natural processes which have given form to our land, and to the enrichment of the environment in which we live.—George B. Hartzog (source)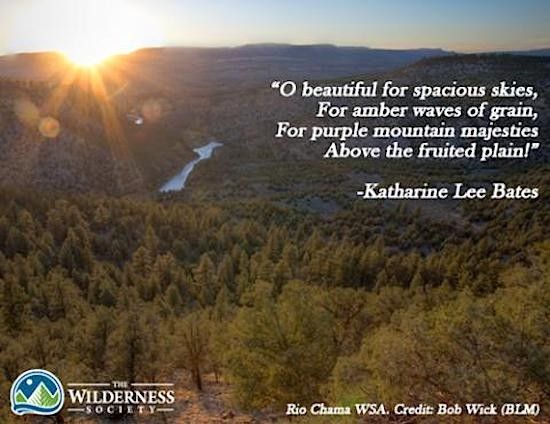 The fundamental idea behind the parks... is that the country belongs to the people, that it is in process of making for the enrichment of the lives of all of us.—Franklin D. Roosevelt (source)
"Natural beauty and wonder are priceless heirlooms which God has bestowed upon our nation. How shall we escape the contempt of the coming generation if we suffer this irreplaceable heritage to be wasted?"—Henry van Dyke (source)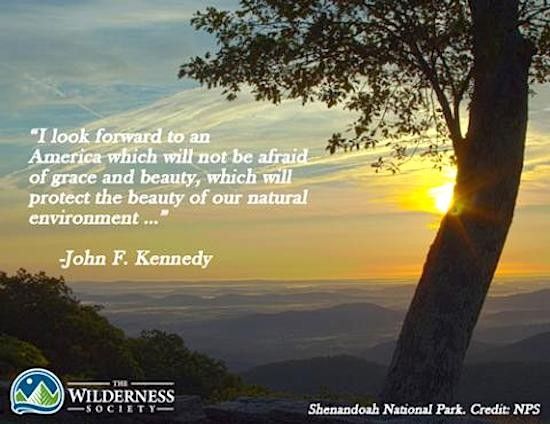 The Atlantic
EcoWatch Daily Newsletter
samael334 / iStock / Getty Images
Berries are small, soft, round fruit of various colors — mainly blue, red, or purple.
A glacier is seen in the Kenai Mountains on Sept. 6, near Primrose, Alaska. Scientists from the U.S. Geological Survey have been studying the glaciers in the area since 1966 and their studies show that the warming climate has resulted in sustained glacial mass loss as melting outpaced the accumulation of new snow and ice. Joe Raedle / Getty Images
By Mark Mancini
On Aug. 18, Iceland held a funeral for the first glacier lost to climate change. The deceased party was Okjökull, a historic body of ice that covered 14.6 square miles (38 square kilometers) in the Icelandic Highlands at the turn of the 20th century. But its glory days are long gone. In 2014, having dwindled to less than 1/15 its former size, Okjökull lost its status as an official glacier.
Members of Chicago Democratic Socialists of America table at the Logan Square Farmers Market on Aug. 18. Alex Schwartz
By Alex Schwartz
Among the many vendors at the Logan Square Farmers Market on Aug. 18 sat three young people peddling neither organic vegetables, gourmet cheese nor handmade crafts. Instead, they offered liberation from capitalism.
Hackney primary school students went to the Town Hall on May 24 in London after school to protest about the climate emergency. Jenny Matthews / In Pictures / Getty Images
Bird watching in the U.S. may be a lot harder than it once was, since bird populations are dropping off in droves, according to a new study.
Amazon CEO Jeff Bezos announces the co-founding of The Climate Pledge at the National Press Club on Sept. 19 in Washington, DC. Paul Morigi / Getty Images for Amazon
The day before over 1,500 Amazon.com employees planned a walkout to participate in today's global climate strike, CEO Jeff Bezos unveiled a sweeping plan for the retail and media giant to be carbon neutral by 2040, 10 years ahead of the Paris agreement schedule.
For the past seven years, the Anishinaabe people have been facing the largest tar sands pipeline project in North America. We still are. In these dying moments of the fossil fuel industry, Water Protectors stand, prepared for yet another battle for the water, wild rice and future of all. We face Enbridge, the largest pipeline company in North America, and the third largest corporation in Canada. We face it unafraid and eyes wide open, for indeed we see the future.