This website uses cookies to ensure you get the best experience while browsing it. By clicking 'Got It' you're accepting these terms.
18 Most Addictive Foods
Nov. 16, 2015 01:04PM EST
Food
Up to 20 percent of people may suffer from food addiction or addictive-like eating behavior (1).
This number is even higher among people with obesity.
Food addiction involves being addicted to food in the same way as drug addicts are addicted to drugs (2, 3).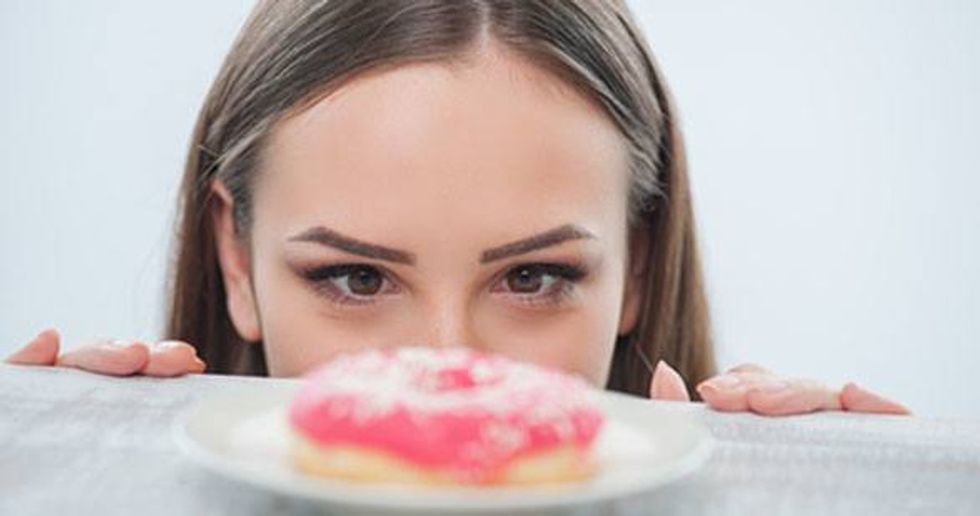 Photo credit: Shutterstock
People who have food addiction are unable to control their consumption of certain foods.
However, people don't just get addicted to any food. Some foods are much more likely to cause symptoms of addiction than others.
Foods That Can Cause Addictive-Like Eating
Researchers at the University of Michigan studied addictive-like eating in 518 participants (4).
They used the Yale Food Addiction Scale (YFAS) as a reference. This is the most commonly used tool to assess food addiction.
All participants got a list of 35 foods, both processed and unprocessed.
They rated how likely they were to experience problems with each of the 35 foods, on a scale from 1 (not at all addictive) to 7 (extremely addictive).
In this study, 7-10 percent of participants were diagnosed with full-blown food addiction.
What's more, 92 percent of participants had addictive-like eating behavior towards some foods. They repeatedly had the desire to quit eating them, but were unable to (4).
Below, you'll see the results about which foods were the most and least addictive.
Bottom Line: In a recent study, 92 percent of participants had addictive-like eating behavior towards certain foods. 7-10 percent had full-blown food addiction.
Not surprisingly, most of the foods rated as addictive were processed foods. These foods were usually high in sugar, fat or both.
The number following each food is the average score given in the study mentioned above, on a scale from 1 (not at all addictive) to 7 (extremely addictive).
The 18 Most Addictive Foods
Pizza (4.01)
Chocolate (3.73)
Chips (3.73)
Cookies (3.71)
Ice cream (3.68)
French fries (3.60)
Cheeseburgers (3.51)
Soda (not diet) (3.29)
Cake (3.26)
Cheese (3.22)
Bacon (3.03)
Fried chicken (2.97)
Rolls (plain) (2.73)
Popcorn (buttered) (2.64)
Breakfast cereal (2.59)
Gummy candy (2.57)
Steak (2.54)
Muffins (2.50)
Bottom Line: The 18 most addictive foods were also the most processed ones, with the highest amounts of fat and added sugar.
The 17 Least Addictive Foods
The least addictive foods were mostly whole, unprocessed foods.
Cucumbers (1.53)
Carrots (1.60)
Beans (no sauce) (1.63)
Apples (1.66)
Brown rice (1.74)
Broccoli (1.74)
Bananas (1.77)
Salmon (1.84)
Corn (no butter or salt) (1.87)
Strawberries (1.88)
Granola bar (1.93)
Water (1.94)
Crackers (plain) (2.07)
Pretzels (2.13)
Chicken breast (2.16)
Eggs (2.18)
Nuts (2.47)
Bottom Line: The least addictive foods were almost all whole, unprocessed foods.
What Makes Junk Food Addictive?
Addictive-like eating behavior involves a lot more than just a lack of willpower. There are biochemical reasons why some people lose control over their consumption.
It has repeatedly been linked to processed foods, especially those high in added sugar and/or fat (4, 5, 6, 7).
Processed foods are usually engineered to be "hyperpalatable"—so they taste supergood.
They also contain high amounts of calories, and cause major blood sugar imbalances. These are known factors that can cause food cravings.
However, the biggest contributor to addictive-like eating behavior is your brain.
The brain has a reward center, which lights up and starts secreting dopamine and other feel-good chemicals when we eat.
This reward center explains why most of us "enjoy" eating. It makes sure that we eat enough food to get all the energy and nutrients that we need.
Eating processed junk food releases massive amounts of feel-good chemicals, compared to unprocessed foods. This yields a much more powerful "reward" in the brain (8, 9, 10).
Your brain then seeks more reward by causing cravings for these hyper-rewarding foods. This can possibly lead to a vicious cycle, called addictive-like eating behavior or food addiction (11, 12).
Bottom Line: Processed foods can cause blood sugar imbalances and cravings. Eating junk food also makes your brain release feel-good chemicals, which can lead to even more cravings.
Take Home Message
Food addiction and addictive-like eating behavior are serious problems that certain foods are more likely to trigger.
This is yet another reason to base your diet mostly on eating whole, single-ingredient foods.
They release an appropriate amount of feel-good chemicals, while ensuring that you're not overeating.
In the end, you should control what foods you eat—not the other way around.
This article was reposted from our media associate Authority Nutrition.
YOU MIGHT ALSO LIKE
7 Foods That Provide 7 Vital Nutrients You Are Probably Lacking
Why Eating Eggs Helps You Lose Weight
Indoor Veggie Garden Lets You Grow Your Own Food Right in Your Kitchen
EcoWatch Daily Newsletter
In Germany's Hunsrück village of Schorbach, numerous photovoltaic systems are installed on house roofs, on Sept. 19, 2019. Thomas Frey / Picture Alliance via Getty Images
Germany's target for renewable energy sources to deliver 65% of its consumed electricity by 2030 seemed on track Wednesday, with 52% of electricity coming from renewables in 2020's first quarter. Renewable energy advocates, however, warned the trend is imperiled by slowdowns in building new wind and solar plants.
In many parts of the U.S., family farms are disappearing and being replaced by suburban sprawl.
General view of the empty Alma bridge, in front of the Eiffel tower, while the city imposes emergency measures to combat the Coronavirus COVID-19 outbreak, on March 17, 2020 in Paris, France. Edward Berthelot / Getty Images
Half the world is on lockdown. So, the constant hum of cars, trucks, trains and heavy machinery has stopped, drastically reducing the intensity of the vibrations rippling through the Earth's crust. Seismologists, who use highly sensitive equipment, have noticed a difference in the hum caused by human activity, according to Fast Company.
The current rate of CO2 emissions is a major event in the recorded history of Earth. EPA
At several points in the history of our planet, increasing amounts of carbon dioxide in the atmosphere have caused extreme global warming, prompting the majority of species on Earth to die out.
The "Earthrise" photograph that inspired the first Earth Day. NASA / Bill Anders
For EcoWatchers, April usually means one thing: Earth Day. But how do you celebrate the environment while staying home to prevent the spread of the new coronavirus?