This website uses cookies to ensure you get the best experience while browsing it. By clicking 'Got It' you're accepting these terms.

"The gift of the Earth with its fruits belongs to everyone." — Pope Francis, Laudato Si', paragraph 71.
There were many kind people, including some Federal Energy Regulatory Commission (FERC) employees, who thanked me or had supportive things to say during the 18 days that I fasted on water only in front of FERC with 11 other sisters and brothers from Sept. 8 - 25. But there are three people whose words I doubt I'll ever forget.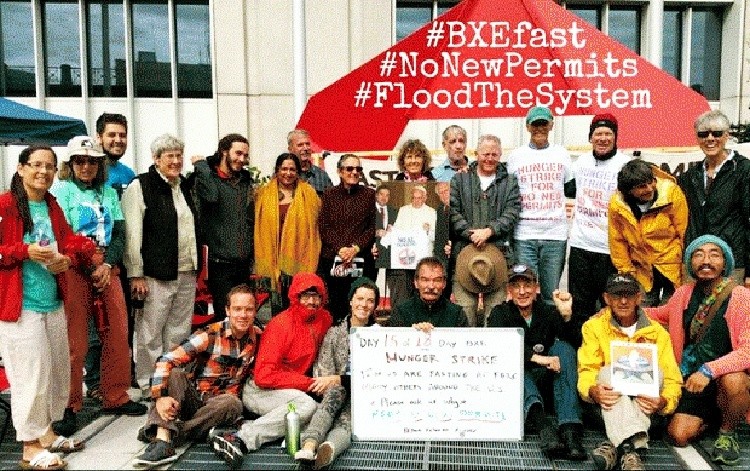 In Washington, DC, 12 people that fasted and other supporters set up camp in front of FERC on the sidewalk every work day from 7 a.m. to 6 p.m.
There was the young black woman whose job was to staff a small booth by the entrance to an underground parking lot just across from the main employee entrance to FERC. She was friendly and over the three weeks that I stood across from her during the work week, holding signs and distributing leaflets to FERC employees going into or leaving work, we often exchanged small talk and smiles. About a week before it ended she commended us on our courage. Then, on the 15th day, she told me, "Some women came by yesterday, asking me, 'What are they doing here?' and I told them, 'They are taking action for all of us.' Some of us have jobs and have to pay bills and can't do what you're doing, but I think what you are doing is important."
Then there was the Homeland Security Federal Protective Services policeman, a tall, tough-looking, white guy, who came by to talk to me on day 18, asking how I was doing, clearly impacted by our willingness to suffer for what we believed in. After a couple of minutes he said, "I've seen lots of groups demonstrating on issues, but yours is the most persistent one I've ever seen."
But the most profound interaction I had was with a woman who might not have known I was fasting. She was an old white woman, on crutches, looking like she was homeless, a beggar on the DC Metro subway. I had seen her earlier in the 18-day ordeal; she had come up to me asking for money. On day 16, the day the Pope was in town meeting with President Obama, on my way home from FERC in the evening to the church where we stayed every night, I saw her again. We were both standing on the Metro platform and I had a mounted, blown-up picture of the Pope holding a sign which said, "No al Fracking."
She came over to me, our eyes connected and she said, to paraphrase, "You know, I know all about Jesus Christ and everything, but I just want to say that if it's not about unity, it doesn't mean crap." I had listened carefully and what she said rang true, was genuine and deep, and I responded, "Yes, you're right. That is absolutely true."
The Beyond Extreme Energy-organized "Fast for No New Permits" was not explicitly about "unity." It was the latest in a now-over-a-year campaign focused on what we call "the most dangerous federal agency most people have never heard of." We are doing everything we can think of to throw a nonviolent wrench into the gears of the FERC machinery. This semi-independent agency has just kept grinding out permit after permit for the expansion of fracked gas infrastructure, with virtually no rejections of gas industry proposals, from what we're able to tell, for many, many years.
The idea of doing a serious fast emerged a few months ago as some of us realized that the Pope was going to be in DC in late September, the Pope who has been outspoken about the need for action on the climate crisis and who, yes, had no problem being photographed a couple years ago with that "No al Fracking" sign.
And so on Sept. 8, the day after Labor Day, 12 of us, from ages 19 to 72, began a diet that consisted of water, salt and potassium. Ten of us continued on that diet until the 25th, the day after the Pope's speech to the U.S. Congress. One faster had to end it around day 10 because of serious physical difficulties he was encountering; the other did so after about 14 days because of her need to build back some strength before joining a 900-mile walk from Rome to Paris beginning next week in connection with the early December UN Climate Conference.
There were at least 100 other people who fasted around the country, including several who fasted for 18 days also, as I understand it, in Oak Flat, Arizona, protesting federal plans to take land in Tonto National Forest sacred to local Apache nations and give it to multinational copper companies to mine.
In DC we 12 fasters and other supporters set up camp in front of FERC on the sidewalk every work day from 7 a.m. to 6 p.m. We passed out many thousands of leaflets and had hundreds of conversations with FERC employees and people passing by. Dutch TV came by and did interviews, as did a dozen or more other press outlets. We found a great deal of support and almost no overt hostility. One of the more interesting conversations we had was with Norman Bay, chair of FERC. I was able to talk with for a few minutes when he was spotted coming out of the FERC building while most of us on this very hot, sunny day were across the street in the shade of a 30-foot high stone wall. Little of direct substance came out of that discussion, though you never know.
On the 17th day, the day the Pope spoke to Congress, we had a breakthrough with the Washington Post when a reporter interviewed me on the mall and posted a blog about it that morning. The next day that blog post became a substantial part of a good and prominent article in the first section of the paper, taking up 2/3rds of a page and with a big picture. It was helpful to see that Post article reporting that our fast was "to protest what he said was the Federal Energy Regulatory Commission's support for the use of fossil fuels and pipelines."
I would expect lots of FERC employees, including Commissioners, as well as DC judges who will be hearing appeals of FERC's rubber-stamping ways, see that article and smile.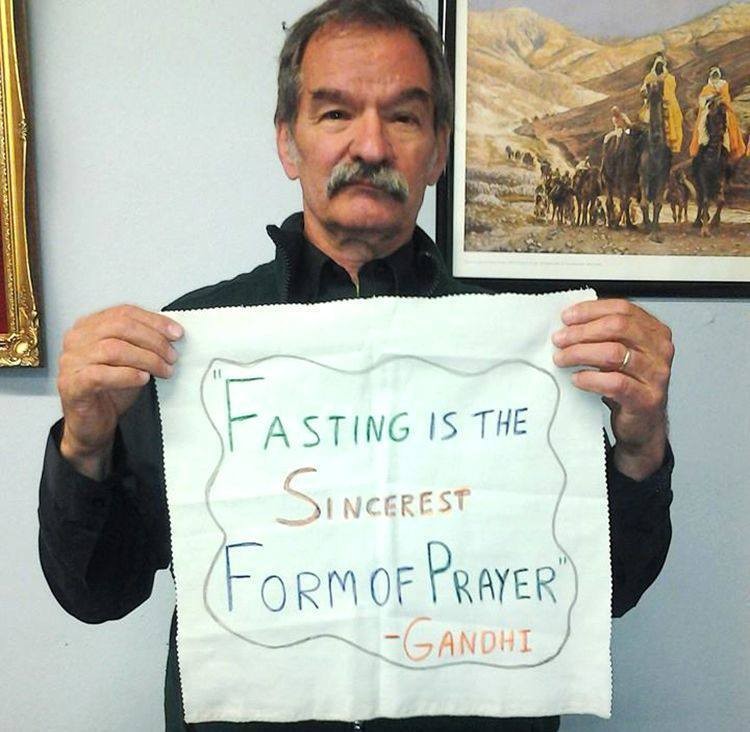 There is no question this was an effective action. But it was more than that. In significant part because it was a fast—what Gandhi called "the most sincere form of prayer"—and connected to the visit of the people's Pope, it was also, indeed, about unity, about what the wise, old, beggar woman on the Metro platform had said to me on day 16.
Yes, "the gift of the earth with its fruits belongs to everyone." And yes, "a true ecological approach always becomes a social approach, it musts integrate questions of justice in debates on the environment, so as to hear both the cry of the Earth and the cry of the poor." (paragraph 49).
And more directly, to amplify the wise woman, "Everything is connected. Concern for the environment thus needs to be joined to a sincere love for our fellow human beings and an unwavering commitment to resolving the problems of society." (paragraph 91).
I lost 30 pounds over those 18 days. It is good to be eating again, slowly returning to normal eating habits. It is good to have energy to work, feel my strength beginning to return, to taste the delicious flavors of fruits and vegetables, the only things I am eating these first two days of my back-to-normal-eating, nine-day plan. It is good to be home after three weeks away. And it is good to know that the memories of those 18 days and the wonderful community of sister and brother fasters and supporters will be with me always, nourishing my commitment to keep taking action for a stable climate and a transformed world until the day I die.
Ted Glick is the National Campaign Coordinator of the Chesapeake Climate Action Network. Past writings and other information can be found at tedglick.com and he can be followed on Twitter.
YOU MIGHT ALSO LIKE
Shell Abandons Arctic Drilling Following 'Disappointing' Results
Faith Leaders Speak Out Against Fracking Amid Pope Francis' Visit to U.S.
Colorado Supreme Court to Make Historic Ruling on Fracking Bans
Hillary Clinton Breaks Keystone XL Silence, Announces Her Opposition to the Pipeline
EcoWatch Daily Newsletter
Two Sherpa descending from Everest Base Camp, Himalayas, Khumbu, Nepal. Joel Addams / Aurora Photos / Getty Images
Climate change is having a grizzly effect on Mount Everest as melting snow and glaciers reveal some of the bodies of climbers who died trying to scale the world's highest peak.
Navajo Generating Station, Arizona. Wolfgang Moroder / Wikimedia / CC BY-SA 3.0
The Navajo Nation have decided to stop pursuing the acquisition of a beleaguered coal-fired power plant in Arizona, locking in the plant to be taken offline and its associated coal mine to close later this year.
A Navajo Nation Council committee voted 11-9 last week to stop pursuing the purchase of the 2,250-megawatt Navajo Generating Station, which with the Kayenta coal mine provides more than 800 jobs to primarily Navajo and Hopi workers as well as tribal royalties.
A coalition of utilities that own the plant said in 2017 it would cease operations due to increased economic pressure, and the plant's future has proved a flash point for national and regional energy policy and raised larger questions on how Native communities will handle ties to fossil fuel industries as the economy changes.
For a deeper dive:
Arizona Republic, Indian Country Today, AP, WOKV, Farmington Daily Times
For more climate change and clean energy news, you can follow Climate Nexus on Twitter and Facebook, and sign up for daily Hot News.
Related Articles Around the Web
Sir David Attenborough opens Woodberry Wetlands on April 30, 2016 in London, United Kingdom. Danny Martindale / WireImage
An extended version of the Fuxing bullet train at the China National Railway Test Center on Oct. 15, 2018 in Beijing, China. VCG / VCG via Getty Images
By Jeff Turrentine
Is it just us?
Other countries don't seem to have a problem getting their high-speed rail systems on track. This superfast, fuel-efficient form of mass transit is wildly popular throughout Asia and the European Union. Japan's sleek Shinkansen line, the busiest high-speed rail system in the world, carries an estimated 420,000 riders every weekday. In China, the new Fuxing Hao bullet train now hurries more than 100 million passengers a year between Beijing and Shanghai at a top speed of 218 miles an hour, allowing its riders to make the trip of 775 miles — roughly the distance from New York City to Chicago — in about four and a half hours. Spain, Germany and France together have more than 4,500 miles of track dedicated to high-speed rail, over which more than 150 million passengers travel annually.
Ocean Heroes Bootcamp
By Coda Christopherson (11) and Lea Eiders (15)
Growing up in a plastic-free home, I was sheltered from the plastic waste crisis. I (Coda) went to a very progressive school that had vegan lunch items, farm animals and ran on solar power. My mom produces zero-waste events and my dad is a sailor, so we're very passionate about the ocean. When I was nine years old, we moved back to Manhattan Beach, California and I started 3rd grade in a public school. This was the first time I really understood that plastic-free living is not the norm; single-use plastics were everywhere, especially in the cafeteria. Once I recognized this problem, I knew I had to make a difference.
A major California avocado producer issued a voluntary recall of the popular fruit over concerns they could be contaminated with Listeria monocytogenes, USA Today reported.
Henry Avocado issued the recall Saturday after a routine government inspection at its California packing facility turned up positive test results for the bacteria on "environmental samples," the company said in a statement. No illnesses have been reported.
Acting Secretary David Bernhardt visited Watson Hopper Inc., a manufacturer of rigs and oil drilling equipment in Hobbs, New Mexico on Feb. 6, 2019.
Tami A. Heilemann / DOI
Oil executives gathered for a conference laughed about their "unprecedented" access to Trump administration officials, according to a recording obtained by Reveal from the Center for Investigative Reporting.
In the recording, taken at a June 2017 meeting of the Independent Petroleum Association of America (IPAA) at a Ritz-Carlton in Southern California, members expressed excitement about one official in particular: David Bernhardt, who had been nominated that April to be deputy secretary at the Department of Interior (DOI). Bernhardt would be confirmed the following month.
"We know him very well, and we have direct access to him, have conversations with him about issues ranging from federal land access to endangered species, to a lot of issues," IPAA political director Dan Naatz said in the recording.