This website uses cookies to ensure you get the best experience while browsing it. By clicking 'Got It' you're accepting these terms.

"The gift of the Earth with its fruits belongs to everyone." — Pope Francis, Laudato Si', paragraph 71.
There were many kind people, including some Federal Energy Regulatory Commission (FERC) employees, who thanked me or had supportive things to say during the 18 days that I fasted on water only in front of FERC with 11 other sisters and brothers from Sept. 8 - 25. But there are three people whose words I doubt I'll ever forget.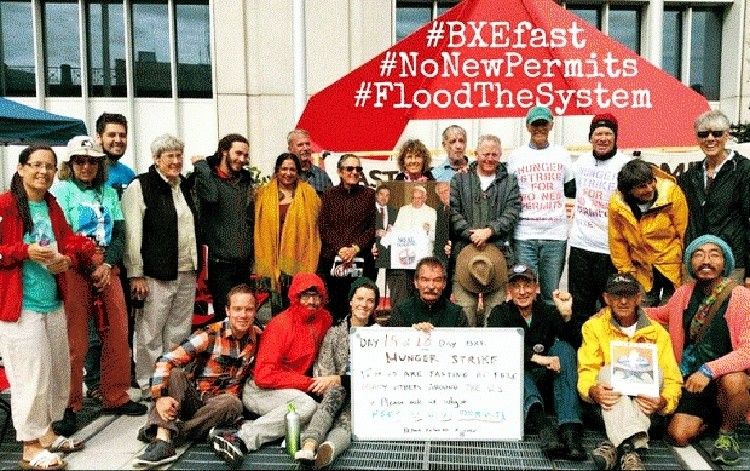 In Washington, DC, 12 people that fasted and other supporters set up camp in front of FERC on the sidewalk every work day from 7 a.m. to 6 p.m.
There was the young black woman whose job was to staff a small booth by the entrance to an underground parking lot just across from the main employee entrance to FERC. She was friendly and over the three weeks that I stood across from her during the work week, holding signs and distributing leaflets to FERC employees going into or leaving work, we often exchanged small talk and smiles. About a week before it ended she commended us on our courage. Then, on the 15th day, she told me, "Some women came by yesterday, asking me, 'What are they doing here?' and I told them, 'They are taking action for all of us.' Some of us have jobs and have to pay bills and can't do what you're doing, but I think what you are doing is important."
Then there was the Homeland Security Federal Protective Services policeman, a tall, tough-looking, white guy, who came by to talk to me on day 18, asking how I was doing, clearly impacted by our willingness to suffer for what we believed in. After a couple of minutes he said, "I've seen lots of groups demonstrating on issues, but yours is the most persistent one I've ever seen."
But the most profound interaction I had was with a woman who might not have known I was fasting. She was an old white woman, on crutches, looking like she was homeless, a beggar on the DC Metro subway. I had seen her earlier in the 18-day ordeal; she had come up to me asking for money. On day 16, the day the Pope was in town meeting with President Obama, on my way home from FERC in the evening to the church where we stayed every night, I saw her again. We were both standing on the Metro platform and I had a mounted, blown-up picture of the Pope holding a sign which said, "No al Fracking."
She came over to me, our eyes connected and she said, to paraphrase, "You know, I know all about Jesus Christ and everything, but I just want to say that if it's not about unity, it doesn't mean crap." I had listened carefully and what she said rang true, was genuine and deep, and I responded, "Yes, you're right. That is absolutely true."
The Beyond Extreme Energy-organized "Fast for No New Permits" was not explicitly about "unity." It was the latest in a now-over-a-year campaign focused on what we call "the most dangerous federal agency most people have never heard of." We are doing everything we can think of to throw a nonviolent wrench into the gears of the FERC machinery. This semi-independent agency has just kept grinding out permit after permit for the expansion of fracked gas infrastructure, with virtually no rejections of gas industry proposals, from what we're able to tell, for many, many years.
The idea of doing a serious fast emerged a few months ago as some of us realized that the Pope was going to be in DC in late September, the Pope who has been outspoken about the need for action on the climate crisis and who, yes, had no problem being photographed a couple years ago with that "No al Fracking" sign.
And so on Sept. 8, the day after Labor Day, 12 of us, from ages 19 to 72, began a diet that consisted of water, salt and potassium. Ten of us continued on that diet until the 25th, the day after the Pope's speech to the U.S. Congress. One faster had to end it around day 10 because of serious physical difficulties he was encountering; the other did so after about 14 days because of her need to build back some strength before joining a 900-mile walk from Rome to Paris beginning next week in connection with the early December UN Climate Conference.
There were at least 100 other people who fasted around the country, including several who fasted for 18 days also, as I understand it, in Oak Flat, Arizona, protesting federal plans to take land in Tonto National Forest sacred to local Apache nations and give it to multinational copper companies to mine.
In DC we 12 fasters and other supporters set up camp in front of FERC on the sidewalk every work day from 7 a.m. to 6 p.m. We passed out many thousands of leaflets and had hundreds of conversations with FERC employees and people passing by. Dutch TV came by and did interviews, as did a dozen or more other press outlets. We found a great deal of support and almost no overt hostility. One of the more interesting conversations we had was with Norman Bay, chair of FERC. I was able to talk with for a few minutes when he was spotted coming out of the FERC building while most of us on this very hot, sunny day were across the street in the shade of a 30-foot high stone wall. Little of direct substance came out of that discussion, though you never know.
On the 17th day, the day the Pope spoke to Congress, we had a breakthrough with the Washington Post when a reporter interviewed me on the mall and posted a blog about it that morning. The next day that blog post became a substantial part of a good and prominent article in the first section of the paper, taking up 2/3rds of a page and with a big picture. It was helpful to see that Post article reporting that our fast was "to protest what he said was the Federal Energy Regulatory Commission's support for the use of fossil fuels and pipelines."
I would expect lots of FERC employees, including Commissioners, as well as DC judges who will be hearing appeals of FERC's rubber-stamping ways, see that article and smile.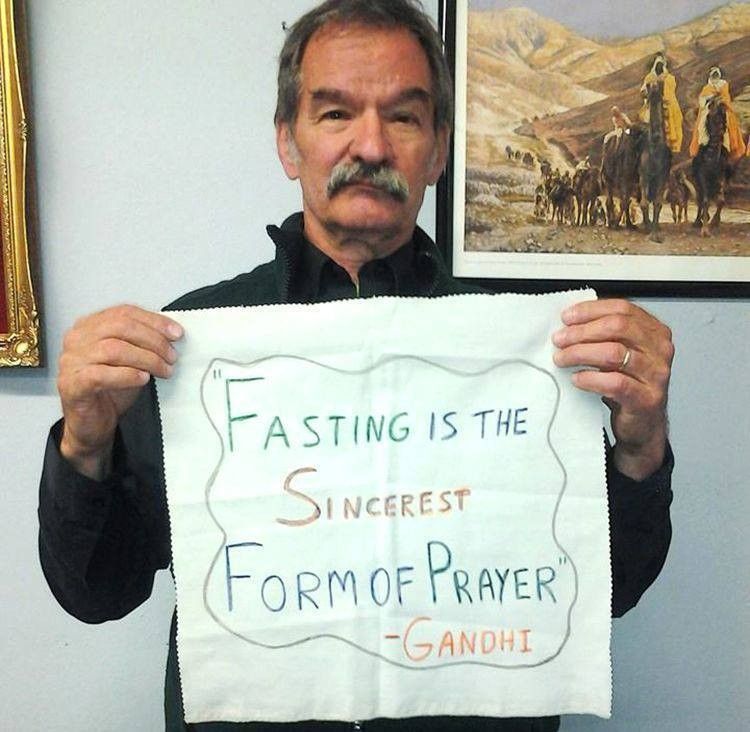 There is no question this was an effective action. But it was more than that. In significant part because it was a fast—what Gandhi called "the most sincere form of prayer"—and connected to the visit of the people's Pope, it was also, indeed, about unity, about what the wise, old, beggar woman on the Metro platform had said to me on day 16.
Yes, "the gift of the earth with its fruits belongs to everyone." And yes, "a true ecological approach always becomes a social approach, it musts integrate questions of justice in debates on the environment, so as to hear both the cry of the Earth and the cry of the poor." (paragraph 49).
And more directly, to amplify the wise woman, "Everything is connected. Concern for the environment thus needs to be joined to a sincere love for our fellow human beings and an unwavering commitment to resolving the problems of society." (paragraph 91).
I lost 30 pounds over those 18 days. It is good to be eating again, slowly returning to normal eating habits. It is good to have energy to work, feel my strength beginning to return, to taste the delicious flavors of fruits and vegetables, the only things I am eating these first two days of my back-to-normal-eating, nine-day plan. It is good to be home after three weeks away. And it is good to know that the memories of those 18 days and the wonderful community of sister and brother fasters and supporters will be with me always, nourishing my commitment to keep taking action for a stable climate and a transformed world until the day I die.
Ted Glick is the National Campaign Coordinator of the Chesapeake Climate Action Network. Past writings and other information can be found at tedglick.com and he can be followed on Twitter.
YOU MIGHT ALSO LIKE
Shell Abandons Arctic Drilling Following 'Disappointing' Results
Faith Leaders Speak Out Against Fracking Amid Pope Francis' Visit to U.S.
Colorado Supreme Court to Make Historic Ruling on Fracking Bans
Hillary Clinton Breaks Keystone XL Silence, Announces Her Opposition to the Pipeline
EcoWatch Daily Newsletter
By Collin Rees
We know that people power can stop dangerous fossil fuel projects like the proposed Line 3 tar sands oil pipeline in Minnesota, because we've proved it over and over again — and recently we've had two more big wins.

Scientists released a study showing that a million species are at risk for extinction, but it was largely ignored by the corporate news media. Danny Perez Photography / Flickr / CC
By Julia Conley
Scientists at the United Nations' intergovernmental body focusing on biodiversity sounded alarms earlier this month with its report on the looming potential extinction of one million species — but few heard their calls, according to a German newspaper report.
Pixabay
Summer is fast approaching, which means it's time to stock up on sunscreen to ward off the harmful effects of sun exposure. Not all sunscreens are created equally, however.
Mark Wallheiser / Getty Images
The climate crisis is a major concern for American voters with nearly 40 percent reporting the issue will help determine how they cast their ballots in the upcoming 2020 presidential election, according to a report compiled by the Yale Program on Climate Change Communication.
Of more than 1,000 registered voters surveyed on global warming, climate and energy policies, as well as personal and collective action, 38 percent said that a candidate's position on climate change is "very important" when it comes to determining who will win their vote. Overall, democratic candidates are under more pressure to provide green solutions as part of their campaign promises with 64 percent of Democrat voters saying they prioritize the issue compared with just 34 percent of Independents and 12 percent of Republicans.
Flooding in Winfield, Missouri this month. Jonathan Rehg / Getty Images
President Donald Trump has agreed to sign a $19.1 billion disaster relief bill that will help Americans still recovering from the flooding, hurricanes and wildfires that have devastated parts of the country in the past two years. Senate Republicans said they struck a deal with the president to approve the measure, despite the fact that it did not include the funding he wanted for the U.S.-Mexican border, CNN reported.
"The U.S. Senate has just approved a 19 Billion Dollar Disaster Relief Bill, with my total approval. Great!" the president tweeted Thursday.
Reed Hoffmann / Getty Images
Violent tornadoes tore through Missouri Wednesday night, killing three and causing "extensive damage" to the state's capital of Jefferson City, The New York Times reported.
"There was a lot of devastation throughout the state," Governor Mike Parson said at a Thursday morning press conference, as NPR reported. "We were very fortunate last night that we didn't have more injuries than what we had, and we didn't have more fatalities across the state. But three is too many."

georgeclerk / E+ / Getty Images
By Jennifer Molidor
One million species are at risk of extinction from human activity, warns a recent study by scientists with the United Nations. We need to cut greenhouse gas pollution across all sectors to avoid catastrophic climate change — and we need to do it fast, said the Intergovernmental Panel on Climate Change.
This research should serve as a rallying cry for polluting industries to make major changes now. Yet the agriculture industry continues to lag behind.
Edwin Remsburg / VW Pics / Getty Images
Botswana, home to one third of Africa's elephants, announced Wednesday that it was lifting its ban on the hunting of the large mammals.
"The Ministry of Environment, Natural Resources Conservation and Tourism wishes to inform the public that following extensive consultations with all stakeholders, the Government of Botswana has taken a decision to lift the hunting suspension," the government announced in a press release shared on social media.