17 Arrested Fighting Fracking Infrastructure
Dec. 01, 2014 05:16PM EST
Energy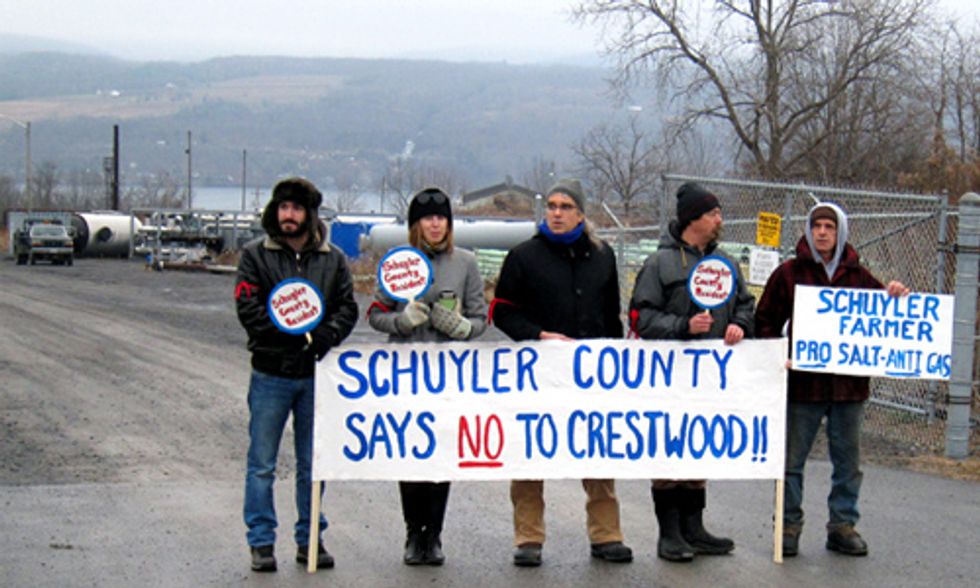 Protests continued today at the Crestwood Midstream's gas storage facility where 10 Schuyler County residents were arrested for trespassing. Today's protest is part of a sustained, ongoing, non-violent civil disobedience campaign against the storage of fracked gas along the shores of Seneca Lake, a source of drinking water for 100,000 people. There have been 83 arrests so far during the "We Are Seneca Lake" civil disobedience campaign, now entering its sixth week.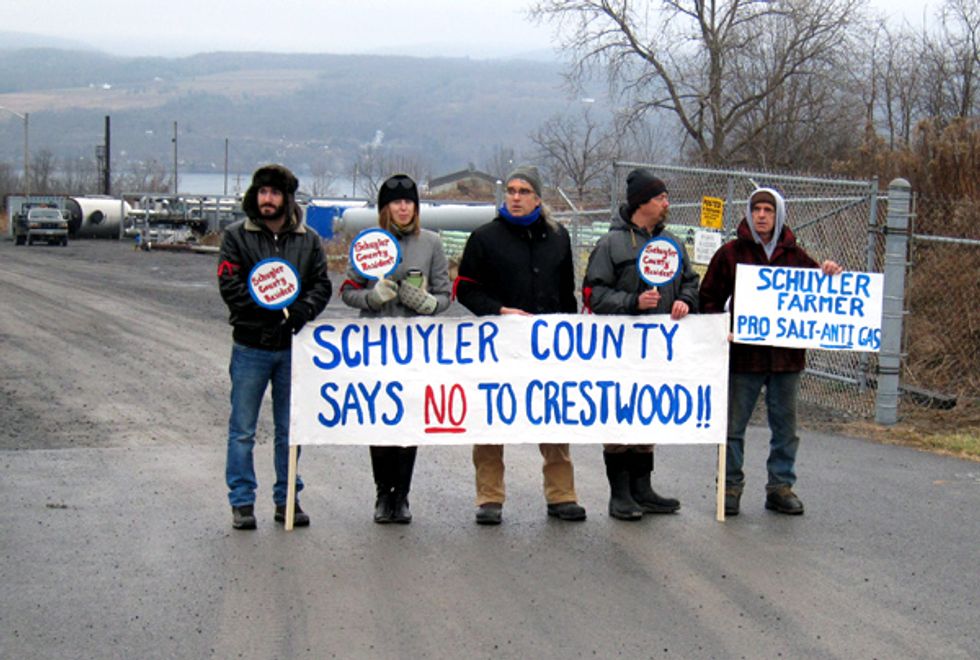 Today's action "is an attempt to dispel the myth that this movement is an 'outside' movement, filled with 'professional protesters.' However, we welcome all comers, as we must when dealing with a watershed for over 100,000 people and air that we all breathe," said Phil Davis and Scott Signori, business owners in Schuyler County who were arrested today. "It will take people from all over to protect the environment and to stand up to Crestwood, the true outsider in this threat."
Paula Fitzsimmons, a physician assistant for 28 years in Schuyler County, who was also arrested today said, "I feel passionately about my patients and Seneca Lake and the preponderance of evidence is that the Crestwood project is a public health risk of an unacceptable magnitude. I am not willing to stand by any longer while the air quality deteriorates and the watershed is threatened."
A press conference and rally is planned for Dec. 3 at 6 p.m. outside of the Town of Reading court, when the arraignment for 20 protesters, arrested in previous weeks, is scheduled.
Also this morning, seven people were arrested during continued opposition to the construction of Dominion Resources' Cove Point liquefied natural gas (LNG) export terminal. Protesters were blockading the construction site of a temporary pier that will be used to bring large pieces of equipment in to build the gas export terminal in the Cove Point community in southern Maryland.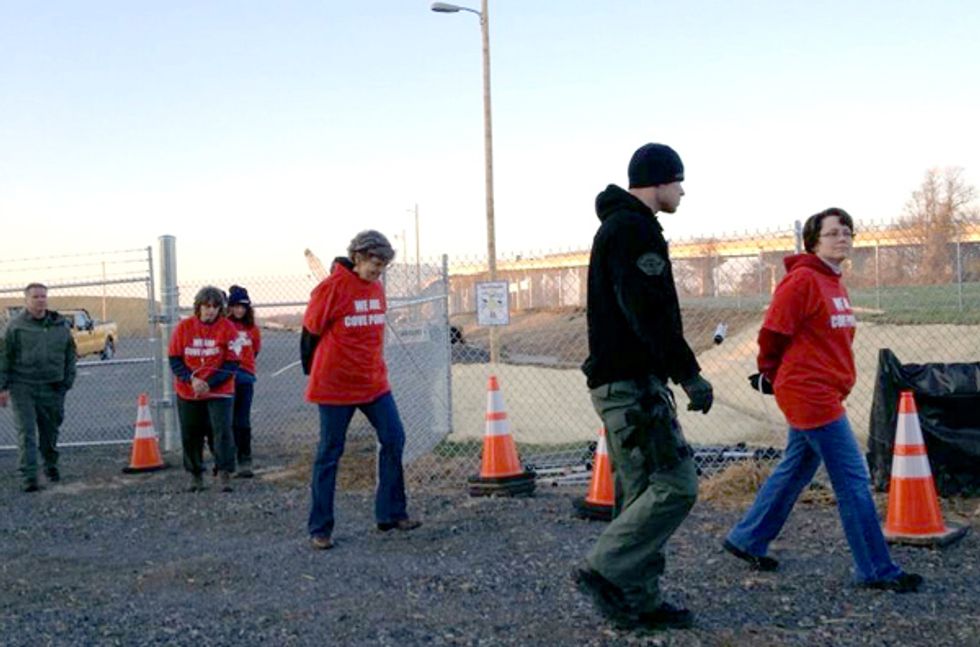 Despite ongoing opposition from area residents, the Federal Energy Regulation Commission approved the $3.8 billion project late September allowing the conversion of the Dominion Cove Point LNG facility from an import to an export facility. Opponents say this decision will allow Dominion to pipe fracked gas from across the region to the facility, liquify it and to ship the LNG overseas to China and India.
"This is where I live. There's no other place I can go. I can't afford to," said Lusby resident and retired social worker Mark Giuffrida. "A large number of working poor people live in Lusby. Dominion is trying to exploit that. They view Calvert County as an easy take, and our commissioners seem to agree with them. We're going to do all we can to prove that wrong."
Nancy Ball, who lives in Lusby and works as a veterinarian in Solomons, agrees. "Not only did they fail to answer crucial questions, but what little information they have given us keeps changing," said  "The Calvert County commissioners and Dominion made all the decisions outside the public eye. We Are Cove Point will work to bring these issues to light. Corporations need to be aware that when they insist on harming our air, water quality, and safety, they will be opposed."
Today's protest marks the first public action by the new coalition "We Are Cove Point."
YOU MIGHT ALSO LIKE
OPEC Decision Likely to Crash U.S. Fracking Industry
Anti-Fracking Warriors Steingraber and Boland Released From Jail
Fracking Approved in Largest National Forest in Eastern U.S.
EcoWatch Daily Newsletter
Recent Stories from EcoWatch