This website uses cookies to ensure you get the best experience while browsing it. By clicking 'Got It' you're accepting these terms.


The best of EcoWatch, right in your inbox. Sign up for our email newsletter!
165 Million Plastic Particles Are Floating in Waters Surrounding New York City
Feb. 10, 2016 10:11AM EST
By NY/NJ Baykeeper
NY/NJ Baykeeper has released the results from a plastic collection study detailing the sizes, types and concentrations of plastic pollution within New York-New Jersey Harbor Estuary waters. The Harbor Estuary encompasses the Ports of New York and New Jersey, as far north as the Tappan Zee Bridge and as far south as Sandy Hook Bay. NY/NJ Baykeeper's results represent one of the first examinations of plastic pollution within waters surrounding New York City.
Based on NY/NJ Baykeeper's estimates, at least 165 million plastic particles are floating within New York-New Jersey Harbor Estuary waters at any given time. The average abundance of plastic particles is 256,322 per square kilometer.
Eighteen samples were collected from New York City and New Jersey waters including the East River, the Upper New York Bay, Newtown Creek, the Lower Harbor near Perth Amboy, New Jersey, the Passaic River, the Morris Canal, the Arthur Kill, the Lower Newark Bay and the Upper Newark Bay. Based on results from the sites sampled, the average plastic quantity per square kilometer from New York City samples was approximately twice the average of New Jersey samples.
"With a population of more than 8 million, New York City must take aggressive policy action like phasing out foam and plastic bags to reduce damage caused by plastic pollution," Sandra Meola, communications and outreach associate at NY/NJ Baykeeper, said. "Coupled with consumer education, legislation should be a priority, especially in the 'to-go' city. We can't keep using throwaway products that are used for a few minutes but take decades to break down."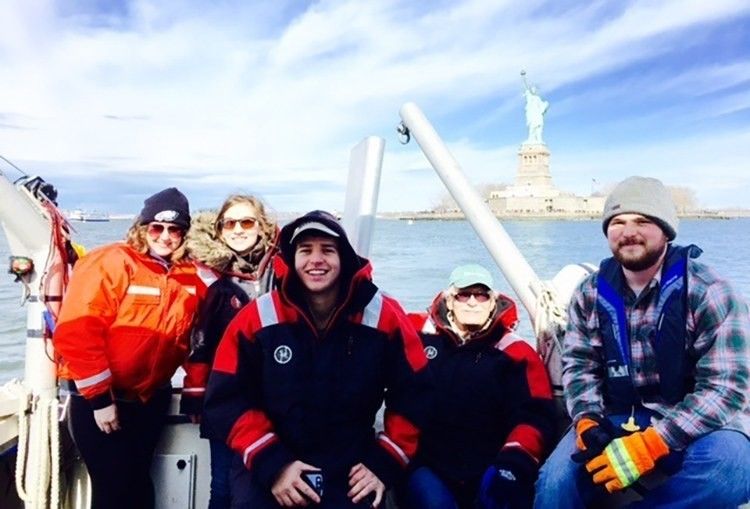 Samples were collected using a net called a manta trawl, which is designed to collect floatable debris off the water's surface. The net is of the same specifications used by the 5 Gyres Institute for international ocean research and for the survey completed in the Great Lakes region by Dr. Sherri Mason.
"This ground-breaking initial study of the NY-NJ Harbor Estuary continues the story that was started with our work in the Great Lakes. Plastic pollution is everywhere and the closer we get to the sources (us) the higher the counts," Dr. Sherri Mason, professor of chemistry at SUNY Fredonia, said. "Our science will continue, but the facts are clear: we must re-evaluate our relationship with this material. Single-use disposable plastics are a plague to our waters and therefore to our society, but fortunately it is one that is easily solved. We had life before plastic and I have full faith we can find a way to break our plastic addiction."
Plastics present in samples were categorized by size and type and then counted using a dissecting microscope. Categories included fragments, foam, line, pellets and film. The most abundant type of plastic present in samples was foam (38 percent). Approximately 85 percent of particles counted were microplastics. Microplastics are particles smaller than 5mm, about the size of a grain of rice. Microplastics are also considered by various experts to cause the most damage to aquatic life and habitat.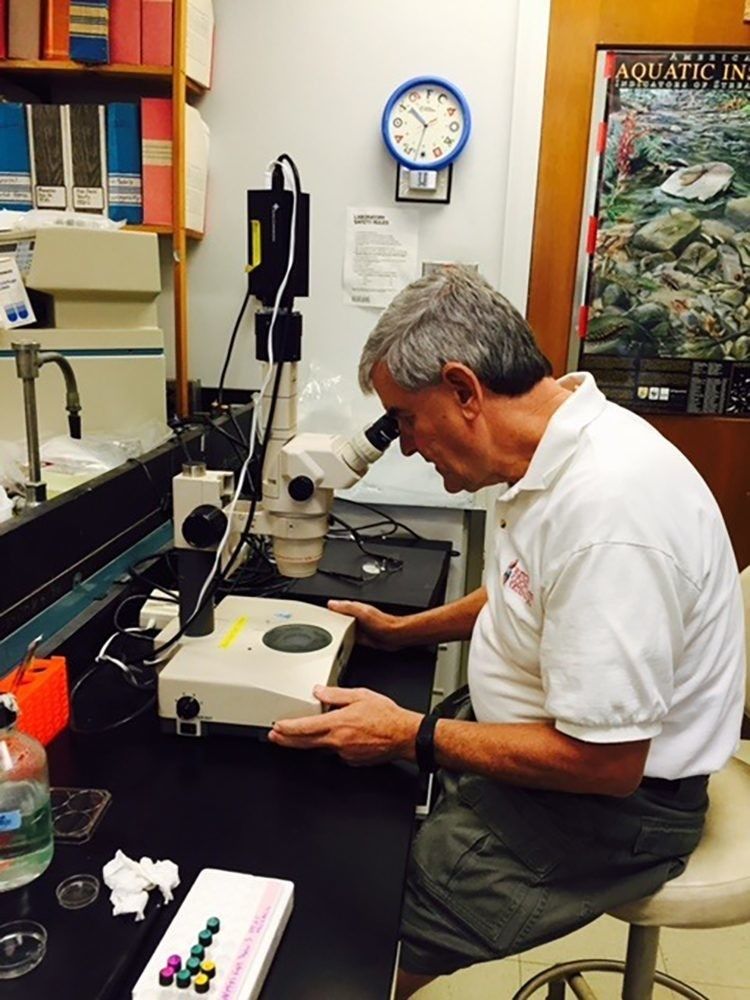 "We are beginning to see evidence of just how prevalent plastic pollution is in our waters. Plastic trash and debris, along with microplastics, are contaminating fish, birds, mammals, even plankton," Dave Conover, project partner and education director at Hudson River Sloop Clearwater, said. "By gathering more data, we can get a clearer picture of the sources of this pollution and create effective strategies to reduce it. We have a responsibility to get plastics out of our waters."
Moving forward, NY/NJ Baykeeper will continue collecting water column samples, with project partners and will collaborate with Environmental Protection Agency Region 2's Trash Free Waters Partnership to share and compare research and advocacy strategies. The Trash Free Waters Partnership is a group of New York and New Jersey stakeholders focused on reducing and eliminating plastic pollution.
Rutgers University's Center for Urban Environmental Sustainability is supporting the efforts of NY/NJ Baykeeper in their mission to remove plastic materials from the Harbor Estuary's water bodies. Dr. Beth Ravit, Rutgers University's Center for Urban Environmental Sustainability co-director, has been awarded a grant from the New Jersey Water Resources Research Institute that sponsors further research with NY/NJ Baykeeper to determine the impact of microplastic particles in the freshwater reaches of the Raritan and Passaic Rivers.
"These studies will determine microplastic concentrations and analyze persistent organic contaminants associated with the plastic particles," Ravit said. "Dr. Keith Cooper of Rutgers will analyze the effects plastics and toxins pose to fish larvae."
NY/NJ Baykeeper's report also includes steps the public can take to refuse and eliminate plastic from everyday life including using reusable water bottles, bags and shopping in bulk at grocery stores. NY/NJ Baykeeper encourages the public to get involved in local shoreline cleanup efforts.
YOU MIGHT ALSO LIKE
Tyson Foods Dumps More Pollution Into Waterways Each Year Than Exxon
Gruesome Tumors on Sea Turtles Linked to Climate Change and Pollution
4 Year Global Journey Ends in Must-See Documentary: 'A Plastic Ocean'
EcoWatch Daily Newsletter
A child playing with a ball from planet earth during Extinction Rebellion rally on April 18 in London, England. Brais G. Rouco / Barcroft Media / Getty Images
Earth Day 2019 just passed, but planning has already begun for Earth Day 2020, and it's going to be a big deal.
Geneva Vanderzeil, A Pair & A Spare / Flickr / CC BY 2.0
Is your closet filled with clothes you don't wear (and probably don't like anymore)? Are you buying cheap and trendy clothing you only wear once or twice? What's up with all the excess? Shifting to a more Earth-conscious wardrobe can help simplify your life, as well as curb fast fashion's toll on people and the planet.
Christine Zenino / Wikimedia Commons / CC BY 2.0

The 18th century St. Catherine of Alexandria church is seen after its bell tower was destroyed following a 6.3 magnitude earthquake that struck the town of Porac, pampanga province on April 23. TED ALJIBE / AFP / Getty Images
At least 16 people have died, 81 are injured and 14 are still missing after an earthquake struck Luzon island in the Philippines Monday, according to the latest figures from the National Disaster Risk Reduction and Management Council, as the Philippine Star tweeted Tuesday.
Climate change activists gather in front of the stage at the Extinction Rebellion group's environmental protest camp at Marble Arch in London on April 22, on the eighth day of the group's protest calling for political change to combat climate change. TOLGA AKMEN / AFP / Getty Images
Pexels
By Alina Petre, MS, RD (CA)
Veganism refers to a way of living that attempts to minimize animal exploitation and cruelty. For this reason, vegans aim to exclude all foods containing meat, poultry, fish, eggs, dairy and honey from their diet (1).
American farmers use chlorpyrifos, a pesticide tied to brain and nervous system issues, on crops such as apples, broccoli, corn and strawberries. Stephanie Chapman / Flickr / CC BY 2.0
By Jessica Corbett
In a ruling welcomed by public health advocates, a federal court on Friday ordered the Trump administration to stop stalling a potential ban on a pesticide linked to brain damage in children, giving regulators until mid-July to make a final decision.
fstop123 / iStock / Getty Images Plus
At EcoWatch, our team knows that changing personal habits and taking actions that contribute to a better planet is an ongoing journey. Earth Day, happening on April 22, is a great reminder for all of us to learn more about the environmental costs of our behaviors like food waste or fast fashion.
To offer readers some inspiration this Earth Day, our team rounded up their top picks for films to watch. So, sit back and take in one of these documentary films this Earth Day. Maybe it will spark a small change you can make in your own life.