16 Environmental Groups Implore Obama to End Fracked Gas Exports
Mar. 18, 2014 02:38PM EST
Fracking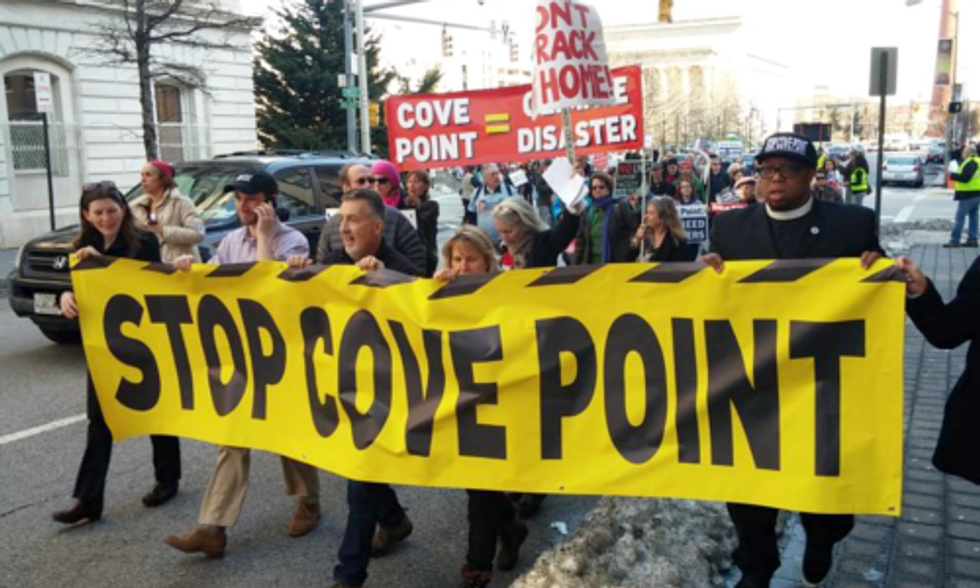 The heads of 16 national and regional climate advocacy groups don't see how exporting fracked and liquefied natural gas (LNG) fits into a climate change agenda.
The group says proposals to expand the country's fracking exports would undermine President Barack Obama's efforts to battle climate change. They let him know as much in a jointly signed letter Tuesday afternoon.
The leaders, including 350.org co-founder and President Bill McKibben and Waterkeeper Alliance Executive Director Marc Yaggi, want the president to guarantee a thorough, federal environmental impact review for Cove Point, a controversial liquefied natural gas export proposal from Dominion Resources less than 70 miles south of the White House.
People participate in the largest environmental protest in Baltimore history, opposing Cove Point, an approved fracked gas export terminal. Sixteen environmental organizations have formally opposed Cove Point in a letter to President Barack Obama. Photo credit: Chesapeake Climate Action Network on Facebook.
"President Obama, exporting LNG is simply a bad idea in almost every way. We again implore you to shift course on this disastrous push to frack, liquefy and export this climate-wrecking fossil fuel," the letter reads.
"As a first step, tell [the Federal Energy Regulatory Commission] to drop its shameful and unacceptably weak permitting process for Cove Point in Maryland. Demand a full Environmental Impact Statement [EIS] for this massive $3.8 billion project just a short drive from your house. An EIS will put more facts on the table and, we believe, will persuade you and the nation that a pell-mell rush to export gas is a pell-mell rush to global climate ruin."
Cove Point has already inspired the largest environmental protest in Baltimore's history and a few arrests outside a circuit court in Maryland. The group who issued the letter to Obama believes Cove Point represents the "fast-track strategy of the gas industry to export U.S. fracked gas and then ask questions later," according to the letter.
The groups used reports from the International Energy Agency and juxtaposed comments from U.S. Secretary of State John Kerry and Obama against the seemingly contradictory act of moving forward without an EIS on Cove Point.
"President Obama has told us many times that failure to address the climate crisis amounts to the betrayal of our children and future generations, so it would be contradictory for the president to allow the LNG export facility at Cove Point to start operating without a full environmental review," Sierra Club Executive Director Michael Brune said. "We can't cut climate pollution and simultaneously expand the use of dirty fossil fuels, and we must fully understand the consequences of liquefying fracked natural gas for export. Building new fossil fuel infrastructure keeps America tied to the past.
"We should be exporting clean energy innovation, not the dirty fuels of the 19th century."
In addition to Brune, Yaggi and McKibben, here are the cosignatories:
Visit EcoWatch's FRACKING page for more related news on this topic.

EcoWatch Daily Newsletter
Related Articles from EcoWatch