150 Protest at New York's Schlumberger Frack Facility
Aug. 11, 2012 07:53PM EST
Energy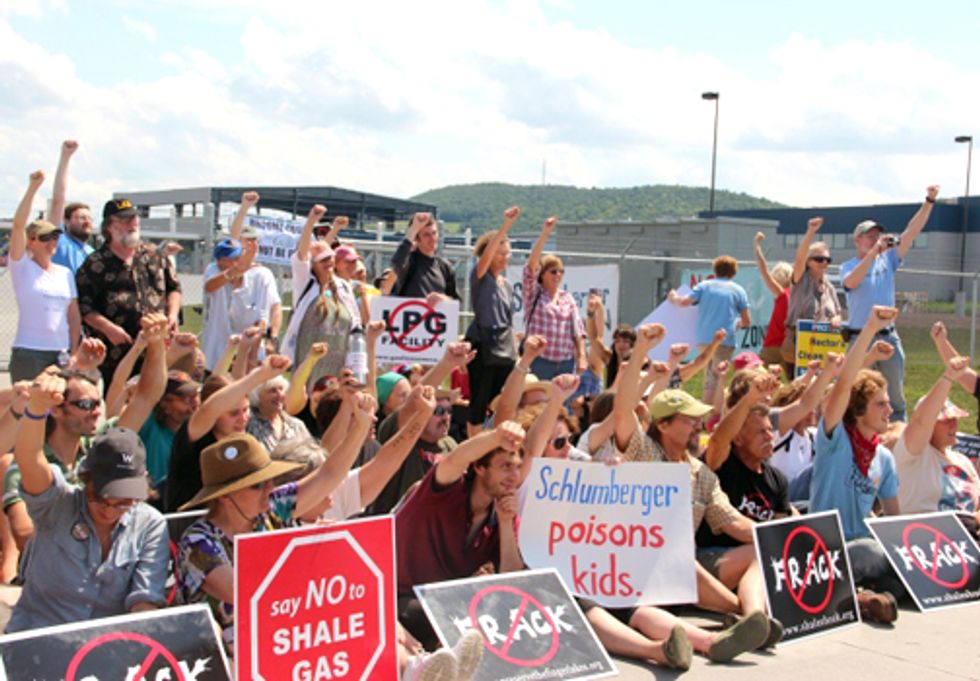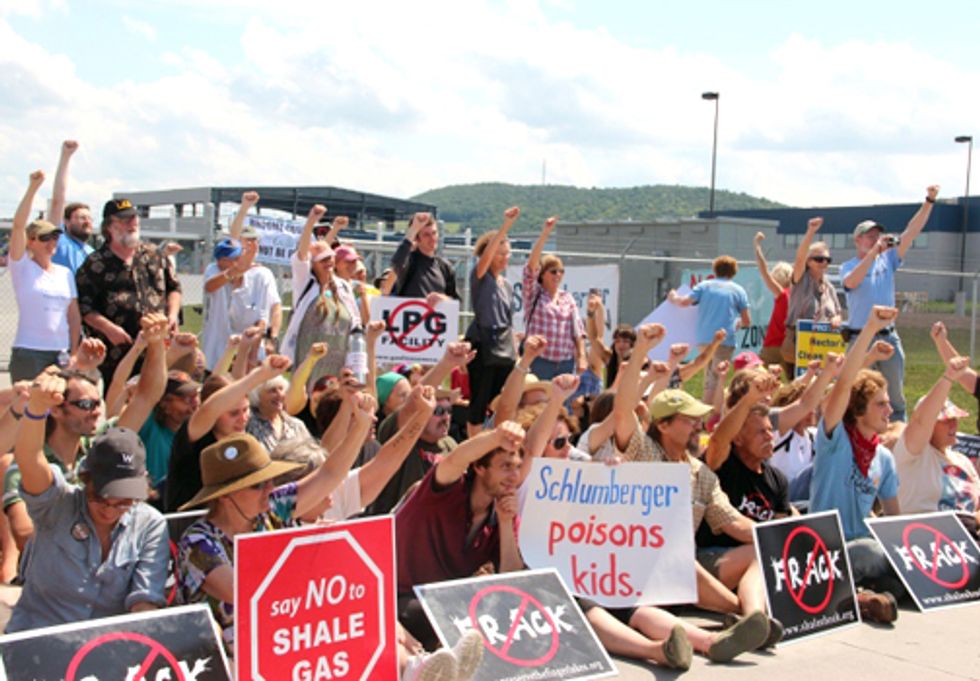 More than 150 protesters of all ages blockaded the Schlumberger Limited industrial facility in Horseheads, NY for nearly six hours today stopping operations at this twenty-four-seven plant that provides services and materials, including chemicals and silica sand, to oil and natural gas exploration companies, including hydraulic fracturing. More than 20 protesters were prepared to risk arrest by blockading trucks from entering the single-entry gate into the facility, but the peaceful protest ended in no arrests when the protestors left on their own volition after they reached their goal of closing down the plant for the day.
Schlumberger is the world's largest oilfield services company with U.S. headquarters in Texas. The company has a revenue of $39.54 billion and currently operates in 85 countries. Schlumberger's history is fraught with offenses all over the world. One violation occurred in 2009 when 295-gallons of hydrochloric acid spilled at the Chesapeake's Chancellor well site in Asylum Township, Bradford County.
Schlumberger has refused to disclose the fracking chemicals that are stored at the Horseheads facility. However they not required to do so by law due to the Halliburton Loophole—a 2005 Bush/Cheney energy bill that exempts natural gas drilling from the Safe Drinking Water Act, preventing companies from having to disclose the chemicals used during hydraulic fracturing.
According to organizers, the purpose of today's action was threefold: to physically prevent fracking-related processes from taking place for a period of time, to show the public, industry and legislators that Southern Tier residents will stop at nothing to impede fracking, and to empower one another to use their bodies as a direct means of halting industry that continues to put profits over human health and the environment.
"Direct action is about directly confronting fracking at its source—industrial facilities. We cannot rely on politicians, many of whom are in industry's pocket, to keep us safe. We have to stand up to this profit-mongering industry and shut them down ourselves. We have the right and responsibility to defend our land, water and communities in every way possible," said Nell Gagnon, one of the organizers. 
Though hydro-fracking has not yet begun in New York, Schlumberger currently operates in neighboring Pennsylvania. Pennsylvania residents spoke at the rally today, sharing stories of how fracking has made them and their families sick.
Reports have suggested that New York Governor Andrew Cuomo is considering allowing fracking in five Southern Tier Counties this fall, including Broome, Chemung, Chenango, Steuben and Tioga counties.
Sandra Steingraber spoke at the rally saying, "Fracking is a carcinogen-dependent process that destroys fresh water to blow up the bedrock under our feet in order to extract fossil fuels whose combustion is killing the planet and giving our kids asthma and increased risks for cancer and heart disease. As both a scientist and a mother, it is my job to say that clear air, safe water, and a stable climate are necessary for life. The anti-fracking movement is the civil rights movement of our time. And this action today is our lunch counter at Woolworth's. This is our Greensboro moment. Governor Cuomo, which side are you on?"
Ruth Young, age 75, of Horseheads told the crowd, "Schumberger is blowing silica dust into the lungs of children in the elementary school, blowing silica dust into the lungs of children in the childcare center, blowing silica dust into the lungs of people in the residences to the north and east. When the wind shifts, [silica dust blows] directly into the center of the village…They store their chemicals here, they wash their vehicles here, they spill their silica dust all over the place here. Their workers are not dressed properly for working with toxic materials. Where was the DEC while this atrocity is going on? Protecting us? I don't think so."
Visit EcoWatch's FRACKING page for more related news on this topic.
EcoWatch Daily Newsletter
Related Articles from EcoWatch