150+ Events Across America Demand Bold Climate Action in Paris
Oct. 14, 2015 02:46PM EST
Climate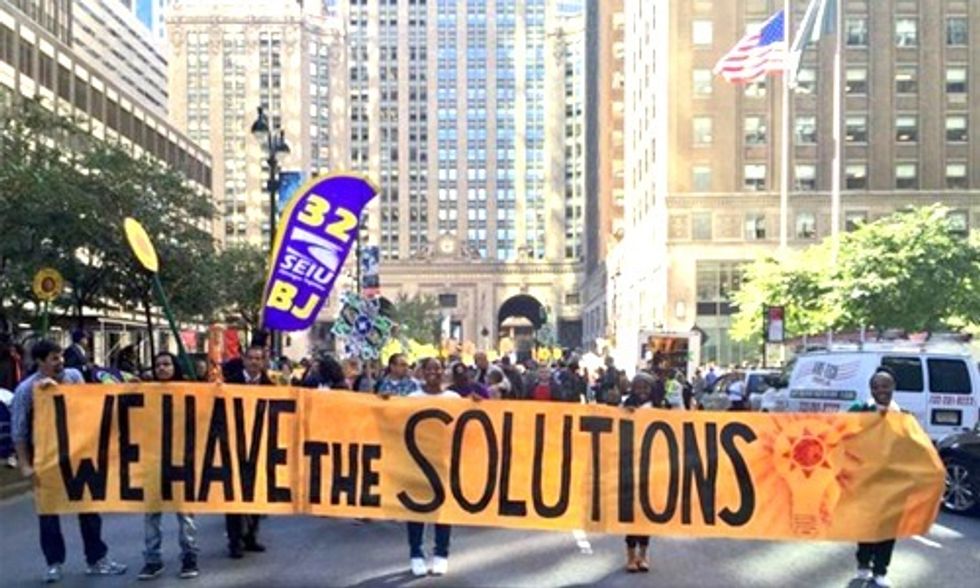 Today, climate justice organizations, labor unions, faith-based groups and regular people from all walks of life organized more than 150 events across the U.S. demanding world leaders take meaningful action on climate change at the Paris climate talks just six weeks away.
Some great photos from the NYC #PeoplesClimate action happening right now! #ActOnClimate http://t.co/KPsRCqDDNB

— Sierra Club (@Sierra Club) 1444839485.0
The People's Climate Movement, an outgrowth of the People's Climate March, helped organize today's National Day of Action to put U.S. and global leaders on notice that the climate movement is growing and expanding every day and is even more committed to tackling the climate crisis than ever.
"Climate change is too big for any one organization or sector to address alone," said Eddie Bautista, executive director of the New York City Environmental Justice Alliance. "That is why we are building a multi-sector, broad-based movement that unites communities, led by those on the front lines, to demand bold action and to show those in power that climate change is everyone's issue."
The People's Climate Movement said the idea is to "create momentum at the grassroots level" and spur action on climate change, particularly in places "that are not typically associated with grassroots action on climate change like Pennsylvania, Ohio, Colorado, Texas and Florida."
Yes we do! #peoplesclimate http://t.co/6GGvuucXU8

— Rob Friedman (@Rob Friedman) 1444839435.0
From rural villages, to small towns & large cities, #peoplesclimate has come together to demand action on climate. http://t.co/kabp3NQu6l

— Rep. Keith Ellison (@Rep. Keith Ellison) 1444844645.0
"Across our country today, from Denver to Miami, from Seattle to Pittsburgh, Americans are making their voices heard for climate action and a strong and just clean energy economy," said Executive Director of the Sierra Club Michael Brune. "Whether it's faith leaders, working families, civil rights champions or just concerned citizens, communities nationwide are standing up for climate solutions and a strong international climate agreement in Paris this year to move us beyond dirty, dangerous fossil fuels to the health of our families and our planet."
RT if you agree: We can't condemn our kids to a planet that's beyond fixing. http://t.co/xQDERBymp3 #PeoplesClimate http://t.co/GBSJ8hDkgd

— The White House (@The White House) 1444836835.0
The activists emphasized that addressing the climate crisis provides an opportunity to create not just a "clean energy economy" but a "fair and just" one too. They stress that the transition to a low carbon economy will provide "new jobs and training for workers hardest hit in the transition from fossil fuels, so communities and families can benefit from clean energy technology."
The groups involved in today's actions believe that "America can revitalize its manufacturing and construction industries by investing in energy efficiency, clean energy technologies and sustainable infrastructure. We don't need to sacrifice economic growth, and we can protect the workers and communities who are most likely to be affected during the transition."
Many of the participants argue we must address climate change or risk destroying our economy.
"Climate change doesn't just impact our environment; it also hurts our economy," said Dave Spangler at the rally in Cleveland, Ohio. Spangler, a charter boat captain on Lake Erie for the past 23 years, has been directly impacted by algae blooms in the lake.
"The bottom line is the climate change and these algae blooms are already hurting my bottom line. We need action now," he said.
#Cleveland #peoplesclimate day of action #ActOnClimate #LakeErie #GreatLakes http://t.co/KEEYBfFFri

— Marnie Urso (@Marnie Urso) 1444838222.0
For many, the recent extreme weather has really brought home the urgency of the crisis that we face.
"Recent events like the floods in my home of South Carolina, and disasters nationally and globally, show climate deniers that their continued denial of reality is devastating not only to the planet, but to human lives as well," said Reverend Woodberry of Florence, South Carolina.
But the activists say the movement won't end at the Paris climate talks.
"Any agreement that comes out of Paris will not mark the end of our efforts, but rather, it will be an important step in the global process of ending the climate crisis," said Paul Getsos, national coordinator of the People's Climate Movement. "The next step is to hold nations accountable to their commitments and continue to set the bar high for actions in fighting climate change."
End the extraction economy! Invest in solutions! #peoplesclimate http://t.co/CUO3g1FdTA

— People's Climate (@People's Climate) 1444840753.0
Here are just a few of the more than 150 events taking place across the country today:
TODAY: Miami marches to demand bold climate action to protect our communities! Meet 5pm at Gov Center #peoplesclimate http://t.co/quuVBCNQvd

— Occupy Miami (@Occupy Miami) 1444844133.0
The Miami People's Climate March included faith communities and business leaders as well as labor, social service, social justice, education and student organizations—all of whom are pressing for change. And taking to the streets to demand it.
In Milwaukee, organizers held a demonstration and rally addressing the climate change crisis that brought together a broad coalition of labor, environmental, peace, interfaith, American Indian, African American and community justice organizations to plan and participate.
In Louisville, community members gathered for a march and rally to celebrate Mayor Fischer's proclamation of October 14 as "People's Climate Action Day" in Louisville.
In Silver City, New Mexico, young people held educational events on food security, water conservation, solar power and recycling, along with a video and discussion.
In Cleveland, activists gathered at Edgewater Park at Lake Erie to demand action now to take on climate change. The group highlighted the recent water crisis in the state of Ohio, in particular Toledo, which lost its entire water supply due to extreme algae growth from climate change. With bottles of ugly green lake water, they made their point. They called on Governor Kasich to lead by enforcing strict clean air and clean water laws.
In Columbia and St. Louis, Missouri, 2,000 petitions demanding action on climate are floating down the Missouri River on their way to Governor Nixon, accompanied by canoes full of Show-Me-State activists. Also a stand up press event in St. Louis with a giant inflatable coal plant called for clean energy now.
In New York City, participants gathered at Chase Bank's Midtown headquarters and the Harlem State Office Building to publicly demonstrate against Chase Bank and other entities' financial ties to climate change and to call for investment in a clean energy economy that addresses the needs of low-income communities, workers, the unemployed and communities of color.
In Chicago, a coalition marched through the city to urge the governor to implement the Clean Power Plan in an equitable way.
In Seattle, a diverse group of marchers took to the streets of downtown to show that everyone is invested in the fight against climate change, and all voices need to be heard when determining climate solutions.
Pittsburgh People's Climate Change activists marched on Congressman Keith Rothfus' office Wednesday demanding he stop denying climate change and show leadership towards a solution. More than 100 activists from all walks of life flowed into Rothfus' office and asked his staff to meet with the larger crowd outside. They refused. The activists then left a huge money bag with the Exxon, Koch and other corporate logos for Rothfus, symbolizing his coziness with the carbon industry and his refusal to acknowledge the threat of climate change. The action included a march to Rothfus' office from a nearby mall accompanied by a Marching Band.
In Charlottesville, Virginia, more than 130 activists turned out for a rally demanding clean power now.
YOU MIGHT ALSO LIKE
Democrats Compete Over Strong Stance on Climate Action at #DemDebate
8 Misleading Claims in the #DemDebate
John Oliver Rips Fracking Industry for its Deadly Bakken Boom, Killing One Person Every Six Weeks
Disturbing Images Expose the Horrific Impact of Plastic Trash on Marine Animals
EcoWatch Daily Newsletter
Related Articles from EcoWatch
Recent Stories from EcoWatch