Food
Apr. 11, 2016 01:03PM EST
150 European Parliament Members to Test Urine for Glyphosate
Roughly 150 Members of the European Parliament (MEPs) are taking a urine test today and tomorrow to see if glyphosate—the cancer-linked weedkiller—is in their system.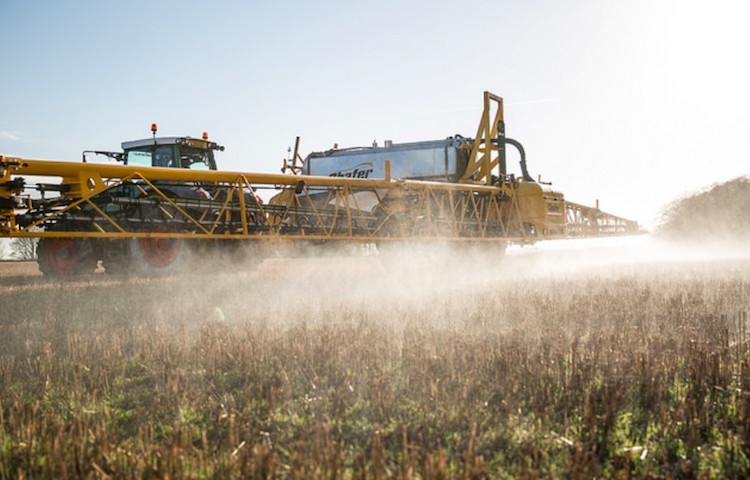 Glyphosate being applied to a field in North Yorkshire, England. In Europe, there has been growing controversy over the substance. Photo credit: Flickr
According to The Guardian, the move comes ahead of a symbolic vote on glyphosate's prohibition in the European Union this Wednesday.
The European Commission is proposing to grant the herbicide a new 15-year lease when it ends in June. However, in March, several EU member states, including France, Sweden, Italy and the Netherlands, led a very public rebellion over the relicensing, citing its purported health risks. The actually vote to re-approve glyphosate has now been postponed to at least mid-May.
Coupled with that, a new Yougov poll found that two-thirds of Europeans support a ban on glyphosate.
"A prohibition on the herbicide ingredient was backed by three quarters of Italians, 70 percent of Germans, 60 percent of French and 56 percent of Britons, in a survey of more than 7,000 people across the EU's five biggest states," The Guardian wrote.
Green Party MEP Bart Staes told The Guardian "this poll clearly shows that the European public does not want ... the authorization of glyphosate, and certainly not until June 2031."
Glyphosate has garnered a great deal of backlash in Europe ever since the World Health Organization's International Agency for Research on Cancer (IARC) classified the ingredient as a possible carcinogen last year.
The European Green party will vote on a resolution objecting to the commission's plans to reapprove the substance in Europe on April 13. "The finding that glyphosate is probably carcinogenic to humans by the WHO should be leading to a global moratorium on its use," the Greens said.
A number of studies have detected glyphosate—the "most widely applied pesticide worldwide"—in our immediate surroundings and even in human bodies. A 2013 Friends of the Earth Europe study reported people in 18 European countries have traces of glyphosate in their urine.
This past February, a German study found that 14 of the most popular brands of German beer tested positive for glyphosate, which inspired the MEPs to organize the urine sampling.
David Zaruk, a Brussels-based environmental health risk research analyst who runs the blog The Risk-Monger, questioned in a post if the MEPs are testing their urine as "a clever stunt" before their symbolic vote on Wednesday.
Zaruk published his email correspondence with Staes, asking him if tax dollars were paying for the tests. He also shared with Staes this meme floating on the Internet about wine's hyped up glyphosate risks compared to ethanol.
Here's an excerpt of Zaruk's email to Staes:
Are you also aware that the trace levels of glyphosate are so low as to be insignificant, and the fact that it is being expelled in urine is actually good news (as opposed to cocaine and alcohol). Ok, I suppose you really don't care about facts ... maybe your voters will!
Kind regards and good luck frightening Europe for petty reasons while choking agriculture.
In response, Staes wrote back to Zaruk saying that the MEPs are paying for the urine tests out of their own pocket and added:
As a MEP I am for the last 17 years very active to fight for another kind of agriculture. For me and the Greens, glyphosate is the very incarnation of "modern agriculture," a model that is not sustainable at all:
1. It stands for reckless monoculture: a non-selective herbicide—a broad band killer which kills all plants, algae, bacteria and fungi—is used to deal with a few pests, thereby creating massive effects on non-target organisms and biodiversity,
2. It is strongly linked to GMOs (56% of global use is for glyphosate resistant crops)—killing everything but the genetically engineered crop,
3. It stands for economic gains at all costs:
• it has replaced traditional agricultural practices such as tilling because spraying glyphosate is cheaper ("chemical plough")
• it is used not only to kill unwanted weed, but also the crop itself prior to harvest to accelerate ripening and facilitate harvest ("desiccation").
So what I do is far from a political gimmick.
Zaruk also responded to each of Staes' points in his blog post.
In recent news, France banned glyphosate mixed with the additive tallow amine due to its perceived risks to human health citing results from a November report from the European Food Safety Authority (EFSA).
Even though EFSA rejected the IARC's classification of glyphosate as a possible carcinogen and said it was "unlikely" to pose a public health risk, the EFSA admitted that it only examined glyphosate alone, not glyphosate formulations.
The adverse health effects of the herbicide, therefore, could be related to reactions with "other constituents or 'co-formulants,'" the EFSA report said.
Tallow amine is one of the additives in Monsanto's widely popular Roundup and aids in its effectiveness.
Monsanto, which has long maintained the safety of their flagship product, confirmed to Reuters they are one of the companies affected by the French ban, adding that the debate over glyphosate is "political."
YOU MIGHT ALSO LIKE
What Will Happen When Genetically Engineered Salmon Escape Into the Wild?
Africa's Traditional Crops Under Threat as Big Ag, Gates Foundation 'Donate' GMO Technology
Monsanto CEO Says 'Roundup Is Not A Carcinogen' But 94 Scientists From Around the World Disagree
USDA Deregulates Two Lines of Genetically Engineered Corn From Monsanto, Syngenta
Jul. 21, 2017 01:50PM EST
Will Rose / Greenpeace
Eleven peaceful activists from the Greenpeace ship Arctic Sunrise have taken to the water in inflatable boats with handheld banners to oppose the Statoil Songa Enabler oil rig, 275 km North off the Norwegian coast, in the Arctic Barents sea.
The banners say: "People Vs. Arctic Oil" and are directed at Statoil and the Norwegian government, which has opened a new, aggressive search for oil in the waters of the Barents Sea.
Keep reading...
Show less
Jul. 21, 2017 10:34AM EST
Dominion Pipeline Monitoring Coalition
The Federal Energy Regulatory Commission (FERC) paved the way Friday for the 600-mile, 42-inch fracked gas Atlantic Coast Pipeline to proceed when it issued the final environmental impact statement (FEIS). A joint project of utility giants Duke Energy and Dominion Energy, the Atlantic Coast Pipeline would move fracked gas from West Virginia into Virginia and North Carolina.
In April, the Sierra Club submitted more than 500 pages of legal and technical comments on FERC's draft EIS, which were joined by more than 18,000 individual comments detailing opposition to the project. The pipeline has been met with widespread opposition, with more than 1,000 people participating in public hearings across the three affected states. The Sierra Club recently requested that FERC issue a new environmental review document analyzing information that came in after or late in, the public comment process.
Keep reading...
Show less
Jul. 21, 2017 08:25AM EST
Greenpeace / PolluterWatch
By Jessica Corbett
"It's time Rex Tillerson step down or be removed," said Gigi Kellett of Corporate Accountability International, following an announcement on Thursday that ExxonMobil will pay $2 million for violating U.S. sanctions against Russian officials while the now-secretary of state was the company's CEO.
"ExxonMobil demonstrated reckless disregard for U.S. sanction requirements," according to enforcement filing released by the Treasury Department's Office of Foreign Assets Control (OFAC), which issued the penalty. Though the fine is reportedly the maximum penalty allowed, it's pittance to one of the world's most profitable and powerful corporations, which last year reported a profit of $7.8 billion.
Keep reading...
Show less
Jul. 21, 2017 11:15AM EST
New analysis from Amory B. Lovins debunks the notion that highly unprofitable, economically distressed nuclear plants should be further subsi­dized to meet financial, security, reliability and climate goals. The analysis, which will appear shortly in The Electricity Journal, shows that closing costly-to-run nuclear plants and reinvesting their saved operating costs in energy efficiency provides cheaper elec­tricity, increases grid reliability and security, reduces more carbon, and preserves (not distorts) market integrity—all without subsidies.

Keep reading...
Show less
Jul. 21, 2017 08:44AM EST
Oil Change International / Twitter
By Christian Detisch and Seth Gladstone
In the wake of Senate Republicans' ever-deepening debacle over their flailing attempts to strip health insurance from 22 million people, Majority Leader Mitch McConnell is desperate to do something—anything—to show that he can get legislation passed. To this end, he's bypassing the standard committee review process to push a complex 850+ page energy bill straight to the full Senate floor. Perhaps not surprisingly, this legislation, the Energy and Natural Resources Act of 2017, would be a disaster for public health and our climate.
Keep reading...
Show less
Jul. 21, 2017 08:11AM EST
Rooftop solar panels on a beach house in southern Florida. TAI VIINIKKA / CC BY-NC-ND 2.0
A new law passed this week in South Miami will require all new homes built in the city to install solar panels. The measure, which was inspired by a proposal from a teenage climate activist, will go into effect in September.
The text of the ordinance details the climate impacts facing South Miami.
Keep reading...
Show less
Jul. 21, 2017 10:27AM EST
www.youtube.com
Keep reading...
Show less
Jul. 21, 2017 08:49AM EST
iStock
By Katherine Paul and Ronnie Cummins
A recent series of articles by a Washington Post reporter could have some consumers questioning the value of the U.S. Department of Agriculture's (USDA) organic seal. But are a few bad eggs representative of an entire industry?
Consumers are all for cracking down on the fraudulent few who, with the help of Big Food, big retail chains and questionable certifiers give organics a bad name. But they also want stronger standards, and better enforcement—not a plan to weaken standards to accommodate "Factory Farm Organic."
Keep reading...
Show less


Get EcoWatch in your inbox