This website uses cookies to ensure you get the best experience while browsing it. By clicking 'Got It' you're accepting these terms.
150,000 Stand With Peruvian Woman in Fight Against World's Largest Gold Mine
Apr. 23, 2015 09:42AM EST
Insights + Opinion

Community activists from Cajamarca, Peru appeared at the annual shareholders' meeting of Denver-based Newmont Mining Corporation this week to deliver a petition bearing 150,000 signatures protesting the company's practices in the region, and demanded that it live up to its own goals for human rights and sustainability.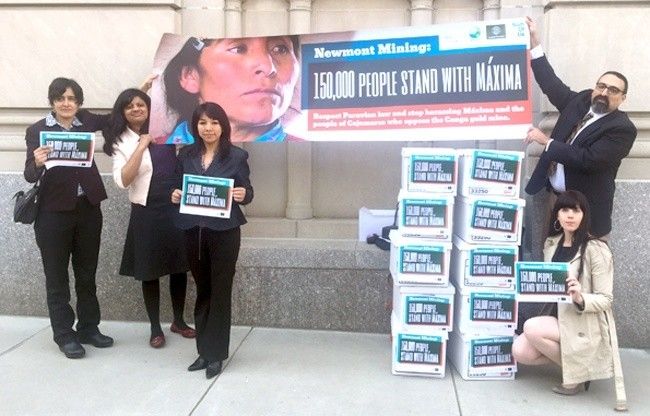 Representatives of Earthworks, EarthRights and Grufides delivered over 150,000 signatures to the Newmont annual shareholders' meeting. Photo credit: EarthRights International
Newmont is majority owner of the massive Peruvian gold mine Yanacocha, the second largest gold mine in the world, and its planned Conga gold and copper mine nearby would be even larger, requiring a farming community to move and the four lakes they rely on for irrigation to be drained.
But the community has so far refused to relinquish its treasured land and lakes, and in response activists say the company has reacted with intimidation and harassment.
One person particularly in the company's cross-hairs is Máxima Acuña de Chaupe, says activist Mirtha Vásquez, a Peruvian lawyer at Wednesday's meeting. Acuña de Chaupe's land abuts one of the four lakes but after de Chaupe refused to sell her land in 2011, nongovernmental organizations (NGOs) like Earthworks reported that her family became the target of harassment and violence in the form of beatings and destruction of the family home. Then Newmont sued her for "land invasion" and violent retaliation, which it lost on appeal in December 2014.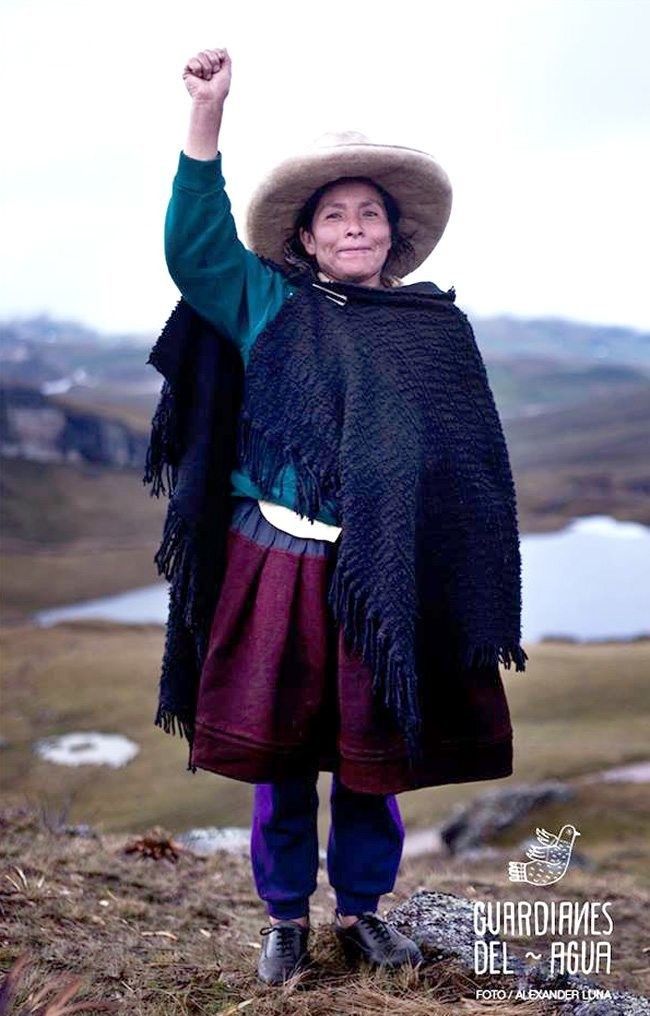 Despite this legal victory, activists say that intimidation and threats against Acuña de Chaupe have continued, reporting that the family's home was demolished again in February 2015, this time by a group of 200 armed men.
"Newmont's leadership must publicly renounce its harassment of Máxima Acuña de Chaupe and other Cajamarca residents who oppose the Conga mine," said Vásquez in a prepared statement. "Otherwise Newmont will become globally infamous for discarding their commitments to human rights and community engagement as soon as they become inconvenient." A Cajamarca resident, Vásquez is director of a local NGO called Grufides and is also legal counsel to Acuña de Chaupe, who declined to travel to the U.S. citing fears of what would happen to her farm and family in her absence.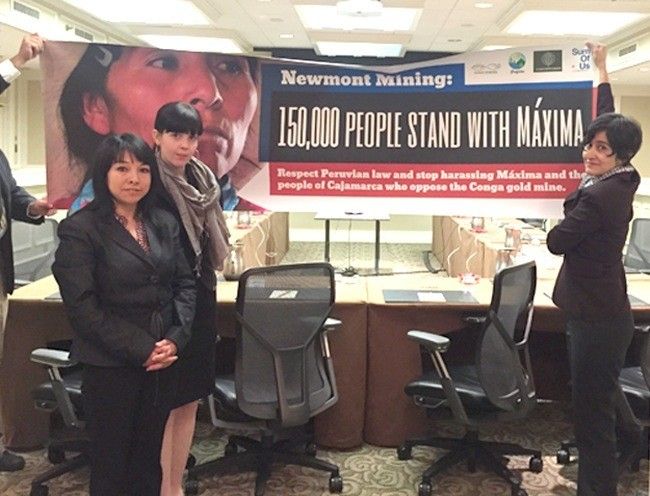 Mirtha Vásquez, left, inside the Hotel Dupont in Wilmington, Delaware before addressing Newmont's shareholder meeting. Photo credit: EarthRights International
Keith Slack, manager of Oxfam America's global extractive industries team, which tracks the impacts of mines on local communities, agreed with Vásquez. "The company needs to listen to the local population and not move forward with the Conga mine. It should find ways to address Máxima's situation that are conciliatory and don't rely on brute force. From the beginning there's been an unwillingness to listen and take measures that build trust."
For its part, Newmont maintains that it and Yanacocha always strive to be respectful of neighboring communities, and that they will not proceed without clear social acceptance. But in the case of Acuña de Chaupe, spokesman Omar Jabara continued to maintain that the family is illegally squatting on the company's land. "On many occasions, the company has tried to resolve the dispute through direct dialogue, and remains open and willing to doing so. In the meantime," he said by email, "Yanacocha is obliged to continue pursuing judicial avenues to re-establish its legal right to the property, while making every effort to reduce tensions and minimize conflict."
However, Earthworks International Program Director Payal Sampat maintains that it's too late to build bridges or reduce tensions. "The community of Cajamarca has said loud and clear—and repeatedly—that they reject the Conga mine. Instead of listening to the community and respecting their wishes, Newmont has employed security forces to intimidate and harass those who oppose them. This 'scorched earth' approach is hurting not only the people of Cajamarca, but Newmont's reputation and business as well."
Whether or not Newmont's shareholders agreed with her on Wednesday, actions like it will continue to educate the world on the incredibly high cost of gold mining for both people and planet in places like Cajamarca.
YOU MIGHT ALSO LIKE
14-Year-Old 'Kid Warrior' Rallies Youth Around the World to Protect the Planet
Every 20 Minutes an Elephant Is Killed for Its Tusks
Duke Energy Coal Ash Ponds Contaminate Wells, Residents Told Not to Drink the Water
EcoWatch Daily Newsletter
A. Battenburg / Technical University of Munich
By Sarah Kennedy
Algae in a pond may look flimsy. But scientists are using algae to develop industrial-strength material that's as hard as steel but only a fraction of the weight.
Variety of fermented food korean traditional kimchi cabbage and radish salad. white and red sauerkraut in ceramic plates over grey spotted background. Natasha Breen / REDA&CO / Universal Images Group / Getty Image
Even if you've never taken probiotics, you've probably heard of them.
These supplements provide numerous benefits because they contain live microorganisms, such as bacteria or yeast, which support the healthy bacteria in your gut (1, 2, 3, 4).
Pexels
Singapore will become the first country in the world to place a ban on advertisements for carbonated drinks and juices with high sugar contents, its health ministry announced last week. The law is intended to curb sugar consumption since the country has some of the world's highest diabetes rates per capita, as Reuters reported.
A typical adult takes around 20,000 breaths per day. If you live in a megacity like Beijing, with many of those lungfuls you're likely to inhale a noxious mixture of chemicals and pollutants.
Fred Stone holds his brown swiss cow Lida Rose at his Arundel dairy farm on March 18 after a press conference where he spoke about PFAS chemical contamination in his fields. Gregory Rec / Portland Portland Press Herald via Getty Images
By Susan Cosier
First there was Fred Stone, the third-generation dairy farmer in Maine who discovered that the milk from his cows contained harmful chemicals. Then came Art Schaap, a second-generation dairy farmer in New Mexico, who had to dump 15,000 gallons of contaminated milk a day.
Protesters attend the 32nd annual Fur-Free Friday demonstration on Nov. 23, 2018 in Beverly Hills, California. Ella DeGea / Getty Images
California Governor Gavin Newsom signed into law a bill that that bans the sale and manufacture of fur products in the state. The fur ban, which he signed into law on Saturday, prohibits Californians from selling or making clothing, shoes or handbags with fur starting in 2023, according to the AP.
By Simon Evans
During the three months of July, August and September, renewables generated an estimated total of 29.5 terawatt hours (TWh), compared with just 29.1TWh from fossil fuels, the analysis shows.
A demonstrator waves an Ecuadorian flag during protests against the end of subsidies to gasoline and diesel on Oct. 9 in Quito, Ecuador. Jorge Ivan Castaneira Jaramillo / Getty Images