This website uses cookies to ensure you get the best experience while browsing it. By clicking 'Got It' you're accepting these terms.
15 Plants to Help Save Bees
Apr. 01, 2014 03:02PM EST
We need (and love) 'em. Bees.
With spring upon us, it's a perfect time to think about what we can plant to help save the bees.
Before getting into that, learn why bees are so important to our lives by listening to the latest Green Divas Radio Show featuring Maryam Henein, director of the award-winning documentary Vanishing of the Bees.
Why save the bees?
From apples to almonds to the pumpkin in our pumpkin pies, we have bees to thank.
Now, a condition known as Colony Collapse Disorder is causing bee populations to plummet, which means these foods are also at risk. In the U.S. alone, more than 25 percent of the managed honey bee population has disappeared since 1990. Bees are one of a myriad of other animals, including birds, bats, beetles and butterflies, called pollinators. Pollinators transfer pollen and seeds from one flower to another, fertilizing the plant so it can grow and produce food. Cross-pollination helps at least 30 percent of the world's crops and 90 percent of our wild plants to thrive. Without bees to spread seeds, many plants—including food crops—would die off, according to NRDC Bee Facts.
In the last half decade alone 30 percent of the national bee population has disappeared and nearly a third of all bee colonies in the U.S. have perished. According to an article in Newsweek, a study last year found 35 pesticides and fungicides, some at lethal doses, in the pollen collected from bees that were used to pollinate food crops in five U.S. states. Bees that ate pollen contaminated with fungicides were found to be three times as likely to be infected by a parasite linked to colony collapse.
Watch the trailer for Maryam's film:
Bottom line: We need the bees. And they need us. How can we save the bees?
One way is to increase the number of bees and other pollinators in your area by including plants that provide essential habitat.
Here's a list of 15 plants to consider if you'd like to help save the bees.
Note: It's best to plant native plants. Find a native plant nursery in your area and download the BeeSmart app, which will guide you in selecting plants for pollinators specific to your area.
Purchase plants or seeds that haven't been treated in pesticides, which can kill the bees.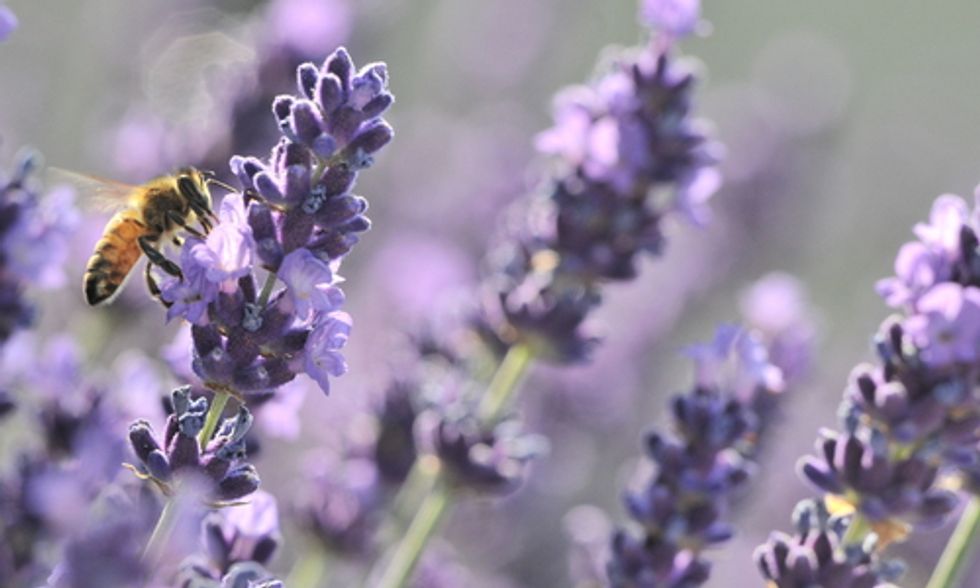 Lavender. Photo courtesy of Shutterstock
1. Lavandula spp. (Lavender)
2. Rosemarinus officinalis (Rosemary)
3. Salvia spp. (Sage)
4. Echinacea spp. (Coneflower)
5. Helianthus spp. (Sunflower)
6. Cercis spp. (Redbud)
7. Nepeta spp. (Catnip)
8. Penstemon spp. (Penstemon)
9. Stachys spp. (Lamb's ears)
10. Verbena spp. (Verbena)
11. Phacelia spp. (Bells or Phacelia)
12. Aster spp. (Aster)
13. Rudbeckia spp. (Black-eyed Susan)
14. Origanum spp. (Oregano)
15. Achilliea millefolium (Yarrow)
Join the Beevolution!
For every $50 donated to the Save the Honeybee Foundation, one school will be able to receive Vanishing of the Bees for free.
Take action!
Urge the EPA to refuse to approve any insecticides unless scientists confirm they present no threat to bees and other pollinators
——–
YOU MIGHT ALSO LIKE
Half a Million Americans Urge EPA to Protect Bees
New Website Helps Identify Bumblebees and Protect Pollinators
Top 10 Ways to Help Birds This Spring
——–
EcoWatch Daily Newsletter
Talk is cheap, says the acting executive secretary of the United Nations Convention on Biological Diversity, who begged governments around the world to make sure that 2020 is not another year of conferences and empty promises, but instead is the year to take decisive action to stop the mass extinction of wildlife and the destruction of habitat-sustaining ecosystems, as The Guardian reported.
The people of Kiribati have been under pressure to relocate due to sea level rise. A young woman wades through the salty sea water that flooded her way home on Sept. 29, 2015. Jonas Gratzer / LightRocket via Getty Images
Refugees fleeing the impending effects of the climate crisis cannot be forced to return home, according to a new decision by the United Nations Human Rights Committee, as CNN reported. The new decision could open up a massive wave of legal claims by displaced people around the world.
The first day of the Strike WEF march on Davos on Jan. 18, 2020 near Davos, Switzerland. The activists want climate justice and think the WEF is for the world's richest and political elite only. Kristian Buus / In Pictures via Getty Images
By Ashutosh Pandey
Teenage climate activist Greta Thunberg is returning to the Swiss ski resort of Davos for the 2020 World Economic Forum with a strong and clear message: put an end to the fossil fuel "madness."

Protesters attend a rally outside the U.S. Supreme Court held by the group Our Children's Trust Oct. 29, 2018 in Washington, DC. The group and the plaintiffs have vowed to keep fighting and to ask the full Ninth Circuit to review Friday's decision to toss the lawsuit. Win McNamee / Getty Images
The land around Red Knoll near Kanab, UT that could have been razed for a frac sand mine. Tara Lohan
By Tara Lohan
A sign at the north end of Kanab, Utah, proclaims the town of 4,300 to be "The Greatest Earth on Show."