This website uses cookies to ensure you get the best experience while browsing it. By clicking 'Got It' you're accepting these terms.
15 Most Absurd Comments Right-Wing Media Said About Climate Change in 2015
Jan. 04, 2016 10:45AM EST
Climate
By Kevin Kalhoefer
From Pope Francis' encyclical on climate change, to the establishment of the first-ever federal limits on carbon pollution from power plants, to a landmark international climate agreement, 2015 has been full of major landmarks in national and global efforts to address global warming. Yet you wouldn't know it if you inhabited the parallel universe of the conservative media, where media figures went to ridiculous and outrageous lengths to dismiss or deny climate science, attack the pope, scientists and anyone else concerned with climate change, and defend polluting fossil fuel companies. Here are the 15 most ridiculous things conservative media said about climate change in 2015.
15. Fox News Hosts Congratulate Sen. Inhofe for Using a Snowball to Dispute Global Warming
The Feb. 28 edition of Fox News' Fox & Friends Saturday aired footage of Sen. James Inhofe (R-OK) bringing a snowball onto the Senate floor to dispute the scientific finding that 2014 was the warmest year on record. Following the footage of Inhofe's stunt, co-host Tucker Carlson declared, "Well that's Oklahoma Senator Jim Inhofe using a snowball on the floor of the Senate to make his point about global climate change. The whole country seems to be blanketed in the white stuff. This, during global warming."
The hard-hitting questions Carlson and the other Fox hosts had for Inhofe were why some people are "trying to shut down debate" on the causes of climate change, whether the U.S. should be "nixing" all climate change-related funding, and how Inhofe was able put together such a "nicely packed, well-constructed" snowball.
14. National Review Promotes Absurd Climate Change Chart to Suggest Lack of Warming
National Review tweeted that a misleading temperature chart published by Powerline's Steven Hayward was "[t]he only #climatechange chart you need to see." Hayward wrote that his chart displayed average annual global temperature "with the axis starting not just from zero, but from the lower bound of the actual experienced temperature range of the earth," and claimed, "[i]f this chart were published on the front page of newspapers the climate change crusaders would be out of business instantly."
National Review's tweet was roundly criticized for the chart's obviously misleading scale (with an appropriately scaled y-axis, the chart shows a demonstrable increase in global temperatures), with Kevin Drum of Mother Jones writing that Hayward's re-scaled chart was "so phenomenally stupid that I figured it had to be a joke of some kind." Several Twitter users responded to National Review by jokingly posting examples of similarly misleading charts, including one that the Union of Concerned Scientists described as showing "comfort in the idea that nobody really reads the National Review online."
13. Michael Savage: Pope Francis Has Been "Hand-Selected By The New World Order" And Is A "Danger To The World" For Acting On Climate Change
After the release of Pope Francis' papal encyclical on climate change, which calls for climate action in order to help the world's poor, conservative radio host Michael Savage declared that the pope has been "hand-selected by the New World Order," called him a Marxist and "eco-wolf in pope's clothing," and compared him to the false prophet in the book of Revelation "directing mankind to worship the Antichrist." Savage concluded that "we are living in global tyranny right now."
https://soundcloud.com/rightwingwatch/savage-explo...
12. Ted Nugent: Wildlife Populations "Actually Increase" Because Of Energy Development. In a column for The Daily Caller, National Rifle Association board member Ted Nugent falsely claimed that wildlife populations "actually increase and expand" in areas where pipelines, oil drilling, fracking, coal mining, and other forms of energy production occur. The next day, Nugent posted to Facebook that he wanted to drive "over the rotting corpses" of "algore [sic] & all the pathetic greenies."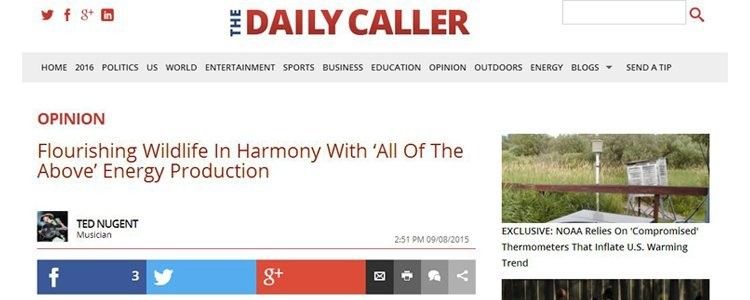 11. Mark Steyn Invokes Image Of Terrorists "Sawing Bernie Sanders' Head Off" To Attack Sanders For Linking Climate Change To Terrorism. On the November 16 edition of Fox Business' Varney & Co., conservative pundit Mark Steyn mocked Sen. Bernie Sanders' broadly accurate comments linking climate change to the rise of ISIS by declaring: "[ISIS leader] al-Baghdadi will be sawing Bernie Sanders' head off, and he'll be saying as his neck is being sliced, 'If only we'd had an emissions trading scheme.'"
10. Fox's Dana Perino: If You "Really Want To Work For A Green Energy Field," The Place To Go Is Big Oil
During a discussion of values in the workplace on the May 18 edition of Fox News' The Five, co-host Dana Perino asserted: "Bringing your values doesn't mean you have to compromise yourself, but if you plan to, like, save the world or global warming, and you really want to work for a green energy field, well the place to go is actually to work for Chevron and Exxon. They actually are funding all of the green energy stuff."
9. Gretchen Carlson, Rand Paul Agree: "It's Almost Like They'll Put You In Prison For Challenging ... Climate Change On Campus"
On the November 12 edition of Fox News' The Real Story, host Gretchen Carlson agreed with Sen. Rand Paul (R-KY) when he asserted: "Only certain opinions are acceptable on college campus. So I think we need more robust debate and there really shouldn't be this monolithic—I mean, if you challenge climate change, you know, it's almost like they'll put you prison for challenging the religious dogma of climate change on campus."
8. Following Damning Reports, Fox Business' Bartiromo Praises Exxon: "You Actually Helped Finance Accurate Scientific Research About Climate Change"
Following reports by InsideClimate News and the Los Angeles Times revealing that Exxon peddled climate science denial for years after its scientists recognized that burning fossil fuels causes global warming, Fox Business host Maria Bartiromo allowed Exxon CEO Rex Tillerson to call the charges against Exxon "unfounded" and "without any substance at all." Rather than challenge Tillerson with evidence that Exxon knowingly deceived shareholders and the public about climate change, Bartiromo defended the company during the interview, stating to Tillerson: "You actually helped finance accurate scientific research about climate change."
7. Ben Stein Attacks Global Climate Agreement: "Sav[ing] The Earth ... Is A Ridiculous Goal"
On the Dec. 14 edition of Fox News' Your World with Neil Cavuto, Cavuto introduced guest Ben Stein by saying "there's a lot" to the Paris Climate Agreement "that Ben Stein hates." Stein responded by asking: "What if man-made climate change is a fraud?" He later called the idea of saving the Earth a "ridiculous goal" and a "specious idea."
6. Breitbart's James Delingpole: NASA, NOAA Scientists Are "Talentless Low-Lives"
On November 30, Breitbart News' James Delingpole wrote a post listing "twelve reasons why the Paris climate talks are a total waste." One of the reasons Delingpole gave was that the "alarmist climate scientists are talentless low-lives who cannot be trusted," citing NASA, NOAA, the Met Office, and the Climatic Research Unit at the University of East Anglia as examples.

5. MSNBC's Joe Scarborough: "We're Kind Of Getting The Benefits Of" Global Warming
During a discussion about the unseasonably warm weather in the Northeast on the December 11 edition of MSNBC's Morning Joe, host Joe Scarborough remarked: "The past couple of years when people are talking about global warming, I've been like OK, why are we missing out on it in the Northeast? Because, you mean you could look at the planet, it's burning hot everywhere else. But there's this like ice cold blue dot where we all live. So this year we're kind of getting the benefits of it."
4. WSJ Op-Ed Claims Finding That Bacon Causes Cancer Is Part Of Climate Change Conspiracy
The Wall Street Journal published a Nov. 9 op-ed, The Climate Agenda Behind the Bacon Scare, which was co-authored by Jeff Stier and Julie Kelly of the oil industry-backed National Center for Public Policy Research and Heartland Institute, respectively. Stier and Kelly asserted that the World Health Organization's announcement linking red and processed meats to cancer "seems particularly well timed" to coincide with the United Nations climate negotiations in Paris, and baselessly claimed that "[t]he widely publicized warning about meat isn't about health. It's about fighting global warming."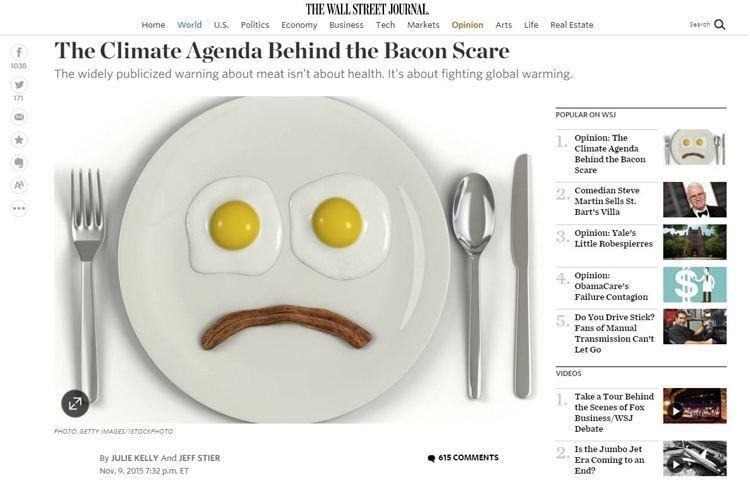 3. Fox News Turned To Disgraced Former FEMA Director Michael Brown To Deny Climate Change, Baselessly Attack FEMA Policy As "Orwellian"
On the May 6 edition of Fox News' Your World with Neil Cavuto, Cavuto invited Michael Brown, the disgraced former director of the Federal Emergency Management Agency (FEMA), to attack FEMA for requiring that states applying for disaster preparedness funds produce plans that consider the impacts of climate change. Brown, whose claim to fame is botching the response to Hurricane Katrina, questioned the need for the policy by disputing that "man has much impact" on climate change, and echoed the misleading "climate is always changing" talking point by asserting: "[W]e've always had tornadoes, we've always had floods, we've always had hurricanes, and we're always going to." Brown also described the new FEMA policy is an "Orwellian" ploy meant to force the federal government's "vision of climate change" on to states. Later, Brown admitted on Twitter that he is a "denier" when it comes to climate change.
2. Investor's Business Daily: "EPA Regulations Are 'Jim Crow' Laws Of 21st Century"
Investor's Business Daily published an Aug. 12 op-ed, EPA Regulations Are 'Jim Crow' Laws Of 21st Century, in which a senior fellow at the oil industry-backed Heartland Institute cited a discredited study to falsely attack the Environmental Protection Agency's Clean Power Plan as harmful to minorities. The headline of the piece was based on a remark by conservative author Deneen Borelli, who called the U.S. Environmental Protection Agency climate plan "the green movement's new Jim Crow."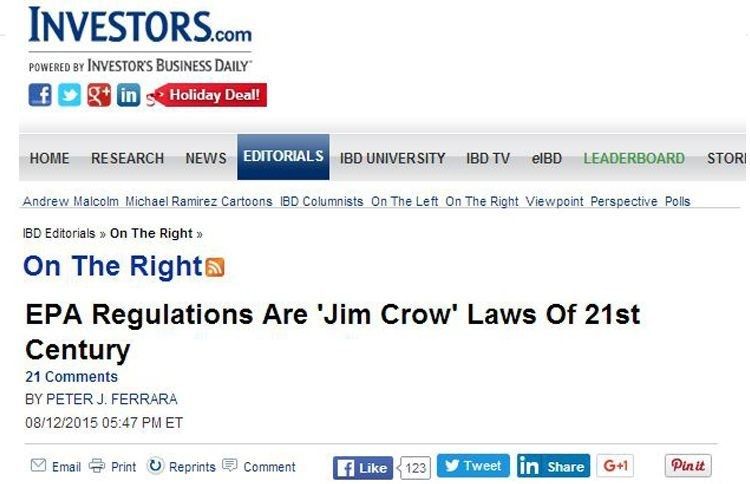 1. After NASA Announced It Found Water On Mars, Rush Limbaugh Said It Was Part Of A Climate Change Conspiracy
Following NASA's announcement that it had found flowing water on Mars, Rush Limbaugh posited that NASA was "making up something that happened on Mars that will help advance their left-wing agenda on this planet," adding, "I would assume it would be something to do with global warming." After his comments were widely mocked, Limbaugh doubled down on his conspiracy theory, declaring that he was being "misquoted ... on purpose" because he was "getting too close to the truth." Limbaugh's original remarks:
YOU MIGHT ALSO LIKE
Porter Ranch Natural Gas Leak Spews 150 Million Pounds of Methane, Will Take Months to Fix
Renewable Energy Soars Amid Plummeting Fossil Fuel Prices
10 Extreme Weather Events in 2015 That Sound the Alarm on Climate Chaos
EcoWatch Daily Newsletter
Bill Pugliano / Getty Images
By Wenonah Hauter
Five years ago this week, an emergency manager appointed by then-Michigan Gov. Rick Snyder made the devastating decision to save money by switching Flint's water supply over from Detroit's water system to the Flint River. Seen as a temporary fix, the new water supply was not properly treated. High levels of lead leached from the old pipes, poisoning a generation of Flint's children, and bacteria responsible for an outbreak of Legionnaires' Disease killed more than a dozen residents.
Los Angeles-Long Beach, California is listed as the nation's smoggiest city. Pixabay
Kissing bug. Pavel Kirillov / Flickr / CC BY-SA 2.0
The Centers for Disease Control and Prevention (CDC) confirmed that the kissing bug, which can transmit a potentially deadly parasite, has spread to Delaware, ABC News reported Wednesday.
Did you know that more than a third of food is wasted or thrown away every year? And that only 25 percent of it would be enough to feed the 795 million undernourished people in the world? That's why today is Stop Food Waste Day, a chance to reflect on what you can do to waste less of the food you buy.
Stop Food Waste Day is an initiative of food service company Compass Group. It was launched first in the U.S, in 2017 and went global the year after, making today it's second worldwide celebration.
Flames and smoke are seen billowing from the roof at Notre-Dame Cathedral on April 15 in Paris, France. Veronique de Viguerie / Getty Images
When Paris's Notre Dame caught fire on April 15, the flames threatened more than eight centuries of culture and history. The fire evoked shock, horror and grief worldwide. While the cathedral burned, French President Emmanuel Macron expressed determination to rebuild what the French regard as a sacred site.
An artist's impression of NASA's InSight lander on Mars. NASA / JPL-CALTECH
Scientists have likely detected a so-called marsquake — an earthquake on Mars — for the first time, The National Aeronautics and Space Administration (NASA) announced on Tuesday.
Hero Images / Getty Images
Across the political aisle, a majority of American parents support teaching climate change in schools even though most teachers currently do not.