15 Junk Foods Disguised as Health Food
Sep. 02, 2014 08:26AM EST
Food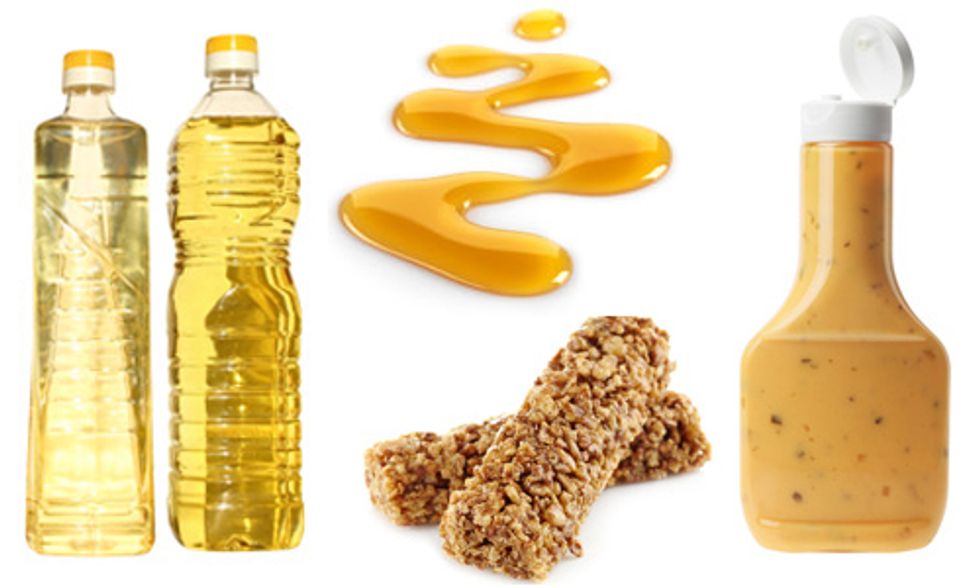 Unhealthy foods are the main reason the world is fatter and sicker than ever before.
Surprisingly, some of these foods are considered healthy by many people.
Here are 15 "health foods" that are really junk foods in disguise.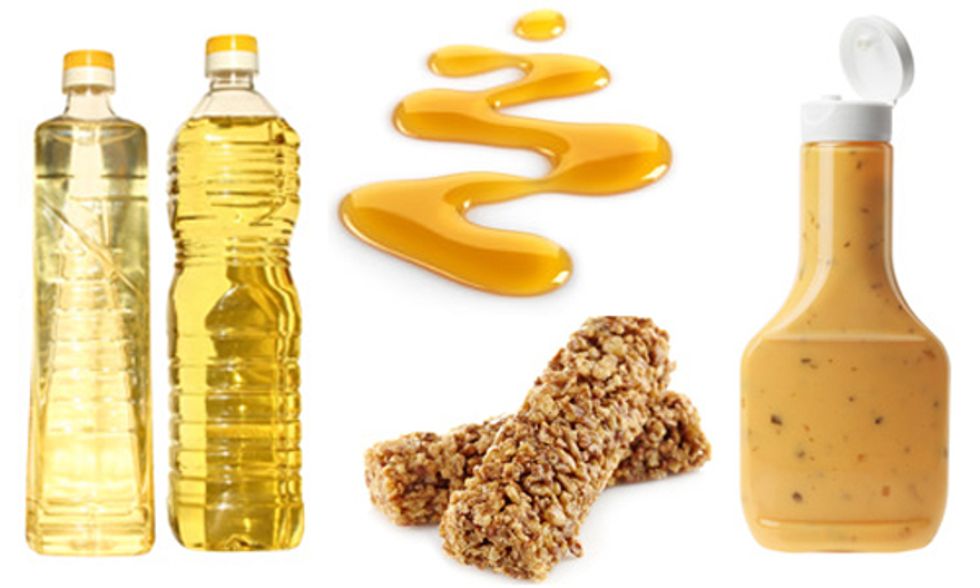 1. Processed "Low-Fat" and "Fat-Free" Foods
The "war" on saturated fat is the biggest mistake in the history of nutrition.
It was based on weak evidence, which has now been completely debunked.
When this started, processed food manufacturers jumped on the bandwagon and started removing the fat from foods.
But there's a huge problem … food tastes horrible when the fat has been removed. That's why they added a whole bunch of sugar to compensate.
Saturated fat is harmless, but added sugar is incredibly harmful when consumed in excess.
The words "low-fat" or "fat-free" on a packaging usually mean that it is a highly processed product that is loaded with sugar.
2. Most Commercial Salad Dressings
Vegetables are incredibly healthy.
The problem is that they often don't taste very good on their own.
That's why many people use dressings to add flavor to their salads, turning these bland meals into delicious treats.
But many salad dressings are actually loaded with unhealthy ingredients like sugar, vegetable oils and trans fats, along with a bunch of artificial chemicals.
Although vegetables are good for you, eating them with a dressing high in harmful ingredients will totally negate any health benefit you get from the salad.
Make sure to check the ingredients list before you use a salad dressing … or make your own using healthy ingredients.
3. Fruit Juices … Which Are Basically Just Liquid Sugar
A lot of people believe fruit juices to be healthy.
They must be … because they come from fruit, right?
But a lot of the fruit juice you find in the supermarket isn't really fruit juice.
Sometimes there isn't even any actual fruit in there, just chemicals that taste like fruit. What you're drinking is basically just fruit-flavored sugar water.
That being said, even if you're drinking 100 percent quality fruit juice, it is still a bad idea.
Fruit juice is like fruit, except with all the good stuff (like the fiber) taken out … the main thing left of the actual fruit is the sugar.
If you didn't know, fruit juice actually contains a similar amount of sugar as a sugar-sweetened beverage.
4. "Heart Healthy" Whole Wheat
Most "whole wheat" products aren't really made from whole wheat.
The grains have been pulverized into very fine flour, making them raise blood sugar just as fast as their refined counterparts.
In fact, whole wheat bread can have a similar glycemic index as white bread.
But even true whole wheat may be a bad idea … because modern wheat is unhealthy compared to the wheat our grandparents ate.
Around the year 1960, scientists tampered with the genes in wheat to increase the yield. Modern wheat is less nutritious and has some properties that make it much worse for people who are intolerant to gluten.
There are also studies showing that modern wheat may cause inflammation and increased cholesterol levels, at least when compared to the older varieties.
Whereas wheat may have been a relatively healthy grain back in the day, the stuff most people are eating today is best avoided.
5. Cholesterol Lowering Phytosterols
There are certain nutrients called phytosterols, which are basically like plant versions of cholesterol.
Some studies have shown that they can lower blood cholesterol in humans.
For this reason, they are often added to processed foods that are then marketed as "cholesterol lowering" and claimed to help prevent heart disease.
However, studies have shown that despite lowering cholesterol levels, phytosterols have adverse effects on the cardiovascular system and may even increase the risk of heart disease and death.
6. Margarine
Butter was demonized back in the day, due to the high saturated fat content.
Various health experts started promoting margarine instead.
Back in the day, margarine used to be high in trans fats. These days, it has less trans fats than before but is still loaded with refined vegetable oils.
Margarine is not food… it is an assembly of chemicals and refined oils that have been made to look and taste like food.
Not surprisingly, the Framingham Heart Study showed that people who replace butter with margarine are actually more likely to die from heart disease.
If you want to improve your health, eat real butter (preferably grass-fed) but avoid processed margarine and other fake foods like the plague.
Recommending trans fat laden margarine instead of natural butter may just be the worst nutrition advice in history.
7. Sports Drinks
Sports drinks were designed with athletes in mind.
These drinks contain electrolytes (salts) and sugar, which can be useful for athletes in many cases.
However … most regular people don't need any additional salts, and they certainly have no need for liquid sugar.
Although often considered "less bad" than sugary soft drinks, there really is no fundamental difference except that the sugar content is sometimes slightly lower.
It is important to stay hydrated, especially around workouts, but most people will be better off sticking to plain water.
8. Low-Carb Junk Foods
Low carb diets have been incredibly popular for many decades now.
In the past 12 years, study after study has confirmed that these diets are an effective way to lose weight and improve health.
However … food manufacturers have caught up on the trend and brought various low-carb "friendly" processed foods to the market.
This includes highly processed junk foods like the Atkins bars. If you take a look at the ingredients list, you see that there is no real food in there, just chemicals and highly refined ingredients.
These products can be consumed occasionally without compromising the metabolic adaptation that comes with low-carb eating. But they don't really nourish your body … even though they're technically low-carb, they're still unhealthy.
9. Agave Nectar
Given the known harmful effects of sugar, people have been looking for alternatives.
One of the more popular "natural" sweeteners is Agave nectar, also called agave syrup.
You will find this sweetener in all sorts of "health foods," often with attractive claims on the packaging.
The problem with Agave is that it is no better than sugar. In fact, it is much, much worse …
One of the main problems with sugar is that it has excessive amounts of fructose, which can cause severe metabolic problems when consumed in excess.
Whereas sugar is about 50 percent fructose and High Fructose Corn Syrup about 55 percent, Agave contains even more … up to 70-90 percent.
Therefore, gram for gram, Agave is even worse than regular sugar.
See, "natural" doesn't always equal healthy … and whether Agave should even be considered natural is debatable.
10. Vegan Junk Foods
Vegan diets are very popular these days, often due to ethical and environmental reasons.
However… many people promote vegan diets for the purpose of improving health (which is questionable).
There are many processed vegan foods on the market, often sold as convenient replacements for non-vegan foods.
Vegan bacon is one example.
But it's important to keep in mind that these are usually highly processed, factory made products that are bad for just about anyone, including vegans.
11. Brown Rice Syrup
Brown rice syrup (also known as rice malt syrup) is a sweetener that is mistakenly assumed to be healthy.
This sweetener is made by exposing cooked rice to enzymes that break down the starch into simple sugars.
Brown rice syrup contains no refined fructose, just glucose.
The absence of refined fructose is good … but rice syrup has a glycemic index of 98, which means that the glucose in it will spike blood sugar extremely fast.
Rice syrup is also highly refined and contains almost no essential nutrients. In other words, it is "empty" calories.
Some concerns have been raised about arsenic contamination in this syrup, another reason to be extra careful with this sweetener.
There are other better sweeteners out there… including low-calorie sweeteners like stevia, erythritol and xylitol, which actually have some health benefits.
12. Processed Organic Foods
Unfortunately, the word "organic" has become just like any other marketing buzzword.
Food manufacturers have found all sorts of ways to make the same junk, except with ingredients that happen to be organic.
This includes ingredients like organic raw cane sugar, which is basically 100 percent identical to regular sugar. It's still just glucose and fructose, with little to no nutrients.
In many cases, the difference between an ingredient and its organic counterpart is next to none.
Processed foods that happen to be labelled organic are not necessarily healthy.Always check the label to see what's inside.
13. Vegetable Oils
We are often advised to eat seed- and vegetable oils.
This includes soybean oil, canola oil, grapeseed oil and numerous others.
This is based on the fact that these oils have been shown to lower blood cholesterol levels, at least in the short term.
However … it's important to keep in mind that blood cholesterol is a risk factor, not a disease in itself.
Even though vegetable oils can improve a risk factor, there is no guarantee that they will help prevent actual hard end points like heart attacks or death, which is what really counts.
In fact, several controlled trials have shown that despite lowering cholesterol, these oils can increase the risk of death … from both heart disease and cancer.
So eat healthy, natural fats like butter, coconut oil and olive oil, but avoid processed vegetable oils as if your life depended on it (it does).
14. Gluten-Free Junk Foods
According to a 2013 survey, about a third of people in the U.S. are actively trying to avoid gluten.
A lot of experts think this is unnecessary … but the truth is that gluten, especially from modern wheat, can be problematic for a lot of people.
Not surprisingly, the food manufacturers have brought all sorts of gluten-free foods to the market.
The problem with these foods, is that they are usually just as bad as their gluten-containing counterparts, if not worse.
These are highly processed foods that are very low in nutrients and often made with refined starches that lead to very rapid spikes in blood sugar.
So … choose foods that are naturally gluten free, like plants and animals, not gluten free processed foods.
Gluten-free junk food is still junk food.
15. Most Processed Breakfast Cereals
The way some breakfast cereals are marketed is a disgrace.
Many of them, including those that are marketed towards children, have all sorts of health claims plastered on the box.
This includes misleading things like "whole grain" or "low fat."
But… when you actually look at the ingredients list, you see that it's almost nothing but refined grains, sugar and artificial chemicals.
The truth is, if the packaging of a food says that it is healthy, then it probably isn't.
The truly healthy foods are those that don't need any health claims … whole, single ingredient foods.
Real food doesn't even need an ingredients list, because real food is the ingredient.
YOU ALSO MIGHT LIKE
Move Over, Quinoa, a New Superfood Grain Is in Town
Air France airplanes parked at the Charles de Gaulle/Roissy airport on March 24, 2020. SAMSON / AFP via Getty Images
France moved one step closer this weekend to banning short-haul flights in an attempt to fight the climate crisis.
A bill prohibiting regional flights that could be replaced with an existing train journey of less than two and a half hours passed the country's National Assembly late on Saturday, as Reuters reported.
"We know that aviation is a contributor of carbon dioxide and that because of climate change we must reduce emissions," Industry Minister Agnes Pannier-Runacher told Europe 1 radio, according to Reuters.
The measure now has to pass the French Senate, then return to the lower house for a final vote. It would end regional flights between Paris's Orly airport and cities like Nantes and Bordeaux, The Guardian explained. It would not, however, impact connecting flights through Paris's Charles de Gaulle/Roissy airport.
The bill is part of a legislative package which aims to reduce France's emissions by 40 percent of 1990 levels by 2030, Reuters reported. It is a watered-down version of a proposal suggested by France's Citizens' Convention on Climate, BBC News explained. This group, which was formed by President Emmanuel Macron in 2019 and included 150 ordinary citizens, had put forward a ban on flights that could be replaced with an existing train journey of under four hours.
However, the journey length was lowered after protests from KLM-Air France, which had suffered heavy losses due to the coronavirus pandemic, and regions who were concerned about being left out of national transit networks, as The Guardian explained.
"We have chosen two and a half hours because four hours risks isolating landlocked territories including the greater Massif Central, which would be iniquitous," transport minister Jean-Baptiste Djebbari said, as The Guardian reported.
However, some environmental and consumer groups objected to the changes. The organization UFC-Que Choisir compared plane routes with equivalent train journeys of under four hours and found that the plane trips emitted an average of 77 times more carbon dioxide per passenger than the train journeys. At the same time, the train alternatives were cheaper and only as much as 40 minutes longer.
"[T]he government's choice actually aims to empty the measure of its substance," the group said, according to The Guardian.
The new measure also opens the French government to charges of hypocrisy. It bailed out Air France-KLM to the tune of a seven-billion euro loan last year, though it did require the airline to drop some domestic routes as a condition. Then, days before the measure passed, it more than doubled its stake in the airline, BBC News reported. However, Pannier-Runacher insisted to Europe 1 radio that it was possible to balance fighting climate change and supporting struggling businesses.
"Equally, we must support our companies and not let them fall by the wayside," she said, as Reuters reported.
This is not the first time that climate measures and aviation bailouts have coincided in the wake of the coronavirus pandemic. Austrian Airlines replaced its Vienna-Salzburg flight with additional train service after it received government money dependent on cutting greenhouse gas emissions, BBC News reported.
The number of flights worldwide declined almost 42 percent in 2020 when compared with 2019. It is expected that global aviation may not fully recover until 2024, according to Reuters.
EcoWatch Daily Newsletter
A woman looks at a dead gray whale on the beach in the SF Bay area on May 23, 2019; a new spate of gray whales have been turning up dead near San Francisco. Justin Sullivan / Getty Images
Four gray whales have washed up dead near San Francisco within nine days, and at least one cause of death has been attributed to a ship strike.
A small tourist town has borne the brunt of a cyclone which swept across the West Australian coast.
ABC News (Australia) / YouTube
A general view shows the remains of a dam along a river in Tapovan, India, on February 10, 2021, following a flash flood caused by a glacier break on February 7. Sajjad Hussain / AFP / Getty Images
By Rishika Pardikar
Search operations are still underway to find those declared missing following the Uttarakhand disaster on 7 February 2021.
This story originally appeared in Eos and is republished here as part of Covering Climate Now, a global journalism collaboration strengthening coverage of the climate story.
Indigenous youth, organizers with the Dakota Access and Line 3 pipeline fights and climate activists march to the White House to protest against pipeline projects on April 1, 2021. Bill Clark / CQ-Roll Call, Inc via Getty Images
By Jessica Corbett
Indigenous leaders and climate campaigners on Friday blasted President Joe Biden's refusal to shut down the Dakota Access Pipeline during a court-ordered environmental review, which critics framed as a betrayal of his campaign promises to improve tribal relations and transition the country to clean energy.