15 Florida Mayors to Marco Rubio: We're Going Under, Take Climate Change Seriously
Fifteen South Florida mayors released a letter Tuesday that was sent to Sen. Marco Rubio requesting a meeting with the presidential candidate to talk about the climate change risk facing the state's communities. The mayors underscore the economic burden of climate change in South Florida, urging Rubio to "acknowledge the reality and urgency of climate change and to address the crisis it presents our communities."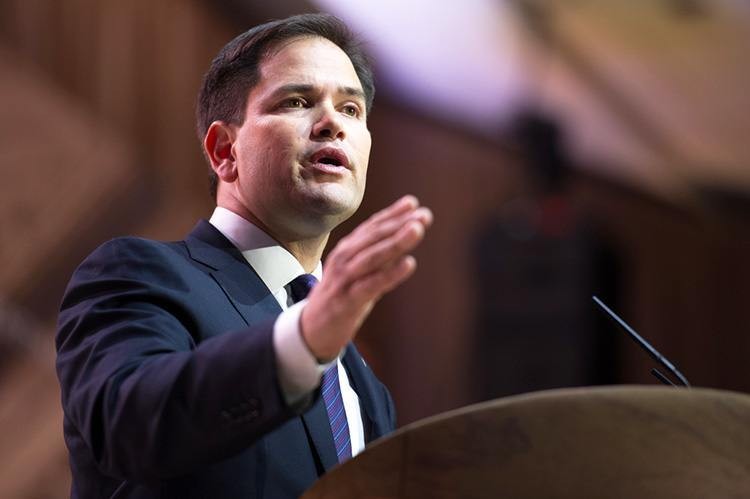 "Anyone who thinks that the topic of climate change is a partisan issue is not focused on the reality which we as public officials and citizens are dealing with. This is a crisis that grows day by day," Miami Mayor Tomas Regalado said, asking Rubio to "help us face and tackle this urgent issue—and the risks associated with it—so we may deal with it head-on."
Several recent studies project the total rise of global sea level caused by climate change will be as much as 6.5 feet during the 21st century. Experts say "there is no practical way to protect some populated coastal areas and barrier islands," including Brooklyn, Long Island and the coasts of Texas and Florida. According to a 2015 study published in the Proceedings of the National Academy Sciences, Miami is one of dozens of U.S. coastal cities in the U.S. that may be submerged by 2025.
Geology.com has created an interactive map showing areas of Florida that would be flooded at various stages of sea level rise.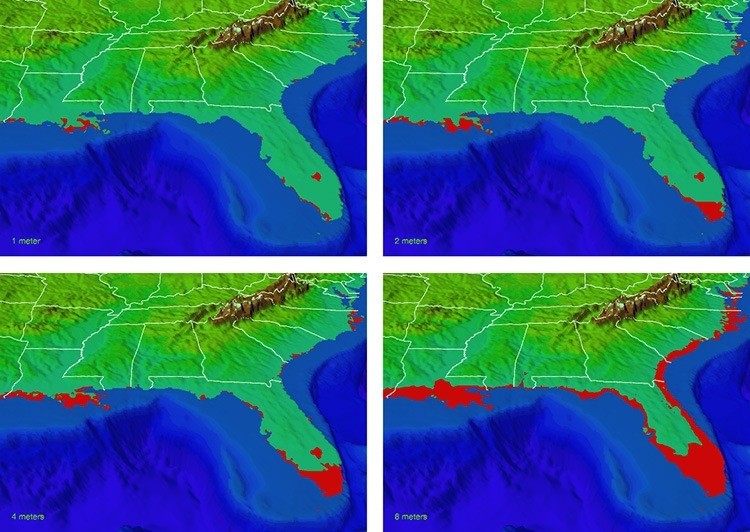 "There's a great economic opportunity for this country to innovate in clean energy and technology to respond to climate change, but we're not taking it," Coral Gables Mayor Jim Cason said. "Meanwhile in South Florida, we have billions of dollars and millions of lives at risk. This shouldn't be a political issue. It's about assessing reality and acting accordingly."
The risk to lives and livelihoods is clear. The mayors' sentiment echoes that of the Florida Oceans and Coastal Council, which stated in its 2010 report, Climate Change and Sea-Level Rise in Florida:
"It is widely accepted that human activities can impact global climate patterns. While there are legitimate disagreements among scientists on the nature, magnitude and impact of these changes, the potential risks to Florida's natural resources and our economy compel us to seek a thorough understanding of possible impacts and to provide current and future generations with the information necessary to adjust to them."
It will likely be difficult to get Rubio, who has cast his lot with the anti-science climate deniers, to seriously discuss this issue with the mayors. In April of last year, he told Face the Nation:
"Humans are not responsible for climate change in the way some of these people out there are trying to make us believe, for the following reason: I believe the climate is changing because there's never been a moment where the climate is not changing. The question is, what percentage of that … is due to human activity? If we do the things they want us to do, cap-and-trade, you name it, how much will that change the pace of climate change versus how much will that cost to our economy? Scientists can't tell us what impact it would have on reversing these changes, but I can tell you with certainty, it would have a devastating impact on our economy."
"When he was a state legislator, Sen. Rubio recognized that cutting carbon emissions would create economic opportunities and protect Florida from the worst effects of climate change," Pinecrest Mayor Cindy Lerner said. "After all, during his tenure in the state house he saw Florida hit by dozens of hurricanes and suffer billions in damages. But even though extreme storms and sea level rise are both expected to get worse, he's now saying there's nothing we can do. Running for president shouldn't mean running away from your community."
The bipartisan group of 15 signatories also includes Jack Seiler, mayor of Fort Lauderdale and Jeri Muoio, mayor of West Palm Beach and represents more than 920,000 South Florida residents. The letter was sent to Rubio's campaign offices on Jan. 21, with a similar letter sent to the campaign office of Gov. Jeb Bush. Neither candidate has so far responded to the requests.
"We know that climate change will be a disaster for South Florida, but the speed and scale of the disaster will depend on how quickly we can reduce greenhouse gas emissions," South Miami Mayor Philip Stoddard said. "We are doing what we can at the local level, but the big changes have to come from our elected leaders at the national level. We are still waiting to see that thoughtful leadership from Sen.Rubio, but to our considerable dismay, he is running in the exact wrong direction, proposing new ways to thwart the Clean Power Plan."
The letter was organized as a joint initiative of ClimateTruth.org, a climate advocacy organization and the CLEO Institute, a Miami-based not-for-profit organization advancing climate literacy and civic engagement.
YOU MIGHT ALSO LIKE 
The Role of Direct Action in the Battle to Slow Climate Change
Doomsday Clock Stays at Three Minutes to Midnight: At the 'Brink' of Man-Made Apocalypse
Josh Fox: 'We Are Not drowning, We Are Fighting'
Robert Redford Speaks on Climate Change and #OscarsSoWhite From Sundance
Bill Maher is sick of billionaires' obsession with Mars, more like "Mars-a-Lago," he said.
In a new animation produced by ATTN:, the popular talk show host of Real Time, discusses the perils of our planet, including how "climate change is killing us."
Keep reading...
Show less
Dr. Benjamin D. Santer, research scientist
A group of prominent climate scientists have written a study explicitly refuting statements made by the U.S. Environmental Protection Agency Administrator Scott Pruitt on climate data. During his Senate confirmation hearing, Pruitt claimed in a written response that satellite data shows a "leveling off" of warming over the past two decades.
Keep reading...
Show less
By David Pomerantz
The Nevada Assembly passed a bill Wednesday that would dramatically increase the growth of renewable energy in the state, but Sheldon Adelson, the casino magnate and major donor to Donald Trump, is attempting to prevent the bill from becoming law.
Keep reading...
Show less
Matt Crossick
By Yosola Olorunshola
Whether it's through fashion or protest, Vivienne Westwood is not a woman afraid of making a statement.
On May 23, she rocked up to the residence of the Archbishop of Canterbury in London with a special guest—the Grim Reaper—to issue a strong statement on the Church of England's position on fracking.
Keep reading...
Show less
By Paul Brown
The food industry and big agricultural concerns are driving climate change and at the same time threatening to undermine efforts to feed the world's growing population, according to GRAIN, an organization that supports small farmers.
Particularly singled out for criticism are the large chemical fertilizer producers that have gained access to the United Nations talks on climate change. GRAIN accuses them of behaving like the fossil fuel companies did in the 1990s, pushing false information in the hope of delaying real action on climate change.
Keep reading...
Show less
May. 24, 2017 06:55PM EST
By Sydney Robinson
President Trump has no doubt been given a long list of extravagant, elaborate gifts in his lifetime, but the gift given to him today by Pope Francis may not make it on his most favorite list.
Keep reading...
Show less
May. 24, 2017 07:17PM EST
By John Rogers
Maybe it's because I first started working on clean energy while serving in the Peace Corps he founded, or maybe it's my years of working on these issues from his home state. But I can't help thinking about the 100th anniversary of John F. Kennedy's birth, and connecting his stirring rhetoric to the energy challenges of our times.
Here's what our 35th president might have said about the challenges of energy transition and the opportunities in clean energy:
"Change is the law of life. And those who look only to the past or present are certain to miss the future."
Keep reading...
Show less
May. 24, 2017 01:47PM EST
Keep reading...
Show less


Get EcoWatch in your inbox