This website uses cookies to ensure you get the best experience while browsing it. By clicking 'Got It' you're accepting these terms.
15 Best Protein Alternatives to Meat Besides Tofu
Oct. 06, 2015 12:12PM EST
Popular
Do you hate tofu? Or are you just plain sick of it? Check out these 15 tasty alternatives to both meat and tofu that will make you smack your lips in delight.
1. Quinoa: This tiny seed is full of protein, easy to cook and very versatile. A cup of cooked quinoa serves up eight grams of protein and you can get more by serving it with chickpeas, beans and nuts. Plus, it is one of the only non-meat options that provide the nine essential amino acids our bodies can't produce on their own, including lysine, which is essential for tissue growth and repair. Plus, quinoa contains fiber, iron, magnesium and manganese. Buy it white, red or black, in bulk or in a box. Rinse it well (even if you buy it pre-washed), then cook it like rice: combine one part quinoa to two parts water in a pot, bring to a boil, reduce the heat to low and simmer, covered, for around 15 minutes. Serve hot with stir-fried vegetables or cold in a salad of leafy greens, chopped tomatoes and cucumbers or in some saucy combo you particularly like.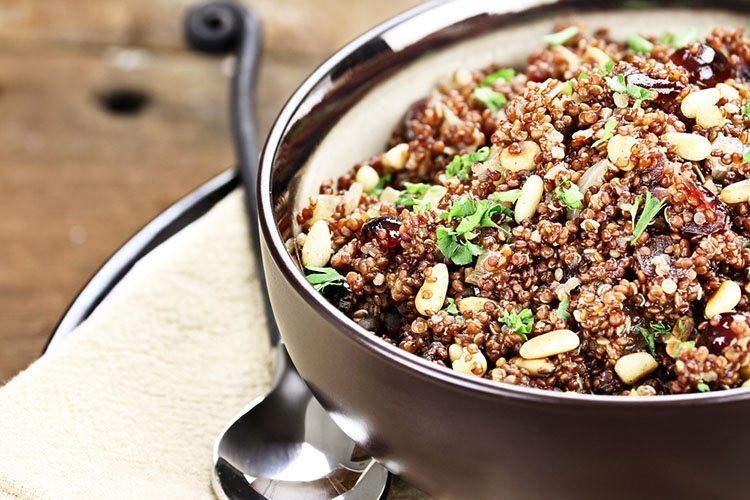 A cup of cooked quinoa serves up eight grams of protein and you can get more by serving it with chickpeas, beans and nuts. Photo credit: Shutterstock
2. Lentils: I spent three weeks trekking in the Himalayas and pretty much survived on lentils and the nine grams of protein per half cup they provide when cooked. I never got sick of them and today, I still enjoy a delicious protein boost from lentil soup, lentil stew and lentils in the dal I order at Indian restaurants. If you buy them dry, sort through them before you cook them to find tiny pieces of dirt or rocks that might have gotten mixed in. Then rinse them under running water before boiling three cups of water for every one cup of lentils. Once the water is boiling add the lentils, then cover and reduce heat to a simmer. It will take 20-30 minutes to cook, depending on which variety of lentil you are using. When done, add cooked lentils to a mushroom, carrot and onion stew, vegetable soup or your own lentil soup you make with hearty vegetarian stock and whatever vegetables you have on hand. If you don't want to start with dry lentils, you can find organic packaged lentils that have already been cooked.
3. Chickpeas/Garbanzo Beans: Garbanzo beans are among the most versatile of beans for their mild flavor and their versatility. It doesn't hurt that one cup of garbanzos provides 12 grams of protein or 24 percent of the daily value based on a 2,000-calorie diet (so more, if you only eat 1,200-1,500 calories, like I usually do). Like lentils, you can cook up the dried bean or buy them ready to eat. Toss them on a couscous-based salad for a big protein boost, nibble on them cold with a little salt and pepper for a snack, add them to vegetable soup or puree them with some lemon juice and yogurt to make a refreshing dip for vegetables and crackers. You can also grind them up and add parsley and mint to make your own falafel.
4. Kidney Beans: I also think of these beans as chili beans, don't you? Cooked kidney beans pack about 15 grams of protein into every cup serving; they are also a terrific source of fiber, vitamins and minerals. I prefer to eat these beans hot, as in a veggie stew, soup or chili.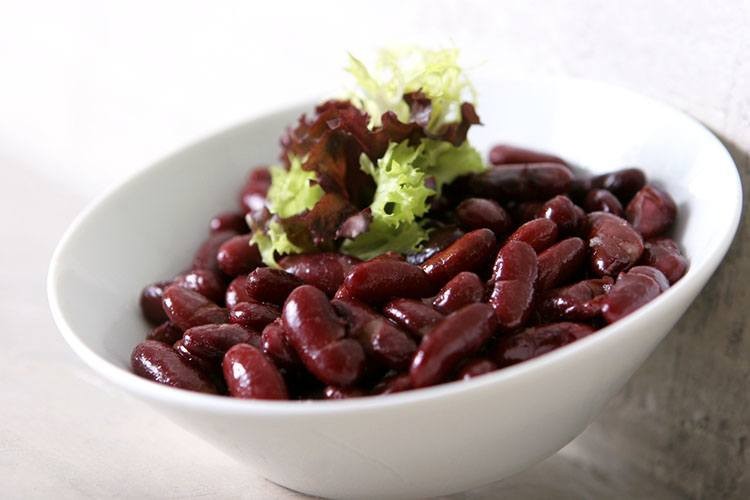 Photo credit: Shutterstock
5. Great Northern Beans: You're probably getting the message that beans generally are a good source of protein other than meat and tofu and you're right. I like Great Northern beans a lot because they have mild flavor so can be added to a dish like mushroom barley soup without detracting from either the mushrooms or the barley. Like other beans, Great Northerns are also a good source of fiber, vitamins and minerals.
6. Seitan: If you're not gluten-free, seitan could be a good meat and tofu alternative for you. It's made from wheat gluten, is chewier than tofu and can be grilled, braised and broiled like meat. If you like eating food with a heartier texture, seitan could be for you. Here's how to make it at home if you can't find it in your local food co-op or natural foods grocery store.
7. Tempeh: Tempeh is similar in texture and cooking profile to seitan, but is made from fermented soybeans rather than wheat gluten. It tastes pretty bland on its own, so marinate it in flavorful sauces and spices before you cook it.
8. Broccoli: This is a surprise, right? Broccoli contains 5 grams of protein per cup. The problem, of course, is that you probably won't eat more than a cup of broccoli at one sitting. But combine cooked broccoli with quinoa or dip raw broccoli in hummus and you have a satisfying, protein-rich meal for lunch or dinner.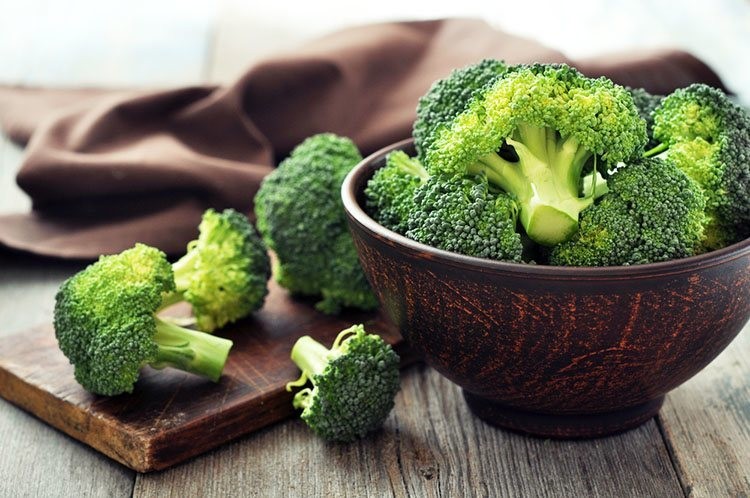 Photo credit: Shutterstock
9. Green Peas: One cup of cooked peas contains about 79 grams of protein, almost the same as a cup of milk. Serve them as a side dish, stir them into soup or macaroni and cheese or blend them with olive oil, parmesan cheese and toasted pine nuts to make a delicious pesto.
10. Seeds: Both hemp and chia seeds are protein dense and add good fiber to your diet, too. Toast them and sprinkle them over salad, stir them into yogurt and oatmeal or blend them into smoothies. Sunflower, sesame and poppy seeds are also protein powerhouses, which you can add to muffins, salads, stir fries or, in the case of sunflower seeds, eat on their own.
11. Nuts and Nut Butters: The upside is that nuts are very protein-dense, between five and six grams of protein per ounce. The downside is that they're also high in calories. Your best bet is to eat nuts and nut butters plain, without hydrogenated oils or lots of added sugar. Get dry roasted or buy them raw and roast them at home. You can grind peanuts into peanut better at some food co-ops and grocery stores or look for butters that clearly say "just peanuts" or "just almonds" plus perhaps some salt, on their labels.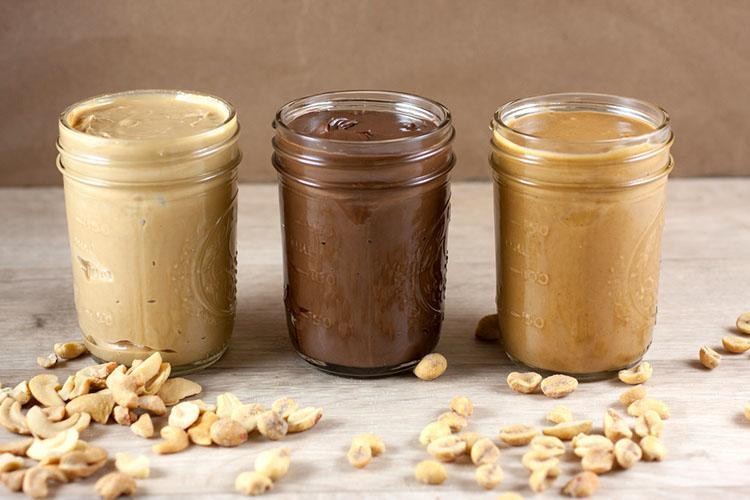 Photo credit: Shutterstock
12. Edamame: Boiled edamame soybeans contain 8.4 grams of protein per half cup, but I bet you won't stop there. You boil them up in their pods, then sprinkle them with a little salt and maybe a dash of soy sauce and slurp out the beans.
13. Milk: If you're vegan, go the soy, almond, hemp, flax or rice milk route. If you consume dairy, cow's, sheep's and goat's milk might be more to your liking. According to the U.S. Department of Agriculture, one cup of nonfat milk contains 8.26 grams of protein or 16 percent of your daily value for protein. It's also rich in calcium, riboflavin, vitamin D and other minerals.
14. Yogurt: Thick and creamy Greek yogurt may contain twice as much protein as regular yogurt, but read the label of whichever option you choose, as some companies add gelatin, an animal collagen product or carmine, a natural dye derived from the body of beetles. Look at sugar and fat content, as well. I generally prefer non-fat, no sugar added Greek yogurt or I make my own out of non-fat organic milk, a couple of tablespoons of yogurt and maybe a half cup of powdered organic milk.
15. Eggs: If you're not vegan, eggs could be a terrific meat and tofu substitute for you. One large whole egg contains six grams of protein: three in the yolk and three in the white. Eggs also contain an abundance of vitamins and minerals, plus many of the amino acids you need for complete protein. If you've got room in your yard, you can humanely raise your own chickens and collect the eggs without much ado.
YOU MIGHT ALSO LIKE
5 Reasons High Fructose Corn Syrup Will Kill You
Venus and Serena Williams: Raw Vegan Powerhouses
10 Foods That Help Fight Cancer
EcoWatch Daily Newsletter
Two Sherpa descending from Everest Base Camp, Himalayas, Khumbu, Nepal. Joel Addams / Aurora Photos / Getty Images
Climate change is having a grizzly effect on Mount Everest as melting snow and glaciers reveal some of the bodies of climbers who died trying to scale the world's highest peak.
Navajo Generating Station, Arizona. Wolfgang Moroder / Wikimedia / CC BY-SA 3.0
The Navajo Nation have decided to stop pursuing the acquisition of a beleaguered coal-fired power plant in Arizona, locking in the plant to be taken offline and its associated coal mine to close later this year.
A Navajo Nation Council committee voted 11-9 last week to stop pursuing the purchase of the 2,250-megawatt Navajo Generating Station, which with the Kayenta coal mine provides more than 800 jobs to primarily Navajo and Hopi workers as well as tribal royalties.
A coalition of utilities that own the plant said in 2017 it would cease operations due to increased economic pressure, and the plant's future has proved a flash point for national and regional energy policy and raised larger questions on how Native communities will handle ties to fossil fuel industries as the economy changes.
For a deeper dive:
Arizona Republic, Indian Country Today, AP, WOKV, Farmington Daily Times
For more climate change and clean energy news, you can follow Climate Nexus on Twitter and Facebook, and sign up for daily Hot News.
Related Articles Around the Web
Sir David Attenborough opens Woodberry Wetlands on April 30, 2016 in London, United Kingdom. Danny Martindale / WireImage
An extended version of the Fuxing bullet train at the China National Railway Test Center on Oct. 15, 2018 in Beijing, China. VCG / VCG via Getty Images
By Jeff Turrentine
Is it just us?
Other countries don't seem to have a problem getting their high-speed rail systems on track. This superfast, fuel-efficient form of mass transit is wildly popular throughout Asia and the European Union. Japan's sleek Shinkansen line, the busiest high-speed rail system in the world, carries an estimated 420,000 riders every weekday. In China, the new Fuxing Hao bullet train now hurries more than 100 million passengers a year between Beijing and Shanghai at a top speed of 218 miles an hour, allowing its riders to make the trip of 775 miles — roughly the distance from New York City to Chicago — in about four and a half hours. Spain, Germany and France together have more than 4,500 miles of track dedicated to high-speed rail, over which more than 150 million passengers travel annually.
Ocean Heroes Bootcamp
By Coda Christopherson (11) and Lea Eiders (15)
Growing up in a plastic-free home, I was sheltered from the plastic waste crisis. I (Coda) went to a very progressive school that had vegan lunch items, farm animals and ran on solar power. My mom produces zero-waste events and my dad is a sailor, so we're very passionate about the ocean. When I was nine years old, we moved back to Manhattan Beach, California and I started 3rd grade in a public school. This was the first time I really understood that plastic-free living is not the norm; single-use plastics were everywhere, especially in the cafeteria. Once I recognized this problem, I knew I had to make a difference.
A major California avocado producer issued a voluntary recall of the popular fruit over concerns they could be contaminated with Listeria monocytogenes, USA Today reported.
Henry Avocado issued the recall Saturday after a routine government inspection at its California packing facility turned up positive test results for the bacteria on "environmental samples," the company said in a statement. No illnesses have been reported.
Acting Secretary David Bernhardt visited Watson Hopper Inc., a manufacturer of rigs and oil drilling equipment in Hobbs, New Mexico on Feb. 6, 2019.
Tami A. Heilemann / DOI
Oil executives gathered for a conference laughed about their "unprecedented" access to Trump administration officials, according to a recording obtained by Reveal from the Center for Investigative Reporting.
In the recording, taken at a June 2017 meeting of the Independent Petroleum Association of America (IPAA) at a Ritz-Carlton in Southern California, members expressed excitement about one official in particular: David Bernhardt, who had been nominated that April to be deputy secretary at the Department of Interior (DOI). Bernhardt would be confirmed the following month.
"We know him very well, and we have direct access to him, have conversations with him about issues ranging from federal land access to endangered species, to a lot of issues," IPAA political director Dan Naatz said in the recording.