140 International Organizations Call for End to Biodiversity Offsetting Plans
At the opening of the World Forum on Natural Capital in Edinburgh, Scotland yesterday, 140 organizations from all over the world released a statement to say "No" to biodiversity offsetting. The statement was launched in a counter forum on Natural Commons taking place in Edinburgh at the same time.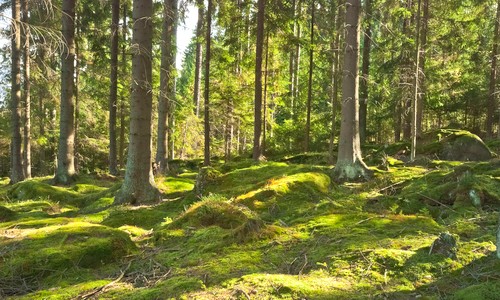 Photo courtesy of Shutterstock
Biodiversity offsetting is the theory that you can destroy nature in one place, as long as you replace it elsewhere to ensure "no net biodiversity loss." Not only has this proven unworkable, it puts pressure on community livelihoods.
"Offsetting treats nature such as forests or rivers as if it were an exchangeable item you buy in the supermarket," said Hannah Mowat from FERN, explaining why offsetting has had such poor results so far. 
"Destroying one forest or river with a promise of protecting another fails to recognize that they are part of a wider ecosystem and intrinsic to human and cultural landscapes," Mowat continued. "Destruction of complex and site specific biodiversity cannot be offset. It is time to be clear that offsetting will not tackle biodiversity loss but may impoverish communities." 
The statement raises concern that offsetting could erode the power of environmental laws to restrict damaging activities. In the UK, offsetting is being used as an excuse to speed up planning laws and remove "green tape." The EU is also considering new laws that could question the strength of the Nature Directives. This is also the case in a number of countries in the global South, such as Brazil, where it is a license to trash nature.
"In Brazil, the government is reforming public policies to allow companies to 'offset' their impact rather than preventing damage in the first place," said Lúcia Ortiz from Friends of the Earth Brazil. "The Brazilian development bank, BNDES, provides grants to states to create subnational laws for carbon and biodiversity offsets. Though this is being challenged by the public attorney, these policies are causing dramatic violations of Indigenous Peoples' rights and the rights of communities dependent on natural resources" 
"Nature is a common good that we all share rights to and have responsibility over," said Nick Dearden, director of the World Development Movement and co-organizer of the Forum on Natural Commons.
"It should be managed democratically by a commons-centered approach and not by a market based approach that takes power away from the people and gives more resources to those who can pay the most," continued Dearden. "Many organizations, scientists and people have come together through this statement to expose that the motive is profit, not conservation." 
Climate justice activists currently at the climate negotiations in Warsaw are exposing that market based mechanisms such as carbon trading and forest carbon markets are proven failures and should not be extended to areas such as biodiversity. Activists and organizations are calling on governments to bring these failed approaches to an end and concentrate on ways to reduce carbon emissions and biodiversity loss at home.
Visit EcoWatch's BIODIVERSITY page for more related news on this topic.

A coalition of conservation groups and others announced Thursday that a historic number of comments and petitions of support have been submitted to the U.S. Department of the Interior in support of Bears Ears National Monument. Despite the entirely inadequate 15-day comment period ending on May 26, more than 685,000 comments in support of Bears Ears National Monument have been collected.
Keep reading...
Show less
Rink Glacier in western Greenland, with a meltwater lake visible center. NASA/OIB
Scientists have had their eyes on Greenland as its iconic glaciers have begun disappearing due to a warming climate. But, what they didn't expect to see was a whole new type of melting.
Keep reading...
Show less
Mountain View Fire
By Lena Moffitt
An oil tanker in Mead, Colorado exploded, killing one and injuring three on Thursday. Authorities are continuing to investigate the cause of the explosion.
Keep reading...
Show less
Banner created by Alliance for Climate Education
Keep reading...
Show less
Twenty-two GOP senators sent a letter Thursday urging Donald Trump to pull out of the Paris agreement. They argued remaining in the deal could "upend" the administration's ability "to fulfill its goal of rescinding the Clean Power Plan."
Keep reading...
Show less
By Cheryl Johncox
The Federal Energy Regulatory Commission (FERC) rejected on Thursday Energy Transfer Partners' request to resume horizontal directional drilling at two sites for its Rover fracked gas pipeline. This rejection comes after numerous leaks into Ohio's wetlands, and Clean Air and Clean Water act violations. FERC has halted the process at only eight locations of the 32 where drilling is taking place under Ohio's wetlands and streams.
Keep reading...
Show less
By Nadia Prupis
A majority of people in eight countries say they are ready to change their lifestyles if it would prevent climate catastrophe, a survey on global threats released Wednesday found.
Keep reading...
Show less
May. 25, 2017 01:55PM EST
Bill Maher is sick of billionaires' obsession with Mars, more like "Mars-a-Lago," he said.
In a new animation produced by ATTN:, the popular talk show host of Real Time, discusses the perils of our planet, including how "climate change is killing us."
Keep reading...
Show less