This website uses cookies to ensure you get the best experience while browsing it. By clicking 'Got It' you're accepting these terms.
14 Superfood Salad Greens More Nutritious Than Kale
Jan. 03, 2015 11:02AM EST
Food
Kale has been hyped as the most nutrient-dense food you can buy in the produce department. But the Centers for Disease Control and Prevention has published a report called Defining Powerhouse Fruits and Vegetables (PFV): A Nutrient Density Approach that ranks it only number 15. It's still pretty potent, but that means there are 14 other superfoods you can add to your diet for more variety and an even bigger nutritional punch.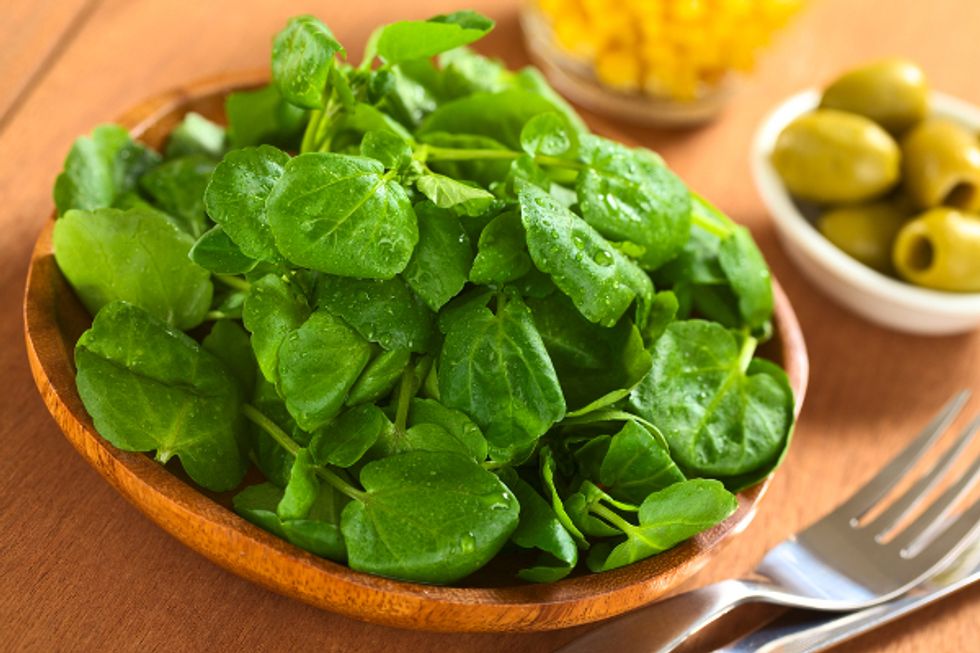 Photo credit: Shutterstock
"National nutrition guidelines emphasize consumption of powerhouse fruits and vegetables (PFV), foods most strongly associated with reduced chronic disease risk; yet efforts to define PFV are lacking," said the study's introduction. "This study developed and validated a classification scheme defining PFV as foods providing, on average, 10% or more daily value per 100 kcal of 17 qualifying nutrients. Of 47 foods studied, 41 satisfied the powerhouse criterion and were more nutrient-dense than were non-PFV, providing preliminary evidence of the validity of the classification scheme. The proposed classification scheme is offered as a tool for nutrition education and dietary guidance."
The study looks at green leafy, yellow/orange, citrus and cruciferous items as well as berries and alliums (garlic, onions etc.), based on scientific literature and consumer guidelines touting them as reducing the risk of chronic diseases and conditions such as cancer, heart disease, hypertension and inflammation. It found that all but six—raspberry, tangerine, cranberry, garlic, onion and blueberry—satisfied the VFV criterion. The average score was 32.23.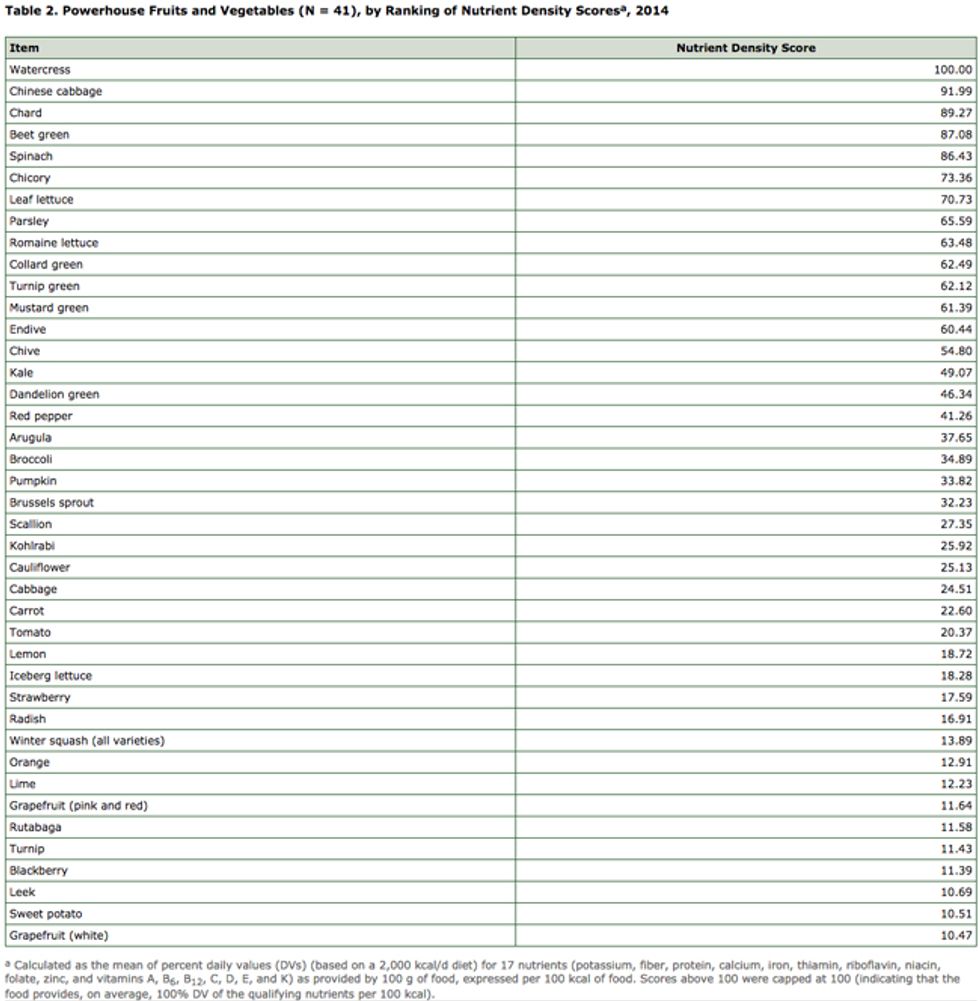 "Items in cruciferous (watercress, Chinese cabbage, collard green, kale, arugula) and green leafy (chard, beet green, spinach, chicory, leaf lettuce) groups were concentrated in the top half of the distribution of scores whereas items belonging to yellow/orange (carrot, tomato, winter squash, sweet potato), allium (scallion, leek), citrus (lemon, orange, lime, grapefruit) and berry (strawberry, blackberry) groups were concentrated in the bottom half."
And the winner is .... watercress, with a score of 100 (actually higher but the researcher capped the scores at 100.) It's not just easy to add a handful to that salad (and you'll get the most from its nutrients if you eat it raw), it's easy and quick to grow yourself so you've always got some fresh leaves on hand.
Rounding out the top five are Chinese cabbage (91.99), chard (89/27), beet greens (87.08) and spinach (86.43). Leaf lettuce and chicory scored 73.36 and 70.73 respectively, followed by parsley at 65.59, and romaine lettuce (63.48), a trio of popular soul-food greens—collard (62.49), turnip (62.12) and mustard (61.39)—and endive (60.44). Chives come in at 54.80, a notch above kale, which snags a healthy score of 49.07.
That doesn't mean, however, that those foods scoring lower don't provide benefits in specific areas, bringing particular nutrients to the mix. What is does mean is that vegetables clustered in the top half of the chart would make a heck of a healthy salad and could bring some variety as well as a mix of health-boosting vitamins and minerals to your salad bowl. Instead of going straight for the trendy kale—still a nutritious superfood choice—try them all and maybe discover some new favorites.
YOU MIGHT ALSO LIKE
Kale is King: 5 Reasons You Should Eat It
EcoWatch Daily Newsletter
A Starbucks barista prepares a drink at a Starbucks Coffee Shop location in New York. Ramin Talaie / Corbis via Getty Images
By Cathy Cassata
Are you getting your fill of Starbucks' new Almondmilk Honey Flat White, Oatmilk Honey Latte, and Coconutmilk Latte, but wondering just how healthy they are?
By Sharon Kelly
Back in April last year, the Trump administration's Environmental Protection Agency decided it was "not necessary" to update the rules for toxic waste from oil and gas wells. Torrents of wastewater flow daily from the nation's 1.5 million active oil and gas wells and the agency's own research has warned it may pose risks to the country's drinking water supplies.
Swedish climate activist Greta Thunberg takes part in a "Friday for Future" youth demonstration in a street of Davos on Jan. 24, 2020 on the sideline of the World Economic Forum annual meeting. FABRICE COFFRINI / AFP via Getty Images
Treasury Secretary Steven Mnuchin pretended not to know who Greta Thunberg is, and then he told her to get a degree in economics before giving world leaders advice, as The Guardian reported.
The Visible Infrared Imaging Radiometer Suite on the Suomi NPP satellite acquired this image of forest fire smoke hovering over North America on Aug. 15, 2018. NASA Earth Observatory
New York City isn't known for having the cleanest air, but researchers traced recent air pollution spikes there to two surprising sources — fires hundreds of miles away in Canada and the southeastern U.S.
If temperatures continue to rise, the world is at risk from global
sea-level rise
, which will flood many coastal cities as seen above in Bangladesh. NurPhoto / Contributor / Getty Images
The mounting climate emergency may spur the next global financial crisis and the world's central banks are woefully ill equipped to handle the consequences, according to a new book-length report by the Bank for International Settlements (BIS), as S&P Global reported. Located in Basel, Switzerland, the BIS is an umbrella organization for the world's central banks.