14 Superfood Salad Greens More Nutritious Than Kale
Kale has been hyped as the most nutrient-dense food you can buy in the produce department. But the Centers for Disease Control and Prevention has published a report called Defining Powerhouse Fruits and Vegetables (PFV): A Nutrient Density Approach that ranks it only number 15. It's still pretty potent, but that means there are 14 other superfoods you can add to your diet for more variety and an even bigger nutritional punch.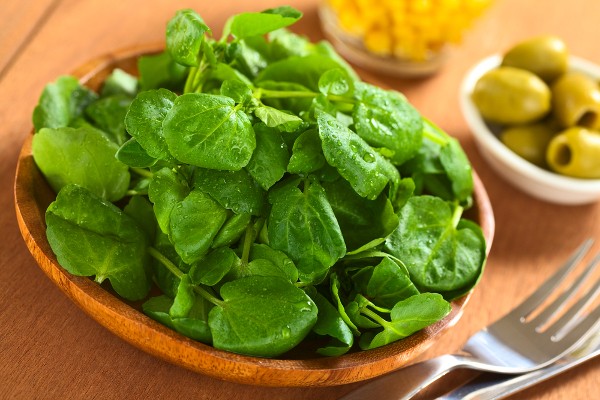 Photo credit: Shutterstock
"National nutrition guidelines emphasize consumption of powerhouse fruits and vegetables (PFV), foods most strongly associated with reduced chronic disease risk; yet efforts to define PFV are lacking," said the study's introduction. "This study developed and validated a classification scheme defining PFV as foods providing, on average, 10% or more daily value per 100 kcal of 17 qualifying nutrients. Of 47 foods studied, 41 satisfied the powerhouse criterion and were more nutrient-dense than were non-PFV, providing preliminary evidence of the validity of the classification scheme. The proposed classification scheme is offered as a tool for nutrition education and dietary guidance."
The study looks at green leafy, yellow/orange, citrus and cruciferous items as well as berries and alliums (garlic, onions etc.), based on scientific literature and consumer guidelines touting them as reducing the risk of chronic diseases and conditions such as cancer, heart disease, hypertension and inflammation. It found that all but six—raspberry, tangerine, cranberry, garlic, onion and blueberry—satisfied the VFV criterion. The average score was 32.23.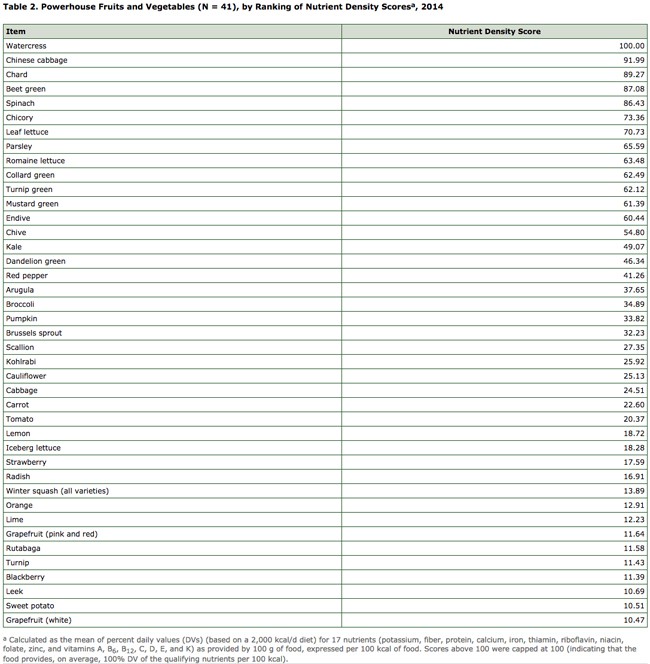 "Items in cruciferous (watercress, Chinese cabbage, collard green, kale, arugula) and green leafy (chard, beet green, spinach, chicory, leaf lettuce) groups were concentrated in the top half of the distribution of scores whereas items belonging to yellow/orange (carrot, tomato, winter squash, sweet potato), allium (scallion, leek), citrus (lemon, orange, lime, grapefruit) and berry (strawberry, blackberry) groups were concentrated in the bottom half."
And the winner is .... watercress, with a score of 100 (actually higher but the researcher capped the scores at 100.) It's not just easy to add a handful to that salad (and you'll get the most from its nutrients if you eat it raw), it's easy and quick to grow yourself so you've always got some fresh leaves on hand.
Rounding out the top five are Chinese cabbage (91.99), chard (89/27), beet greens (87.08) and spinach (86.43). Leaf lettuce and chicory scored 73.36 and 70.73 respectively, followed by parsley at 65.59, and romaine lettuce (63.48), a trio of popular soul-food greens—collard (62.49), turnip (62.12) and mustard (61.39)—and endive (60.44). Chives come in at 54.80, a notch above kale, which snags a healthy score of 49.07.
That doesn't mean, however, that those foods scoring lower don't provide benefits in specific areas, bringing particular nutrients to the mix. What is does mean is that vegetables clustered in the top half of the chart would make a heck of a healthy salad and could bring some variety as well as a mix of health-boosting vitamins and minerals to your salad bowl. Instead of going straight for the trendy kale—still a nutritious superfood choice—try them all and maybe discover some new favorites.
YOU MIGHT ALSO LIKE
Kale is King: 5 Reasons You Should Eat It
Glyphosate, the main ingredient in Monsanto's widely used herbicide Roundup, will be added July 7 to California's list of chemicals known to the state to cause cancer, according to a Reuters report Tuesday. This news comes after the company's unsuccessful attempt to block the listing in trial court and requests for stay were denied by a state appellate court and California's Supreme Court.
California's Office of Environmental Health Hazard Assessment (OEHHA) announced the designation on Monday under the Safe Drinking Water and Toxic Enforcement Act of 1986, or Proposition 65.
Keep reading...
Show less
www.facebook.com
Keep reading...
Show less
Researchers from the Marine Animal Response Society examine one of the dead right whales. Marine Animal Response Society
Canadian government officials and marine biologists are investigating the mysterious deaths of six North American right whales. The endangered animals all turned up dead between June 6 and June 23 in the Gulf of St. Lawrence, off Canada's southeastern coast.
North Atlantic right whales are the rarest of all large whale species and among the rarest of all marine mammal species, with only about 450 right whales in the North Atlantic.
Keep reading...
Show less
Scott Pruitt testifies during his Senate confirmation hearing for EPA administrator, January 2017.
The U.S. Environmental Protection Agency's (EPA) chief of staff pressured the leader of its Board of Scientific Counselors to change her congressional testimony to downplay the impact of the agency's mass dismissal of scientists from the board, the New York Times reports.
Keep reading...
Show less
By Jason Mark
Sequoiadendron giganteum. That's the scientific name for the giant sequoia: the mammoth trees found in California's Sierra Nevada that are the largest organisms on Earth, and among the longest-lived. Biologists estimate that about half of all sequoias live in Giant Sequoia National Monument, a 328,000-acre preserve in the Southern Sierra Nevada established by President Clinton in 2000.
Now that national monument is in jeopardy.
Keep reading...
Show less
By Andy Rowell
Donald Trump this week is launching an "energy week," pushing the argument that the U.S. will become a net exporter of oil and gas.
The president and his cronies are talking about a new era of "U.S. energy dominance," which could stretch for decades to come. However, no one believes the president anymore.
Keep reading...
Show less
UN
By Colleen Curry
The United Nations has designated 23 new sites around the world to its World Network of Biosphere reserves—stunning natural landscapes that balance environmental and human concerns and strive for sustainability.
The forests, beaches and waterways were added to the list this year at the International Coordinating Council of the Man and the Biosphere Programme meeting in Paris earlier this month.
Keep reading...
Show less
Jun. 26, 2017 01:48PM EST
www.elysee.fr
By Andy Rowell
There is a growing feeling within European capitals that a quiet, but deeply positive, revolution is happening under Emmanuel Macron in France.
Macron's opinion poll rating is high, especially boosted in how the young French president has reacted to Donald Trump on the international stage.
Keep reading...
Show less
Jun. 26, 2017 12:32PM EST
www.facebook.com
Keep reading...
Show less