This website uses cookies to ensure you get the best experience while browsing it. By clicking 'Got It' you're accepting these terms.
14 Extreme Weather Events Linked to Climate Change
Nov. 07, 2015 09:43AM EST
Climate
Even though skeptics would disagree, weather and climate are clearly two different things. We know that the greenhouse gases emitted by human activities such as burning fossil fuels and land use cause global temperatures to rise over long stretches of time, but what effect does that have on the weather today?
Well, according to a new study, we can now pin at least 14 extreme weather events in 2014—including heatwaves, drought, wildfires and floods—on climate change.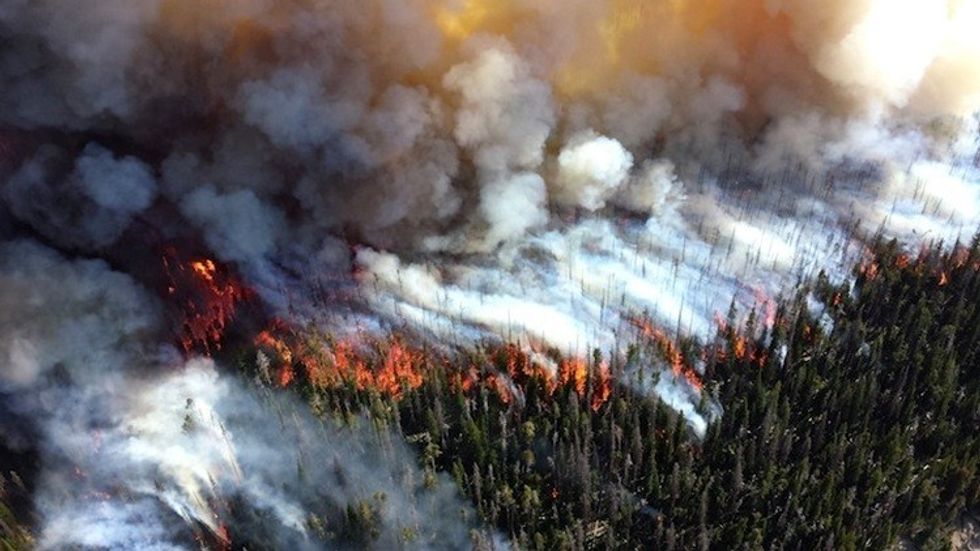 The report, Explaining Extreme Events of 2014 from a Climate Perspective, published in the Bulletin of the American Meteorological Society, uses research from 32 groups of scientists from around the world. Scientists from National Oceanic and Atmospheric Administration (NOAA) served as four of the five lead editors on the report.
The study says, for instance, that the drought in East Africa, extreme rainfall in France, and heat waves felt on nearly every continent can be linked to climate change. However, though California's wildfires have definitely increased over the years due to climate change, the study notes that there was no specific link to the wildfires last year.
As for the unusually frigid winter felt in many parts of the U.S. (remember the polar vortex?), the scientists suggest it was influenced not by climate change but by temperature variability.
"It is by no means a prevailing one-story-fits-all-events type of approach to this," said Martin Hoerling, an editor of the report and a NOAA meteorologist, at a news conference. "It does require a specific analysis of each case on its own merit."
For example, Brazil's horrific drought, is not necessarily due to rising global temperatures but perhaps instead to an increasing population and water consumption.
"For each of the past four years, this report has demonstrated that individual events, like temperature extremes, have often been shown to be linked to additional atmospheric greenhouse gases caused by human activities, while other extremes, such as those that are precipitation related, are less likely to be convincingly linked to human activities," said Thomas R. Karl, director of NOAA's National Centers for Environmental Information.
"As the science of event attribution continues to advance, so too will our ability to detect and distinguish the effects of long-term climate change and natural variability on individual extreme events. Until this is fully realized, communities would be well-served to look beyond the range of past extreme events to guide future resiliency efforts," he continued.
The scientists have urged for more research in this area. "Understanding our influence on specific extreme weather events is groundbreaking science that will help us adapt to climate change," said Stephanie C. Herring, lead editor for the report. "As the field of climate attribution science grows, resource managers, the insurance industry and many others can use the information more effectively for improved decision making and to help communities better prepare for future extreme events."
Here are the study's key findings across the world's continents, with events that can be attributed to climate change in bold:
North America
Overall probability of California wildfires has increased due to human-induced climate change, however, no specific link could be made for the 2014 fire event
Though cold winters still occur in the upper Midwest, they are less likely due to climate change
Cold temperatures along the eastern U.S. were not influenced by climate change and eastern U.S. winter temperatures are becoming less variable
Tropical cyclones that hit Hawaii were substantially more likely because of human-induced climate change
Extreme 2013-14 winter storm season over much of North America was driven mainly by natural variability and not human caused climate change
Human-induced climate change and land-use both played a role in the flooding that occurred in the southeastern Canadian Prairies
South America
The Argentinean heat wave of December 2013 was made five times more likely because of human-induced climate change
Water shortages in Southeast Brazil were not found to be largely influenced by climate change, but increasing population and water consumption raised vulnerability
Europe
All-time record number of storms over the British Isles in winter 2013-14 cannot be linked directly to human-induced warming of the tropical west Pacific
Extreme rainfall in the United Kingdom during the winter of 2013-2014 was not linked to human-caused climate change
Hurricane Gonzolo was within historical range of strength for hurricanes transitioning to extratropical storms over Europe
Extreme rainfall in the Cévennes Mountains in southern France was three times more likely than in 1950 due to climate change
Human influence increased the probability of record annual mean warmth over Europe, NE Pacific, and NW Atlantic
Middle East and Africa
Two studies showed that the drought in East Africa was made more severe because of climate change
The role of climate change in the Middle East drought of 2014 remains unclear. One study showed a role in the southern Levant region of Syria, while another study, which looked more broadly at the Middle East, did not find a climate change influence
Asia
Extreme heat events in Korea and China were linked to human-caused climate change
Drought in northeastern Asia, China and Singapore could not conclusively be linked to climate change
The high west Pacific tropical cyclone activity in 2014 was largely driven by natural variability
Devastating 2014 floods in Jakarta are becoming more likely due to climate change and other human influences
Meteorological drivers that led to the extreme Himalayan snowstorm of 2014 have increased in likelihood due to climate change
Human influence increased the probability of regional high sea surface temperature extremes over the western tropical and northeast Pacific Ocean during 2014
Australia
Four independent studies all pointed toward human influence causing a substantial increase in the likelihood and severity of heat waves across Australia in 2014
It is likely that human influences on climate increased the odds of the extreme high pressure anomalies south of Australia in August 2014 that were associated with frosts, lowland snowfalls and reduced rainfall
The risk of an extreme five-day July rainfall event over Northland, New Zealand, such as was observed in early July 2014, has likely increased due to human influences on climate
Antarctica
All-time maximum of Antarctic sea ice in 2014 resulted chiefly from anomalous winds that transported cold air masses away from the Antarctic continent, enhancing thermodynamic sea ice production far offshore. This type of event is becoming less likely because of climate change
YOU MIGHT ALSO LIKE
Exxon's Climate 'Scandal' Escalates As NY Attorney General Issues Subpoena
'The Francis Effect:' How the Pope Is Changing Americans' Views on Climate Change
Glacier National Park Could Be Glacier Free in Just 15 Years
UN Report Measures Significant Progress Ahead of Paris Climate Talks
EcoWatch Daily Newsletter
Deserted view of NH24 near Akshardham Temple on day nine of the 21-day nationwide lockdown to curb the spread of coronavirus on April 2, 2020 in New Delhi, India. Raj K Raj / Hindustan Times via Getty Images
A Unicef social mobilizer uses a speaker as she carries out public health awareness to prevent the spread and detect the symptoms of the COVID-19 coronavirus by UNICEF at Mangateen IDP camp in Juba, South Sudan on April 2. ALEX MCBRIDE / AFP / Getty Images
By Eddie Ndopu
South Africa is ground zero for the coronavirus pandemic in Africa.
Its townships are typical of high-density neighbourhoods across the continent where self-isolation will be extremely challenging.
The failure to eradicate extreme poverty is a threat beyond the countries in question.
The outside of the Food and Drug Administration headquarters in White Oak, Md. on Nov. 9, 2015. Al Drago / CQ Roll Call
The U.S. Food and Drug Administration has approved the use of two malarial drugs to treat and prevent COVID-19, the respiratory infection caused by the SARS-CoV-2 coronavirus, despite only anecdotal evidence that either is proven effective in treating or slowing the progression of the disease in seriously ill patients.

Some
speculate
that the dissemination of the Antarctic beeches or Nothofagus moorei (seen above in Australia) dates to the time when
Antarctica
, Australia and
South America
were connected. Auscape / Universal Images Group / Getty Images
A team of scientists drilled into the ground near the South Pole to discover forest and fossils from the Cretaceous nearly 90 million years ago, which is the time when dinosaurs roamed the Earth, as the BBC reported.
The recovery of elephant seals is one of the "signs of hope" that scientists say show the oceans can recover swiftly if we let them. NOAA /
CC BY 2.0