This website uses cookies to ensure you get the best experience while browsing it. By clicking 'Got It' you're accepting these terms.
14 Detained Blockading Shell Oil Rig Headed for the Arctic
Jun. 15, 2015 01:48PM EST
Energy
[Editor's note: An earlier version of this article said 13 activists were detained, but in total, 14 activists were detained before being released.]
The battle continues to try to block Shell Oil from using Seattle as a staging area for its Arctic drilling operation.
14 Greenpeace activists in kayaks were taken into custody by the U.S. Coast Guard as they blockaded Shell's Polar Pioneer drilling rig from leaving Elliott Bay in Seattle's Puget Sound; the Coast Guard said they violated a rule requiring protesters stay 500 yards from the rig. The activists, who included Seattle City Council member Mike O'Brien, had secured themselves with enough supplies to last for hours while additional protests were taking place on shore. About fifty other activists on the water were not stopped as the Polar Pioneer left the bay and those detained were released by mid-morning.
@CMMikeOBrien joins the flotilla to "save the Arctic" and stop Shell. @elijsanders pic.twitter.com/IP3xjSeXFs

— Alex Garland (@AGarlandPhoto) June 15, 2015
"Shell was trying to get the Polar Pioneer out of Seattle under cover of darkness, but the kayaktivists prevented them from leaving for several hours and exposed what they were doing to the world," said Greenpeace Arctic communications manager Travis Nichols. The "kayaktivists" were on the water at 4 a.m. when they got word that the Polar Pioneer was on the move.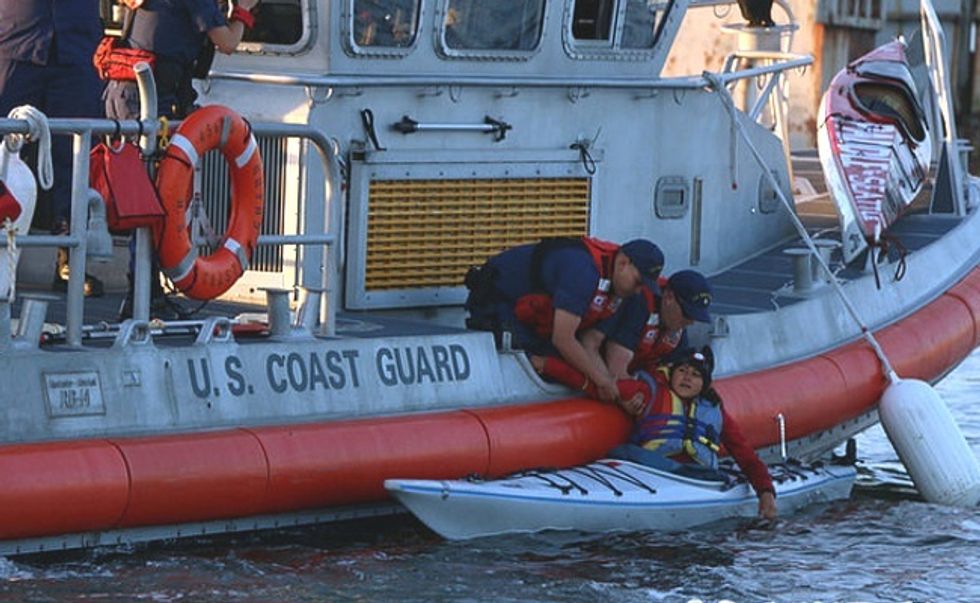 Greenpeace's activism against Shell's drilling plans has been ongoing. In April, six protesters intercepted the same oil rig, the Polar Pioneer, in the middle of the Pacific Ocean 750 miles northwest of Hawaii. They climbed onto the rig and occupied it for almost a week. Meanwhile, in Seattle, opposition to Shell's drilling plans has been growing as people have tried to stop its rigs from departing the city for the Arctic. One protest involved thousands of people, including 500 in kayaks.
Paloma Henriques, one of the "kayaktivists" who was taken into custody, said: "I'm just one voice out here, but I know I'm not alone. I believe that confronting Shell will encourage more people to take a strong stand against them and other companies who are seeking to destroy this planet for profit. We are here to send a message to President Obama that it's not too late to stop Shell from destroying the Arctic."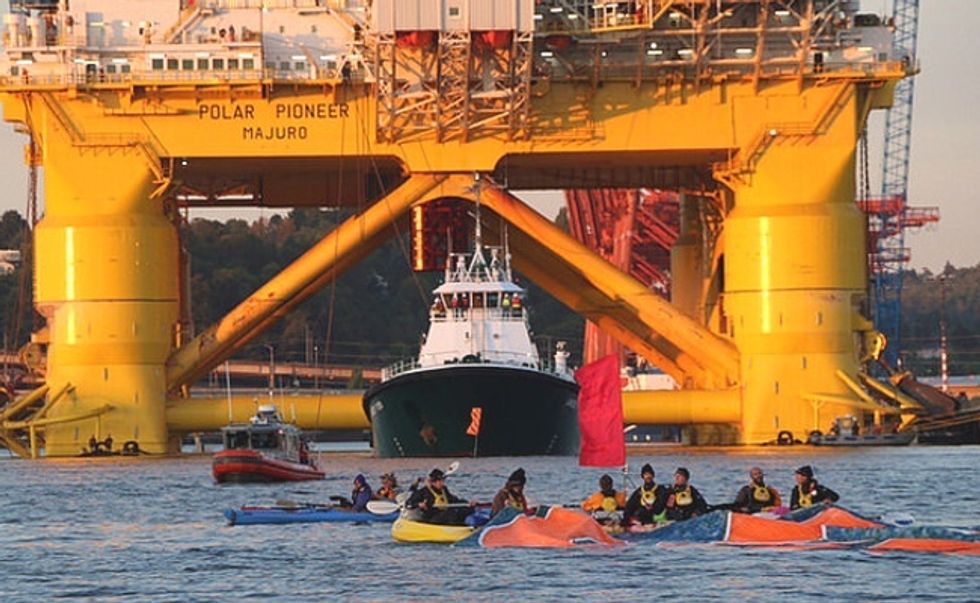 "Shell wants to haul its 40,000 ton Arctic destroyer to Alaska as soon as possible, but these courageous individuals are saying, 'Shell No,'" said Greenpeace Executive Director Annie Leonard. "Every minute that brave protesters can delay Shell's Arctic drilling plans is another chance for President Obama to reconsider his disastrous approval of oil drilling in Alaska. The President's decision on Arctic drilling will be a deal-breaker for his climate legacy, but it's not too late for him to stop this catastrophe before it starts." Read Page 1
In May, Obama gave the go-ahead for Shell to make another attempt to drill for oil in the Chukchi Sea off the Alaska coast after equipment failures derailed its plans to drill in 2012-2014. According to Greenpeace, both of Shell's rigs, the Polar Pioneer and the Noble Discoverer, have failed routine inspections.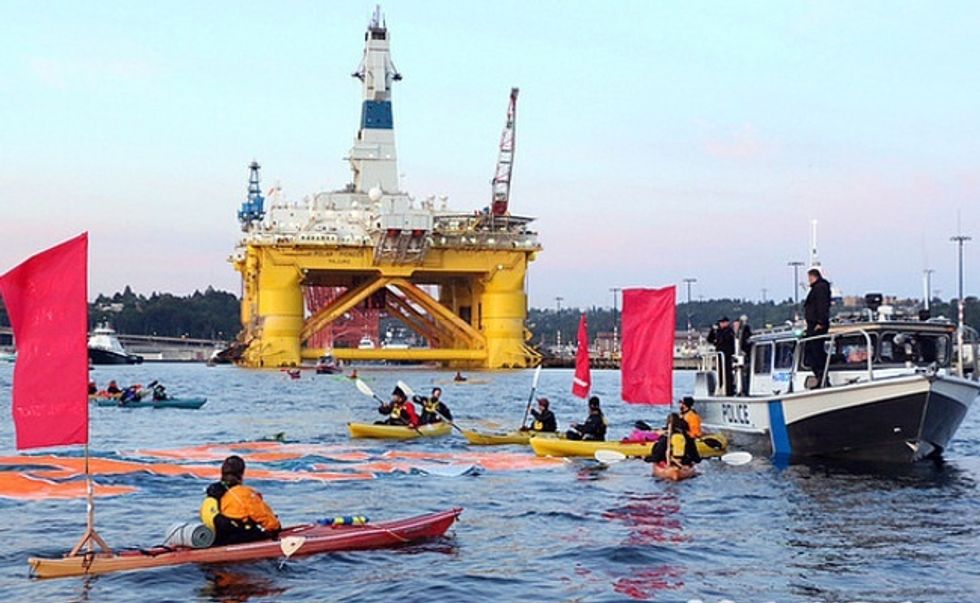 Faith Gemmill, executive director of Resisting Environmental Destruction on Indigenous Lands, emphasized what could happen when the rigs arrived at their destination to highlight the importance of the activists' protests.
"We are grateful and stand with the protesters in Seattle who are determined to stop Arctic Drilling before it starts," says Gemmill. "Shell's Arctic venture is seriously reckless. This company has no capability to address an oil spill in unpredictable ice conditions and has proven in previous attempts that they are not equipped for the harsh and volatile conditions of the Chukchi Sea. The future of the Inupiat way of life is on the table, how can this company be so callous with their decisions? Not only is Shell's plans risky, but also detrimental to all Alaska Natives that share the burden of current climate chaos. We will continue to support them facing down this giant. We call on all those of conscience to raise their voice in opposition to this insane venture now."
Seattle became a battleground when its Port Commission approved a lease with Shell to use its facilities which those opposed said was done without adequate environmental review or public notice and did not comply with the port's intended use. Seattle Mayor Ed Murray said that the Port of Seattle must apply for a new permit.
In a sane world USCG and SPD would be corralling Shell's arctic drilling rig, not clearing its path. #ShellNo pic.twitter.com/XMwhg8sV4P — Mike McGinn (@mayormcginn) June 15, 2015
"While requiring a permit may not stop the Port's plans, it does give the Port an opportunity to pause, an opportunity to rethink the issue," Murray said. "This is an opportunity, I believe, for the Port and all of us to make a bold statement about how oil companies contribute to climate change, oil spills and other environmental disasters and reject this short-term lease. To prevent the full force of climate change, we need not continue with the past. It's time to turn the page. Things like oil trains and coal trains and oil-drilling rigs are the past. It's time to focus on the economy of the future—clean energy, electric cars and transit, green homes and an environmentally progressive business community."
Watch this video to see the "kayakativists" blockade Shell's Arctic-bound oil rig:
YOU MIGHT ALSO LIKE
6 Greenpeace Activists Scale Shell's Oil Rig to Protest Arctic Drilling
Obama Administration Approves Shell's Plan to Drill in the Arctic
EcoWatch Daily Newsletter
Coldplay is releasing a new album on Friday, but the release will not be followed by a world tour.
Ash dieback is seen infecting a European ash (Fraxinus excelsior) in Bottomcraig, Scotland, UK on Aug. 10, 2016.
nz_willowherb / Flickr
Scientists have discovered a genetic basis to resistance against ash tree dieback, a devastating fungal infection that is predicted to kill over half of the ash trees in the region, and it could open up new possibilities to save the species.
Truth in Action is a day-long global conversation on the climate crisis and how we solve it. The Climate Reality Project
Former Vice President Al Gore kicked off 24 hours of climate talks in the U.S. and 77 other countries around the world Wednesday night.
Activists highlighted the climate emergency outside Scottish Government headquarters at St Andrew's House in Edinburgh on Oct. 13, 2017. Usage of the term "climate emergency" spiked in 2019, according to Oxford Dictionaries.
By Jessica Corbett
Climate advocates and experts celebrated Oxford Dictionaries' announcement Wednesday that "climate emergency" is the Oxford Word of the Year 2019.
By Kieran Cooke
There could be a way of countering one key aspect of the climate emergency by making much greater use of a widely-available plant: bamboo building.