14 Delicious Avocado Toast Recipes Perfect for a Healthy Diet
Jun. 17, 2016 03:17PM EST
Food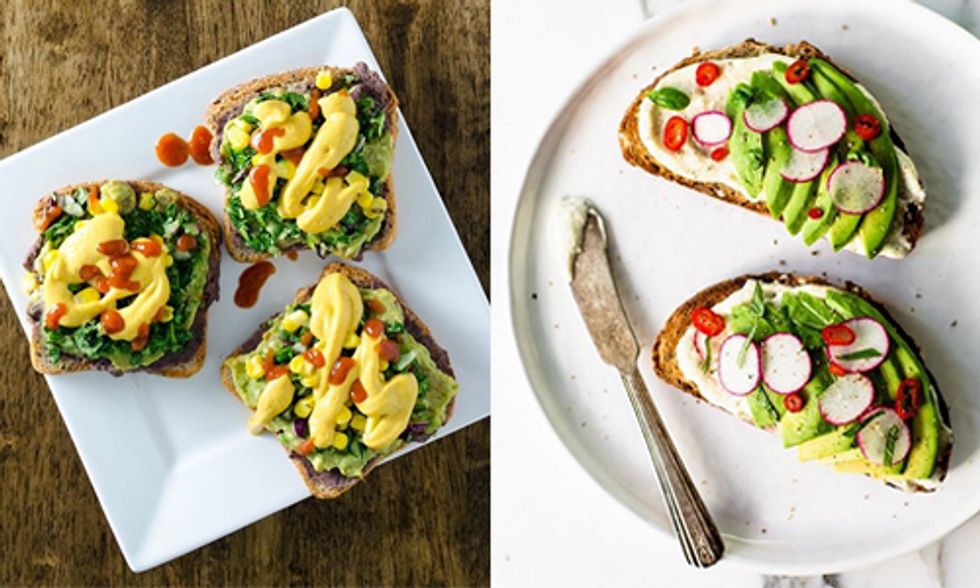 Lucky for us, avocados are grown year-round, so there's never a time when we can't get our hands on a luscious, ripe one. What better way to celebrate this random factoid than to offer a list of insanely gorgeous avocado toast recipes.
Here are some ideas that raise avocado toast to an art form:
1. Avocado, Chickpeas and Sriracha Toast
Gluten Free Vegan Pantry knows what's up with avocado toast. This super-simple recipe, which includes only three toppings, is guaranteed to rock your morning or post-workout snack time.
2. Kimchi Tempeh Avocado Toast
With layers of marinated tempeh and kimchi, this offering from Gratitude & Greens is more like a meal than a snack.
Sometimes simple makes the most sense. The Edgy Veg understands that with a sprinkle of nutritional yeast, salt and pepper, you'll have a scrumptious snack.
4. Avocado Toast with Spiced Skillet Chickpeas
Happy Healthy Life uses turmeric, paprika and maple syrup to flavor the chickpeas. The site's goal is "to bring you guys recipes that you will actually make. Not just gawk at." We appreciate this practical approach.
This Mexican-tinged toast isn't messing around. Guacamole, black-bean mash, corn and vegan nacho cheese sauce round out this hefty recipe, courtesy of Veggie Primer.
6. Avo Toast with Hemp and Chia Seeds and Tomato
Vegan Wave is a Los Angeles–based vegan foodie who knows how to make a simple yet breathtaking avocado toast.
7. Avocado Toast with Radish, Basil and Coconut Mayo
No one could deny a mélange of avocado, coconut mayonnaise, sliced radishes and mint or basil. Thanks to Blissful Basil, you won't have to.
8. Pecan Parmesan–Crusted Avocado & Kale Florentine with Smoked Paprika Hollandaise
Vegan Parmesan-encrusted avocados replace eggs in this fancy twist on avocado toast, courtesy of Vegan Richa.
9. Winter Smashed Avocado Toast
Chef Chloe Coscarelli has taken Manhattan and Los Angeles by storm with her fast-casual vegan restaurants named "by CHLOE." They serve this fantastic toast, but if you don't live in either of those cities, you can check out the recipe here.
10. Smashed Avocado & Sautéed Mushroom Toast
Blissful Basil knows that baby portobellos are both cute and delicious. Bonus points for adding a punch of plant-based protein to your toast!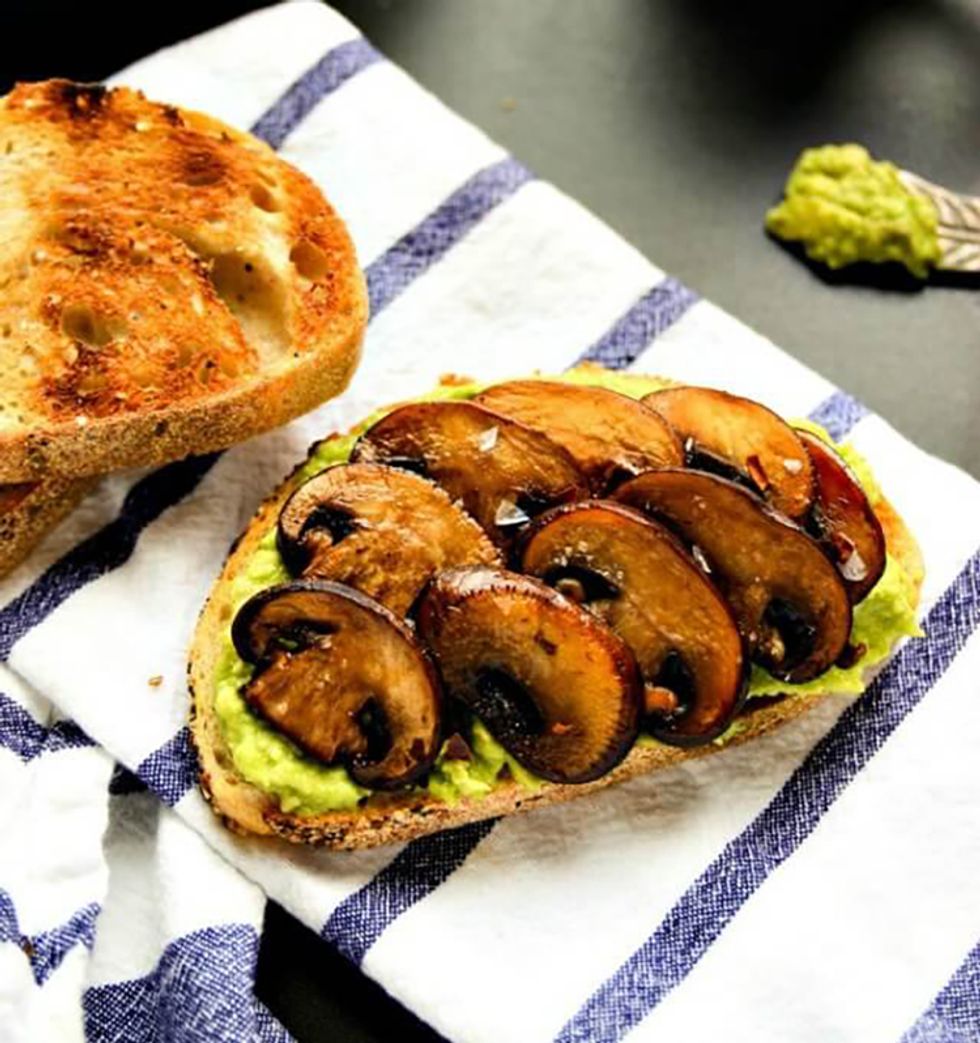 11. Roasted Artichoke Avocado Toast
Dill, garlic and scallions add flavor to this absolutely stunning snack, courtesy of Love & Lemons.
If you haven't tried strawberries and avocados together, Hummusapien is giving you a chance. A drizzle of maple syrup makes this toast divine.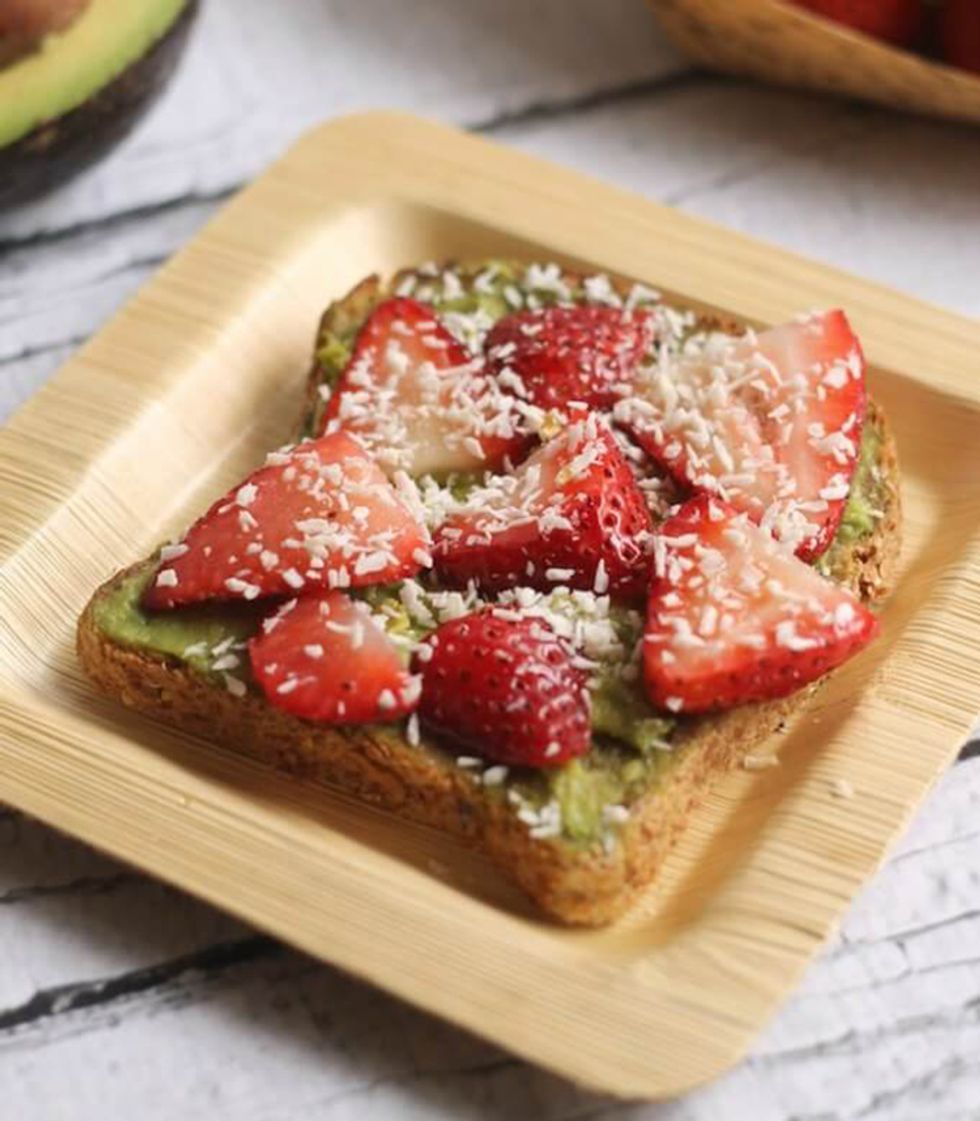 13. Spanish Salmorejo and Avocado Toast
Simple Vegan Blog explains that salmorejo is a "typical Spanish cold soup" similar to gazpacho. This one is made with tomatoes, garlic, bread, vinegar, extra virgin olive oil and salt. Slather all that onto toast and add avocado slices to transport your taste buds.
14. Avocado Toast with Arugula, Chili Flakes, Red Onion and Salsa
Sheer Nutrition brings us this simple, tasty recipe, because tangy arugula and mellow avocado go so well together.
YOU MIGHT ALSO LIKE
WHO: Coffee Does Not Cause Cancer
Dr. Mark Hyman: 7 Ways to Achieve Optimal Brain Health
8 High-Protein Vegan Snacks You Can Take With You Anywhere
EcoWatch Daily Newsletter