13 Best Tweets Celebrating Shell Abandoning Arctic Drilling
Sep. 29, 2015 02:57PM EST
Climate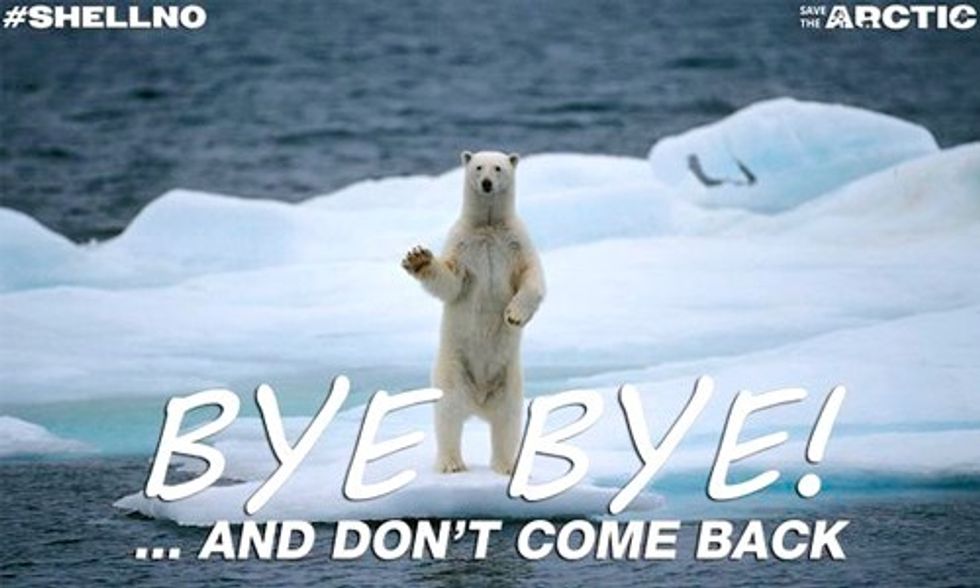 After finding little oil and natural gas, Royal Dutch Shell announced yesterday that it would end its Arctic drilling operations in the Chukchi Sea off Alaska's coast "for the foreseeable future." Shell said the amount of oil and gas found in the Burger J well is "not sufficient to warrant further exploration."
Climate groups, such as Greenpeace and Sierra Club, had spent months taking dramatic public actions to call on President Obama to reverse his decision to allow Shell to drill in the Arctic. There were scores of events all around the country. One of the most notable was in July when 13 Climbers suspended themselves from a Portland, Oregon bridge to block a Shell oil vessel from heading to the Arctic. The 40-hour standoff ended with Greenpeace calling on President Obama to "join the millions of people who are speaking with one voice to say it loud and clear: #ShellNo."
So needless to say, these groups were thrilled when Shell made the announcement. 
Here are the 13 best Tweets from climate activists and organizations celebrating their victory:
1. Reports flooded in that polar bears everywhere hailed Shell's decision:
VICTORY: Shell stops Arctic oil and gas exploration in an "unmitigated defeat." http://t.co/K7QZL63ufQ http://t.co/UJ3MbtqGVl

— Greenpeace USA (@Greenpeace USA)1443469280.0
2. Many people were so happy they just wanted to dance:
Victory dance! Amazing celebrations outside Shell HQ today, after the oil giant leaves the Arctic. #ArcticRoar http://t.co/SJqZRT2Azt

— Greenpeace UK (@Greenpeace UK)1443536263.0
3. Actress Emma Thompson was ecstatic:
Raise your hand if you always wanted Shell to leave the Arctic alone! #ArcticRoar http://t.co/YiVgjwlGPU

— Greenpeace UK (@Greenpeace UK)1443528274.0
4. Polar bears even took to dancing:
Best. Day. Ever! #ArcticVictoryDance Shell stops Arctic oil drilling >> http://t.co/gdmxCRqBm4 http://t.co/Dq4mYNnMQm

— Greenpeace UK (@Greenpeace UK)1443465709.0
5. Patagonia voiced its excitement:
Excited to see @Shell is pulling out of the Arctic. #CrudeAwakaning: http://t.co/uJim1owxMl http://t.co/iQPo5v4cjb

— Patagonia (@Patagonia)1443479408.0
6. All these little ones were thrilled, too:
In celebration of Shell ending its Arctic drilling, here are some baby Arctic animals as your #MondayMotivation! http://t.co/IEXYKHokyc

— Sierra Club (@Sierra Club)1443462377.0
7. "Today's news makes it clear our movement is succeeding in defusing the biggest carbon bombs on the planet," says 350.org:
Arctic drilling has always been a terrible idea. Today, Shell finally acknowledged that. http://t.co/pXMrxe8QH3 http://t.co/IfpdpzRCQJ

— 350 dot org (@350 dot org)1443449598.0
8. After spending $7 billion on the project, Shell pulled out:
Significance of @Shell news is huge. They said oil drilling was inevitable in #arctic. Lucky 7MILLION ppl disagreed! http://t.co/kNRY6piCVY

— Save The Arctic (@Save The Arctic)1443440061.0
9. Okay, last polar bear one, I swear:
[email protected]

pulls out of #ARCTIC without #Arcticoil RT to celebrate with 7 million Arctic defenders worldwide #ShellNO! http://t.co/TYv4gSQdUt

— Greenpeace (@Greenpeace)1443430287.0
10. Even kids have been joining in the fight to protect the Arctic:
Shell abandons plans to drill in the Arctic... for now. http://t.co/LVo6jsa5Vn #arcticdrilling

— Waterkeeper Alliance (@Waterkeeper Alliance)1443459721.0
11. Elon Musk summed it up well the other day in reference to the Volkswagen scandal: Time's up for fossil fuels:
Shell abandons Arctic drilling, others should take note. Time for sustainable solutions: http://t.co/LBWWcA1F5h http://t.co/L2nJENJXsj

— WWF (@WWF)1443521740.0
12. These climate groups agree with Hillary Clinton, who came out against Arctic drilling this summer: It's "not worth the risk:"
Amazing news for the climate! Shell is abandoning Arctic drilling for the foreseeable future http://t.co/N8rtELW1VQ http://t.co/2OeUZqCGJF

— Climate Reality (@Climate Reality)1443469440.0
13. Bottom line: Greenpeace says there's a brighter future ahead:
[email protected]

abandon #Arctic drilling for the "foreseeable future"- We foresee a brighter future. http://t.co/tWIiZK8WBn http://t.co/0veYArFlNZ

— Greenpeace (@Greenpeace)1443443867.0
YOU MIGHT ALSO LIKE
Tesla CEO Elon Musk: VW Scandal Shows Time's Up for Fossil Fuels
​Sweden to Become One of World's First Fossil Fuel-Free Nation​
This Country Is Already Carbon Neutral and Now Plans to Go 100% Organic and Zero-Waste
96 Cities That Are Quitting Fossil Fuels and Moving Toward 100% Renewable Energy
EcoWatch Daily Newsletter