This website uses cookies to ensure you get the best experience while browsing it. By clicking 'Got It' you're accepting these terms.
12 Ways to Get Rid of Weeds Without Using Roundup
Jun. 07, 2016 10:10AM EST
Popular
You don't have to resort to chemical herbicides in order to get rid of invasive weeds. Safer options exist that will work just as effectively. They may take a bit more persistence, but the benefits of organic control methods far outweigh the negative health effects of chemical pesticides.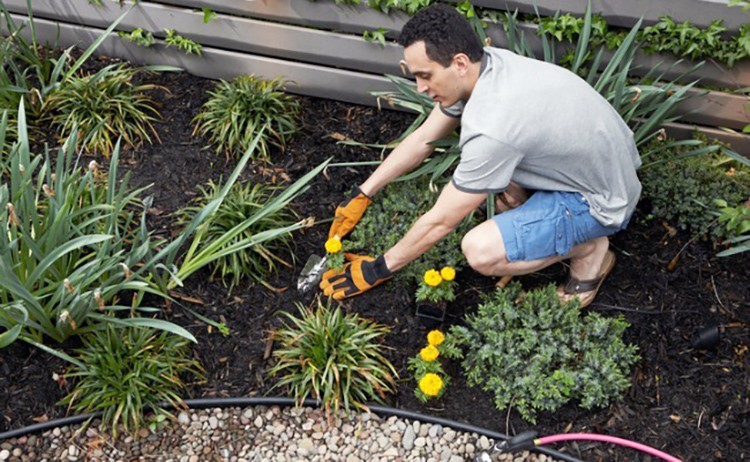 So what's the big deal about Roundup? It's a broad-spectrum systemic herbicide, which means it kills most plants that it comes in contact with. Roundup is also the most widely used herbicide in the world.
Glyphosate is the active herbicidal ingredient in Roundup. Many genetically modified food crops, such as corn and soybeans, have been scientifically designed to be resistant to glyphosate. Farmers can then spray Roundup on their fields and kill all the weeds, leaving only the food crop standing. This greatly simplifies weed control, but it also means the food crops are literally covered with Roundup. And so is any food you eat that's made from these crops, like corn chips, bread and other packaged food.
A study by the Massachusetts Institute of Technology found that glyphosate residue in our food may enhance the damaging effects of other food-borne chemical residues and environmental toxins. This can lead to disruption of normal body functions and the development of diseases such as Parkinson's disease, infertility and cancers.
A French study also found that a "filler" ingredient used in Roundup, polyethoxylated tallowamine, was more deadly to human embryonic, placental and umbilical cord cells than the main herbicidal ingredient glyphosate.
We're just starting to understand the serious long-term health and environmental effects of Roundup and other popular herbicides. The less we use these chemicals, the better. Try some of these effective organic weed-control methods instead.
1. Mulching
Covering the soil with an extra layer of organic matter can smother and inhibit weeds, as well as prevent new seeds from germinating. You can mulch with compost, bark, wood chips, newspaper, cardboard, grass clippings, straw or most other organic matter. But make sure not to get hay, which can have a lot of unwanted seeds. You can also put ground cloth, old shower curtains or other thick material underneath a pathway made of wood chips or gravel to prevent weeds from growing through.
2. Hand-Digging
Manual removal with a shovel, hoe or other tool is an effective spot-treatment for basically all weeds. Many weeds may come back and need to be dug again. But consistent hand-weeding will greatly reduce their populations. When young weeds are promptly dug out, they won't be able to seed and reproduce. And regularly digging up weeds with tap roots, such as dandelions or thistles, will weaken the root and eventually kill the plant.
3. Competition
Weeds can't take hold if there's no space for them. Try planting dense ground covers and perennial plants in ornamental beds. The shade and heavy root systems of trees and shrubs can naturally prevent weeds from growing underneath. If you're battling weeds in your lawn, make sure you use grass varieties appropriate for shade, drought or other difficult areas where a regular lawn might not grow well, leaving openings for unwanted visitors.
4. Regulate Food and Water
The nutrients and irrigation you give your garden will encourage weeds as much as the plants you want to grow. Only give your plants what they need. Well-established trees, shrubs and perennial plants can often do well without a lot of extra fertilizer and irrigation. Vegetables may need a bit more, but you can be selective. Heavy feeders can get extra compost, like squash and cucumbers. However, you can feed crops like root vegetables much less.
5. Solarize
Solarizing involves covering an area of weeds with a heavy plastic sheet. This works best in full sun where the heat will collect under the sheet and literally bake the weeds. Leave the sheet in place for 4 to 6 weeks. You'll know it's done when the weeds underneath are clearly brown and desiccated.
6. Limit Tilling and Digging
Turning over the soil in your vegetable patch or other beds will bring new weed seeds to the surface. Experiment with the no-till method of gardening, where you try to disturb the soil as little as possible. For example, if you're seeding vegetables, only dig down as far as you need to plant the seeds instead of deeply digging or tilling the entire bed. The no-till method has also been shown to improve soil structure and fertility, as well as increase beneficial soil organisms.
7. Corn Gluten Meal
Corn gluten meal is a powdery byproduct of the corn milling process that's been found to prevent weed seeds from germinating. It's often applied to lawns or can be used in other garden areas. It's non-toxic to animals and you can buy certified organic corn gluten meal. If you can't find it in your local garden center, corn gluten meal is available online.
8. Vodka
Try spraying a mix of 1 ounce vodka, 2 cups of water and a couple drops of dish soap on weeds with good sun exposure. This will often dry them out and kill them. It doesn't work well in shady areas. Also be careful not to overspray onto any of your regular plants, the vodka will dry out whatever plants it hits.
9. Vinegar and Salt
Regular 5 percent household vinegar can be used on its own against weeds. It's even better mixed with salt and dish soap. Mix 1 gallon of white vinegar with 1 cup of table salt and 1 tablespoon of liquid dish detergent. Put the mixture into a plastic spray bottle and spray directly on targeted weeds.
10. Soap
The oil in soap naturally breaks down the surface of waxy or hairy weed leaves. Adding a few drops of liquid dish detergent to vinegar or vodka sprays will help it stay on the leaves and have the greatest impact.
11. Boiling Water
Simply boil a kettle of water and pour it over any undesirable weeds to burn them. This works especially well for weeds growing in cracks of pavement or cement. The water will cool as it runs off to the sides of your pavement and won't hurt any plants along the border.
12. Flame Weeding
This involves passing a flame over a weed briefly in order to fatally heat the plant tissues. A flame weeder is typically a wand connected to a propane tank. These may be carried at your local garden center or hardware store. Flaming will only kill the weed parts above the ground, not the roots, so you may need to flame your weeds a few times before they're gone. Clearly, this should not be done during any dry spells when there is a risk of fire. Always follow the safety precautions that come with your flame throwing device.
YOU MIGHT ALSO LIKE
Chemical Safety Reform Bill Headed to Obama's Desk Lets Down Women With and at Risk of Breast Cancer
Nation's First Urban Farming School Teaches Kids to Grow and Cook Their Own Food
EU Fails to Approve 'Technical Extension' for Weed-Killer Glyphosate
EcoWatch Daily Newsletter
Two Sherpa descending from Everest Base Camp, Himalayas, Khumbu, Nepal. Joel Addams / Aurora Photos / Getty Images
Climate change is having a grizzly effect on Mount Everest as melting snow and glaciers reveal some of the bodies of climbers who died trying to scale the world's highest peak.
Navajo Generating Station, Arizona. Wolfgang Moroder / Wikimedia / CC BY-SA 3.0
The Navajo Nation have decided to stop pursuing the acquisition of a beleaguered coal-fired power plant in Arizona, locking in the plant to be taken offline and its associated coal mine to close later this year.
A Navajo Nation Council committee voted 11-9 last week to stop pursuing the purchase of the 2,250-megawatt Navajo Generating Station, which with the Kayenta coal mine provides more than 800 jobs to primarily Navajo and Hopi workers as well as tribal royalties.
A coalition of utilities that own the plant said in 2017 it would cease operations due to increased economic pressure, and the plant's future has proved a flash point for national and regional energy policy and raised larger questions on how Native communities will handle ties to fossil fuel industries as the economy changes.
For a deeper dive:
Arizona Republic, Indian Country Today, AP, WOKV, Farmington Daily Times
For more climate change and clean energy news, you can follow Climate Nexus on Twitter and Facebook, and sign up for daily Hot News.
Related Articles Around the Web
Sir David Attenborough opens Woodberry Wetlands on April 30, 2016 in London, United Kingdom. Danny Martindale / WireImage
An extended version of the Fuxing bullet train at the China National Railway Test Center on Oct. 15, 2018 in Beijing, China. VCG / VCG via Getty Images
By Jeff Turrentine
Is it just us?
Other countries don't seem to have a problem getting their high-speed rail systems on track. This superfast, fuel-efficient form of mass transit is wildly popular throughout Asia and the European Union. Japan's sleek Shinkansen line, the busiest high-speed rail system in the world, carries an estimated 420,000 riders every weekday. In China, the new Fuxing Hao bullet train now hurries more than 100 million passengers a year between Beijing and Shanghai at a top speed of 218 miles an hour, allowing its riders to make the trip of 775 miles — roughly the distance from New York City to Chicago — in about four and a half hours. Spain, Germany and France together have more than 4,500 miles of track dedicated to high-speed rail, over which more than 150 million passengers travel annually.
Ocean Heroes Bootcamp
By Coda Christopherson (11) and Lea Eiders (15)
Growing up in a plastic-free home, I was sheltered from the plastic waste crisis. I (Coda) went to a very progressive school that had vegan lunch items, farm animals and ran on solar power. My mom produces zero-waste events and my dad is a sailor, so we're very passionate about the ocean. When I was nine years old, we moved back to Manhattan Beach, California and I started 3rd grade in a public school. This was the first time I really understood that plastic-free living is not the norm; single-use plastics were everywhere, especially in the cafeteria. Once I recognized this problem, I knew I had to make a difference.
A major California avocado producer issued a voluntary recall of the popular fruit over concerns they could be contaminated with Listeria monocytogenes, USA Today reported.
Henry Avocado issued the recall Saturday after a routine government inspection at its California packing facility turned up positive test results for the bacteria on "environmental samples," the company said in a statement. No illnesses have been reported.
Acting Secretary David Bernhardt visited Watson Hopper Inc., a manufacturer of rigs and oil drilling equipment in Hobbs, New Mexico on Feb. 6, 2019.
Tami A. Heilemann / DOI
Oil executives gathered for a conference laughed about their "unprecedented" access to Trump administration officials, according to a recording obtained by Reveal from the Center for Investigative Reporting.
In the recording, taken at a June 2017 meeting of the Independent Petroleum Association of America (IPAA) at a Ritz-Carlton in Southern California, members expressed excitement about one official in particular: David Bernhardt, who had been nominated that April to be deputy secretary at the Department of Interior (DOI). Bernhardt would be confirmed the following month.
"We know him very well, and we have direct access to him, have conversations with him about issues ranging from federal land access to endangered species, to a lot of issues," IPAA political director Dan Naatz said in the recording.