This website uses cookies to ensure you get the best experience while browsing it. By clicking 'Got It' you're accepting these terms.
12 Ways This Incredibly Healthy Medicinal Herb Benefits Your Body and Brain
Jun. 02, 2016 11:44AM EST
Food
Ashwagandha is an incredibly healthy medicinal herb. It is classified as an "adaptogen," meaning that it can help your body manage stress.
Aswhagandha also provides all sorts of other benefits for your body and brain. For example, it can lower blood sugar levels, reduce cortisol, boost brain function and help fight symptoms of anxiety and depression.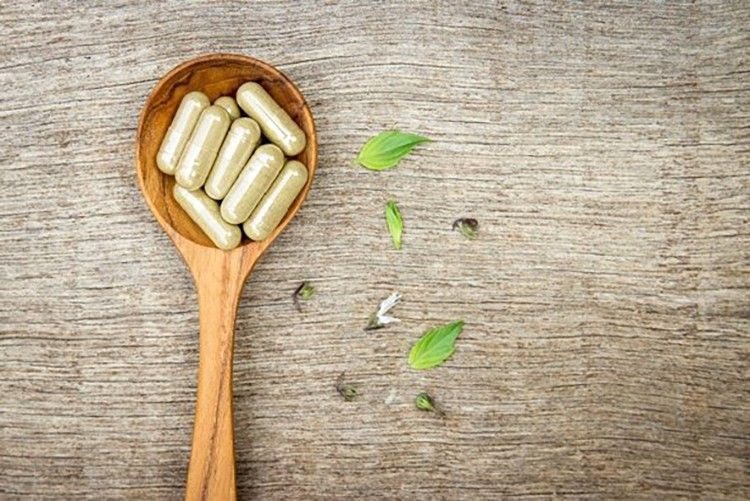 Here are 12 benefits of ashwagandha that are supported by science.
1. It's an Ancient Medicinal Herb
Ashwagandha is one of the most important herbs in Ayurveda, a form of alternative medicine based on Indian principles of natural healing.
It has been used for more than 3,000 years to relieve stress, increase energy levels and improve concentration (1).
"Ashwagandha" is Sanskrit for "smell of the horse," which refers to both its unique smell and ability to increase strength.
Its botanical name is Withania somnifera and it is also known by several other names, including Indian ginseng and winter cherry.
This is what the ashwagandha plant looks like: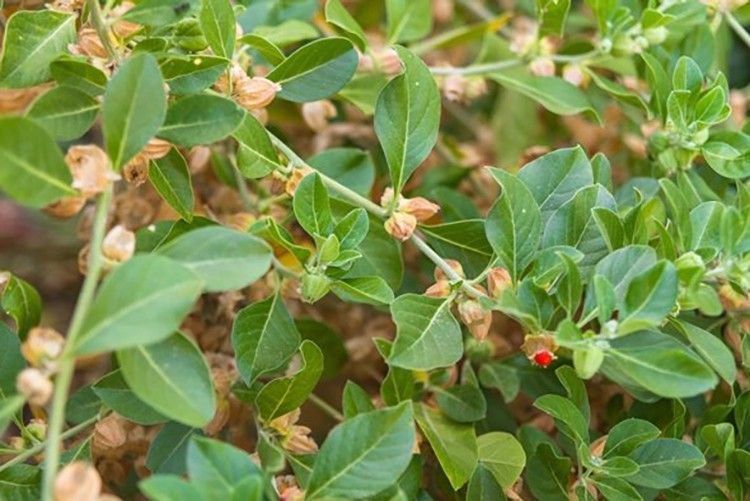 The ashwagandha plant is a small shrub with yellow flowers that's native to India and North Africa. Extracts or powder from the plant's root or leaves are used to treat a variety of conditions.
Many of its health benefits are attributed to the high concentration of withanolides, which have been shown to fight inflammation and tumor growth (1).
Bottom Line: Ashwagandha is a prominent herb in Indian Ayurvedic medicine and has become a popular supplement due to its health benefits.
2. It Can Reduce Blood Sugar Levels
In several studies, ashwagandha has been shown to lower blood sugar levels.
A test-tube study found that it increased insulin secretion and improved insulin sensitivity in muscle cells (2).
Several human studies have confirmed its ability to reduce blood sugar levels in both healthy people and those with diabetes (3, 4, 5, 6).
In one study in people with schizophrenia, those treated with ashwagandha for 4 weeks had an average reduction in fasting blood sugar levels of 13.5 mg/dL, compared to a 4.5 mg/dL reduction in those who received a placebo (5).
What's more, in a small study of 6 people with type 2 diabetes, supplementing with ashwagandha for 30 days lowered fasting blood sugar levels as effectively as an oral diabetes medication (6).
Bottom Line: Ashwagandha may reduce blood sugar levels through its effects on insulin secretion and sensitivity.
3. It Has Anti-Cancer Properties
Animal and test-tube studies have found that ashwagandha helps induce the apoptosis or "programmed cell death" of cancer cells (7).
It also impedes the growth of new cancer cells in several ways (7).
One of these ways is believed to be the generation of reactive oxygen species, which are toxic to cancer cells but not normal cells. Another mechanism causes cancer cells to become less resistant to apoptosis (8).
Animal studies suggest that it may be beneficial for treating several types of cancer, including breast, lung, colon, brain and ovarian cancer (9, 10, 11, 12, 13).
In one study, mice with ovarian tumors treated with ashwagandha alone or in combination with an anti-cancer drug had a 70–80 percent reduction in tumor growth. The treatment also prevented metastasis, the spread of cancer to other organs (13).
Although there are no studies to confirm these results in humans yet, the research to date is encouraging.
Bottom Line: Animal and test-tube studies have shown that it promotes the death of tumor cells and may be effective against several types of cancer.
4. It Can Reduce Cortisol Levels
Cortisol is known as a "stress hormone" because your adrenal glands release it in response to stress and when your blood sugar levels get too low.
Unfortunately, in some cases, cortisol levels may become chronically elevated, which can lead to high blood sugar levels and increased fat storage in the abdomen.
Studies have shown that ashwagandha may help reduce cortisol levels (3, 14, 15).
In a controlled study of chronically stressed adults, the group that supplemented with ashwagandha had significantly greater reductions in cortisol than the control group. The group taking the highest dose had a 30 percent reduction, on average (3).
Bottom Line: Ashwagandha supplements may help lower cortisol levels in chronically stressed individuals.
5. It May Help Reduce Stress and Anxiety
Ashwagandha is perhaps best known for its ability to reduce stress.
Researchers who looked at its effects on rat brains reported that it blocked the stress pathway by regulating chemical signaling in the nervous system (16).
Several controlled human studies have shown that it can effectively reduce symptoms in people with stress and anxiety disorders (14, 17, 18).
In a 60-day study of 64 people with chronic stress, those in the ashwagandha group reported a 69 percent average reduction in anxiety and insomnia, compared to 11 percent in the placebo group (14).
In another study lasting 6 weeks, 88 percent of people who took ashwagandha reported a reduction in anxiety, compared to 50 percent who took a placebo (18).
Bottom Line: Ashwagandha has been shown to reduce stress and anxiety in both animal and human studies.
6. It May Reduce Symptoms of Depression
Although it hasn't been studied much, a couple of studies suggest ashwagandha may help alleviate depression (14, 18).
In a controlled 60-day study in stressed adults, those who took 600 mg per day reported a 79 percent reduction in severe depression. At the same time, the placebo group reported a 10 percent increase (14).
Bottom Line: The limited research available suggests that ashwagandha may help reduce severe depression.
7. It Can Boost Testosterone and Increase Fertility in Men
Ashwagandha supplements may have powerful effects on male hormone levels and reproductive health (15, 19, 20, 21).
In a study of 75 infertile men, the group treated with ashwagandha had an increase in sperm count and motility.
What's more, the treatment led to a significant increase in testosterone levels (21).
The researchers also reported that the group who took the herb experienced increased antioxidant levels in the blood.
In another study, men who received ashwagandha for stress experienced higher antioxidant levels and better sperm quality. After 3 months of treatment, 14 percent of the men's partners had become pregnant (15).
Bottom Line: Ashwagandha helps increase testosterone levels and significantly boosts sperm quality and fertility in men.
8. Ashwagandha May Increase Muscle Mass and Strength
Research has shown that ashwagandha may improve body composition and increase strength (4, 20, 22).
One study's purpose was to determine a safe and effective dosage for ashwagandha. Healthy men who took 750–1250 mg per day had gained muscle mass and lost fat after 30 days (4).
In another study, the ashwagandha group had significantly greater gains in muscle strength and size. It also had more than double the reduction in body fat percentage compared to the placebo group (20).
Bottom Line: The herb has also been shown to increase muscle mass, reduce body fat and increase strength in men.
9. It May Reduce Inflammation
Several animal studies have shown that ashwagandha helps decrease inflammation(23, 24, 25).
Studies in humans have found that it increases the activity of natural killer cells, which are immune cells that fight infection and help you stay healthy (26, 27).
It has also been shown to decrease markers of inflammation, such as C-reactive protein (CRP). This marker is linked to an increased risk of heart disease.
In a controlled study, the group who took 250 mg of ashwagandha daily had a 36 percent average decrease in CRP, compared to a 6 percent decrease in the placebo group (3).
Bottom Line: Ashwagandha has been shown to increase natural killer cell activity and decrease markers of inflammation.
10. It May Lower Cholesterol and Triglycerides
In addition to its anti-inflammatory effects, ashwagandha may help improve heart health by reducing cholesterol and triglyceride levels.
Animal studies have found that it significantly decreases these blood fats.
One study in rats found that it lowered total cholesterol by as much as 53 percent and triglycerides by nearly 45 percent (28).
While controlled human studies have reported less dramatic results, there have still been some impressive improvements in these markers (3, 4, 5, 6).
In a 60-day study of chronically stressed adults, the group taking the highest dosage of ashwagandha experienced a 17 percent decrease in LDL cholesterol and an 11 percent decrease in triglycerides, on average (3).
Bottom Line: Ashwagandha may help reduce the risk of heart disease by decreasing cholesterol and triglyceride levels.
11. It May Improve Brain Function, Including Memory
Test-tube and animal studies suggest that ashwagandha may reduce memory and brain function problems caused by injury or disease (29, 30, 31, 32).
Researchers have shown that it promotes antioxidant activity that protects nerve cells from harmful free radicals.
In one study, epileptic rats treated with ashwagandha had nearly a complete reversal of spatial memory impairment. This was likely caused by a reduction in oxidative stress (32).
Although ashwagandha has traditionally been used to boost memory in Ayurvedic practice, at this point there is only a small amount of human research in this area.
In a controlled study, researchers who gave healthy men 500 mg of the herb daily reported significant improvements in their reaction time and task performance, compared to men who received a placebo (33).
Bottom Line: Ashwagandha supplements may improve brain function, memory, reaction times and the ability to perform tasks.
12. Ashwagandha is Safe for Most People and Widely Available
Ashwagandha appears to be a safe supplement for most people.
However, certain individuals should not take it, including pregnant and breastfeeding women.
People with autoimmune diseases should also avoid ashwagandha unless authorized by a doctor.
This includes people with conditions like rheumatoid arthritis, lupus, Hashimoto's thyroiditis and type 1 diabetes.
Additionally, those on medication for thyroid disease should be careful when taking ashwagandha, as it may potentially increase thyroid hormone levels in some people.
It may also decrease blood sugar and blood pressure levels, so medication dosages may need to be adjusted if you take it.
Ashwagandha dosages in studies typically ranged from 125–1,250 mg daily. In studies where different dosages were taken, the higher dosage usually produced the most dramatic improvements.
If you want to supplement with ashwagandha, look for root extract or powder in 450–500 mg capsules and take it once or twice per day.
It is offered by several supplement manufacturers and available in health food stores, vitamin shops and from various online retailers.
Bottom Line: Although ashwagandha is safe for most people, certain individuals shouldn't use it unless authorized by their doctor. The recommended dosage is 450–500 mg once or twice per day.
Take Home Message
Ashwagandha is a traditional medicinal herb with multiple health benefits.
It can reduce anxiety and stress, help fight depression, boost fertility and testosterone in men and may even boost brain function.
Supplementing with ashwagandha may be an easy and effective way to improve your health and quality of life.
This article was reposted from our media associate Authority Nutrition.
YOU MIGHT ALSO LIKE
31 Incredible Ways to Use Coconut Oil
Protein Shakes Can Help You Lose Weight and Boost Your Metabolism
5 Superfoods You're Probably Not Eating, But Should Be
EcoWatch Daily Newsletter
Bird watching in the U.S. may be a lot harder than it once was, since bird populations are dropping off in droves, according to a new study.
Amazon CEO Jeff Bezos announces the co-founding of The Climate Pledge at the National Press Club on Sept. 19 in Washington, DC. Paul Morigi / Getty Images for Amazon
The day before over 1,500 Amazon.com employees planned a walkout to participate in today's global climate strike, CEO Jeff Bezos unveiled a sweeping plan for the retail and media giant to be carbon neutral by 2040, 10 years ahead of the Paris agreement schedule.
For the past seven years, the Anishinaabe people have been facing the largest tar sands pipeline project in North America. We still are. In these dying moments of the fossil fuel industry, Water Protectors stand, prepared for yet another battle for the water, wild rice and future of all. We face Enbridge, the largest pipeline company in North America, and the third largest corporation in Canada. We face it unafraid and eyes wide open, for indeed we see the future.
The climate crisis often intensifies systems of oppression. Rieko Honma / Stone / Getty Images Plus
By Mara Dolan
We see the effects of the climate crisis all around us in hurricanes, droughts, wildfires, and rising sea levels, but our proximity to these things, and how deeply our lives are changed by them, are not the same for everyone. Frontline groups have been leading the fight for environmental and climate justice for centuries and understand the critical connections between the climate crisis and racial justice, economic justice, migrant justice, and gender justice. Our personal experiences with climate change are shaped by our experiences with race, gender, and class, as the climate crisis often intensifies these systems of oppression.

Lana Del Rey: "call her Doris Doomsday." Darren Gerrish / BFC / Getty Images Entertainment
By Emer McHugh
Popular music has, and always will be, informed by the political and social contexts from which it emerges.
It was early in the morning last Thursday, and Jonathan Butler was standing on the Fred Hartman Bridge, helping 11 fellow Greenpeace activists rappel down and suspend themselves over the Houston Ship Channel. The protesters dangled in the air most of the day, shutting down a part of one of the country's largest ports for oil.
By C.J. Polychroniou
Climate change is by far the most serious crisis facing the world today. At stake is the future of civilization as we know it. Yet, both public awareness and government action lag way behind what's needed to avert a climate change catastrophe. In the interview below, Noam Chomsky and Robert Pollin discuss the challenges ahead and what needs to be done.
Food manufacturer General Mills issued a voluntary recall of more than 600,000 pounds, or about 120,000 bags, of Gold Medal Unbleached All Purpose Flour this week after a sample tested positive for a bacteria strain known to cause illness.