This website uses cookies to ensure you get the best experience while browsing it. By clicking 'Got It' you're accepting these terms.
12 People Fasting for 18 Days Demanding FERC Issue #NoNewPermits
Sep. 11, 2015 10:30AM EST

Twelve members of Beyond Extreme Energy (BXE), ages 19 to 72—from California, Virginia, DC, New York, New Jersey, Connecticut, Nebraska, Michigan and North Carolina—are in the beginning days of a planned 18-day, water-only "Fast for No New Permits" for fossil fuel infrastructure in front of the Federal Energy Regulatory Commission (FERC), a virtual rubber-stamp agency for the fracked gas industry.
Each weekday until Sept. 25 we will be on the sidewalk in front of FERC from 7 a.m. to 6 p.m., leafletting FERC employees—over a thousand of them—as they arrive for or leave from work. We're also passing out leaflets to thousands of others who work or live in the area who walk by.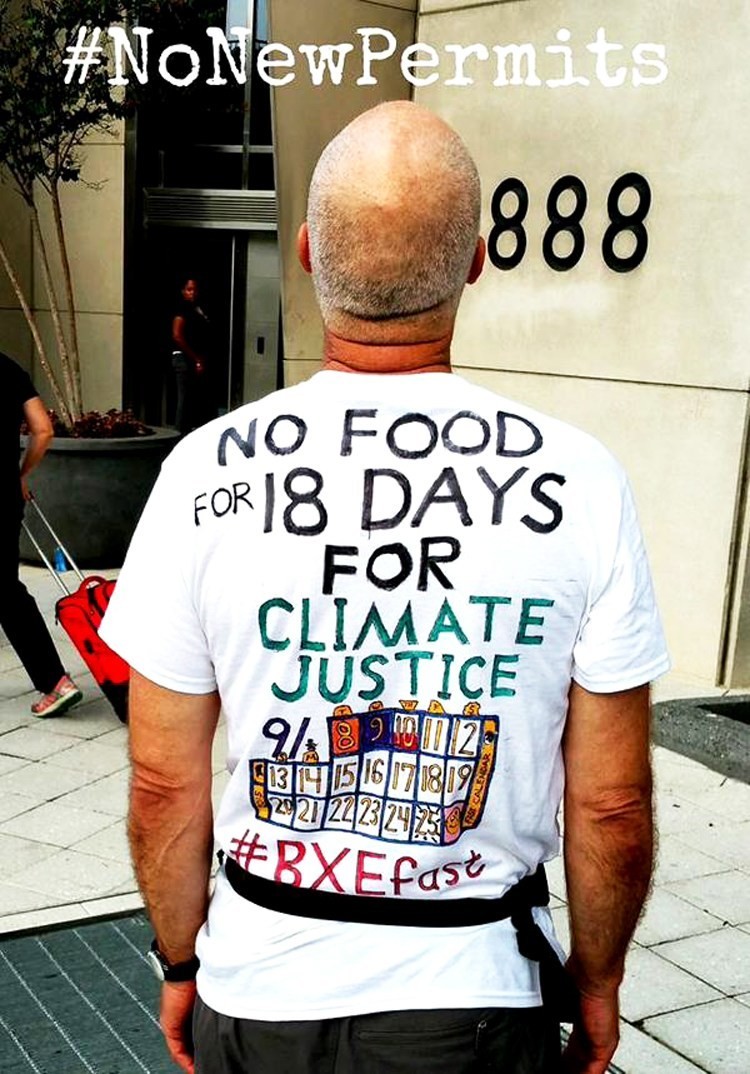 Day three of the No New Permits BXE fast opposing fossil fuel infrastructure. Photo Credit: Beyond Extreme Energy
It's not a very aesthetic area, mostly high-rise office buildings and condominiums. There are some colorful begonias around the FERC building and about 15 young trees growing across the street just three blocks north of Union Station. Also across the street is a 30-foot high stone wall on top of which the red line trains of the DC Metro subway system come by loudly every 10 minutes or so, interrupting any and all street conversations.
For the 12 of us, joined by supporters and people fasting for shorter periods of time, this will be our "home" until Sep. 25, the day after Pope Francis speaks to a joint session of Congress. For some who have slept and will be sleeping here overnight, it's a 24-hour "home."
The first two days have actually been pretty brutal because of the high humidity and temperatures in the low- to mid-90's. The heat index where we are could well have been more than 100 degrees because of all the concrete around us.
Every morning and late afternoon we check in with each other to see how we are doing and to finalize plans for the day. This morning one of the older fasters reported that he had almost fainted when he stood up too quickly; as I've learned from past fasts, it's essential during an action like this to move deliberately and consciously, very aware of how your body is dealing with the lack of food.
Why are we putting ourselves through this?
One reason is the upcoming Sept. 22 - Sept. 27 visit of Pope Francis to the mid-Atlantic region of the U.S. BXE is very supportive of his repeated calls for action on climate, environmental and social justice. Some of us have been reading the Pope's historic encyclical, "Laudato Si', On Care for Our Common Home," on the FERC sidewalk. We see our fast and a series of other activities in DC leading up to and after the Pope's speech before Congress on Sept. 24 as part of the process of forging a stronger and deeper climate justice movement, one capable of meeting the urgent challenges of this do-or-die decade.
We are fasting because the movement which we are representing has tried every other means available to get FERC to stop being a rubber-stamp agency for fracked gas infrastructure (pipelines, compressor stations, storage and export terminals). Fasts and hunger strikes are usually undertaken when the oppressors have refused to be moved and more serious tactics must be utilized.
We are calling upon FERC to put renewables first. It must break its alliance with the fossil fuel industry and issue "No New Permits" for fossil fuel infrastructure until it has prioritized wind, solar and renewable energy.
What do we hope to accomplish? We hope our message will reach FERC employees, as well as the general public and Pope Francis. We are openly calling for whistleblowers. We want to strengthen the movement fighting FERC's corrupt ways and the overall movement for climate justice and positive social change.
BXE during this fast is also working to make connections between issues. Struggles for justice are related. For example, we support the Black Lives Matter movement and on one of the days of our fast we will be doing public education in front of FERC about the importance of their efforts.
How can you be supportive of this Fast for No New Permits?
1. Join us at our fast in Washington, DC or where you live, for anywhere from one day to a couple of weeks. More information, including on how to sign up can be found here.
2. Come to DC for the actions happening Sept. 22 - Sept. 25. The big one is the morning of Sept. 24 on the national mall, between 3rd and 7th Street and near the U.S. Capitol. There will be speakers and music before and after the Pope's 9:30 a.m. address to Congress; the Pope's speech will be broadcast to everyone on the mall and his office has announced that he will come out to address the crowd after he speaks inside.
On Sept. 25 at Noon in front of FERC, we will end our fast. Plans are still developing, but we intend to make an effort to deliver five copies of the Pope's encyclical to the five FERC commissioners. We will walk in a serious procession around the FERC building. We will hear from fasters about what this 18 days without food has meant to them.
3. Participate in the "No New Permits Solidarity Fasting Quilt" project. We are putting together a quilt with stories of local struggles against FERC or for justice, as well as drawings and words from people who are fasting about why they are doing so. Squares will be 12 inches on each side, with an additional inch on each side for when they are all put together to make a beautiful mosaic of our movement. Any color fabric can be used. They should be sent no later than Sept. 16 to CCAN, 6930 Carroll Ave., Suite 720, Takoma Park, Maryland. 20912, Att: Quilt project.
4. And finally, you can call FERC at 1-888-715-9918 to demand that they stop being a rubber stamp for the fossil fuel industry, prioritize renewables and issue no new permits for fossil fuel infrastructure until these changes are made.
Let's rise up now in defense of and in care of our common home!
Ted Glick is the National Campaign Coordinator of the Chesapeake Climate Action Network. Past writings and other information can be found at http://tedglick.com and he can be followed on twitter at http://twitter.com/jtglick.
YOU MIGHT ALSO LIKE
Koch Brothers: Apocalyptical Forces of Ignorance and Greed, Says RFK Jr.
28 Arrested Saying: 'Pope Francis, We Hear You'
One of the World's Largest Universities Divests From Coal and Oil Sands
EcoWatch Daily Newsletter
Mizina / iStock / Getty Images
Oats are widely regarded as one of the healthiest grains you can eat, as they're packed with many important vitamins, minerals, and fiber.
JPMorgan Chase building in New York City. Ben Sutherland / CC BY 2.0
By Sharon Kelly
A report published Wednesday names the banks that have played the biggest recent role in funding fossil fuel projects, finding that since 2016, immediately following the Paris agreement's adoption, 33 global banks have poured $1.9 trillion into financing climate-changing projects worldwide.
Sriram Madhusoodanan of Corporate Accountability speaking on conflict of interest demand of the People's Demands at a defining action launching the Demands at COP24. Corporate Accountability
By Patti Lynn
2018 was a groundbreaking year in the public conversation about climate change. Last February, The New York Times reported that a record percentage of Americans now believe that climate change is caused by humans, and there was a 20 percentage point rise in "the number of Americans who say they worry 'a great deal' about climate change."
The head of England's Environment Agency has urged people to stop watering their lawns as a climate-induced water shortage looms. Pexels
England faces an "existential threat" if it does not change how it manages its water, the head of the country's Environment Agency warned Tuesday.
Pexels
By Jessica Corbett
A new analysis revealed Tuesday that over the past two decades heat records across the U.S. have been broken twice as often as cold ones—underscoring experts' warnings about the increasingly dangerous consequences of failing to dramatically curb planet-warming emissions.
A flock of parrots in Telegraph Hill, San Francisco.
~dgies / Flickr
By Madison Dapcevich
Ask any resident of San Francisco about the waterfront parrots, and they will surely tell you a story of red-faced conures squawking or dive-bombing between building peaks. Ask a team of researchers from the University of Georgia, however, and they will tell you of a mysterious string of neurological poisonings impacting the naturalized flock for decades.
Fire burns in the North Santiam State Recreational Area on March 19. Oregon Department of Forestry
An early-season wildfire near Lyons, Oregon burned 60 acres and forced dozens of homes to evacuate Tuesday evening, the Oregon Department of Forestry (ODF) said, as KTVZ reported.
The initial cause of the fire was not yet known, but it has been driven by the strong wind and jumped the North Santiam River, The Salem Statesman Journal reported. As of Tuesday night, it threatened around 35 homes and 30 buildings, and was 20 percent contained.
Edwin Hardeman is the plaintiff in the first U.S. federal trial claiming that Roundup causes cancer. NOAH BERGER / AFP / Getty Images
A second U.S. jury has ruled that Roundup causes cancer.
The unanimous verdict was announced Tuesday in San Francisco in the first federal case to be brought against Monsanto, now owned by Bayer, alleging that repeated use of the company's glyphosate-containing weedkiller caused the plaintiff's cancer. Seventy-year-old Edwin Hardeman of Santa Rosa, California said he used Roundup for almost 30 years on his properties before developing non-Hodgkin's lymphoma.
The decision comes less than a year after a jury awarded $289 million to Bay-area groundskeeper Dewayne Johnson over similar claims. The amount was later reduced to $78 million.
"Today's verdict reinforces what another jury found last year, and what scientists with the state of California and the World Health Organization have concluded: Glyphosate causes cancer in people," Environmental Working Group President Ken Cook said in a statement. "As similar lawsuits mount, the evidence will grow that Roundup is not safe, and that the company has tried to cover it up."
Judge Vince Chhabria has split Hardeman's trial into two phases. The first, decided Tuesday, focused exclusively on whether or not Roundup use caused the plaintiff's cancer. The second, to begin Wednesday, will assess if Bayer is liable for damages.

"We are disappointed with the jury's initial decision, but we continue to believe firmly that the science confirms glyphosate-based herbicides do not cause cancer," Bayer spokesman Dan Childs said in a statement reported by The Guardian. "We are confident the evidence in phase two will show that Monsanto's conduct has been appropriate and the company should not be liable for Mr. Hardeman's cancer."
Some legal experts said that Chhabria's decision to split the trial was beneficial to Bayer, Reuters reported. The company had complained that the jury in Johnson's case had been distracted by the lawyers' claims that Monsanto had sought to mislead scientists and the public about Roundup's safety.

However, a remark made by Chhabria during the trial and reported by The Guardian was blatantly critical of the company.
"Although the evidence that Roundup causes cancer is quite equivocal, there is strong evidence from which a jury could conclude that Monsanto does not particularly care whether its product is in fact giving people cancer, focusing instead on manipulating public opinion and undermining anyone who raises genuine and legitimate concerns about the issue," he said.
Many regulatory bodies, including the U.S. Environmental Protection Agency, have ruled that glyphosate is safe for humans, but the World Health Organization's International Agency for Research on Cancer found it was "probably carcinogenic to humans" in 2015. A university study earlier this year found that glyphosate use increased cancer risk by as much as 41 percent.
Hardeman's lawyers Jennifer Moore and Aimee Wagstaff said they would now reveal Monsanto's efforts to mislead the public about the safety of its product.
"Now we can focus on the evidence that Monsanto has not taken a responsible, objective approach to the safety of Roundup," they wrote in a statement reported by The Guardian.
Hardeman's case is considered a "bellwether" trial for the more than 760 glyphosate cases Chhabria is hearing. In total, there are around 11,200 such lawsuits pending in the U.S., according to Reuters.
University of Richmond law professor Carl Tobias told Reuters that Tuesday's decision showed that the verdict in Johnson's case was not "an aberration," and could possibly predict how future juries in the thousands of pending cases would respond.