This website uses cookies to ensure you get the best experience while browsing it. By clicking 'Got It' you're accepting these terms.
12 People Blockade Entrance to Compressor Station Protesting Methane Gas Storage Project
Oct. 23, 2014 06:12PM EST
Energy
A dozen people put their bodies on the line today in a last-resort protest to stop a major gas storage expansion project that has been authorized to begin construction tomorrow on the shore of Seneca Lake, the largest of New York's Finger Lakes. The protesters formed a human blockade in front of the Texas-based Crestwood Midstream company gate, shutting down the Finger Lakes facility from 10 a.m. to 5 p.m. today.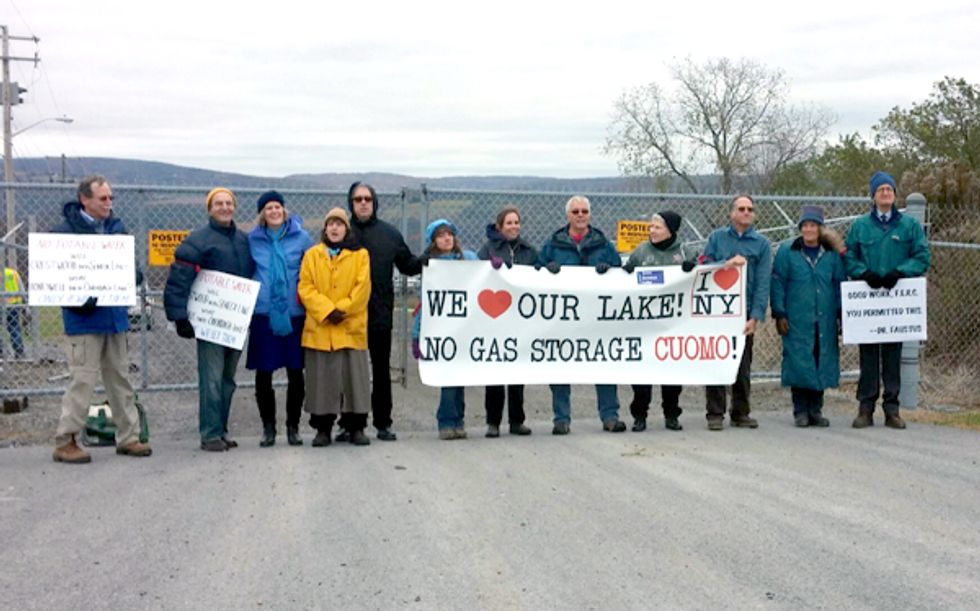 A larger rally and the continuation of the human blockade and protest will take place tomorrow, Oct. 24, starting at 10 a.m. at the gates of the Crestwood compressor station site on Seneca Lake.
The "WE ARE SENECA LAKE" actions are taking place to protest the methane gas storage expansion project that will store highly pressurized, explosive gas in abandoned salt caverns on the west side of Seneca Lake.
"Seneca Lake is a source of drinking water for 100,000 people and a source of economic prosperity for the whole region, not a gas station for fracking operations," said renowned biologist and author Sandra Steingraber, PhD, one of the residents participating in the human blockade. "It's a place for tourists, wineries, farms and families. Speaking with our bodies in an act of civil disobedience is a measure of last recourse to protect our home, our water, and our local economy—with our bodies and our voices, telling Texas-based Crestwood to go home!"
This proposed project has faced unparalleled public opposition due to unresolved questions about geological instabilities, fault lines, possible salinization of the lake and public health concerns. Even though Capital New York investigation revealed this month that Gov. Cuomo's Department of Environmental Conservation (DEC) excised references to the risks of underground gas storage from a 2011 federal report on methane contamination of drinking water and has allowed key data to remain hidden, Crestwood still received federal approval to move forward with the construction of this methane gas storage project.
"Crestwood is threatening our water, our local economy and our families," said Doug Couchon of Elmira, another resident participating in today's blockade. "We've tried everything to stop this disastrous project, and now peaceful civil disobedience is our last resort."
Protestors are outraged that Crestwood was given approval by the Federal Energy Regulatory Commission to store two billion cubic feet of methane (natural gas) in the caverns along the western shore of Seneca Lake where the New York State DEC temporarily halted plans to stockpile propane and butane (LPG) due to ongoing concerns for safety, health and the environment.
The project is opposed by more than 200 businesses, more than 60 wineries, 11 municipalities (including neighboring Watkins Glen) and thousands and thousands of residents in the Finger Lakes region who are concerned about the threat it poses to human health, drinking water and the local economy, including the tourism industry. A recent report on the state's grape and wine industry showed that it contributes $4.8 billion to the New York State economy every year and generates more than 5.2 million wine-related tourism visits.
"As we literally put our bodies on the line, we once again call on President Obama, Governor Cuomo, Senator Schumer, Senator Gillibrand and Congressman Reed to do what's right and step in and stop this terrible project from ruining the heart of the Finger Lakes," said Watkins Glen resident Lyn Gerry who participated in today's blockade.
YOU MIGHT ALSO LIKE
FERC Approves Methane Storage Project in Finger Lakes Region of New York
Scientists Say Fracking Makes Climate Change Worse, Not Better
EcoWatch Daily Newsletter
Investing in grid infrastructure would enable utilities to incorporate modern technology, making the grid more resilient and flexible. STRATMAN2 / FLICKR
By Elliott Negin
The Royal Swedish Academy of Sciences' recent decision to award the 2019 Nobel Prize in Chemistry to scientists who developed rechargeable lithium-ion batteries reminded the world just how transformative they have been. Without them, we wouldn't have smartphones or electric cars. But it's their potential to store electricity generated by the sun and the wind at their peak that promises to be even more revolutionary, reducing our dependence on fossil fuels and protecting the planet from the worst consequences of climate change.
Two Javan rhinos deep in the forests of Ujung Kulon National Park, the species' last habitat on Earth. Sugeng Hendratno / WWF
The global population of the critically endangered Javan rhinoceros has increased to 72 after four new calves were spotted in the past several months.
A tiger looks out from its cage at a new resort and zoo in the eastern Lao town of Tha Bak on Dec. 5, 2018. Karl Ammann believes the "zoo" is really a front for selling tigers. Terrence McCoy / The Washington Post / Getty Images
Are tigers extinct in Laos?
That's the conclusion of a detailed new study that found no evidence wild tigers still exist in the country.
A group of scientists is warning that livestock production must not expand after 2030 for the world to stave off ecological disaster.
The largest wetland in Africa is in the South Sudan. George Steinmetz / Corbis Documentary / Getty Images Plus
Methane emissions are a far more powerful greenhouse gas than carbon dioxide – about 28 times more powerful. And they have been rising steadily since 2007. Now, a new study has pinpointed the African tropics as a hot spot responsible for one-third of the global methane surge, as Newsweek reported.