12 People Blockade Entrance to Compressor Station Protesting Methane Gas Storage Project
A dozen people put their bodies on the line today in a last-resort protest to stop a major gas storage expansion project that has been authorized to begin construction tomorrow on the shore of Seneca Lake, the largest of New York's Finger Lakes. The protesters formed a human blockade in front of the Texas-based Crestwood Midstream company gate, shutting down the Finger Lakes facility from 10 a.m. to 5 p.m. today.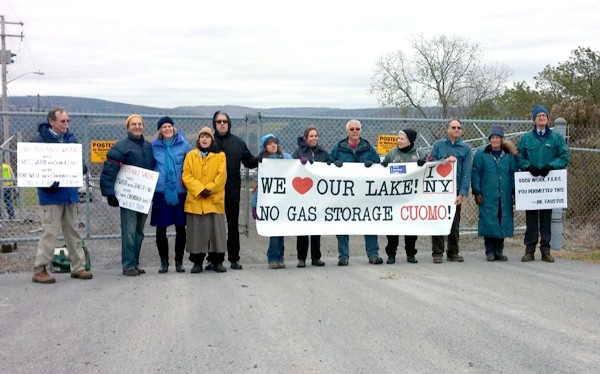 A larger rally and the continuation of the human blockade and protest will take place tomorrow, Oct. 24, starting at 10 a.m. at the gates of the Crestwood compressor station site on Seneca Lake.
The "WE ARE SENECA LAKE" actions are taking place to protest the methane gas storage expansion project that will store highly pressurized, explosive gas in abandoned salt caverns on the west side of Seneca Lake.
"Seneca Lake is a source of drinking water for 100,000 people and a source of economic prosperity for the whole region, not a gas station for fracking operations," said renowned biologist and author Sandra Steingraber, PhD, one of the residents participating in the human blockade. "It's a place for tourists, wineries, farms and families. Speaking with our bodies in an act of civil disobedience is a measure of last recourse to protect our home, our water, and our local economy—with our bodies and our voices, telling Texas-based Crestwood to go home!"
This proposed project has faced unparalleled public opposition due to unresolved questions about geological instabilities, fault lines, possible salinization of the lake and public health concerns. Even though Capital New York investigation revealed this month that Gov. Cuomo's Department of Environmental Conservation (DEC) excised references to the risks of underground gas storage from a 2011 federal report on methane contamination of drinking water and has allowed key data to remain hidden, Crestwood still received federal approval to move forward with the construction of this methane gas storage project.
"Crestwood is threatening our water, our local economy and our families," said Doug Couchon of Elmira, another resident participating in today's blockade. "We've tried everything to stop this disastrous project, and now peaceful civil disobedience is our last resort."
Protestors are outraged that Crestwood was given approval by the Federal Energy Regulatory Commission to store two billion cubic feet of methane (natural gas) in the caverns along the western shore of Seneca Lake where the New York State DEC temporarily halted plans to stockpile propane and butane (LPG) due to ongoing concerns for safety, health and the environment.
The project is opposed by more than 200 businesses, more than 60 wineries, 11 municipalities (including neighboring Watkins Glen) and thousands and thousands of residents in the Finger Lakes region who are concerned about the threat it poses to human health, drinking water and the local economy, including the tourism industry. A recent report on the state's grape and wine industry showed that it contributes $4.8 billion to the New York State economy every year and generates more than 5.2 million wine-related tourism visits.
"As we literally put our bodies on the line, we once again call on President Obama, Governor Cuomo, Senator Schumer, Senator Gillibrand and Congressman Reed to do what's right and step in and stop this terrible project from ruining the heart of the Finger Lakes," said Watkins Glen resident Lyn Gerry who participated in today's blockade.
YOU MIGHT ALSO LIKE
FERC Approves Methane Storage Project in Finger Lakes Region of New York
Scientists Say Fracking Makes Climate Change Worse, Not Better
A coalition of conservation groups and others announced Thursday that a historic number of comments and petitions of support have been submitted to the U.S. Department of the Interior in support of Bears Ears National Monument. Despite the entirely inadequate 15-day comment period ending on May 26, more than 685,000 comments in support of Bears Ears National Monument have been collected.
Keep reading...
Show less
Rink Glacier in western Greenland, with a meltwater lake visible center. NASA/OIB
Scientists have had their eyes on Greenland as its iconic glaciers have begun disappearing due to a warming climate. But, what they didn't expect to see was a whole new type of melting.
Keep reading...
Show less
Mountain View Fire
By Lena Moffitt
An oil tanker in Mead, Colorado exploded, killing one and injuring three on Thursday. Authorities are continuing to investigate the cause of the explosion.
Keep reading...
Show less
Banner created by Alliance for Climate Education
Keep reading...
Show less
Twenty-two GOP senators sent a letter Thursday urging Donald Trump to pull out of the Paris agreement. They argued remaining in the deal could "upend" the administration's ability "to fulfill its goal of rescinding the Clean Power Plan."
Keep reading...
Show less
By Cheryl Johncox
The Federal Energy Regulatory Commission (FERC) rejected on Thursday Energy Transfer Partners' request to resume horizontal directional drilling at two sites for its Rover fracked gas pipeline. This rejection comes after numerous leaks into Ohio's wetlands, and Clean Air and Clean Water act violations. FERC has halted the process at only eight locations of the 32 where drilling is taking place under Ohio's wetlands and streams.
Keep reading...
Show less
By Nadia Prupis
A majority of people in eight countries say they are ready to change their lifestyles if it would prevent climate catastrophe, a survey on global threats released Wednesday found.
Keep reading...
Show less
May. 25, 2017 01:55PM EST
Bill Maher is sick of billionaires' obsession with Mars, more like "Mars-a-Lago," he said.
In a new animation produced by ATTN:, the popular talk show host of Real Time, discusses the perils of our planet, including how "climate change is killing us."
Keep reading...
Show less