This website uses cookies to ensure you get the best experience while browsing it. By clicking 'Got It' you're accepting these terms.
12 Must-Read Quotes by Bill Nye the Science Guy
Jan. 22, 2015 02:49PM EST
Climate
Bill Nye has been vocal in combatting attacks on science from climate deniers in Congress to his advocacy for GMO labeling. He even did a hilarious bit with John Oliver on how absurd it is that the science on climate change is inconclusive. His recently published book, Undeniable: Evolution and the Science of Creation, goes beyond the debate between evolution and creationism to discuss the nature of science itself, which unfortunately has come under serious threat for political gain. Never fear, Bill Nye is here! Here are 12 worth reading quotes: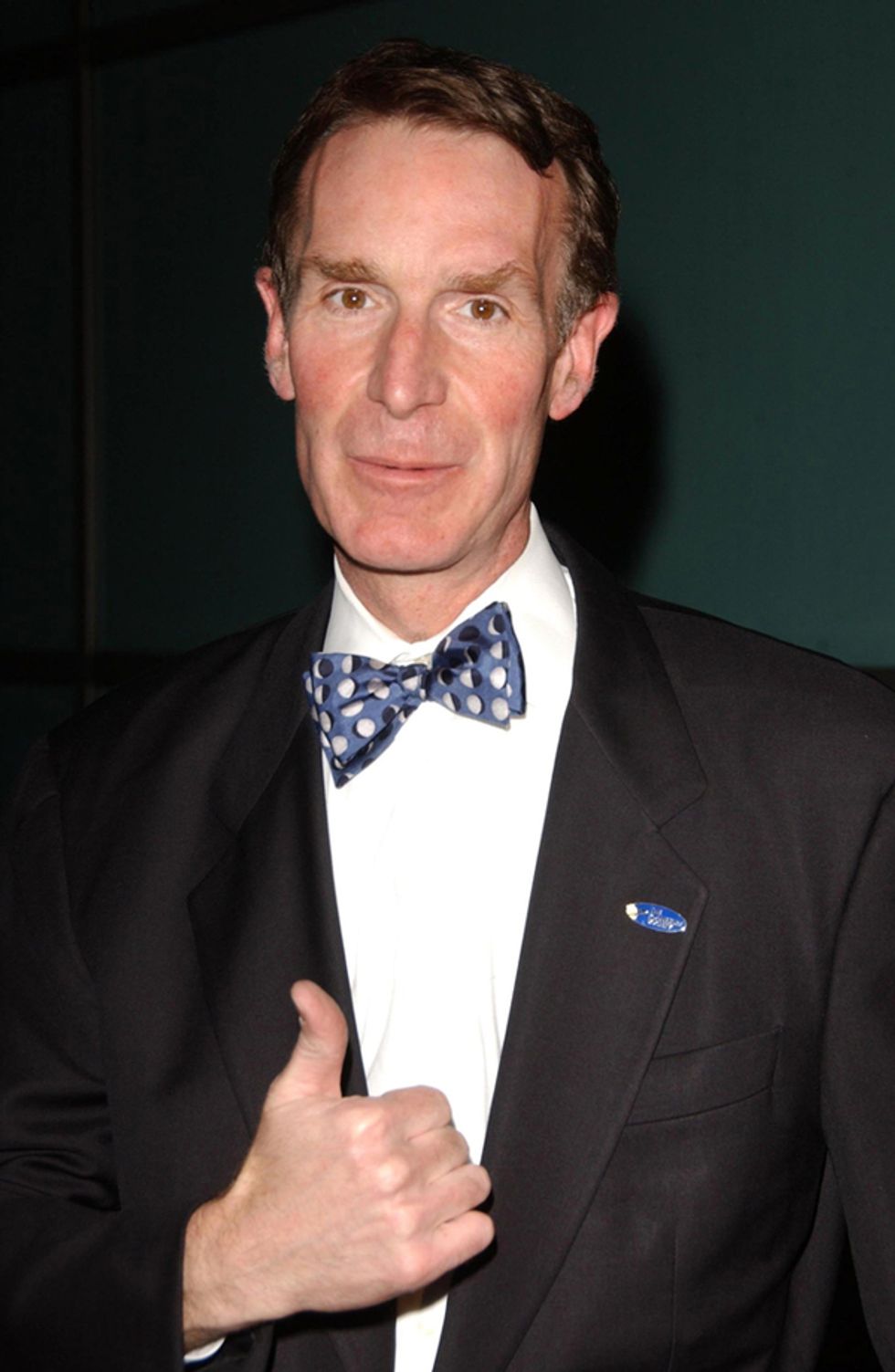 s_bukley
/
Shutterstock.com
1. "Science is the key to our future, and if you don't believe in science, then you're holding everybody back. And it's fine if you as an adult want to run around pretending or claiming that you don't believe in evolution, but if we educate a generation of people who don't believe in science, that's a recipe for disaster. We talk about the Internet. That comes from science. Weather forecasting. That comes from science. The main idea in all of biology is evolution. To not teach it to our young people is wrong."
2. "Just a little climate change. Nothing to worry about."
3. "To leave the world better than you found it, sometimes you have to pick up other people's trash."
4. "What happens to other species also happens to us."
5. "The naysayers are not only casting doubt on science and nonbelievers; they are also ignoring the billions of non-conflicted believers around the world, dismissing their views as unworthy."
6. "It's not one person versus the other person [in the climate science debate], it's 97 people versus three people."
7. "I often reflect on what an extraordinary time (pun intended) it is to be alive here in the beginning of the twenty-first century. It took life billions of years to get to this point. It took humans thousands of years to piece together a meaningful understanding of our cosmos, our planet and ourselves. Think how fortunate we are to know this much. But think also of all that's yet to be discovered. Here's hoping the deep answers to the deep questions—from the nature of consciousness to the origin of life—will be found in not too much more time."
8. "We are a result of evolution, and therefore so are our creations—both the not-so-good and very good. It's glorious."
9. "You don't need to be a full-time climate scientist to understand [this level of climate science]."
10. "It's not that the world hasn't had more carbon dioxide. It's not that the world hasn't been warmer. The problem is the speed at which it's happening. We are inducing a sixth mass extinction event kind of by accident. And we don't want to be the "extinctee"—if I may coin a term."
11. "To have a generation of science students brought up without awareness of climate change is just a formula for disaster. Everybody kind of knows this."
12. "That living things change from generation to generation through a process that Charles Darwin and Alfred Wallace called natural selection or descent with modification—those are true things. Those are facts. And tectonic plates move. That's a fact. And the world is getting warmer because of humans. That's a fact."
YOU MIGHT ALSO LIKE
John Oliver and Bill Nye Put the Climate Change Debate to Rest
Must-See Video: Jon Stewart Tackles Climate Deniers in Congress
EcoWatch Daily Newsletter
Farm waste being prepared for composting. USDA / Lance Cheung

By Tim Lydon
Can the United States make progress on its food-waste problems? Cities like San Francisco — and a growing list of actions by the federal government — show that it's possible.
Pexels
By C. Michael White
More than two-thirds of Americans take dietary supplements. The vast majority of consumers — 84 percent — are confident the products are safe and effective.
The common giant tree frog from Madagascar is one of many species impacted by recent climate change. John J. Wiens /
EurekAlert!
The human-caused climate crisis could cause the extinction of 30 percent of the world's plant and animal species by 2070, even accounting for species' abilities to disperse and shift their niches to tolerate hotter temperatures, according to a study published this week in the journal Proceedings of the National Academy of Sciences.

SolStock / Moment / Getty Images

By Tyler Wells Lynch
For years, Toni Genberg assumed a healthy garden was a healthy habitat. That's how she approached the landscaping around her home in northern Virginia. On trips to the local gardening center, she would privilege aesthetics, buying whatever looked pretty, "which was typically ornamental or invasive plants," she said. Then, in 2014, Genberg attended a talk by Doug Tallamy, a professor of entomology at the University of Delaware. "I learned I was actually starving our wildlife," she said.