12 Must-Read Quotes by Bill Nye the Science Guy
Jan. 22, 2015 03:49PM EST
Climate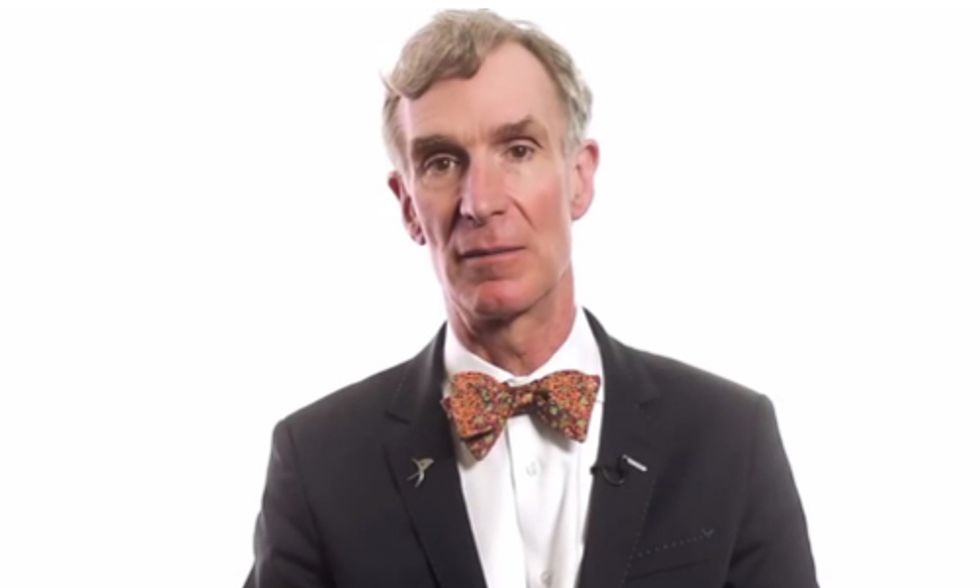 Bill Nye has been vocal in combatting attacks on science from climate deniers in Congress to his advocacy for GMO labeling. He even did a hilarious bit with John Oliver on how absurd it is that the science on climate change is inconclusive. His recently published book, Undeniable: Evolution and the Science of Creation, goes beyond the debate between evolution and creationism to discuss the nature of science itself, which unfortunately has come under serious threat for political gain. Never fear, Bill Nye is here! Here are 12 worth reading quotes: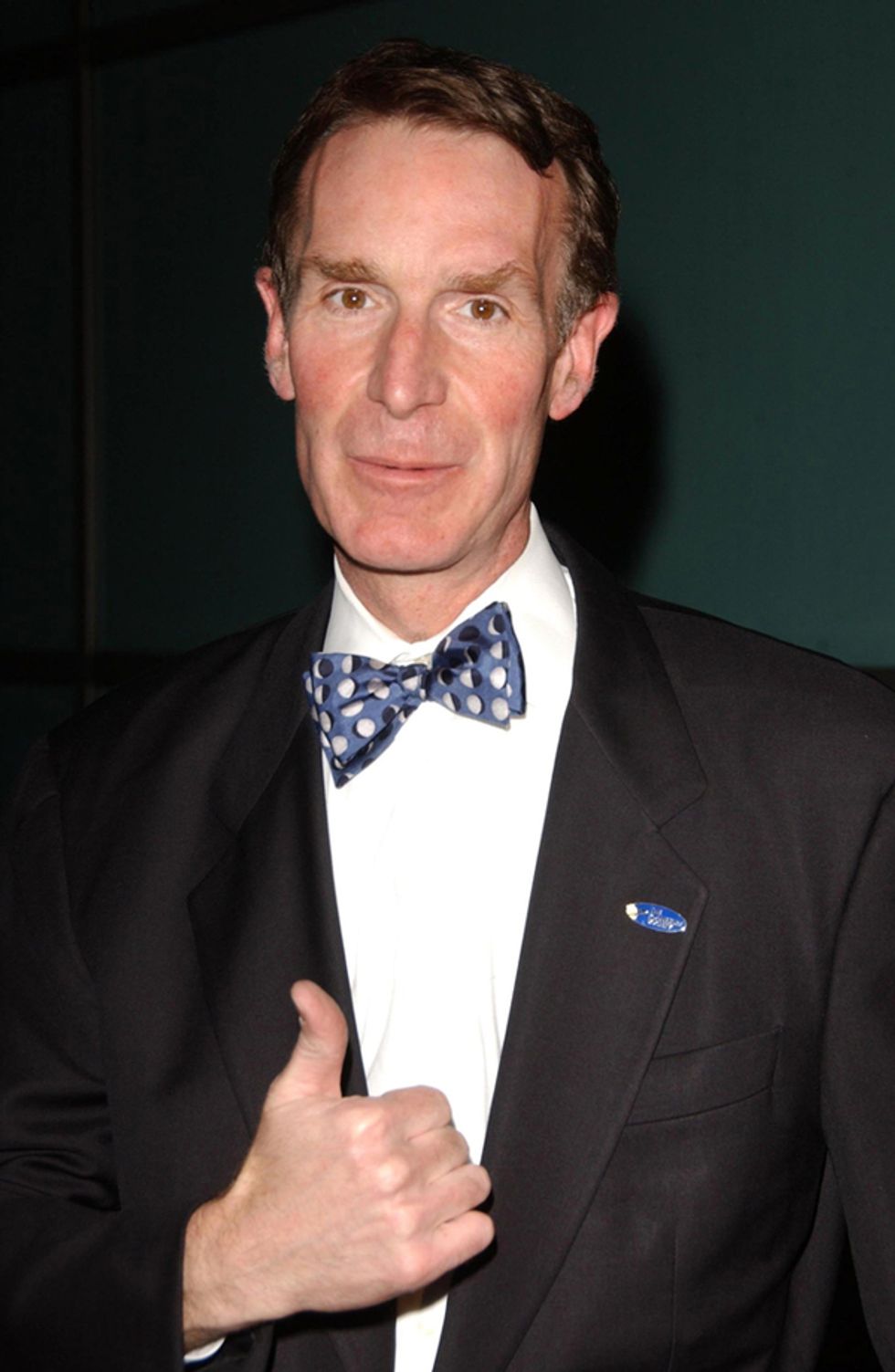 s_bukley
/
Shutterstock.com
1. "Science is the key to our future, and if you don't believe in science, then you're holding everybody back. And it's fine if you as an adult want to run around pretending or claiming that you don't believe in evolution, but if we educate a generation of people who don't believe in science, that's a recipe for disaster. We talk about the Internet. That comes from science. Weather forecasting. That comes from science. The main idea in all of biology is evolution. To not teach it to our young people is wrong."
2. "Just a little climate change. Nothing to worry about."
3. "To leave the world better than you found it, sometimes you have to pick up other people's trash."
4. "What happens to other species also happens to us."
5. "The naysayers are not only casting doubt on science and nonbelievers; they are also ignoring the billions of non-conflicted believers around the world, dismissing their views as unworthy."
6. "It's not one person versus the other person [in the climate science debate], it's 97 people versus three people."
7. "I often reflect on what an extraordinary time (pun intended) it is to be alive here in the beginning of the twenty-first century. It took life billions of years to get to this point. It took humans thousands of years to piece together a meaningful understanding of our cosmos, our planet and ourselves. Think how fortunate we are to know this much. But think also of all that's yet to be discovered. Here's hoping the deep answers to the deep questions—from the nature of consciousness to the origin of life—will be found in not too much more time."
8. "We are a result of evolution, and therefore so are our creations—both the not-so-good and very good. It's glorious."
9. "You don't need to be a full-time climate scientist to understand [this level of climate science]."
10. "It's not that the world hasn't had more carbon dioxide. It's not that the world hasn't been warmer. The problem is the speed at which it's happening. We are inducing a sixth mass extinction event kind of by accident. And we don't want to be the "extinctee"—if I may coin a term."
11. "To have a generation of science students brought up without awareness of climate change is just a formula for disaster. Everybody kind of knows this."
12. "That living things change from generation to generation through a process that Charles Darwin and Alfred Wallace called natural selection or descent with modification—those are true things. Those are facts. And tectonic plates move. That's a fact. And the world is getting warmer because of humans. That's a fact."
YOU MIGHT ALSO LIKE
John Oliver and Bill Nye Put the Climate Change Debate to Rest
Must-See Video: Jon Stewart Tackles Climate Deniers in Congress
A new report urges immediate climate action to control global warming. John W Banagan / Getty Images
A new report promoting urgent climate action in Australia has stirred debate for claiming that global temperatures will rise past 1.5 degrees Celsius in the next decade.
EcoWatch Daily Newsletter
Winegrowers check vines during the burning of anti-frost candles in the Luneau-Papin wine vineyard in Le Landreau, near Nantes, western France, on April 12, 2021. SEBASTIEN SALOM-GOMIS / AFP via Getty Images
French winemakers are facing devastating grape loss from the worst frost in decades, preceded by unusually warm temperatures, highlighting the dangers to the sector posed by climate change.
"An important share of the harvest has been lost. It's too early to give a percentage estimate, but in any case it's a tragedy for the winegrowers who have been hit," said Christophe Chateau, director of communications at the Bordeaux Wine Council, told CNN.
Climate change, caused by the extraction and combustion of fossil fuels, has pushed winegrowing seasons earlier, putting crops at higher risk of cold — and wildfires supercharged by climate change also threaten American vignerons and farmworkers as well.
"I think it's good for people to understand that this is nature, climate change is real, and to be conscious of the effort that goes into making wine and the heartbreak that is the loss of a crop," Jeremy Seysses of Domaine Dujac in Burgundy's Côte de Nuits told Wine Enthusiast.
As reported by Wine Enthusiast:
Last week, images of candlelit French vineyards flooded social media. Across the country, winemakers installed bougies, or large wax-filled metal pots, among the vines to prevent cold air from settling in during an especially late frost.

With temperatures in early April as low as 22°F, and following an unseasonably warm March, this year's frost damage may be the worst in history for French winegrowers. Every corner of France reports considerable losses, from Champagne to Provence, and Côtes de Gascogne to Alsace. As a result, there will likely be very little French wine from the 2021 vintage reaching U.S. shores.
For a deeper dive:

CNN, Wine Enthusiast, France24, Eater
For more climate change and clean energy news, you can follow Climate Nexus on Twitter and Facebook, sign up for daily Hot News, and visit their news site, Nexus Media News.
From Your Site Articles
Related Articles Around the Web
A recent study focused on regions in Ethiopia, Africa's largest coffee-producing nation. Edwin Remsberg / Getty Images
Climate change could make it harder to find a good cup of coffee, new research finds. A changing climate might shrink suitable areas for specialty coffee production without adaptation, making coffee taste blander and impacting the livelihoods of small farms in the Global South.
In "Weather," Jenny Offill tells the story of a librarian named Lizzie who prepares for a climate apocalypse. Andrew Merry / Getty Images
By Suzanne Cords
One day Lizzie, the first-person narrator of the novel, receives an old book as a gift, with a dedication wishing the reader to be among the survivors. Like the preppers who build bunkers and stockpile supplies in remote areas to be ready for the end of the world, Lizzie is convinced that the end of the world is definitely near in times of a threatening climate disaster.
Lizzie, who lives in New York with her husband and son, is a university campus librarian. She worries about almost everything: her brother, an ex-junkie, or her dental insurance and the future in the face of the apocalypse. She is obsessed with reading reference books and articles about climate change.
She also devours words of wisdom, including about Buddhist spirituality: "A visitor once asked the old monks on Mount Athos what they did all day, and was told: We have died and we are in love with everything." But nothing can lift her spirits.
'Lizzie Is Just Like Us'
Lizzie observes rich New Yorkers plan their move to regions that are less threatened by climate change, something she simply cannot afford. Sometimes she watches disaster movies, which lead her to worry even more.
Above all, she is a gifted observer of her fellow human beings. "Young person worry: What if nothing I do matters? Old person worry: What if everything I do, does?"
Lizzie, the U.S. author told DW, is a bit like the rest of us — well aware of the climate crisis, but because she cares and worries about so many other things, that awareness falls by the wayside. That's how she felt herself, Jenny Offill said, but the more she looked into the issue, the more she saw a need for action on her part, too.

"I also was trying to see if there was a way to make it funny, because, you know, so much of the world of prepping and imagining disaster is actually sort of strangely funny."
The novel was shortlisted for the 2020 UK's Women's Prize for Fiction and has now been released in German translation.
Climate Activist With a Vision
But then, there is also this serious, scientifically based concern about what climate change means. In the past, says Offill, artists were the ones who would predict disasters; today it's the experts, as well as the students she teaches. In the end, their fears and their justified anger motivated her to take a closer look at the issue. Today, she is a climate activist herself, and is involved in initiatives along with many other artists.
Lizzie, the heroine of Weather, hasn't gotten that far. But she voices her fears, and that's a start. "Of course, the world continues to end," says Sylvia, a mentor of Lizzie's, at one point — and commences to water her garden. There is hope after all.
Reposted with permission from Deutsche Welle.
A Shell oil drilling rig off the coast of Alaska in the Chukchi Sea on May 21, 2015. Orjan F. Ellingvag / Corbis via Getty Images
By Jake Johnson
A federal appeals court on Tuesday dealt the final blow to former President Donald Trump's attempt to open nearly 130 million acres of territory in the Arctic and Atlantic Oceans to oil and gas drilling.