This website uses cookies to ensure you get the best experience while browsing it. By clicking 'Got It' you're accepting these terms.


The best of EcoWatch, right in your inbox. Sign up for our email newsletter!
12 Must-Read Quotes by Bill Nye the Science Guy
Jan. 22, 2015 02:49PM EST
Climate
Bill Nye has been vocal in combatting attacks on science from climate deniers in Congress to his advocacy for GMO labeling. He even did a hilarious bit with John Oliver on how absurd it is that the science on climate change is inconclusive. His recently published book, Undeniable: Evolution and the Science of Creation, goes beyond the debate between evolution and creationism to discuss the nature of science itself, which unfortunately has come under serious threat for political gain. Never fear, Bill Nye is here! Here are 12 worth reading quotes: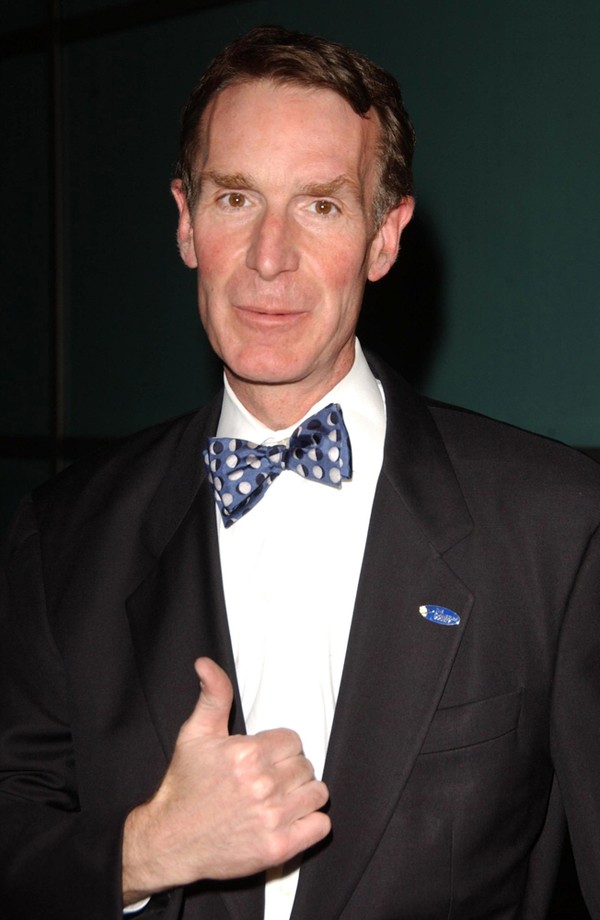 s_bukley
/
Shutterstock.com
1. "Science is the key to our future, and if you don't believe in science, then you're holding everybody back. And it's fine if you as an adult want to run around pretending or claiming that you don't believe in evolution, but if we educate a generation of people who don't believe in science, that's a recipe for disaster. We talk about the Internet. That comes from science. Weather forecasting. That comes from science. The main idea in all of biology is evolution. To not teach it to our young people is wrong."
2. "Just a little climate change. Nothing to worry about."
3. "To leave the world better than you found it, sometimes you have to pick up other people's trash."
4. "What happens to other species also happens to us."
5. "The naysayers are not only casting doubt on science and nonbelievers; they are also ignoring the billions of non-conflicted believers around the world, dismissing their views as unworthy."
6. "It's not one person versus the other person [in the climate science debate], it's 97 people versus three people."
7. "I often reflect on what an extraordinary time (pun intended) it is to be alive here in the beginning of the twenty-first century. It took life billions of years to get to this point. It took humans thousands of years to piece together a meaningful understanding of our cosmos, our planet and ourselves. Think how fortunate we are to know this much. But think also of all that's yet to be discovered. Here's hoping the deep answers to the deep questions—from the nature of consciousness to the origin of life—will be found in not too much more time."
8. "We are a result of evolution, and therefore so are our creations—both the not-so-good and very good. It's glorious."
9. "You don't need to be a full-time climate scientist to understand [this level of climate science]."
10. "It's not that the world hasn't had more carbon dioxide. It's not that the world hasn't been warmer. The problem is the speed at which it's happening. We are inducing a sixth mass extinction event kind of by accident. And we don't want to be the "extinctee"—if I may coin a term."
11. "To have a generation of science students brought up without awareness of climate change is just a formula for disaster. Everybody kind of knows this."
12. "That living things change from generation to generation through a process that Charles Darwin and Alfred Wallace called natural selection or descent with modification—those are true things. Those are facts. And tectonic plates move. That's a fact. And the world is getting warmer because of humans. That's a fact."
YOU MIGHT ALSO LIKE
John Oliver and Bill Nye Put the Climate Change Debate to Rest
Must-See Video: Jon Stewart Tackles Climate Deniers in Congress
EcoWatch Daily Newsletter
Aerial view of the explosion site of a chemical factory on March 22 in Yancheng, Jiangsu Province of China. Caixin Media / VCG / Getty Images)
At least 47 people have died in an explosion at a plant in Yancheng, China Thursday run by a chemical company with a history of environmental violations, Sky News reported.
A fishmonger in Elmina, a fishing port in the Central Region of Ghana. Environmental Justice Foundation
By Daisy Brickhill
Each morning, men living in fishing communities along Ghana's coastline push off in search of the day's catch. But when the boats come back to shore, it's the women who take over.
Pexels
By Sam Nickerson
Links between excess sugar in your diet and disease have been well-documented, but new research by Harvard's School of Public Health might make you even more wary of that next soda: it could increase your risk of an early death.
The study, published this week in the American Heart Association's journal Circulation, found that drinking one or two sugar-sweetened beverages (SSBs) each day — like sodas or sports drinks — increases risk of an early death by 14 percent.
Tyson Foods is recalling approximately 69,093 pounds of frozen chicken strips because they may have been contaminated with pieces of metal, the U.S. Department of Agriculture (USDA) Food Safety and Inspection Service (FSIS) announced Thursday.
The affected products were fully-cooked "Buffalo Style" and "Crispy" chicken strips with a "use by" date of Nov. 30, 2019 and an establishment number of "P-7221" on the back of the package.
"FSIS is concerned that some product may be in consumers' freezers," the recall notice said. "Consumers who have purchased these products are urged not to consume them. These products should be thrown away or returned to the place of purchase."
Environmental exposure to pesticides, both before birth and during the first year of life, has been linked to an increased risk of developing autism spectrum disorder, according to the largest epidemiological study to date on the connection.
The study, published Wednesday in BMJ, found that pregnant women who lived within 2,000 meters (approximately 1.2 miles) of a highly-sprayed agricultural area in California had children who were 10 to 16 percent more likely to develop autism and 30 percent more likely to develop severe autism that impacted their intellectual ability. If the children were exposed to pesticides during their first year of life, the risk they would develop autism went up to 50 percent.
The ExxonMobil Torrance Refinery in Torrance, California.
waltarrrr / Flickr
ExxonMobil could be the second company after Monsanto to lose lobbying access to members of European Parliament after it failed to turn up to a hearing Thursday into whether or not the oil giant knowingly spread false information about climate change.
The call to ban the company was submitted by Green Member of European Parliament (MEP) Molly Scott Cato and should be decided in a vote in late April, The Guardian reported.
Bernie Sanders holds his first presidential campaign rally at Brooklyn College on March 02 in Brooklyn, New York. Kena Betancur / VIEWpress / Corbis. Getty Images
Bernie Sanders has become the first contender in the crowded 2020 Democratic presidential primary field to pledge to offset all of the greenhouse gas emissions released by campaign travel, The Huffington Post reported Thursday.