12 Key Takeaways From the Paris Climate Talks
Dec. 13, 2015 12:04PM EST
Climate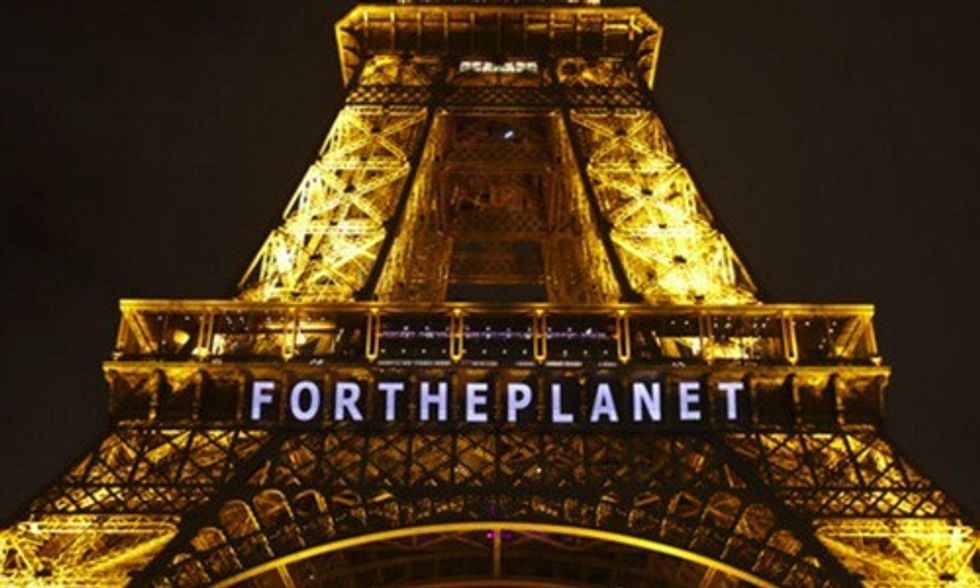 1. We've turned a corner on the central environmental challenge of our time
For the first time in history, the world is united to cut the carbon pollution that's driving climate change by moving beyond the dirty fossil fuels of the past to the cleaner, smarter energy options that can power our future without imperiling the planet.
Here's what the #ParisAgreement on world climate will do — and what it won't https://t.co/Ujgm64QXNf https://t.co/TWtg2NgUGa

— Los Angeles Times (@Los Angeles Times)1450014914.0
To do that, 195 countries—rich and poor, large and small and at every stage of development—have pledged to cut, cap or mitigate their carbon footprint.
This sends a clear message to the world: we're not stuck with fossil fuels that do more harm than good.
And it sends a clear message to our children: we won't abandon you to pay the price for reckless habits that bring havoc and ruin to our world and our lives.
2. This agreement is ambitious
As a whole, we've pledged to hold down global warming to well below 2 degrees Centigrade, or 3.6 degrees Fahrenheit, above pre-industrial levels; and to work toward holding the increase to 1.5 degrees Centigrade, or 2.7 degrees Fahrenheit.
BREAKING: A global climate deal has been reached at #COP21! There's more work ahead, but this is a historic step! https://t.co/g8nWWNgh0p

— NRDC (@NRDC)1449945073.0
To date, average global temperatures have risen by about 1 degree Centigrade, or 1.8 degrees Fahrenheit, above pre-industrial levels, with most of the warming coming in the past 50 years.
The science tells us we must hold total warming below 2 degrees Centigrade to avoid the worst impacts of climate change.
Even at that level, though, coastal communities and island nations would be at risk of swallowed by rising seas. That's why it's important we hold the line at 1.5 degrees Centigrade.
The pledges made to date won't get us where we need to go: at best, they'll take us roughly halfway to the 2-degree limit.
The agreement, though, calls on nations to assess progress every two years and come back together

five years from now

to build on those gains by ratcheting up their ambitions and setting more assertive goals going forward.
That's a formula for the continuous improvement we'll need to get the job done.
3. This agreement is comprehensive
It calls for real action by nearly every country in the world that account for roughly 95 percent of the dangerous carbon pollution that's driving climate chaos.
It provides for a climate investment fund of public and private money totaling at least $100 billion a year, starting in 2020, to help low-income countries protect themselves from the threats already backed into global climate change and to invest in the clean-energy options that can help them to fight climate change while improving the lives of their people.
Last year the U.S. provided some $430 million in public funding specifically to assist developing countries in this way, and Sec. Kerry pledged in Paris that we'll double that amount to at least $860 million by 2020.
[email protected]

Pledges New Support to Vulnerable Countries at #COP21 https://t.co/0kNYTFJVpJ @sierraclub @StateDept https://t.co/kxgLZiOsLW

— EcoWatch (@EcoWatch)1449673738.0
Overall—public and private, grants and loans—U.S. investment in climate change mitigation and clean energy already tops $2.5 billion a year worldwide.
4. This agreement has teeth
For the first time, countries must take inventory of their major sources of carbon pollution and share that information with the rest of the world. When we know where the pollution is coming from, we'll know how to go after it.
Countries must monitor carbon emissions, using standard measuring practices subject to expert international review, and report regularly on the progress they're making in reducing those emissions. Knowing what's working and what isn't will help speed the innovation and enterprise needed to reach the goals.
And sharing experiences and lessons learned will help all countries make progress and speed the shift to a low-carbon global economy worldwide.
5. This agreement supports the global transition to a low-carbon economy
The coal, gas and oil that is driving global climate change accounts for roughly 80 percent of world energy use.
That, though, is changing, as private corporations, national governments, mayors, governors and others work to recast the global economy around cleaner, smarter energy options.
The world has come together to send a clear signal- the low carbon economy is on its way #ParisAgreement: https://t.co/3cgOlaseVA

— WRI Climate (@WRI Climate)1449946509.0
An estimated $50 trillion will be invested in the global energy system over the next two decades, and much of that will go toward clean, renewable power like wind and solar and to systems to help distribute and store the electricity they produce.
In the U.S., General Motors, Apple computers, Google, Walmart and 150 other nameplate American corporations have pledged to reduce their carbon footprint, invest in clean energy and otherwise work toward sustainable practices in a private effort to fight climate change.
The Bank of America, Goldman Sachs and Citigroup has pledged to invest a total of $325 billion—at least—in clean energy technology over the coming decade.
The U.S., France and 17 other countries that together account for 80 percent of global research and development in clean energy technologies have promised to double that investment over the next five years.
And Bill Gates, Mark Zuckerberg, Jeff Bezos and 25 other billionaire investors are creating a private-public initiative to help bring clean energy ideas to market.
6. Every country will do its part, through plans tailored to each nation's circumstances
This is the basis of all international relations.
Where we can gather around common values and goals, we form partnerships that seek to advance the agenda we share. Then we look at the best way each of us can contribute, based on where each country is in its development arc and the resources each brings to the table.
We agree on the principles and then map out a way forward that recognizes where each nation is in its development arc and its capacity to help.
That's what we do with every international partnership we've ever developed.
That's what we do with our military alliances, in Europe, Asia and around the world.
It's how we've structured our trade agreements.
It's how peace talks get done and global summits are held.
And that's what we've done in Paris.
We've said, as a world, we have a problem. It's a problem for all of us. We know the solution. And it's a solution we can all help advance.
In the U.S., we've promised to do our part.
So have the Chinese. So has India. So have more than 180 other countries around the world.
These promises have meaning, because, in the connected world we live in, credibility matters.
And the way you build credibility on the world stage, the way countries build trust, is by following through with our commitments—doing what we say we'll do.
These are promises each country has made. We'll know who keeps their promises and, if there are countries that don't, we'll know that too, and we'll know why.
7. We'll get back together again every five years, beginning in 2020, to build on the progress we've made
This is about global progress, global transformation, global change.
It's going to play out over many decades.
And revisiting our progress, assessing where we are and determining how best to move forward, is essential to its success.
It's the only way we'll know how well we're doing at the game, what kind of halftime adjustments must be made and how we can keep getting better.
And here's what we'll have then that we don't have now.
We'll have five years of action, by countries contributing, in their own way, to a common goal: cut the carbon pollution that's driving climate change by investing in efficiency, cleaning up dirty power plants, cars and trucks, and getting more power from the wind and sun.
We'll have five years of experience, by countries doing their best to find out what works, to find out how to do it even better going forward through innovation, markets and enterprise, then sharing all that with the rest of the world.
And we'll have five years of results, real change that helps to move us away from the fossil fuels that are driving climate change and toward the cleaner, smarter energy options that can power our future without imperiling our world.
That's what we'll bring to the table

five years from now

, when we meet to take stock of where we are and set the course for future change.
8. We're doing what's best for our country 
Under President Obama's leadership, we're cutting our carbon footprint to fight the climate change that's threatening our future.
This agreement ensures the rest of the world does its part.
There's a lot the rest of the world can learn from what we're doing in the U.S., there's a lot we can learn from others, and there are a lot of American jobs to be created coming and going.
President Obama has pledged to cut carbon pollution and other U.S. greenhouse gases between 26 and 28 percent by 2025, compared to 2005 levels.
We're already down 10 percent, by the way, even as our economy has grown 16 percent since the base year.
We're doing it by cleaning up our cars, trucks and dirty power plants.
By investing in efficiency so we can do more with less waste.
By building the best all-electric and hybrid cars anywhere in the world.
And by powering them with more electricity from the wind and sun.
That's the way of the future for our country.
The Paris agreement makes clear, it's the way of the future for the world.
9. No country has a more comprehensive plan to cut carbon pollution than China, and this agreement both enshrines those efforts and aligns it with the larger global movement.
China is doing something no other country in history has done: moving hundreds of millions of people from abject poverty to the global middle class in the span of a single generation.
China hails #ParisAgreement fair in splitting duty between developed & developing countries https://t.co/9izLe3JpMg https://t.co/IqHTN3VuOo

— China Xinhua News (@China Xinhua News)1450014449.0
The economic growth that supports that transition, though, has come at a high and unsustainable cost.
China is the world's largest producer of carbon emissions, just one of a litany of horrendous pollution problems the people of China face.
China has pledged to cap its carbon emissions by 2030, and is working to do so sooner if possible, even as it does something no other nation in history has ever done: move hundreds of millions of people from abject poverty to the global middle class in the span of a single generation.
Cleaning up this carbon pollution is in China's own interest.
Every day during the Paris talks, we read news reports about the horrendous air pollution plaguing China's cities. It was so bad on some days people were advised to stay inside. In Beijing, air pollution was 40 times what the World Health Organization recommends as the maximum safe levels.
The main problem: 80 percent of China's power is now coming from coal.
That has to change, and the country is working hard to change it.
Over the past five years, 40 percent of all the world's investment in wind and solar power has been in China, which invested some $90 billion in those renewable power sources last year alone.
By 2030, China will be producing as much electricity from the wind and the sun as the U.S. currently produces in its entire generating system.
China is putting a price on carbon, by creating the world's largest cap and trade system, to launch in 2017.
In March, China will adopt its 13th five-year plan, a blueprint for the nation's long-term social and economic development. "Green Development" is one of five overarching principles guiding the plan.
It's already affecting everything from the design and construction of new buildings to China's massive investment in subways, bus systems and rapid rail transit.
And China has pledged $3.1 billion in climate and clean energy aid to developing nations.
10. India is working to hold down the growth of its carbon footprint while improving lives in a country with a fast-growing population and rapidly expanding economy. 
India is working to hold down the growth of its carbon footprint while improving lives in a country with a fast-growing population and rapidly expanding economy.
To do that, India has pledged to cut its carbon intensity—the amount of carbon it emits as a share of economic output—by about a third by 2030.
That's an ambitious goal that will have real impact.
By 2030, India's economy is projected to be up to seven times larger than it is today. Its carbon footprint is expected to grow by less than half that much. That's going to prevent billions of tons of carbon pollution per year.
How will India get there? The country has launched the Indian equivalent of an Apollo Mission to install as much wind and solar power over the next seven years as would be generated by 350 coal plants. By 2030, the country plans to get 40 percent of its power without burning fossil fuels - focusing largely on wind and solar power and energy efficiency.
In addition, India is embarked on a historic effort to reclaim forests and other green spaces by planting billions of trees. By 2030, these trees will absorb between 2.5 billion and 3 billion tons of carbon from the atmosphere every year, going a long way to offset the country's total carbon footprint.
India is showing how a country with a growing population and expanding economy can strike a blow against climate change while improving the lives of its people.
11. It is time for Congress to get on board with the progress we need
The Paris agreement is a public document. Every member of Congress can read it, and we expect every member will weigh in on it. That's how our democracy works.
But this is the kind of international agreement presidents make all the time as part of their executive authority and in their Constitutional duty to oversee the conduct of foreign policy and represent the U.S. in its dealings with other countries.
It's not a formal treaty and it doesn't commit us to any new international legal obligations.
It doesn't contain legally binding carbon targets.
Each country has put forth its own voluntary proposals for ambitions carbon reductions.
That's good for the U.S..
We're going to cut our carbon footprint 26-28 percent by 2025, compared to our 2005 level, because that's what's good for our people at home.
We're already down 10 percent—even as our economy has grown 16 percent.
So we're making real progress.
We hope the Congress will get on board with policies that help us to build on our success, not try to drag us backward.
12. American leadership, American interests
The Paris agreement is a tribute to unprecedented effort and cooperation on behalf of every nation represented.
The global stakes have demanded nothing less.
The agreement could not have happened, though, without American leadership and, as always, our leadership abroad begins with leadership at home.
President Obama has done more to help protect future generations from the widening dangers of climate change than any other leader at any time anywhere on the face of the planet.
At every step of the way, he's been opposed by Republican leaders in both houses of Congress.
Even now, the GOP leaders in the House and Senate are doing all they can to block the centerpiece of the president's fight against climate change, the Clean Power Plan to cut the carbon pollution from our single largest source—the dirty power plants that account for 40 percent of the U.S. carbon footprint.
Republican leaders in Congress want to block this initiative, with no plan of their own for dealing with the central environmental challenge of our time.
They won't get away with it, but there's a larger problem here.
The refusal of congressional Republicans to join in the fight against climate change has put the majority party in both houses of Congress at odds with sound science, out of touch with the hardship already being visited upon our nation and all others by climate change and missing in action from the clean energy revolution that is remaking the global economy.
As of

Saturday

, they're at odds with the collective will of the world.
That's no way to conduct the people's business.
YOU MIGHT ALSO LIKE
World Leaders Agree to Historic Global Climate Agreement
10,000+ Took to the Streets in Paris Pledging Escalated Actions in the Fight for Climate Justice
5 Things Bill Nye Wants for Christmas
EcoWatch Daily Newsletter
Recent Stories from EcoWatch