12 Funniest Tweets in Response to Trump Blasting Obama
Oct. 12, 2015 03:34PM EST
Climate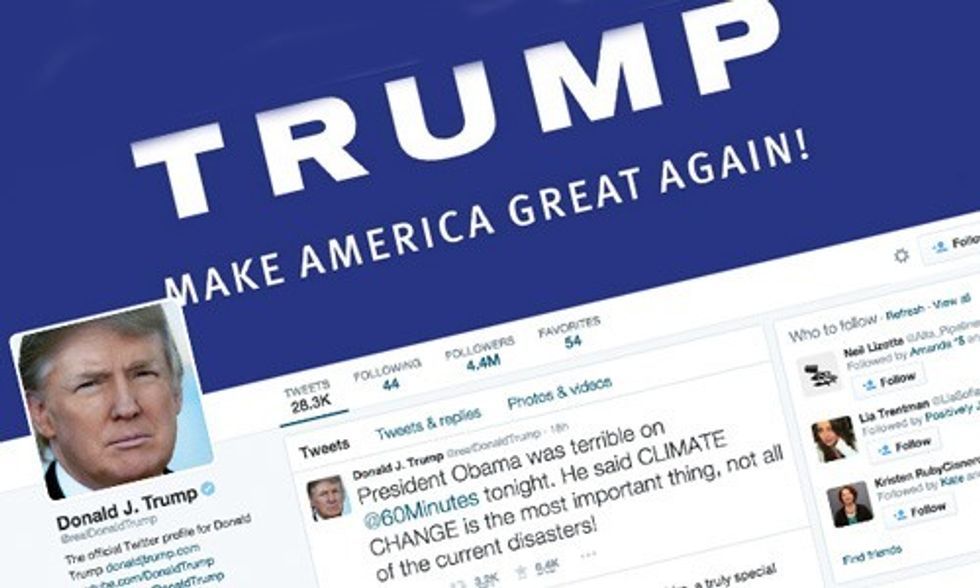 Donald Trump took to Twitter to fire back at President Obama for his remarks about him during an interview on 60 Minutes last night.
When asked about Trump, Obama called him "the classic reality TV character" and a "great publicity seeker." Obama also said in the interview, "My definition of leadership would be leading on climate change, an international accord that potentially we'll get in Paris."
Well, Trump did not like any of that. He has repeatedly said he is "not a believer in climate change," even going so far as to call global warming a hoax "created by and for the Chinese to make U.S. manufacturing non-competitive."
Last night, Trump tweeted the following:
President Obama was terrible on @60Minutes tonight. He said CLIMATE CHANGE is the most important thing, not all of the current disasters!

— Donald J. Trump (@Donald J. Trump)1444614188.0
Great, everyone is saying I did much better on @60Minutes last week than President Obama did tonight. I agree!

— Donald J. Trump (@Donald J. Trump)1444614735.0
And, as you can imagine, many people responded to Trump's tweets. Here are some of the funniest responses:
@corkdork @realDonaldTrump I have people that will put together the best climate you've ever seen. Only losers won't like it.

— Nerdbraska Dan (@Nerdbraska Dan)1444614738.0
It really kills you that #Obama has been elected President twice and you NEVER will be, huh, @realDonaldTrump? https://t.co/pRpjJ1z1YP

— Scott Wooledge 🌹 (@Scott Wooledge 🌹)1444614392.0
@Clarknt67 @DeeeVaaa @realDonaldTrump @60Minutes Trump cannot get over being made a fool by pres

— Mike Johnson (@Mike Johnson)1444614738.0
@Clarknt67 @watchlar66 @realDonaldTrump Many of the current disasters are caused by #ClimateChange #Flooding #Drought

— Desi Derata (@Desi Derata)1444614831.0
I am shocked you didn't enjoy the Obama interview. @realDonaldTrump https://t.co/pRpjJ1z1YP

— Scott Wooledge 🌹 (@Scott Wooledge 🌹)1444614264.0
@Clarknt67 @realDonaldTrump @60Minutes Dolts like Donald don't see connection btw climate change and disasters. Similar to deficit and debt

— The Resistance 🌊 (@The Resistance 🌊)1444649208.0
@realDonaldTrump / Damn, you are right Donald. The current disasters are more important. And you are the biggest current disaster around

— David #FBPE (@David #FBPE)1444614860.0
@realDonaldTrump @60Minutes Hey Trump let's build a fence around the U.S. and keep climate change out. #TrumpisaChump

— Attilio Armeni (@Attilio Armeni)1444614759.0
@realDonaldTrump @60Minutes Yeah, the earth, our water and air, not important at all. #fuckingloser

— Bradford Shellhammer (@Bradford Shellhammer)1444614704.0
@realDonaldTrump @60Minutes @lonepatrick @Magdalena0113 @UtopiasTaint @WarmNewt trump, you fool without a planet the rest doesn't matter!

— 4q2 (@4q2)1444615274.0
YOU MIGHT ALSO LIKE
John Oliver Rips Fracking Industry for its Deadly Bakken Boom, Killing One Person Every Six Weeks
CBS to Charles Koch: Is Dark Money Good for the Political System?
Ted Cruz Lies Again About the Science of Climate Change
Disturbing Images Expose the Horrific Impact of Plastic Trash on Marine Animals
EcoWatch Daily Newsletter