Food
Apr. 12, 2016 08:34AM EST
12 Fruits and Veggies You Should Always Buy Organic
Conventional strawberries top the Dirty Dozen list of Environmental Working Groups's (EWG) 2016 Shopper's Guide to Pesticides in Produce, displacing apples, which headed the list the last five years running.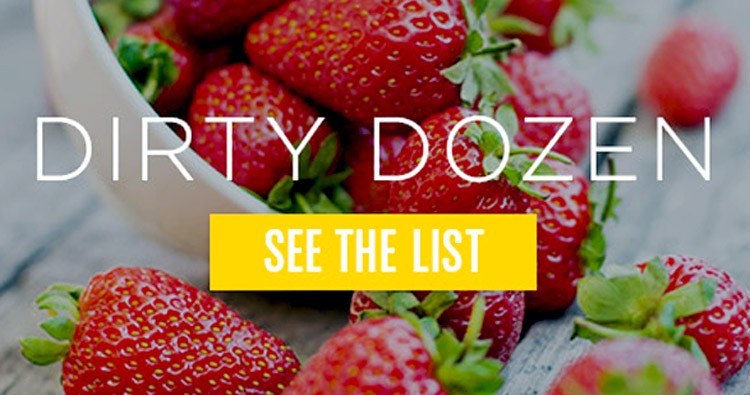 Nearly all strawberry samples—98 percent—tested by federal officials had detectable pesticide residues. Forty percent had residues of 10 or more pesticides and some had residues of 17 different pesticides. Some of the chemicals detected on strawberries are relatively benign, but others are linked to cancer, reproductive and developmental damage, hormone disruption and neurological problems.
Dirty Dozen

Strawberries were once a seasonal, limited crop, but heavy use of pesticides has increased yield and stretched the growing season. In California, where most U.S. strawberries are grown, each acre is treated with an astonishing 300 pounds of pesticides. More than 60 pounds are conventional chemicals that may leave post-harvest residues but most are fumigants—volatile poison gases that can drift into nearby schools and neighborhoods.
"It is startling to see how heavily strawberries are contaminated with residues of hazardous pesticides, but even more shocking is that these residues don't violate the weak U.S. laws and regulations on pesticides in food," Sonya Lunder, EWG senior analyst, said. "The EPA's [Environmental Protection Agency] levels of residues allowed on produce are too lax to protect Americans' health. They should be updated to reflect new research that shows even very small doses of toxic chemicals can be harmful, particularly for young children."
"Parents looking for help in lowering their children's exposure to pesticides while still eating plenty of healthy fruits and vegetables can turn to the Environmental Working Group's guide as an easy-to-use resource when shopping at the store," Dr. Philip Landrigan said.
Dr. Landrigan is the dean of Global Health and director of the Children's Environmental Health Center at Mt. Sinai School of Medicine and was the principal author of the pivotal 1993 National Academy of Sciences study, Pesticides in the Diets of Infants and Children, that led Congress to pass the 1996 Food Quality Protection Act that set safety standards for pesticides on foods.
Recent studies of insecticides used on some fruits and vegetables, including strawberries, found that children exposed to high levels were at greater risk of impaired intelligence and ADHD. Research also indicates that the levels of pesticides in the bodies of elementary school children peaked during the summer, when they ate the most fresh produce. But after just five days on an organic diet, they were essentially pesticide-free.
The Dirty Dozen lists the fruits and vegetables that have been contaminated by multiple pesticides and which have higher concentrations of pesticides. More than 98 percent of strawberries, peaches, nectarines and apples tested positive for at least one pesticide residue. The average potato had more pesticides by weight than any other produce.
Avocados, on the other hand, remained atop EWG's Clean Fifteen list with less than one percent of samples showing any detectable pesticides. No single fruit sample from the Clean Fifteen tested positive for more than four types of pesticides and very few for more than one.
Clean Fifteen

"Fruits and vegetables are important for your health," Lunder said. "But for those on the Dirty Dozen, we recommend buying the organic versions if you want to avoid pesticides on your food. You can feel confident that conventionally grown fruits and veggies on the Clean Fifteen list have very little pesticide contamination."
The Shopper's Guide to Pesticides in Produce, updated every year since 2004, ranks pesticide contamination on 48 popular fruits and vegetables. EWG's analysis is based on results of more than 35,200 samples tested by the U.S. Department of Agriculture and Food and Drug Administration. This year's update found a total of 146 different pesticides on fruit and vegetable samples tested in 2014—residues that remain on produce even after items are washed and in some cases peeled.
YOU MIGHT ALSO LIKE
150 European Parliament Members to Test Urine for Glyphosate
3 Toxins Found in the Cord Blood of Every One of the 10 Newborns Tested
How an Army of Ocean Farmers Is Starting an Economic Revolution
Jul. 21, 2017 01:50PM EST
Will Rose / Greenpeace
Eleven peaceful activists from the Greenpeace ship Arctic Sunrise have taken to the water in inflatable boats with handheld banners to oppose the Statoil Songa Enabler oil rig, 275 km North off the Norwegian coast, in the Arctic Barents sea.
The banners say: "People Vs. Arctic Oil" and are directed at Statoil and the Norwegian government, which has opened a new, aggressive search for oil in the waters of the Barents Sea.
Keep reading...
Show less
Jul. 21, 2017 10:34AM EST
Dominion Pipeline Monitoring Coalition
The Federal Energy Regulatory Commission (FERC) paved the way Friday for the 600-mile, 42-inch fracked gas Atlantic Coast Pipeline to proceed when it issued the final environmental impact statement (FEIS). A joint project of utility giants Duke Energy and Dominion Energy, the Atlantic Coast Pipeline would move fracked gas from West Virginia into Virginia and North Carolina.
In April, the Sierra Club submitted more than 500 pages of legal and technical comments on FERC's draft EIS, which were joined by more than 18,000 individual comments detailing opposition to the project. The pipeline has been met with widespread opposition, with more than 1,000 people participating in public hearings across the three affected states. The Sierra Club recently requested that FERC issue a new environmental review document analyzing information that came in after or late in, the public comment process.
Keep reading...
Show less
Jul. 21, 2017 08:25AM EST
Greenpeace / PolluterWatch
By Jessica Corbett
"It's time Rex Tillerson step down or be removed," said Gigi Kellett of Corporate Accountability International, following an announcement on Thursday that ExxonMobil will pay $2 million for violating U.S. sanctions against Russian officials while the now-secretary of state was the company's CEO.
"ExxonMobil demonstrated reckless disregard for U.S. sanction requirements," according to enforcement filing released by the Treasury Department's Office of Foreign Assets Control (OFAC), which issued the penalty. Though the fine is reportedly the maximum penalty allowed, it's pittance to one of the world's most profitable and powerful corporations, which last year reported a profit of $7.8 billion.
Keep reading...
Show less
Jul. 21, 2017 11:15AM EST
New analysis from Amory B. Lovins debunks the notion that highly unprofitable, economically distressed nuclear plants should be further subsi­dized to meet financial, security, reliability and climate goals. The analysis, which will appear shortly in The Electricity Journal, shows that closing costly-to-run nuclear plants and reinvesting their saved operating costs in energy efficiency provides cheaper elec­tricity, increases grid reliability and security, reduces more carbon, and preserves (not distorts) market integrity—all without subsidies.

Keep reading...
Show less
Jul. 21, 2017 08:44AM EST
Oil Change International / Twitter
By Christian Detisch and Seth Gladstone
In the wake of Senate Republicans' ever-deepening debacle over their flailing attempts to strip health insurance from 22 million people, Majority Leader Mitch McConnell is desperate to do something—anything—to show that he can get legislation passed. To this end, he's bypassing the standard committee review process to push a complex 850+ page energy bill straight to the full Senate floor. Perhaps not surprisingly, this legislation, the Energy and Natural Resources Act of 2017, would be a disaster for public health and our climate.
Keep reading...
Show less
Jul. 21, 2017 08:11AM EST
Rooftop solar panels on a beach house in southern Florida. TAI VIINIKKA / CC BY-NC-ND 2.0
A new law passed this week in South Miami will require all new homes built in the city to install solar panels. The measure, which was inspired by a proposal from a teenage climate activist, will go into effect in September.
The text of the ordinance details the climate impacts facing South Miami.
Keep reading...
Show less
Jul. 21, 2017 10:27AM EST
www.youtube.com
Keep reading...
Show less
Jul. 21, 2017 08:49AM EST
iStock
By Katherine Paul and Ronnie Cummins
A recent series of articles by a Washington Post reporter could have some consumers questioning the value of the U.S. Department of Agriculture's (USDA) organic seal. But are a few bad eggs representative of an entire industry?
Consumers are all for cracking down on the fraudulent few who, with the help of Big Food, big retail chains and questionable certifiers give organics a bad name. But they also want stronger standards, and better enforcement—not a plan to weaken standards to accommodate "Factory Farm Organic."
Keep reading...
Show less