This website uses cookies to ensure you get the best experience while browsing it. By clicking 'Got It' you're accepting these terms.
Everyday foods like bacon, eggs, coffee and dairy products are linked to inflammation. That might not sound like a big deal, but consider the fact that most chronic conditions like cancer, arthritis, diabetes and obesity have been linked to inflammation. Low grade inflammation is a factor in most health issues. And if you suffer a pain disorder, you better believe that inflammatory foods will aggravate the condition.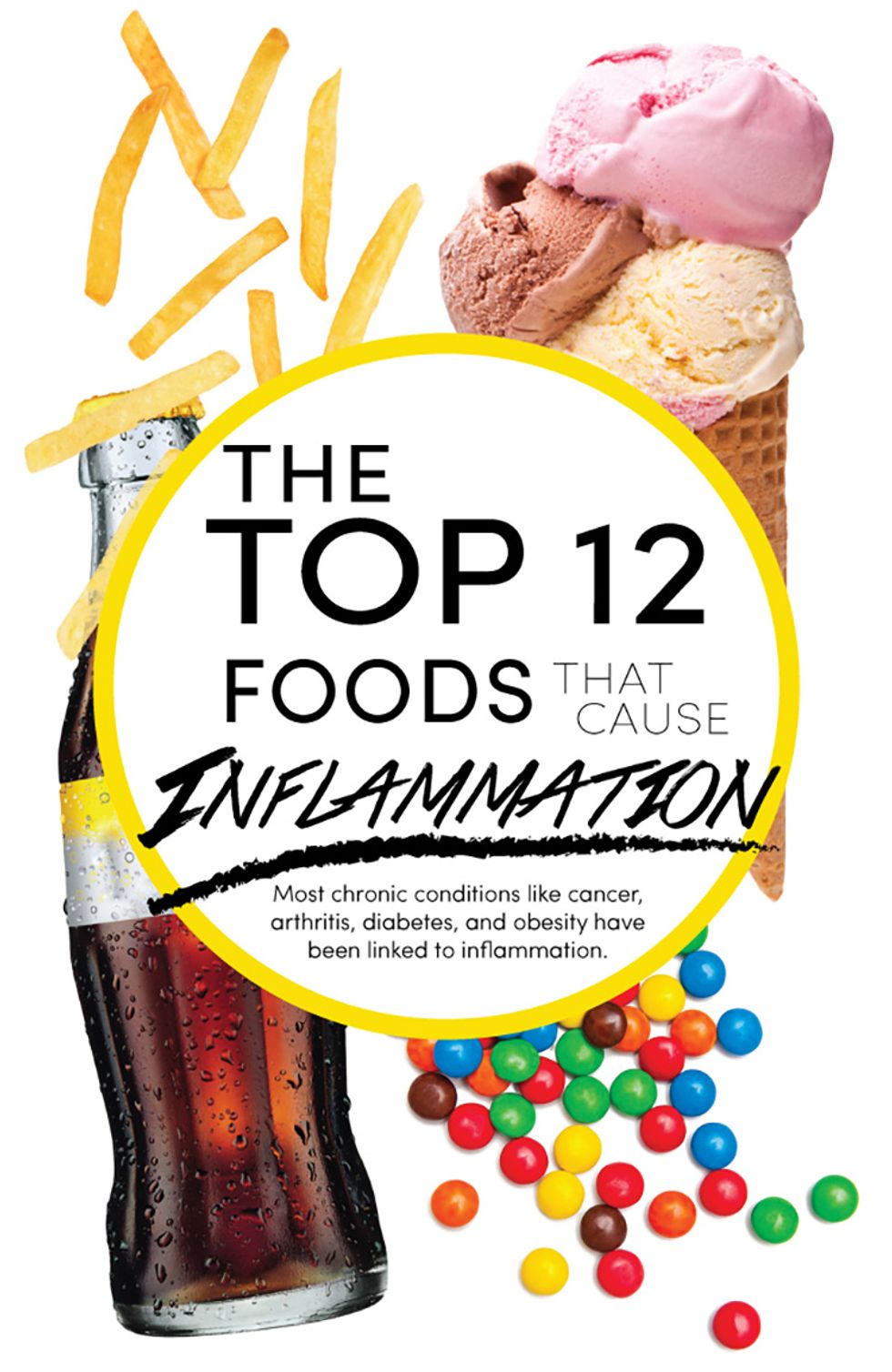 Try reducing your consumption of these foods with the goal of eliminating them completely. The same holds true for alcohol and fried foods—both of these have been known to irritate and worsen arthritis.
Many common foods in the Standard North American Diet can cause or exacerbate inflammation in the body.
Below are my picks for the top 12 inflammatory foods:
1. What I call the "3 Ps"–Processed, packaged or prepared foods. And, yes, fast food is atop the list of inflammatory foods thanks to the harmful oils, sugar and artificial sweeteners, food additives and a whole host of nasty ingredients.
2. Hydrogenated and trans fats found in margarine, shortening, lard or products made with them. That includes baked goods, cookies, pies, buns. Of course there are healthier alternatives to these baked goods but most grocery stores and bakeries are using these harmful ingredients.
3. Meat (not wild-caught fish). I'm not suggesting that you need to go vegan or vegetarian here—although a plant-based diet tends to be much lower in inflammatory substances—but meat and poultry tend to cause inflammation; make them the background of your meals not the main dish.
4. Fried foods (French fries, onion rings, potato chips, nachos, hamburgers, etc.). I think these items speak for themselves.
5. White sugar and sweets, including soft drinks and sweetened juices. Newer research is showing that sugar is one of the most addictive substances you can use. It's also highly inflammatory. No, you don't need to eliminate sugar and sweets altogether simply reduce your consumption and choose fruit as your "go to" food when you're craving something sweet.
6. Synthetic sweeteners (Nutrasweet, Splenda, saccharin, aspartame, AminoSweet, etc.)—research links these nasty substances to many serious health conditions. I avoid them like the plague.
7. Iodized Salt (use Celtic sea salt instead). Not harmful on its own but sodium is naturally found alongside other valuable minerals like potassium, calcium and magnesium. Choose unrefined salt which naturally contains many different minerals, not just sodium.
8. Food additives: Colors, flavor enhancers, stabilizers, preservatives, etc. Some of the main ones include sulfites, benzoates and colors named FD&C #"X." Unfortunately, many foods consumed by children are loaded with these harmful, toxic ingredients.
9. Dairy products (yogurt, ice cream, cottage cheese, butter, cheese, etc.). Dairy products are packed with hormones, antibiotics and other harmful ingredients so avoid them as much as possible.
10. Wheat products. Wheat is highly acid-forming and inflammatory in the body. Worse, most wheat available now is genetically modified (GMO). Many serious health conditions are starting to be linked to GMO wheat consumption.
11. Other gluten-containing grains. Gluten is found in most grains and can be highly inflammatory. Choose grains or seeds like buckwheat, quinoa or millet for your baking.
12. Alcohol. High in sugar and a burden to the liver, alcohol makes the top 12 inflammatory foods list. It is best eliminated or used in moderation.
YOU MIGHT ALSO LIKE
25 Easy Ways to Get More Fermented Foods in Your Diet
6 Powerful Ways to Improve Mental Health
Read This if You Love Eating Fish But Worry Your Getting Too Much Mercury Exposure
EcoWatch Daily Newsletter
polaristest / Flickr / CC BY-NC-ND 2.0
By Melissa Kravitz Hoeffner
Over six gallons of water are required to produce one gallon of wine. "Irrigation, sprays, and frost protection all [used in winemaking] require a lot of water," explained winemaker and sommelier Keith Wallace, who's also a professor and the founder of the Wine School of Philadelphia, the largest independent wine school in the U.S. And water waste is just the start of the climate-ruining inefficiencies commonplace in the wine industry. Sustainably speaking, climate change could be problematic for your favorite glass of wine.
Pixabay
Spinach is a true nutritional powerhouse, as it's rich in vitamins, minerals, and antioxidants.
Pexels
By Jeff Turrentine
From day to day, our public health infrastructure — the people and systems we've put in place to keep populations, as opposed to individuals, healthy — largely goes unnoticed. That's because when it's working well, its success takes the form of utter normalcy.
By Eoin Higgins
A viral video showing cell phone data collected by location accuracy company X-Mode from spring break partiers potentially spreading the coronavirus around the U.S. has brought up questions of digital privacy even as it shows convincingly the importance of staying home to defeat the disease.
Aerial shot top view Garbage trucks unload garbage to a recycle in the vicinity of the city of Bangkok, Thailand. bugto / Moment / Getty Images
German researchers have identified a strain of bacterium that not only breaks down toxic plastic, but also uses it as food to fuel the process, according to The Guardian.