This website uses cookies to ensure you get the best experience while browsing it. By clicking 'Got It' you're accepting these terms.
Everyday foods like bacon, eggs, coffee and dairy products are linked to inflammation. That might not sound like a big deal, but consider the fact that most chronic conditions like cancer, arthritis, diabetes and obesity have been linked to inflammation. Low grade inflammation is a factor in most health issues. And if you suffer a pain disorder, you better believe that inflammatory foods will aggravate the condition.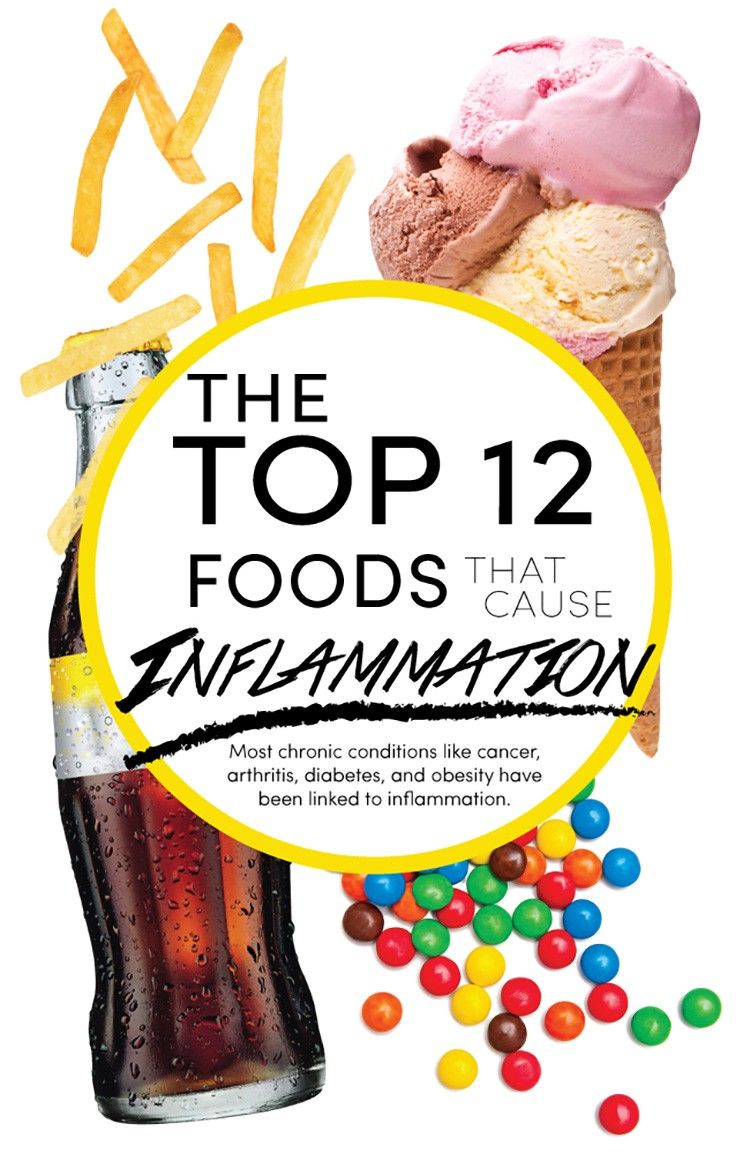 Try reducing your consumption of these foods with the goal of eliminating them completely. The same holds true for alcohol and fried foods—both of these have been known to irritate and worsen arthritis.
Many common foods in the Standard North American Diet can cause or exacerbate inflammation in the body.
Below are my picks for the top 12 inflammatory foods:
1. What I call the "3 Ps"–Processed, packaged or prepared foods. And, yes, fast food is atop the list of inflammatory foods thanks to the harmful oils, sugar and artificial sweeteners, food additives and a whole host of nasty ingredients.
2. Hydrogenated and trans fats found in margarine, shortening, lard or products made with them. That includes baked goods, cookies, pies, buns. Of course there are healthier alternatives to these baked goods but most grocery stores and bakeries are using these harmful ingredients.
3. Meat (not wild-caught fish). I'm not suggesting that you need to go vegan or vegetarian here—although a plant-based diet tends to be much lower in inflammatory substances—but meat and poultry tend to cause inflammation; make them the background of your meals not the main dish.
4. Fried foods (French fries, onion rings, potato chips, nachos, hamburgers, etc.). I think these items speak for themselves.
5. White sugar and sweets, including soft drinks and sweetened juices. Newer research is showing that sugar is one of the most addictive substances you can use. It's also highly inflammatory. No, you don't need to eliminate sugar and sweets altogether simply reduce your consumption and choose fruit as your "go to" food when you're craving something sweet.
6. Synthetic sweeteners (Nutrasweet, Splenda, saccharin, aspartame, AminoSweet, etc.)—research links these nasty substances to many serious health conditions. I avoid them like the plague.
7. Iodized Salt (use Celtic sea salt instead). Not harmful on its own but sodium is naturally found alongside other valuable minerals like potassium, calcium and magnesium. Choose unrefined salt which naturally contains many different minerals, not just sodium.
8. Food additives: Colors, flavor enhancers, stabilizers, preservatives, etc. Some of the main ones include sulfites, benzoates and colors named FD&C #"X." Unfortunately, many foods consumed by children are loaded with these harmful, toxic ingredients.
9. Dairy products (yogurt, ice cream, cottage cheese, butter, cheese, etc.). Dairy products are packed with hormones, antibiotics and other harmful ingredients so avoid them as much as possible.
10. Wheat products. Wheat is highly acid-forming and inflammatory in the body. Worse, most wheat available now is genetically modified (GMO). Many serious health conditions are starting to be linked to GMO wheat consumption.
11. Other gluten-containing grains. Gluten is found in most grains and can be highly inflammatory. Choose grains or seeds like buckwheat, quinoa or millet for your baking.
12. Alcohol. High in sugar and a burden to the liver, alcohol makes the top 12 inflammatory foods list. It is best eliminated or used in moderation.
YOU MIGHT ALSO LIKE
25 Easy Ways to Get More Fermented Foods in Your Diet
6 Powerful Ways to Improve Mental Health
Read This if You Love Eating Fish But Worry Your Getting Too Much Mercury Exposure
EcoWatch Daily Newsletter
Europe is gearing up for another extreme heat wave that could set all-time records for several European countries.
Modern agricultural greenhouses in the Netherlands use LED lights to support plant growth. GAPS / iStock / Getty Images Plus
By Kevin M. Folta
A nighttime arrival at Amsterdam's Schiphol Airport flies you over the bright pink glow of vegetable production greenhouses. Growing crops under artificial light is gaining momentum, particularly in regions where produce prices can be high during seasons when sunlight is sparse.
Golde Wallingford submitted this photo of "Pure Joy" to EcoWatch's first photo contest. Golde Wallingford
EcoWatch is pleased to announce our third photo contest!

On Oct. 4, 2017, the Senate EPW Committee held a hearing on Wehrum's nomination.
EPA / YouTube screenshot
The U.S. Environmental Protection Agency's (EPA) former head of the Office of Air and Radiation who was instrumental in drafting policies that eased climate protection rules and pollution standards is under investigation by a federal watchdog for his dealings with the fossil fuel industry he was supposed to be regulating, according to the New York Times.
It's no secret that the Trump administration has championed fossil fuels and scoffed at renewable energy. But the Trump administration is trying to keep something secret: the climate crisis. That's according to a new analysis from the watchdog group Environmental Data and Governance Initiative (EDGI) who found that more than a quarter of the references to climate change on .gov websites vanished.
Pexels
New York is officially the first state in the union to ban cat declawing.
People walk in the Shaw neighborhood on July 20 in Washington, DC, where an excessive heat warning was in effect according to the NWS. Alex Wroblewski / Getty Images
By Adrienne Hollis
Climate change is a threat multiplier. This is a fact I know to be true. I also know that our most vulnerable populations, particularly environmental justice communities — people of color and/or low socioeconomic status — are suffering and will continue to suffer first and worst from the adverse effects of climate change. Case in point? Extreme heat.