12 Fascinating Facts About Fireflies
The flying, twinkling lights of fireflies are a mystical summer attraction. While lightning bugs are common in nature, there's a few things you might not know about them.
Here are 12 fun and interesting facts about nature's glowing wonder:
1. They are beetles
The name "firefly" is a little misleading. Fireflies are nocturnal members of Lampyridae (which in Greek means "to shine") a family of winged beetles. But "firebeetles" doesn't have the same ring to it. There are more than 2,000 species of fireflies. And only some of those species have the ability to light up (see No. 3).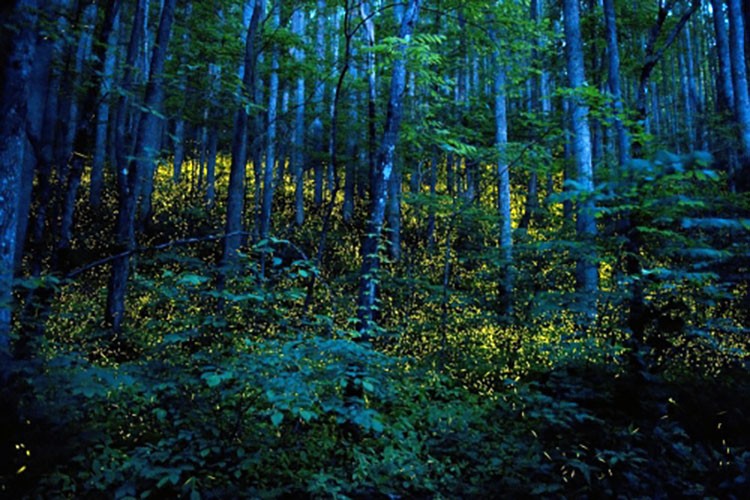 2. Fireflies are just one type of bioluminescent species
Fireflies are probably one of the more popular of these species, but they're definitely not alone in their ability to light up. Most of their bioluminescent peers live in the ocean so people don't have as much contact with them. Their light is created by a chemical reaction during which oxygen combines with calcium, adenosine triphosphate (ATP) and luciferin with the help of the enzyme luciferase. When they are larvae, fireflies use their bioluminescence to scare off predators.
3. Not all fireflies have the "fire"
Fireflies aren't just abundant in the eastern states, the west has them as well, they just don't light up over there. Those who don't produce light are usually most active during the day. Non-bioluminescent fireflies use pheromones to attract mates.
4. Scientists discovered luciferase because of fireflies
When it was first discovered, the only way to obtain the chemical was to extract it from fireflies themselves. Eventually, scientists figured out how to create synthetic luciferase. Some people still collect the enzyme from the flying lanterns. Luciferase is used in scientific research for food safety testing and some forensic tests.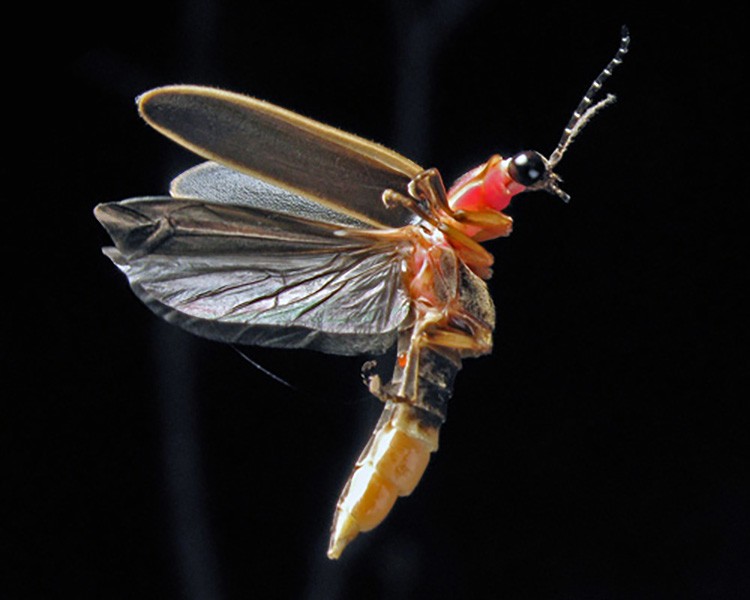 5. Fireflies are energy efficient
Fireflies' lights are the most efficient lights in the world. One-hundred percent of the energy created is emitted through the light. In comparison, an incandescent bulb emits 10 percent of its energy as light and a fluorescent bulb emits 90 percent of its energy through light. Fireflies' efficiency is partly do to luciferin's heat resistant properties.
6. Their light shows are mating acts
Most of the fireflies flying around are males looking for a mate. Each species has a specific light pattern that they use to communicate with each other. Once a female spots a male she likes, she will respond with the same light pattern. Usually females are perched on plants, waiting for a mate.
7. Some species synchronize their flashing
Scientists aren't sure why fireflies do this, but some theories include competition or to make them more noticeable. If a bunch of male fireflies are flashing the pattern at the same time, they are more likely to attract females. The only species of fireflies in America that do this are the Photinus carolinus. They live in the Great Smoky Mountains and the U.S. National Park Service organizes watch parties for the shows.
8. Not all firefly light looks the same
Each species has their own specific color of light they produce. Some glow blue or green while others glow orange or yellow.
9. They taste disgusting
Unlike cicadas, these summer bugs should not be cooked, baked or grilled. If you do try to eat a firefly, it will probably taste bitter. The beetles can even be poisonous to some animals. When fireflies are attacked, they shed drops of blood. The blood contains chemicals that create the bitter taste and poison. Most animals have learned this and avoid munching on fireflies.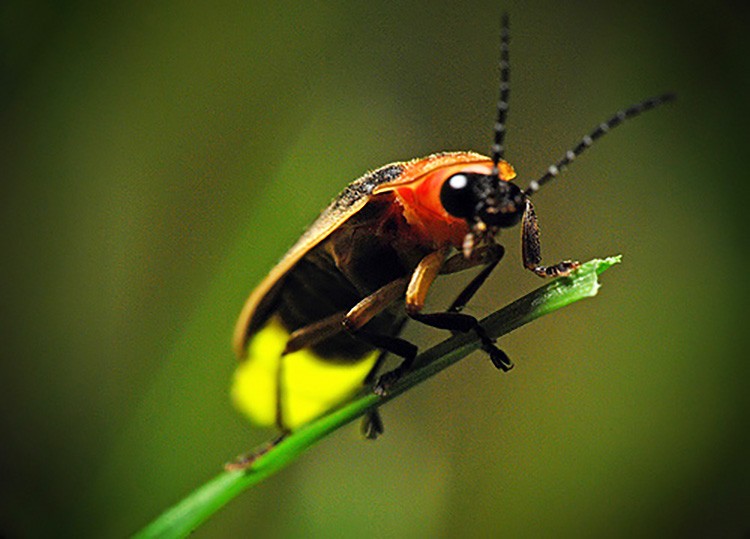 10. Fireflies sometimes practice cannibalism
When fireflies are still in the larvae stage, they snack on snails. Usually as they mature, they move away from meat. Scientists believe adult fireflies live off of nectar and pollen or they don't eat at all. But others, especially the Photuris fireflies enjoy their own kind. Photuris females often eat males of other genera. They attract the unsuspecting males by mimicking their light pattern.
11. Their numbers are declining
There are several reasons why firefly populations are declining, including climate change and the harvesting of luciferase from them (see No. 4), light pollution and habitat destruction. When firefly habitats are destroyed for roads or other construction, they don't migrate to a new spot, they simply disappear.
12. Enjoying the light show in your yard can help scientists
Your observations can help scientists learn more about fireflies and why they're disappearing. Enjoy the show and help save the insect at the same time.
YOU MIGHT ALSO LIKE:
World's First 'Spotty Dog' and Cow-Like Sheep Created Using Gene Editing
Newborn Sea Otter Reunited With Mom in Sweet and Rare Rescue
Glyphosate, the main ingredient in Monsanto's widely used herbicide Roundup, will be added July 7 to California's list of chemicals known to the state to cause cancer, according to a Reuters report Tuesday. This news comes after the company's unsuccessful attempt to block the listing in trial court and requests for stay were denied by a state appellate court and California's Supreme Court.
California's Office of Environmental Health Hazard Assessment (OEHHA) announced the designation on Monday under the Safe Drinking Water and Toxic Enforcement Act of 1986, or Proposition 65.
Keep reading...
Show less
www.facebook.com
Keep reading...
Show less
Researchers from the Marine Animal Response Society examine one of the dead right whales. Marine Animal Response Society
Canadian government officials and marine biologists are investigating the mysterious deaths of six North American right whales. The endangered animals all turned up dead between June 6 and June 23 in the Gulf of St. Lawrence, off Canada's southeastern coast.
North Atlantic right whales are the rarest of all large whale species and among the rarest of all marine mammal species, with only about 450 right whales in the North Atlantic.
Keep reading...
Show less
Scott Pruitt testifies during his Senate confirmation hearing for EPA administrator, January 2017.
The U.S. Environmental Protection Agency's (EPA) chief of staff pressured the leader of its Board of Scientific Counselors to change her congressional testimony to downplay the impact of the agency's mass dismissal of scientists from the board, the New York Times reports.
Keep reading...
Show less
By Jason Mark
Sequoiadendron giganteum. That's the scientific name for the giant sequoia: the mammoth trees found in California's Sierra Nevada that are the largest organisms on Earth, and among the longest-lived. Biologists estimate that about half of all sequoias live in Giant Sequoia National Monument, a 328,000-acre preserve in the Southern Sierra Nevada established by President Clinton in 2000.
Now that national monument is in jeopardy.
Keep reading...
Show less
By Andy Rowell
Donald Trump this week is launching an "energy week," pushing the argument that the U.S. will become a net exporter of oil and gas.
The president and his cronies are talking about a new era of "U.S. energy dominance," which could stretch for decades to come. However, no one believes the president anymore.
Keep reading...
Show less
UN
By Colleen Curry
The United Nations has designated 23 new sites around the world to its World Network of Biosphere reserves—stunning natural landscapes that balance environmental and human concerns and strive for sustainability.
The forests, beaches and waterways were added to the list this year at the International Coordinating Council of the Man and the Biosphere Programme meeting in Paris earlier this month.
Keep reading...
Show less
Jun. 26, 2017 01:48PM EST
www.elysee.fr
By Andy Rowell
There is a growing feeling within European capitals that a quiet, but deeply positive, revolution is happening under Emmanuel Macron in France.
Macron's opinion poll rating is high, especially boosted in how the young French president has reacted to Donald Trump on the international stage.
Keep reading...
Show less
Jun. 26, 2017 12:32PM EST
www.facebook.com
Keep reading...
Show less