This website uses cookies to ensure you get the best experience while browsing it. By clicking 'Got It' you're accepting these terms.


The best of EcoWatch, right in your inbox. Sign up for our email newsletter!
12 Fascinating Facts About Fireflies
Jun. 10, 2016 11:38AM EST
Animals
The flying, twinkling lights of fireflies are a mystical summer attraction. While lightning bugs are common in nature, there's a few things you might not know about them.
Here are 12 fun and interesting facts about nature's glowing wonder:
1. They are beetles
The name "firefly" is a little misleading. Fireflies are nocturnal members of Lampyridae (which in Greek means "to shine") a family of winged beetles. But "firebeetles" doesn't have the same ring to it. There are more than 2,000 species of fireflies. And only some of those species have the ability to light up (see No. 3).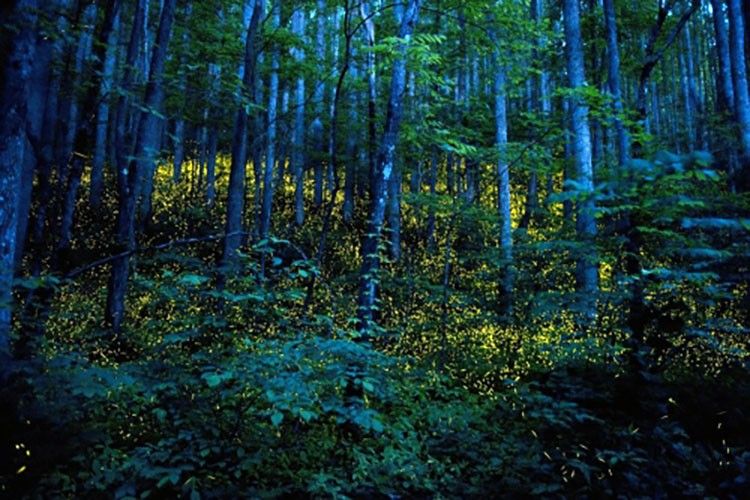 2. Fireflies are just one type of bioluminescent species
Fireflies are probably one of the more popular of these species, but they're definitely not alone in their ability to light up. Most of their bioluminescent peers live in the ocean so people don't have as much contact with them. Their light is created by a chemical reaction during which oxygen combines with calcium, adenosine triphosphate (ATP) and luciferin with the help of the enzyme luciferase. When they are larvae, fireflies use their bioluminescence to scare off predators.
3. Not all fireflies have the "fire"
Fireflies aren't just abundant in the eastern states, the west has them as well, they just don't light up over there. Those who don't produce light are usually most active during the day. Non-bioluminescent fireflies use pheromones to attract mates.
4. Scientists discovered luciferase because of fireflies
When it was first discovered, the only way to obtain the chemical was to extract it from fireflies themselves. Eventually, scientists figured out how to create synthetic luciferase. Some people still collect the enzyme from the flying lanterns. Luciferase is used in scientific research for food safety testing and some forensic tests.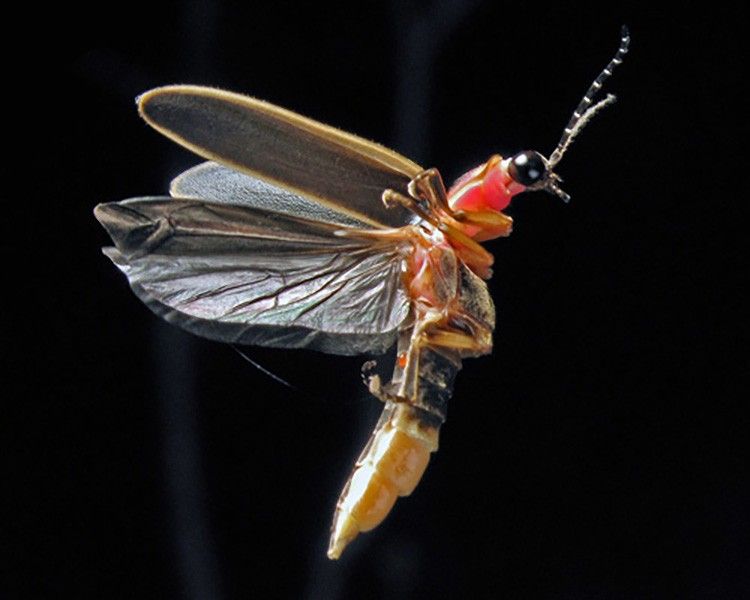 5. Fireflies are energy efficient
Fireflies' lights are the most efficient lights in the world. One-hundred percent of the energy created is emitted through the light. In comparison, an incandescent bulb emits 10 percent of its energy as light and a fluorescent bulb emits 90 percent of its energy through light. Fireflies' efficiency is partly do to luciferin's heat resistant properties.
6. Their light shows are mating acts
Most of the fireflies flying around are males looking for a mate. Each species has a specific light pattern that they use to communicate with each other. Once a female spots a male she likes, she will respond with the same light pattern. Usually females are perched on plants, waiting for a mate.
7. Some species synchronize their flashing
Scientists aren't sure why fireflies do this, but some theories include competition or to make them more noticeable. If a bunch of male fireflies are flashing the pattern at the same time, they are more likely to attract females. The only species of fireflies in America that do this are the Photinus carolinus. They live in the Great Smoky Mountains and the U.S. National Park Service organizes watch parties for the shows.
8. Not all firefly light looks the same
Each species has their own specific color of light they produce. Some glow blue or green while others glow orange or yellow.
9. They taste disgusting
Unlike cicadas, these summer bugs should not be cooked, baked or grilled. If you do try to eat a firefly, it will probably taste bitter. The beetles can even be poisonous to some animals. When fireflies are attacked, they shed drops of blood. The blood contains chemicals that create the bitter taste and poison. Most animals have learned this and avoid munching on fireflies.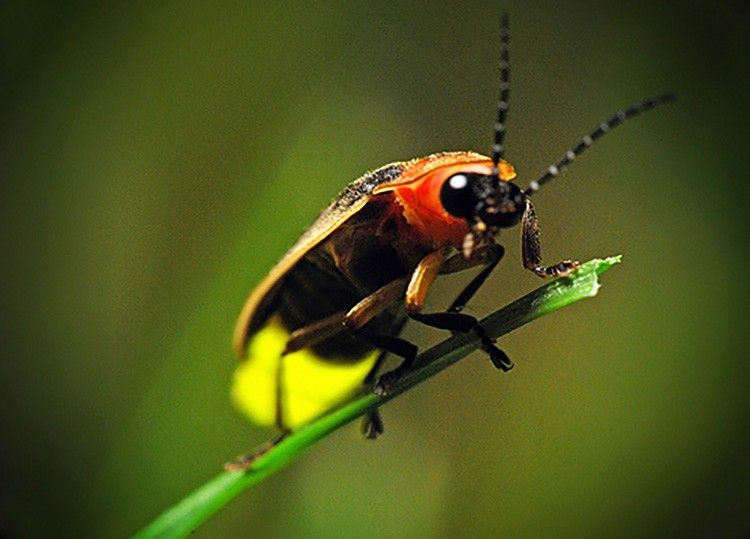 10. Fireflies sometimes practice cannibalism
When fireflies are still in the larvae stage, they snack on snails. Usually as they mature, they move away from meat. Scientists believe adult fireflies live off of nectar and pollen or they don't eat at all. But others, especially the Photuris fireflies enjoy their own kind. Photuris females often eat males of other genera. They attract the unsuspecting males by mimicking their light pattern.
11. Their numbers are declining
There are several reasons why firefly populations are declining, including climate change and the harvesting of luciferase from them (see No. 4), light pollution and habitat destruction. When firefly habitats are destroyed for roads or other construction, they don't migrate to a new spot, they simply disappear.
12. Enjoying the light show in your yard can help scientists
Your observations can help scientists learn more about fireflies and why they're disappearing. Enjoy the show and help save the insect at the same time.
YOU MIGHT ALSO LIKE:
World's First 'Spotty Dog' and Cow-Like Sheep Created Using Gene Editing
Newborn Sea Otter Reunited With Mom in Sweet and Rare Rescue
EcoWatch Daily Newsletter
Pexels
By Ketura Persellin
Global consumption of beef, lamb and goat is expected to rise by almost 90 percent between 2010 and 2050. But that doesn't mean you need to eat more meat. In fact, recent news from Washington gives you even less confidence in your meat: Pork inspections may be taken over by the industry itself, if a Trump administration proposal goes into effect, putting tests for deadly pathogens into the hands of line workers.
MStudioImages / E+ / Getty Images
Backpacking is an exciting way to explore the wilderness or travel to foreign countries on a budget.
Tim P. Whitby / 21st Century Fox / Getty Images
The beauty products we put on our skin can have important consequences for our health. Just this March, the U.S. Food and Drug Administration (FDA) warned that some Claire's cosmetics had tested positive for asbestos. But the FDA could only issue a warning, not a recall, because current law does not empower the agency to do so.
Michelle Pfeiffer wants to change that.
The actress and Environmental Working Group (EWG) board member was spotted on Capitol Hill Thursday lobbying lawmakers on behalf of a bill that would increase oversight of the cosmetics industry, The Washington Post reported.
By Collin Rees
We know that people power can stop dangerous fossil fuel projects like the proposed Line 3 tar sands oil pipeline in Minnesota, because we've proved it over and over again — and recently we've had two more big wins.

Scientists released a study showing that a million species are at risk for extinction, but it was largely ignored by the corporate news media. Danny Perez Photography / Flickr / CC
By Julia Conley
Scientists at the United Nations' intergovernmental body focusing on biodiversity sounded alarms earlier this month with its report on the looming potential extinction of one million species — but few heard their calls, according to a German newspaper report.
DoneGood
By Cullen Schwarz
Ethical shopping is a somewhat new phenomenon. We're far more familiar with the "tried and tested" methods of doing good, like donating our money or time.
Pixabay
Summer is fast approaching, which means it's time to stock up on sunscreen to ward off the harmful effects of sun exposure. Not all sunscreens are created equally, however.