This website uses cookies to ensure you get the best experience while browsing it. By clicking 'Got It' you're accepting these terms.
12 Fascinating Facts About Fireflies
Jun. 10, 2016 11:38AM EST
Animals
The flying, twinkling lights of fireflies are a mystical summer attraction. While lightning bugs are common in nature, there's a few things you might not know about them.
Here are 12 fun and interesting facts about nature's glowing wonder:
1. They are beetles
The name "firefly" is a little misleading. Fireflies are nocturnal members of Lampyridae (which in Greek means "to shine") a family of winged beetles. But "firebeetles" doesn't have the same ring to it. There are more than 2,000 species of fireflies. And only some of those species have the ability to light up (see No. 3).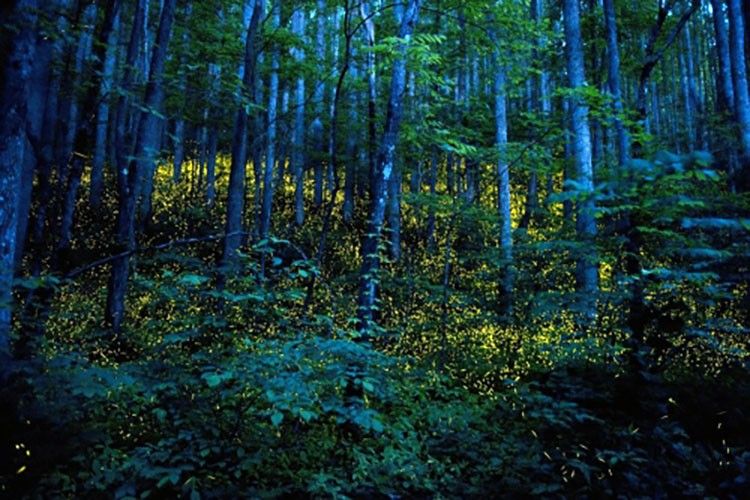 2. Fireflies are just one type of bioluminescent species
Fireflies are probably one of the more popular of these species, but they're definitely not alone in their ability to light up. Most of their bioluminescent peers live in the ocean so people don't have as much contact with them. Their light is created by a chemical reaction during which oxygen combines with calcium, adenosine triphosphate (ATP) and luciferin with the help of the enzyme luciferase. When they are larvae, fireflies use their bioluminescence to scare off predators.
3. Not all fireflies have the "fire"
Fireflies aren't just abundant in the eastern states, the west has them as well, they just don't light up over there. Those who don't produce light are usually most active during the day. Non-bioluminescent fireflies use pheromones to attract mates.
4. Scientists discovered luciferase because of fireflies
When it was first discovered, the only way to obtain the chemical was to extract it from fireflies themselves. Eventually, scientists figured out how to create synthetic luciferase. Some people still collect the enzyme from the flying lanterns. Luciferase is used in scientific research for food safety testing and some forensic tests.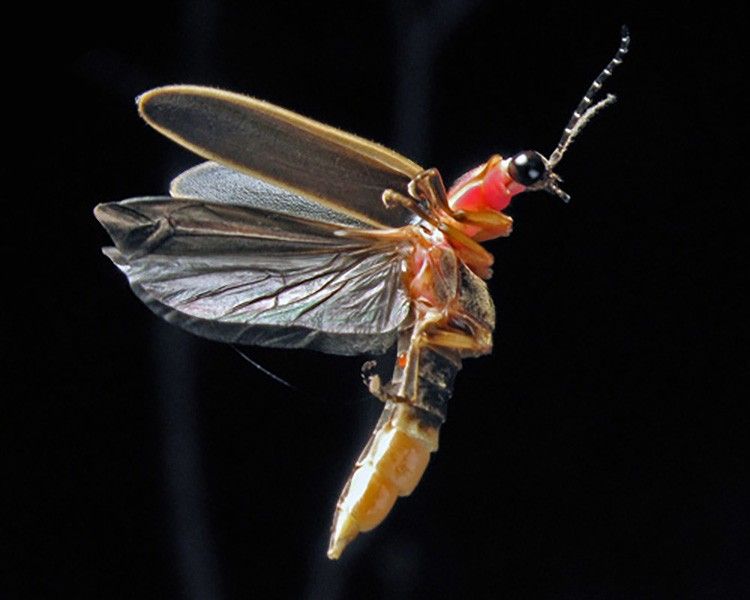 5. Fireflies are energy efficient
Fireflies' lights are the most efficient lights in the world. One-hundred percent of the energy created is emitted through the light. In comparison, an incandescent bulb emits 10 percent of its energy as light and a fluorescent bulb emits 90 percent of its energy through light. Fireflies' efficiency is partly do to luciferin's heat resistant properties.
6. Their light shows are mating acts
Most of the fireflies flying around are males looking for a mate. Each species has a specific light pattern that they use to communicate with each other. Once a female spots a male she likes, she will respond with the same light pattern. Usually females are perched on plants, waiting for a mate.
7. Some species synchronize their flashing
Scientists aren't sure why fireflies do this, but some theories include competition or to make them more noticeable. If a bunch of male fireflies are flashing the pattern at the same time, they are more likely to attract females. The only species of fireflies in America that do this are the Photinus carolinus. They live in the Great Smoky Mountains and the U.S. National Park Service organizes watch parties for the shows.
8. Not all firefly light looks the same
Each species has their own specific color of light they produce. Some glow blue or green while others glow orange or yellow.
9. They taste disgusting
Unlike cicadas, these summer bugs should not be cooked, baked or grilled. If you do try to eat a firefly, it will probably taste bitter. The beetles can even be poisonous to some animals. When fireflies are attacked, they shed drops of blood. The blood contains chemicals that create the bitter taste and poison. Most animals have learned this and avoid munching on fireflies.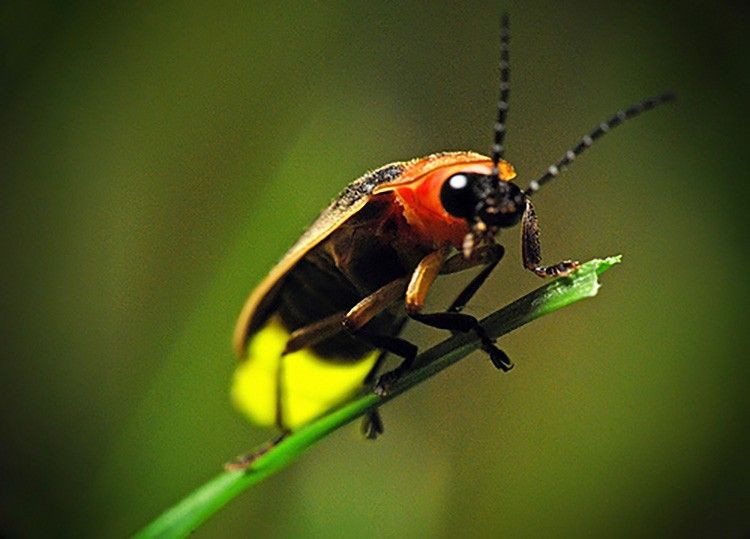 10. Fireflies sometimes practice cannibalism
When fireflies are still in the larvae stage, they snack on snails. Usually as they mature, they move away from meat. Scientists believe adult fireflies live off of nectar and pollen or they don't eat at all. But others, especially the Photuris fireflies enjoy their own kind. Photuris females often eat males of other genera. They attract the unsuspecting males by mimicking their light pattern.
11. Their numbers are declining
There are several reasons why firefly populations are declining, including climate change and the harvesting of luciferase from them (see No. 4), light pollution and habitat destruction. When firefly habitats are destroyed for roads or other construction, they don't migrate to a new spot, they simply disappear.
12. Enjoying the light show in your yard can help scientists
Your observations can help scientists learn more about fireflies and why they're disappearing. Enjoy the show and help save the insect at the same time.
YOU MIGHT ALSO LIKE:
World's First 'Spotty Dog' and Cow-Like Sheep Created Using Gene Editing
Newborn Sea Otter Reunited With Mom in Sweet and Rare Rescue
EcoWatch Daily Newsletter
Waterloo Bridge during the Extinction Rebellion protest in London. Martin Hearn / Flickr / CC BY 2.0
Money talks. And today it had something to say about the impending global climate crisis.
Sam Cooper
By Sam Cooper
Thomas Edison once said, "I'd put my money on the sun and solar energy. What a source of power!"
Simple swaps that cut down on kitchen trash.
Sponsored
By Kayla Robbins
Along with the bathroom, the kitchen is one of the most daunting areas to try and make zero waste.
A NOAA research vessel at a Taylor Energy production site in the Gulf of Mexico in September 2018. NOAA
The federal government is looking into the details from the longest running oil spill in U.S. history, and it's looking far worse than the oil rig owner let on, as The New York Times reported.
Golde Wallingford submitted this photo of "Pure Joy" to EcoWatch's first photo contest. Golde Wallingford
EcoWatch is pleased to announce our third photo contest!

Damage at the Malheur National Wildlife Refuge from the 2016 occupation. USFWS
By Tara Lohan
When armed militants with a grudge against the federal government seized the Malheur National Wildlife Refuge in rural Oregon back in the winter of 2016, I remember avoiding the news coverage. Part of me wanted to know what was happening, but each report I read — as the occupation stretched from days to weeks and the destruction grew — made me so angry it was hard to keep reading.
Computer model projection of temperature anomalies across Europe on June 27. Temperature scale in °C. Tropicaltidbits.com
A searing heat wave has begun to spread across Europe, with Germany, France and Belgium experiencing extreme temperatures that are set to continue in the coming days.
Skull morphology of hybrid "narluga" whale. Nature / Mikkel Høegh Post
In the 1980s, a Greenlandic subsistence hunter shot and killed a whale with bizarre features unlike any he had ever seen before. He knew something was unique about it, so he left its abnormally large skull on top of his toolshed where it rested until a visiting professor happened upon it a few years later.