This website uses cookies to ensure you get the best experience while browsing it. By clicking 'Got It' you're accepting these terms.
12 Fascinating Facts About Fireflies
Jun. 10, 2016 11:38AM EST
Animals
The flying, twinkling lights of fireflies are a mystical summer attraction. While lightning bugs are common in nature, there's a few things you might not know about them.
Here are 12 fun and interesting facts about nature's glowing wonder:
1. They are beetles
The name "firefly" is a little misleading. Fireflies are nocturnal members of Lampyridae (which in Greek means "to shine") a family of winged beetles. But "firebeetles" doesn't have the same ring to it. There are more than 2,000 species of fireflies. And only some of those species have the ability to light up (see No. 3).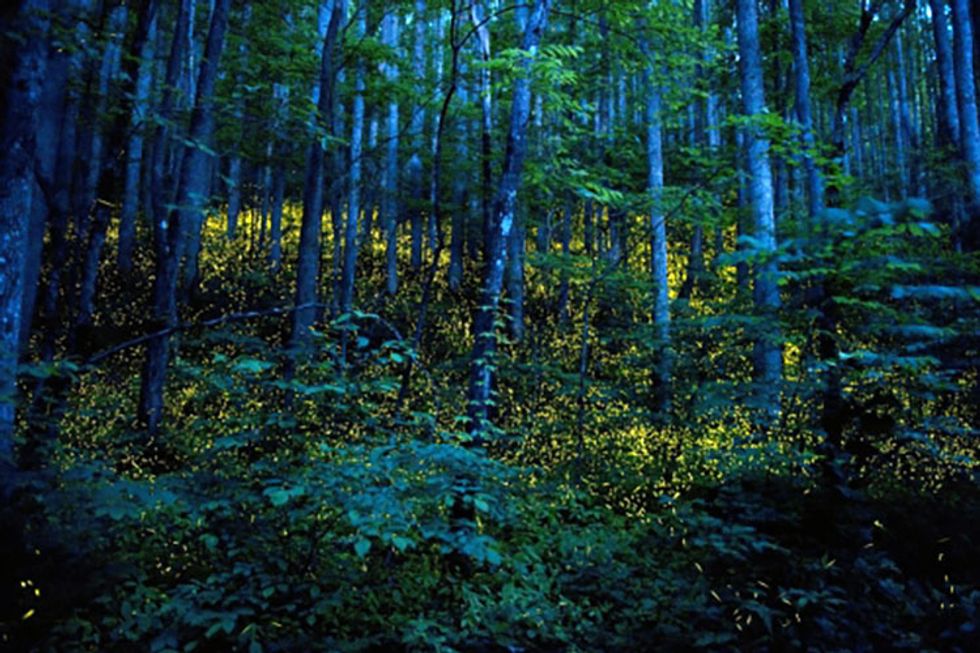 2. Fireflies are just one type of bioluminescent species
Fireflies are probably one of the more popular of these species, but they're definitely not alone in their ability to light up. Most of their bioluminescent peers live in the ocean so people don't have as much contact with them. Their light is created by a chemical reaction during which oxygen combines with calcium, adenosine triphosphate (ATP) and luciferin with the help of the enzyme luciferase. When they are larvae, fireflies use their bioluminescence to scare off predators.
3. Not all fireflies have the "fire"
Fireflies aren't just abundant in the eastern states, the west has them as well, they just don't light up over there. Those who don't produce light are usually most active during the day. Non-bioluminescent fireflies use pheromones to attract mates.
4. Scientists discovered luciferase because of fireflies
When it was first discovered, the only way to obtain the chemical was to extract it from fireflies themselves. Eventually, scientists figured out how to create synthetic luciferase. Some people still collect the enzyme from the flying lanterns. Luciferase is used in scientific research for food safety testing and some forensic tests.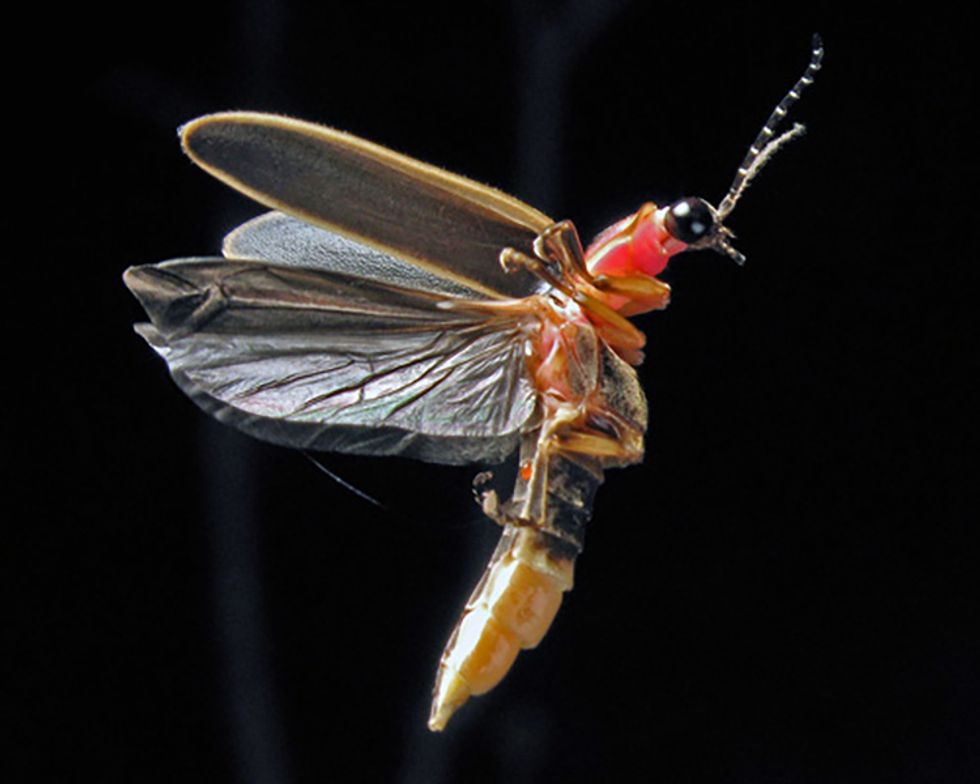 5. Fireflies are energy efficient
Fireflies' lights are the most efficient lights in the world. One-hundred percent of the energy created is emitted through the light. In comparison, an incandescent bulb emits 10 percent of its energy as light and a fluorescent bulb emits 90 percent of its energy through light. Fireflies' efficiency is partly do to luciferin's heat resistant properties.
6. Their light shows are mating acts
Most of the fireflies flying around are males looking for a mate. Each species has a specific light pattern that they use to communicate with each other. Once a female spots a male she likes, she will respond with the same light pattern. Usually females are perched on plants, waiting for a mate.
7. Some species synchronize their flashing
Scientists aren't sure why fireflies do this, but some theories include competition or to make them more noticeable. If a bunch of male fireflies are flashing the pattern at the same time, they are more likely to attract females. The only species of fireflies in America that do this are the Photinus carolinus. They live in the Great Smoky Mountains and the U.S. National Park Service organizes watch parties for the shows.
8. Not all firefly light looks the same
Each species has their own specific color of light they produce. Some glow blue or green while others glow orange or yellow.
9. They taste disgusting
Unlike cicadas, these summer bugs should not be cooked, baked or grilled. If you do try to eat a firefly, it will probably taste bitter. The beetles can even be poisonous to some animals. When fireflies are attacked, they shed drops of blood. The blood contains chemicals that create the bitter taste and poison. Most animals have learned this and avoid munching on fireflies.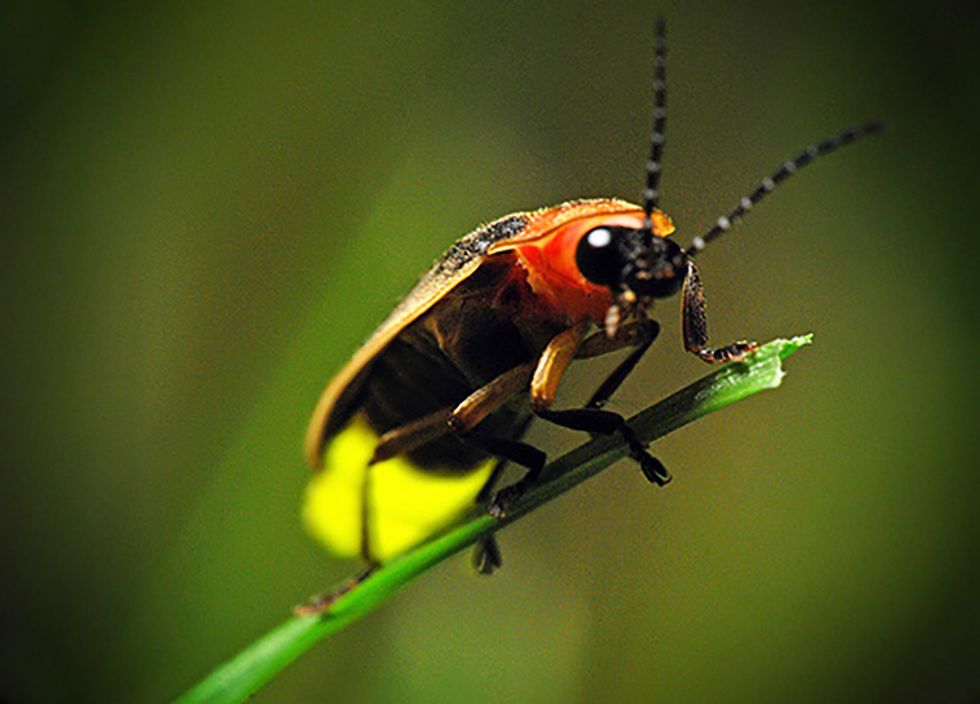 10. Fireflies sometimes practice cannibalism
When fireflies are still in the larvae stage, they snack on snails. Usually as they mature, they move away from meat. Scientists believe adult fireflies live off of nectar and pollen or they don't eat at all. But others, especially the Photuris fireflies enjoy their own kind. Photuris females often eat males of other genera. They attract the unsuspecting males by mimicking their light pattern.
11. Their numbers are declining
There are several reasons why firefly populations are declining, including climate change and the harvesting of luciferase from them (see No. 4), light pollution and habitat destruction. When firefly habitats are destroyed for roads or other construction, they don't migrate to a new spot, they simply disappear.
12. Enjoying the light show in your yard can help scientists
Your observations can help scientists learn more about fireflies and why they're disappearing. Enjoy the show and help save the insect at the same time.
YOU MIGHT ALSO LIKE:
World's First 'Spotty Dog' and Cow-Like Sheep Created Using Gene Editing
Newborn Sea Otter Reunited With Mom in Sweet and Rare Rescue
EcoWatch Daily Newsletter
A harbour seal on an ice floe in Glacier Bay, Alaska. A new study shows that the climate crisis has warmed waters, changing ecosystems and crippling sea ice growth. Janette Hill / robertharding / Getty Images Plus
Doctors report that only 1 in 4 children are getting the recommended 60 minutes of physical activity per day. Ronnie Kaufman / DigitalVision / Getty Images
By Dan Gray
Pediatricians are being urged to start writing "exercise prescriptions" for the children they see in their office.
A First Nations protester walks in front of a train blockade in Tyendinaga, near Belleville, Ontario, Canada on Feb. 21, 2020. LARS HAGBERG / AFP via Getty Images
An indigenous rail blockade that snarled train travel in Canada for more than two weeks came to an end Monday when police moved in to clear protesters acting in solidarity with another indigenous community in British Columbia (B.C.), which is fighting to keep a natural gas pipeline off its land.
A rainbow snake, a rare reptile spotted in a Florida county for the first time in more than 50 years, seen here on July 5, 2013.
Kevin Enge / FWC Fish and Wildlife Research Institute / Flickr
A Florida hiker recently stumbled across a slithering surprise — a rare snake that hadn't been spotted in the area for more than 50 years.
We need our government to do everything it can to stop PFAS contamination and exposure from wreaking havoc in communities across the country. LuAnn Hun /
Unsplash
By Genna Reed
The EPA announced last week that it is issuing a preliminary regulatory determination for public comment to set an enforceable drinking water standard to two of the most common and well-studied PFAS, PFOA and PFOS.
This decision is based on three criteria:
PFOA and PFOS have an adverse effect on public health
PFOA and PFOS occur in drinking water often enough and at levels of public health concern;
regulation of PFOA and PFOS is a meaningful opportunity for reducing the health risk to those served by public water systems.