11-Year-Old Takes Vow of Silence Demanding Climate Action
Eleven-year-old Itzcuauhtli Roske-Martinez is proving to the world that sometimes the most powerful thing you can say is absolutely nothing. Today marks Day 22 of the indigenous eco-rapper's silent strike demanding science-based climate action. His T-shirt explains, "I am taking a vow of silence until world leaders take action on climate change." After classmates suggested that one sixth grader in Colorado couldn't influence leaders, Itzcuauhtli added, "When I say world leaders, I'm talking about us."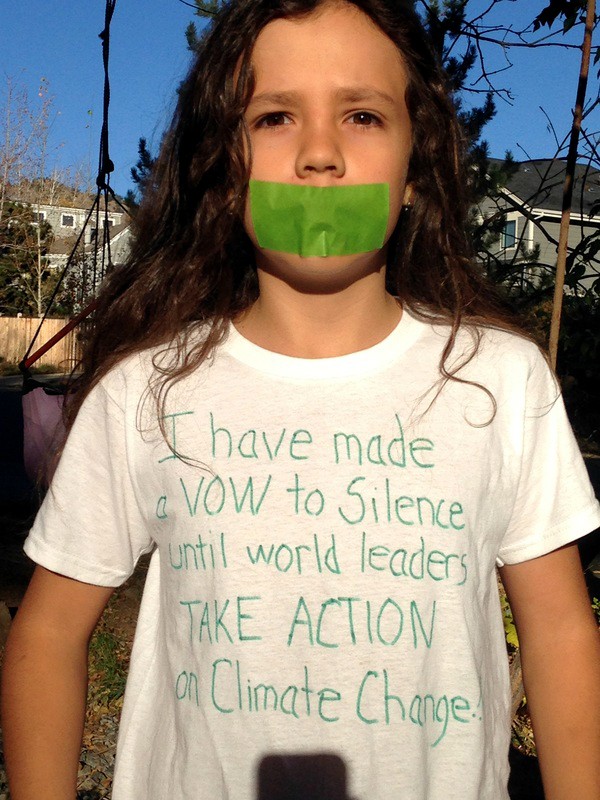 Accusing "so-called 'leaders'" of failing, Itzcuauhtli (pronounced "eat-squat-lee") asks why his generation should "go to school and learn all this stuff if there is not going to be a world worth living in? Maybe it's up to youth. Maybe each one of us has to be a world leader."
Judging by the hundreds of thousands of hits his site is getting, kids worldwide agree. Several classmates even tried to join his campaign, only to be forbidden by parents certain it wouldn't change anything.
"He was so disappointed," his mother, Tamara Roske, said. "He cried silent tears. It was heartbreaking." Itzcuauhtli, who will begin homeschooling after Thanksgiving, is bolstered by "overwhelming" international support, especially since actor and father-of-three Mark Ruffalo called the boy's campaign "brave and thoughtful."
Itzcuauhtli's greatest champion, however, is 14-year-old brother Xiuhtezcatl, director of Earth Guardians and a co-plaintiff in a youth climate lawsuit, the Supreme Court will consider Dec. 5. The brothers, raised in the Earth-honoring ceremonies of their father's Aztec culture, perform a passionate eco-rap and count Trevor Hall, Robert F. Kennedy Jr. and Michael Franti among their fans. They rocked Brazil's 2012 climate summit and, more recently, were part of the 400,000-strong at the People's Climate March in New York City.
After the march, though, Itzcuauhtli despaired when people insisted it was too late to avoid an apocalyptic future. On the white board he now communicates with, he writes, "I felt desperate. I had to do something drastic to change the outcome of our future. I decided I wasn't going to speak again until there was concrete action on climate change."
He looks hopefully toward the 2015 Paris UN conference, where leaders could agree on meaningful—and binding—recovery plans.
When asked why last week's historic U.S.-China climate deal didn't prompt him to resume the boisterous jokes his family misses, Itzcuauhtli responds, "It's not strong enough. [Former director of NASA's Goddard Institute] James Hansen says we have to cap carbon in the next year. If we wait another 15 years, which is when China said they would cap carbon, it's going to be too late.
Itzcuauhtli will resume speaking when he sees "we're moving together in the right direction." That means applying a planetary "prescription" written by 18 top climate experts, who outlined a recovery plan based on science, not politics—the same remedy demanded in his brother Xiuhtezcatl's lawsuits against state and federal governments. To achieve the six percent global carbon cuts necessary for a livable planet, Itzcuauhtli invites children and adults to "join me in this vow until world leaders:
Agree on and implement a Global Climate Recovery Plan to get us back to a safe zone of 350 ppm

Massively reforest the planet to help absorb our excess carbon

Support renewable energy solutions to replace the dirty fossil fuel industry"
Roske wonders when she'll hear her "little comedian" talk again. "Next month's climate gathering in Peru on Dec. 10 would be first day he'd break his silence. As a mom, I prefer he start talking before that." But, she acknowledges, she may have to wait more than a year. "That 2015 Paris climate summit will determine these guys' future on some level."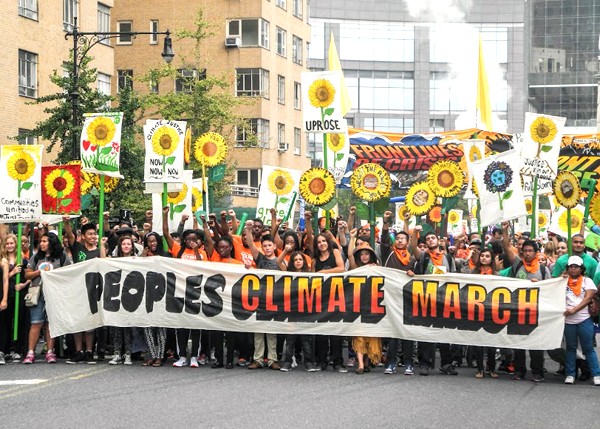 Itzcuauhtli vows to continue as long as he must, despite calling his strike "the hardest thing I have ever done." While he still laughs and finds ways to communicate with peers, he expresses special gratitude for friends old and new who support him or, better yet, join his campaign to "amplify the voices of children everywhere."
"One person alone can start the revolution. It takes all of us to be the revolution."
Visit ClimateSilenceNow to join Itzcuauhtli's silence "even for an hour!"
Mary DeMocker writes about climates of all sorts and is cofounder of 350 Eugene. Visit her website for more of her work.
YOU MIGHT ALSO LIKE
Millennials Demand Climate Action
10 Things You Need to Know About the U.S.-China Climate Deal
Jon Stewart Shows Why Climate Change Deal for China Can't Come Soon Enough
Will Rose / Greenpeace
Eleven peaceful activists from the Greenpeace ship Arctic Sunrise have taken to the water in inflatable boats with handheld banners to oppose the Statoil Songa Enabler oil rig, 275 km North off the Norwegian coast, in the Arctic Barents sea.
The banners say: "People Vs. Arctic Oil" and are directed at Statoil and the Norwegian government, which has opened a new, aggressive search for oil in the waters of the Barents Sea.
Keep reading...
Show less
Jul. 21, 2017 10:34AM EST
Dominion Pipeline Monitoring Coalition
The Federal Energy Regulatory Commission (FERC) paved the way Friday for the 600-mile, 42-inch fracked gas Atlantic Coast Pipeline to proceed when it issued the final environmental impact statement (FEIS). A joint project of utility giants Duke Energy and Dominion Energy, the Atlantic Coast Pipeline would move fracked gas from West Virginia into Virginia and North Carolina.
In April, the Sierra Club submitted more than 500 pages of legal and technical comments on FERC's draft EIS, which were joined by more than 18,000 individual comments detailing opposition to the project. The pipeline has been met with widespread opposition, with more than 1,000 people participating in public hearings across the three affected states. The Sierra Club recently requested that FERC issue a new environmental review document analyzing information that came in after or late in, the public comment process.
Keep reading...
Show less
Jul. 21, 2017 08:25AM EST
Greenpeace / PolluterWatch
By Jessica Corbett
"It's time Rex Tillerson step down or be removed," said Gigi Kellett of Corporate Accountability International, following an announcement on Thursday that ExxonMobil will pay $2 million for violating U.S. sanctions against Russian officials while the now-secretary of state was the company's CEO.
"ExxonMobil demonstrated reckless disregard for U.S. sanction requirements," according to enforcement filing released by the Treasury Department's Office of Foreign Assets Control (OFAC), which issued the penalty. Though the fine is reportedly the maximum penalty allowed, it's pittance to one of the world's most profitable and powerful corporations, which last year reported a profit of $7.8 billion.
Keep reading...
Show less
Jul. 21, 2017 11:15AM EST
New analysis from Amory B. Lovins debunks the notion that highly unprofitable, economically distressed nuclear plants should be further subsi­dized to meet financial, security, reliability and climate goals. The analysis, which will appear shortly in The Electricity Journal, shows that closing costly-to-run nuclear plants and reinvesting their saved operating costs in energy efficiency provides cheaper elec­tricity, increases grid reliability and security, reduces more carbon, and preserves (not distorts) market integrity—all without subsidies.

Keep reading...
Show less
Jul. 21, 2017 08:44AM EST
Oil Change International / Twitter
By Christian Detisch and Seth Gladstone
In the wake of Senate Republicans' ever-deepening debacle over their flailing attempts to strip health insurance from 22 million people, Majority Leader Mitch McConnell is desperate to do something—anything—to show that he can get legislation passed. To this end, he's bypassing the standard committee review process to push a complex 850+ page energy bill straight to the full Senate floor. Perhaps not surprisingly, this legislation, the Energy and Natural Resources Act of 2017, would be a disaster for public health and our climate.
Keep reading...
Show less
Jul. 21, 2017 08:11AM EST
Rooftop solar panels on a beach house in southern Florida. TAI VIINIKKA / CC BY-NC-ND 2.0
A new law passed this week in South Miami will require all new homes built in the city to install solar panels. The measure, which was inspired by a proposal from a teenage climate activist, will go into effect in September.
The text of the ordinance details the climate impacts facing South Miami.
Keep reading...
Show less
Jul. 21, 2017 10:27AM EST
www.youtube.com
Keep reading...
Show less
Jul. 21, 2017 08:49AM EST
iStock
By Katherine Paul and Ronnie Cummins
A recent series of articles by a Washington Post reporter could have some consumers questioning the value of the U.S. Department of Agriculture's (USDA) organic seal. But are a few bad eggs representative of an entire industry?
Consumers are all for cracking down on the fraudulent few who, with the help of Big Food, big retail chains and questionable certifiers give organics a bad name. But they also want stronger standards, and better enforcement—not a plan to weaken standards to accommodate "Factory Farm Organic."
Keep reading...
Show less