This website uses cookies to ensure you get the best experience while browsing it. By clicking 'Got It' you're accepting these terms.
11 Ways to Vote With Your Fork
Apr. 07, 2014 11:23AM EST
There's no denying that you can in fact vote with your fork. The best part about it? You get to vote three times a day. When you think about it, food is one of the most basic things that we can change, altering our habits to not only better our own health, but the health of our community and our environment. If you're looking to make an impact with what you eat, here are 11 shopping habits you can start with.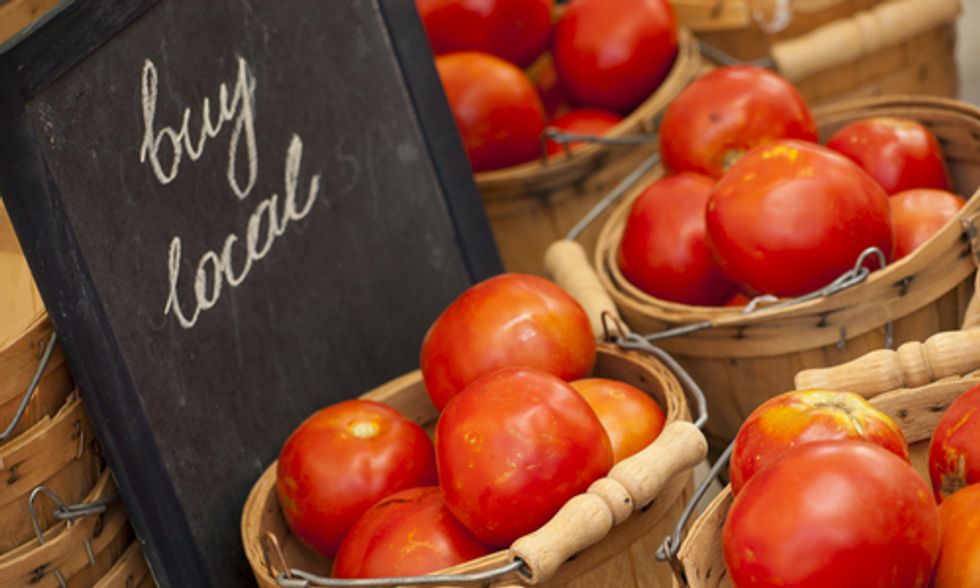 Photo courtesy of Shutterstock
1. Change what kind of chocolate you buy
Grown primarily in tropical climates, the cocoa bean makes one of the tastiest treats on the planet. But while your chocolate bar tastes good, depending on where it's from and who made it, it could have a very negative background. A large amount of cocoa production is done by children, often unpaid and forced to work. In other words: slavery.
Think of cheap chocolate like cheap clothing or even fast food—it may be inexpensive, but it has a lot of externalized costs. Fair trade, organic options may be more expensive, but that's because your money is ensuring that the chocolate was ethically produced. Not all fair trade companies are created equal, however, as some are doing much better than others. For a list of chocolate brands you can feel good about buying, check out the list from the Food Empowerment Project.
2. Change what kind of coffee you're buying
Coffee is the second most valuable commodity after oil. That is to say: there's a lot of it. Many of us drink coffee every morning (and sometimes in the afternoon) and with that kind of consumption, changing our coffee habits can have a very positive impact. There are a variety of labels and specifications that you can look for, although not all of them are official certifications: Fair Trade, Direct Trade, Bird Friendly, Organic, Shade Grown and Rainforest Alliance. If you live in a city, your best bet is to buy directly from a local roaster that work directly with their producers, or with a company that ethically sources their beans.
3. Buy in season
Access to supermarkets have made it that we expect to be able to buy strawberries and tomatoes no matter what the time of year. Eating in season isn't always varied—winter can be full of root vegetables—but it keeps you eating the foods that are meant to be grown at that time of year. Buying in season also encourages you to buy produce that is more locally produced.
4. Buy local when possible
Just like buying in season is important, so is buying local. In this day and age it's difficult to get all of our food locally, but if you want to be more locally minded, then start thinking about the foods that you can stop buying. Ultimately, what you buy and don't buy is up to you. Coffee and chocolate come from far away, but many don't want to give them up. Think about your larger impact and the foods from far off destinations that you can eliminate.
Instead of challenging yourself to immediately turn into a full blown locavore, think about what you can do without. Also be sure to think about what foods you can buy locally. Apples are a great example; if they're grown close to home, why get the ones from New Zealand?
5. Do recipe planning before shopping
Think about meals that involve a lot of seasonal, local foods. If you have a recipe in your head and you know the foods you need to make it, you're a lot more compelled to just stick to your list and not buy a lot of unnecessary additional foods.
6. Don't think in black and white
Just because something is organic doesn't mean it's good for you. Organic chips are still a processed food, albeit better for you than the other kind. Shopping smart means thinking about what you're buying. Where does it come from? What ingredients are in it? Who produced it? Organic goji berries from China for example could easily be replaced by more local berries.
7. Buy less processed
The less processed food you are buying, the better. This ensures that you are buying whole foods and preparing them at home, which helps you avoid all the additives that many products have.
8. Choose stores with less selection
Going into a supermarket can be intimidating, mostly because you have 52 different types of granola. Stores with a smaller selection will help you to shop more efficiently.
9. Buy what you can from independent producers
You may not have a farmers market close to home, but maybe someone nearby has chickens and is selling eggs. Or maybe there's a nearby farm where you can get fresh milk. You may not be able to source all of your food from independent, local producers, but usually there are one or two things being made in our backyards. Support them and feel better about what you're eating in the process.
10. Don't blindly follow food trends
We love to do what everyone else is doing, and in the food world, certain grains, vegetables and food products certainly make their way into the public spotlight. Just because something is popular doesn't mean that you should buy it. Instead of quinoa grown in South America, buy a grain that's grown in the U.S. Don't buy a $6 juice, buy a few fruits and experiment with making your own at home. Leave the coconut water on the shelf and go home and pop a few sprigs of mint in a glass and pour in some tap water.
11. Choose products with less packaging
When you're shopping it's important to not only think about what you're buying, but also what it comes in. The less single-use, disposable plastic packaging, the better.
EcoWatch Daily Newsletter
The staircase to a subway station in SOHO with a temporary closure, flood control installation sign. Jeffrey Greenberg / Universal Images Group / Getty Images
The Metropolitan Transit Authority in New York City tested out a new system designed to protect its subways stations from flooding when another super storm hits, creating a bizarre sight on Wednesday, as The Verge reported.
Flat-lay of friends eating vegan and vegetarian Thanksgiving or Friendsgiving dinner with pumpkin pie, roasted vegetables, fruit and rose wine. Foxys_forest_manufacture / Royalty-free / iStock / Getty Images
Thanksgiving can be a tricky holiday if you're trying to avoid animal products — after all, its unofficial name is Turkey Day. But, as more and more studies show the impact of meat and dairy consumption on the Earth, preparing a vegan Thanksgiving is one way to show gratitude for this planet and all its biodiversity.
Residents wear masks for protection as smoke billows from stacks in a neighborhood next to a coal fired power plant on Nov. 26, 2015 in Shanxi, China. Kevin Frayer / Getty Images
By Matt Berger
It's not just kids in the United States.
Children worldwide aren't getting enough physical activity.
That's the main conclusion of a new World Health Organization (WHO) study released Wednesday.
By Tim Ruben Weimer
Tanja Diederen lives near Maastricht in the Netherlands. She has been suffering from Hidradenitis suppurativa for 30 years. Its a chronic skin disease in which the hair roots are inflamed under pain — often around the armpits and on the chest.