This website uses cookies to ensure you get the best experience while browsing it. By clicking 'Got It' you're accepting these terms.
11 Stunning Photos Capture India Heat Wave, As Death Toll Climbs to 1,500
May. 29, 2015 08:00AM EST
Climate
India is in the midst of a gripping heat wave with the death toll climbing to 1,500. "In the hardest-hit areas, temperatures have been up to 10 degrees Fahrenheit above normal for several days during what is usually the hottest time of the year," says Slate. In New Delhi, it got so hot—peaking at 113 degrees Fahrenheit—the roads melted. " The highest recorded temperature so far was 117 degrees Fahrenheit on Tuesday at Titlagarh in Odisha—which was just five degrees below the country's all-time record.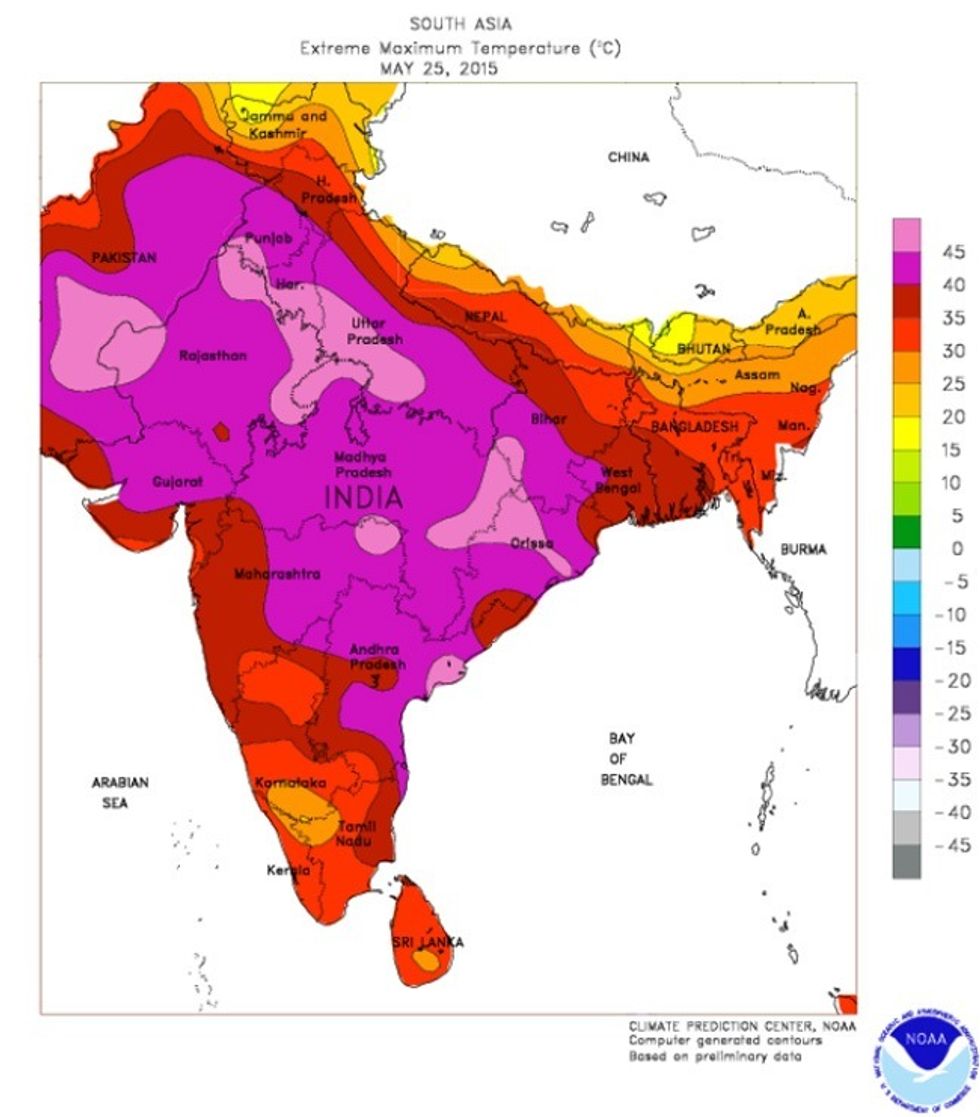 "This is the highest death toll due to heat wave ever in the state," Tulasi Rani, the special commissioner for disaster management in Andhra Pradesh told Slate. "Last year around 447 people died due to heat. This year the heat wave is continuing for a longer period than in previous years."
You may be thinking that there are plenty of places around the world that see these high temperatures, but coastal parts of India, for example Mumbai, have extremely high humidity levels on top of the high temperatures, which have persisted for much longer than usual. The misery index, which factors in both heat and humidity, has been "off the charts," Slate reports.
Extreme weather including droughts, floods and heat waves are only going to become more frequent due to climate change. Researchers have found that though these extreme events have always occurred, they are occurring more often because of global warming.
Twenty six of 31 days this month in India have been or are forecasted to be hotter than normal, according to Wunderground. Also, India still has a largely rural economy, where people work outside and air conditioning is not nearly as common as in other parts of the world. All of these factors compound to make the heat wave in India really bad.
But as they say, a picture is worth a thousand words, so check out these 11 photos of the brutal heat wave gripping India:
A brief rainfall brings some much-needed relief to India's brutal heat wave http://t.co/Fwnrk3HGfE pic.twitter.com/4l54wQatsz

— Newsweek (@Newsweek) May 28, 2015
Soaring temperatures in India have led to hundreds of deaths—and it's only getting worse: http://t.co/ulvTTbHuAq pic.twitter.com/Vs5g9QvGkn

— Greenpeace USA (@greenpeaceusa) May 28, 2015
@RT_com Perfect weather for a soccer tournament. #FIFAcorruption #FIFA #soccer

— Herb DeCordova (@HerbSpeaks) May 28, 2015
India's heat wave is unbearable, and climate change is making it worse: http://t.co/FiDrpoNgXi pic.twitter.com/lRye3YaBuN

— Slate (@Slate) May 28, 2015
India's poor swelter as deadly heat wave kills more than 1,100: http://t.co/4Gmc6tNJIr pic.twitter.com/fR0daDlRhW

— CNN (@CNN) May 27, 2015
At least 800 people killed as India heat wave melts roads in New Delhi http://t.co/VW8a1XVtIQ pic.twitter.com/qOKOzgqxqt

— Yahoo News (@YahooNews) May 26, 2015
More than 500 people killed as heat wave bakes parts of India http://t.co/6RIvPVCK4l pic.twitter.com/0XcennQjrh

— Svein T veitdal (@tveitdal) May 26, 2015
Hundreds of deaths reported as extreme heat wave hits India http://t.co/1vWrY4XSY1 pic.twitter.com/sxDCEuqKs2

— Newsweek (@Newsweek) May 25, 2015
Massive India heatwave kills at least 500... http://t.co/Nmo7QVX7yc 48C - that's hot pic.twitter.com/uguYaNLmEo

— CECHR (@CECHR_UoD) May 25, 2015
India in grip of heat wave, Kolkata yellow taxis refuse to ply between 11 am and 4 pm http://t.co/6x4Nk0L091 pic.twitter.com/ogb3qlT56q

— Zee News (@ZeeNews) May 25, 2015
Southeast #India #heatwave toll now at 230 http://t.co/VavnuImmf9 pic.twitter.com/EleBr44C3B

— Arab News (@Arab_News) May 23, 2015
YOU MIGHT ALSO LIKE
Bill Nye Under Attack for Linking Texas Floods to Climate Change
India Heat Wave Kills 800+ and Literally Melts the Roads
Is Antarctica Ice Melting or Growing? Watch This NASA Video and See for Yourself
EcoWatch Daily Newsletter
We need our government to do everything it can to stop PFAS contamination and exposure from wreaking havoc in communities across the country. LuAnn Hun /
Unsplash
By Genna Reed
The EPA announced last week that it is issuing a preliminary regulatory determination for public comment to set an enforceable drinking water standard to two of the most common and well-studied PFAS, PFOA and PFOS.
This decision is based on three criteria:
PFOA and PFOS have an adverse effect on public health
PFOA and PFOS occur in drinking water often enough and at levels of public health concern;
regulation of PFOA and PFOS is a meaningful opportunity for reducing the health risk to those served by public water systems.
Charging EVs in Stockholm: But where does a dead battery go? Ranjithsiji / Wikimedia Commons
By Kieran Cooke
Driving an electric-powered vehicle (EV) rather than one reliant on fossil fuels is a key way to tackle climate change and improve air quality — but it does leave the old batteries behind as a nasty residue.
U.S. Secretary of the Treasure Steven Mnuchin arrives for a welcome dinner at the Murabba Palace in Riyadh, Saudi Arabia on Feb. 22, 2020 during the G20 finance ministers and central bank governors meeting. FAYEZ NURELDINE / AFP via Getty Images
Finance ministers from the 20 largest economies agreed to add a scant mention of the climate crisis in its final communiqué in Riyadh, Saudi Arabia on Sunday, but they stopped short of calling it a major economic risk, as Reuters reported. It was the first time the G20 has mentioned the climate crisis in its final communiqué since Donald Trump became president in 2017.
Aerial view of Parque da Cachoeira, which suffered the January 2019 dam collapse, in Brumadinho, state of Minas Gerais, Brazil — one of the country's worst industrial accidents that left 270 people dead. Millions of tons of toxic mining waste engulfed houses, farms and waterways, devastating the mineral-rich region. DOUGLAS MAGNO / AFP / Getty Images
Participants of the climate demonstration Fridays for Future walk through Hamburg, Germany on Feb. 21, 2020. Axel Heimken / picture alliance via Getty Images