This website uses cookies to ensure you get the best experience while browsing it. By clicking 'Got It' you're accepting these terms.
11 Stunning Photos Capture India Heat Wave, As Death Toll Climbs to 1,500
May. 29, 2015 08:00AM EST
Climate
India is in the midst of a gripping heat wave with the death toll climbing to 1,500. "In the hardest-hit areas, temperatures have been up to 10 degrees Fahrenheit above normal for several days during what is usually the hottest time of the year," says Slate. In New Delhi, it got so hot—peaking at 113 degrees Fahrenheit—the roads melted. " The highest recorded temperature so far was 117 degrees Fahrenheit on Tuesday at Titlagarh in Odisha—which was just five degrees below the country's all-time record.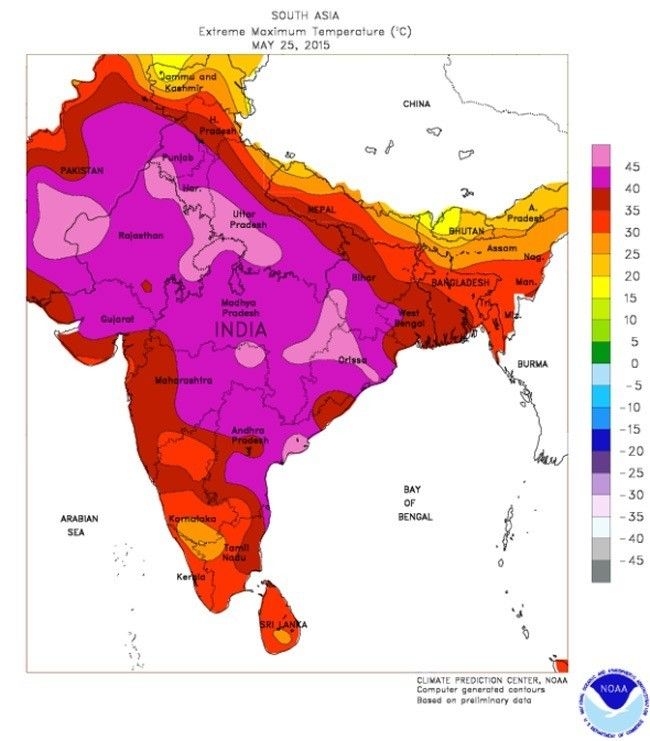 "This is the highest death toll due to heat wave ever in the state," Tulasi Rani, the special commissioner for disaster management in Andhra Pradesh told Slate. "Last year around 447 people died due to heat. This year the heat wave is continuing for a longer period than in previous years."
You may be thinking that there are plenty of places around the world that see these high temperatures, but coastal parts of India, for example Mumbai, have extremely high humidity levels on top of the high temperatures, which have persisted for much longer than usual. The misery index, which factors in both heat and humidity, has been "off the charts," Slate reports.
Extreme weather including droughts, floods and heat waves are only going to become more frequent due to climate change. Researchers have found that though these extreme events have always occurred, they are occurring more often because of global warming.
Twenty six of 31 days this month in India have been or are forecasted to be hotter than normal, according to Wunderground. Also, India still has a largely rural economy, where people work outside and air conditioning is not nearly as common as in other parts of the world. All of these factors compound to make the heat wave in India really bad.
But as they say, a picture is worth a thousand words, so check out these 11 photos of the brutal heat wave gripping India:
A brief rainfall brings some much-needed relief to India's brutal heat wave http://t.co/Fwnrk3HGfE pic.twitter.com/4l54wQatsz

— Newsweek (@Newsweek) May 28, 2015
Soaring temperatures in India have led to hundreds of deaths—and it's only getting worse: http://t.co/ulvTTbHuAq pic.twitter.com/Vs5g9QvGkn

— Greenpeace USA (@greenpeaceusa) May 28, 2015
@RT_com Perfect weather for a soccer tournament. #FIFAcorruption #FIFA #soccer

— Herb DeCordova (@HerbSpeaks) May 28, 2015
India's heat wave is unbearable, and climate change is making it worse: http://t.co/FiDrpoNgXi pic.twitter.com/lRye3YaBuN

— Slate (@Slate) May 28, 2015
India's poor swelter as deadly heat wave kills more than 1,100: http://t.co/4Gmc6tNJIr pic.twitter.com/fR0daDlRhW

— CNN (@CNN) May 27, 2015
At least 800 people killed as India heat wave melts roads in New Delhi http://t.co/VW8a1XVtIQ pic.twitter.com/qOKOzgqxqt

— Yahoo News (@YahooNews) May 26, 2015
More than 500 people killed as heat wave bakes parts of India http://t.co/6RIvPVCK4l pic.twitter.com/0XcennQjrh

— Svein T veitdal (@tveitdal) May 26, 2015
Hundreds of deaths reported as extreme heat wave hits India http://t.co/1vWrY4XSY1 pic.twitter.com/sxDCEuqKs2

— Newsweek (@Newsweek) May 25, 2015
Massive India heatwave kills at least 500... http://t.co/Nmo7QVX7yc 48C - that's hot pic.twitter.com/uguYaNLmEo

— CECHR (@CECHR_UoD) May 25, 2015
India in grip of heat wave, Kolkata yellow taxis refuse to ply between 11 am and 4 pm http://t.co/6x4Nk0L091 pic.twitter.com/ogb3qlT56q

— Zee News (@ZeeNews) May 25, 2015
Southeast #India #heatwave toll now at 230 http://t.co/VavnuImmf9 pic.twitter.com/EleBr44C3B

— Arab News (@Arab_News) May 23, 2015
YOU MIGHT ALSO LIKE
Bill Nye Under Attack for Linking Texas Floods to Climate Change
India Heat Wave Kills 800+ and Literally Melts the Roads
Is Antarctica Ice Melting or Growing? Watch This NASA Video and See for Yourself
EcoWatch Daily Newsletter
Smog over Los Angeles. Westend61 / Getty Images
After four decades of improving air quality, the U.S. has started to take a step backwards, as the number of polluted days has ticked upwards over the last two years, the Associated Press reported.
Photobos / iStock / Getty Images
Governors in Vermont and Maine signed bills on Monday that will ban plastic bags in their states next year, The Hill reported.
The Maine ban will go into effect next Earth Day, April 22, 2020. The Vermont ban, which extends beyond plastic bags and is the most comprehensive plastics ban so far, will go into effect in July 2020. The wait time is designed to give businesses time to adjust to the ban.
picture-alliance / AP Images / D. Goldman
By Daniel Moattar
Eastern Kentucky's hills are interrupted by jarring flats of bare rock: the aftermath of mountaintop removal mining, which uses explosives to destroy and harvest coal-rich peaks.
By Molly Taft
Lisa Marshall isn't your typical activist. For one thing, she's not into crowds. "I don't really like rallies," Marshall, a mom of three from upstate New York, said. "They're a little stressful — not my favorite thing."

An oil drilling site in a residential area of Los Angeles, California on July 16, 2014.
Faces of Fracking / Flickr
By Jake Johnson
A comprehensive analysis of nearly 1,500 scientific studies, government reports, and media stories on the consequences of fracking released Wednesday found that the evidence overwhelmingly shows the drilling method poses a profound threat to public health and the climate.

sonsam / iStock / Getty Images
By Grace Francese
A new Environmental Working Group (EWG) study published in Environmental Research found that nitrate, one of the most common contaminants of drinking water, may cause up to 12,594 cases of cancer per year, but that's not its only danger: It can pose unique health risks to children.
Melt water from Everest's Khumbu glacier. Ed Giles / Getty Images
EPA Administrator Andrew Wheeler signs his replacement for the Clean Power Plan. Win McNamee / Getty Images