11 Social Media Posts Show Reality of Extreme Weather Worldwide
Aug. 07, 2015 09:02AM EST
Climate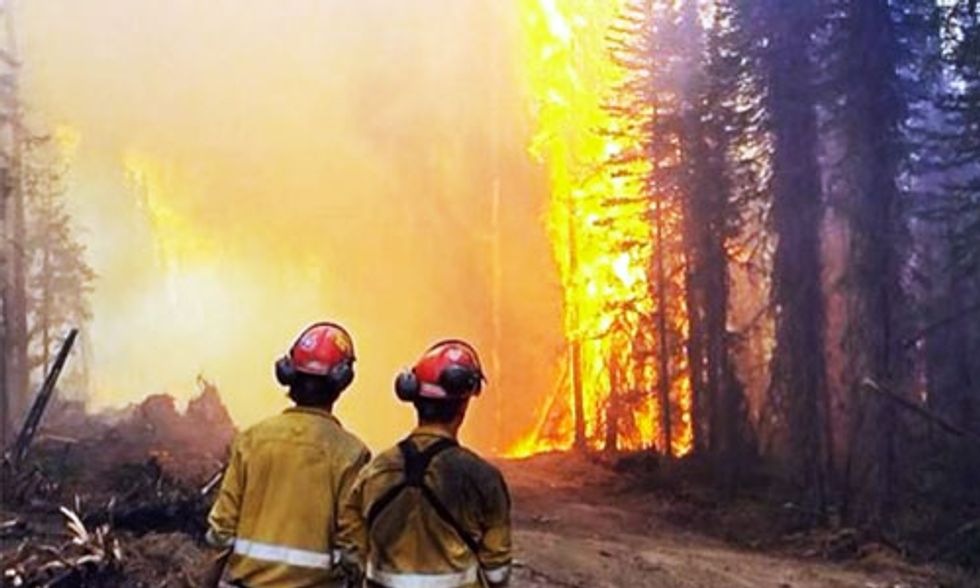 Lately it's been feeling like my Facebook feed has been filling up with friends sharing photos from the floods, wildfires and heat waves in their towns. I don't think it's just me seeing this. Wednesday, Rolling Stone said in an article "historians may look to 2015 as the year when shit really started hitting the fan."
Impacts from climate change are happening now and people everywhere are sharing in real-time just how bad things are. Here is a gathering of posts people have shared from all over the world.
Middle East Heat Wave
Across the Middle East there's been some intense heat waves. In Bandar Mahshahr, Iran, a city of 100,000 people on the Persian Gulf the heat index topped 165F.
During the middle of a heat wave in Athens, thousands of refugees were arriving, mostly from Afghanistan. Greek people gathered together to help them out.
In the middle of a heatwave in Athens @pedioareos solidarity action gave #refugeesgr fruits, ice-tea and water pic.twitter.com/i6kRjKbw6C

— spyros gkelis (@northaura) July 30, 2015
Wildfires In U.S. West, Canada, Alaska 
California is now in its fourth year of drought. The New York Times reported that "From the beginning of the year through August 3, states and national forest services have responded to nearly 5,500 wildfires. That is about 1,200 more fires than in the same period last year." In Alaska, nearly 5 million acres have burned in 2015, making this year on pace to become the worst ever wildfire season in Alaska's history.
Firefighters are using Instagram to share updates:  
One man recorded a video of the fire near his house starting to be contained.
Floods in South and Southeast Asia
Millions of people have been affected by heavier than usual monsoon rains. India, Bangladesh, Nepal, Burma and Vietnam are all facing extreme flooding.
Over 20 people were killed as 2 passenger trains derailed in India's Madhya Pradesh, due to flash flood. Photo: Getty pic.twitter.com/KsLU2Pycjr

— reported.ly (@reportedly) August 5, 2015
Super Typhoon Soudelor 
Typhoon Soudelor is now the most powerful tropical storm this year. After hitting the island of Saipan it's making it's way to Taiwan. CNN has reported that "The West Pacific Basin has seen a total of 10 typhoons so far in 2015. Of those, five have been super typhoons, which is more than four—the average for the whole year."
YOU MIGHT ALSO LIKE
NASA's 14 Second Video Says It All
Heat Index in Iran Hits 164 Degrees: Among Hottest Urban Temperatures Ever Endured by Mankind
Frightening Interactive Wildfire Map Shows That the West Is on Fire
EcoWatch Daily Newsletter
Related Articles from EcoWatch
Recent Stories from EcoWatch