11 Responses to Pat Sajak's Bizarre Climate Change Tweet
May. 21, 2014 10:14AM EST
Climate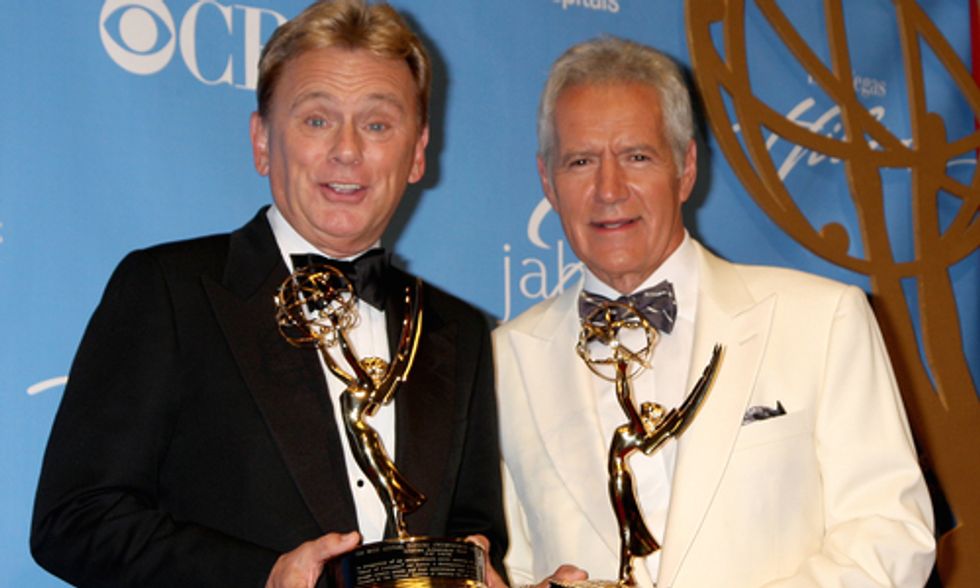 In 2014, climate change has become a debate for more than politicians, hopeful candidates and scientists.
Game show hosts are getting involved, too, and things are getting strange. 
I now believe global warming alarmists are unpatriotic racists knowingly misleading for their own ends. Good night.

— Pat Sajak (@patsajak) May 20, 2014
Pat Sajak, the face of Wheel of Fortune for more than 30 years, took to Twitter late Monday night to not only deny science, but also to declare that you are likely a racist if you think the planet is warming. Alright, then.
Sometimes it's fun to poke a stick in a hornets' nest just to hear the buzzing.

— Pat Sajak (@patsajak) May 20, 2014
The host essentially told his followers he was joking the next day, but the responses kept pouring in and they haven't stopped. Check out 11 responses from environmental advocates, writers, comedians and former Wheel of Fortune viewers.
Will the 8 year old kid who hacked @PatSajak's account please return it to its rightful owner?

— Michael E. Mann (@MichaelEMann) May 20, 2014
Pat Sajak has gone full Woolery.

— Patton Oswalt (@pattonoswalt) May 20, 2014
Pat Sajak wakes up from his three day bender. "Hope I didn't do anything crazy," he says to himself, hungover.

— Dan Grittner (@Boywhiz88) May 21, 2014
.@PatSajak, dismissing #climate change is like not solving the puzzle when the answer's staring at you. Reconsider: http://t.co/ntoiYHQtiY

— Sheldon Whitehouse (@SenWhitehouse) May 20, 2014
I think @patsajak has been spending too much time under those hot stage lights.

— jam (@jamileh) May 20, 2014
I love how Pat Sajak is a climate change denier, yet completely believed that guy just guessed "New Baby Buggy" without cheating.

— Matt Goldich (@MattGoldich) May 20, 2014
I'd like to buy a "Scientist for Pat Sajak"? http://t.co/yRysSgEvHj

— U Hav 2 Admitt.... (@uhav2admitt) May 21, 2014
Hey @PatSajak, this aint the Wheel of Fortune. If we lose this game, it isn't just one person's misfortune. All humanity pays the price.

— Michael E. Mann (@MichaelEMann) May 20, 2014
@kylejmetzger @patsajak Alex Trebek wouldn't say this.

— Bronwen Fetters (@BronwenFetters) May 21, 2014
I guess the main thing that surprises me about this Pat Sajak thing is that a lot of people out there actually read Pat Sajak's tweets

— Gloria Fallon (@GloriaFallon123) May 20, 2014
@MichaelEMann Would @patsajak like to spin or solve the puzzle? pic.twitter.com/6adZA0eGd4

— Tim Kovach (@twkovach) May 20, 2014
——–
YOU ALSO MIGHT LIKE
Watch Bill Nye the Science Guy Debate Congresswoman Who Claims Climate Change is 'Unproven'
Watch All Four North Carolina GOP Senate Candidates Laugh When Asked About Climate Change
NASA: Earth Could Warm 20 Percent More Than Earlier Estimates
——–
EcoWatch Daily Newsletter
Recent Stories from EcoWatch