11 Earthquakes Rock Texas Fracking Heartland in 24 Hours
This Tuesday a study was released showing that a series of earthquakes outside Youngstown, Ohio, including one strong enough to be felt by area residents, were caused by the fracking operations that have blossomed in the area in the last few years.
Now the eyes are on Texas. In 24 hours Tuesday and Wednesday, the area of Irving, between Dallas and Fort Worth, was hit with a cluster of 11 earthquakes, ranging in magnitude from 1.7 to 3.6. Several of the quakes were felt throughout the metropolitan area, with Irving's emergency operations center receiving hundreds of calls. The Dallas Morning News blog tracked the quakes as they were happening.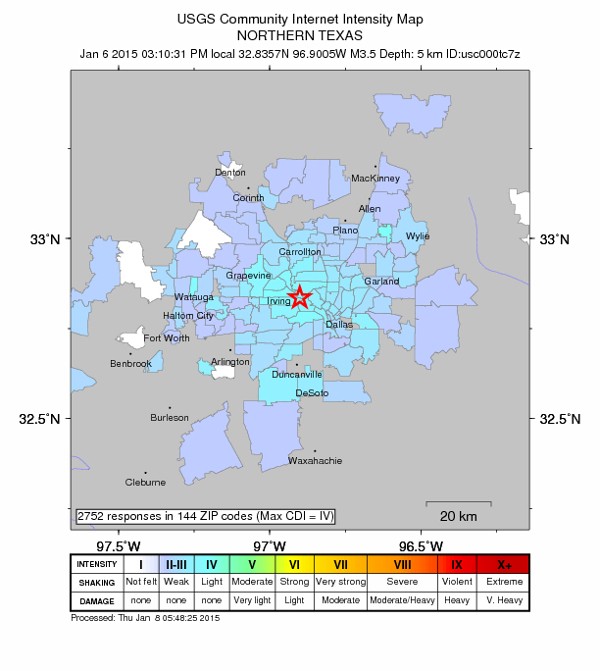 Earthquakes, once rare in the area, have been increasing in frequency, with more than 20 since last September, according to StateImpact Texas, a project of two Texas public radio stations. And with Irving sitting on top of the natural gas-rich and heavily fracked Barnett shale deposit as well as the Balcones Fault Zone, many residents and researchers are think it's to blame here too, just as in Ohio.
"The upsurge in quakes started in Texas around the time the oil and gas boom took hold several years ago," reported StateImpact Texas. "Residents in many parts of the state blame the them on wastewater disposal wells, where fluid byproducts of oil and gas drilling are pumped deep into the ground.  Scientists have shown how injecting fluid into the ground can cause earthquakes."
Earlier this year, it reported on nine studies linking drilling and earthquakes in Texas, noting, "The number of recorded earthquakes (most larger than 3.0) has increased tenfold since a drilling boom began several years ago. The Lone Star State is now one of the shakiest in the country, coming in sixth in the continuous U.S. for having larger quakes last year."
"It's premature to speculate on the cause of this current series of seismic events," said Brian Stump, Albritton Chair of Geological Sciences at Dallas' Southern Methodist University (SMU), in a statement reported in the Dallas Morning News yesterday. "We're just getting started. We want to support the local community in understanding these earthquakes, and the team appreciates the cooperation of the city of Irving, the United States Geological Survey (USGS) and IRIS [the U.S. Environmental Protection Agency's Integrated Risk Information System] in helping us get the best information possible."
SMU studies of three earlier clusters of quakes in the Dallas-Fort Worth area since 2008 cited wastewater injection wells as a "plausible cause" of those clusters. The USGS said in its report on the Irving quake cluster, "There is evidence that some central and eastern North America earthquakes have been triggered or caused by human activities that have altered the stress conditions in earth's crust sufficiently to induce faulting. Activities that have induced felt earthquakes in some geologic environments have included impoundment of water behind dams, injection of fluid into the earth's crust, extraction of fluid or gas, and removal of rock in mining or quarrying operations."
On the other hand, Craig Pearson of the state's oil and gas regulatory agency the Texas Railroad Commission said fracking wastewater injection wells were not to blame for the quakes because there are no injection wells in Dallas County where Irving is located. But The Daily Beast noted that more than 2,000 fracking sites are close to Dallas County, along with some of its more than 200,000 injection wells.
The Daily Beast also pointed out, "This cluster of quakes is taking place almost directly beneath the Exxon-Mobile world headquarters, which is located in Irving. The company's CEO, Rex Tillerson, joined a lawsuit last year to prevent a water tower used in the fracking process from being built near his 83-acre horse ranch in a swanky suburban Dallas enclave."
YOU MIGHT ALSO LIKE
Fracking Confirmed as Cause of Ohio Earthquake
Fracking Bans Pass in Denton, Texas, Two California Counties and One Ohio Town
Wikimedia Commons
By Stacy Malkan
Neil deGrasse Tyson has inspired millions of people to care about science and imagine themselves as participants in the scientific process. What a hopeful sign it is to see young girls wearing t-shirts emblazoned with the words, "Forget princess, I want to be an astrophysicist."
Keep reading...
Show less
www.youtube.com
By Andy Rowell
Any day now we will truly witness climate change in action. Within days at worst, maybe weeks at best, scientists predict that a huge section of the Larsen C ice shelf in Antarctica will break off into the ocean, in what is called a major "carving" event.
Keep reading...
Show less
www.youtube.com
President Trump visited Cedar Rapids, Iowa on June 21 to speak to a large crowd in the U.S. Cellular Center at a political rally organized by his campaign.
As Trevor Noah noted during The Daily Show episode last night (starts at 2:25), the real reason Trump has these rallies is to "get back in front of his loyal crowds and feed of their energy." Noah believes that "Trump supporters are so on board with their dude he can say anything and they'll come along for the ride."
Keep reading...
Show less
The Kamuthi solar plant in the southern Indian state of Tamil Nadu.
The rapid growth in renewable energy continues to put a dent in the demand for coal.
Coal India, the world's biggest coal mining company and producer of 82 percent of the country's coal, announced the closure of 37 mines that are financially "unviable."
Keep reading...
Show less
www.youtube.com
By Katie O'Reilly
Two years ago—long before coal became one of the most dominant and controversial symbols of the 2016 presidential election—Bloomberg Philanthropies approached production company RadicalMedia with the idea of creating a documentary exploring the U.S. coal mining industry. Last spring, they brought on Emmy-nominated director Michael Bonfiglio, tasked with forging a compelling story out of the multitudes of facts, statistics and narratives underlying the declining industry.
Keep reading...
Show less
Mayors for 100% Clean Energy
Keep reading...
Show less
www.youtube.com
Thanks to Newsy for their coverage on Thursday's news that the U.S. Fish and Wildlife Service removed grizzly bears in the Greater Yellowstone region from the Endangered Species List.
Watch above as Newsy explains that the decision comes despite serious concerns from the environmental and scientific community, and Tribal Nations about a declining, isolated grizzly bear population with diminishing food resources and record-high mortalities.
Keep reading...
Show less
www.facebook.com
By Francine Kershaw
Seismic airguns exploding in the ocean in search for oil and gas have devastating impacts on zooplankton, which are critical food sources for marine mammals, according to a new study in Nature. The blasting decimates one of the ocean's most vital groups of organisms over huge areas and may disrupt entire ecosystems.
And this devastating news comes on the heels of the National Marine Fisheries Service's proposal to authorize more than 90,000 miles of active seismic blasting. Based on the results of this study, the affected area would be approximately 135,000 square miles.
Keep reading...
Show less
By Jill Richardson
Is coconut oil:
good for you
bad for you
neither good nor bad
scientists don't know
The subject of this question is the source of a disagreement. Initially, the question was thought to be settled decades ago, when scientist Ancel Keys declared all saturated fats unhealthy. Coconut oil, which is solid at room temperature, is a saturated fat.
Keep reading...
Show less


Get EcoWatch in your inbox